This is the most reliable guide to high-fiber foods compiled by registered dietitians. Add more of these fiber-rich foods to your meals and recipes for improved health. Here, we'll share how much fiber you'll get with each of these top 24 real food choices (in a reasonable serving amount that you'd actually eat), as well as the other health benefits they provide.
Benefits of a High-Fiber Diet
Most people should aim to eat a minimum of 25-30 grams of fiber each day for optimal health, and higher amounts can be even better (scroll down to the FAQ below to learn how much fiber is too much).
Research shows that dietary fiber that you get from real foods has many health benefits, including:
Consistent and better digestion, including less constipation
A healthy gut microbiome for disease-fighting immunity
Lowered blood pressure and regulated blood sugars
Reduced cholesterol levels and triglycerides
Weight loss, less abdominal fat, and weight management
Lowered risk of heart disease, type 2 diabetes, and some cancers
Unfortunately, most Americans lack fiber in their diets. On average, Americans get only 10-15 grams of fiber per day, which is half of the recommended minimum amount.
One of the best ways to get more fiber is to eat more real foods and to incorporate more of the food options from this list.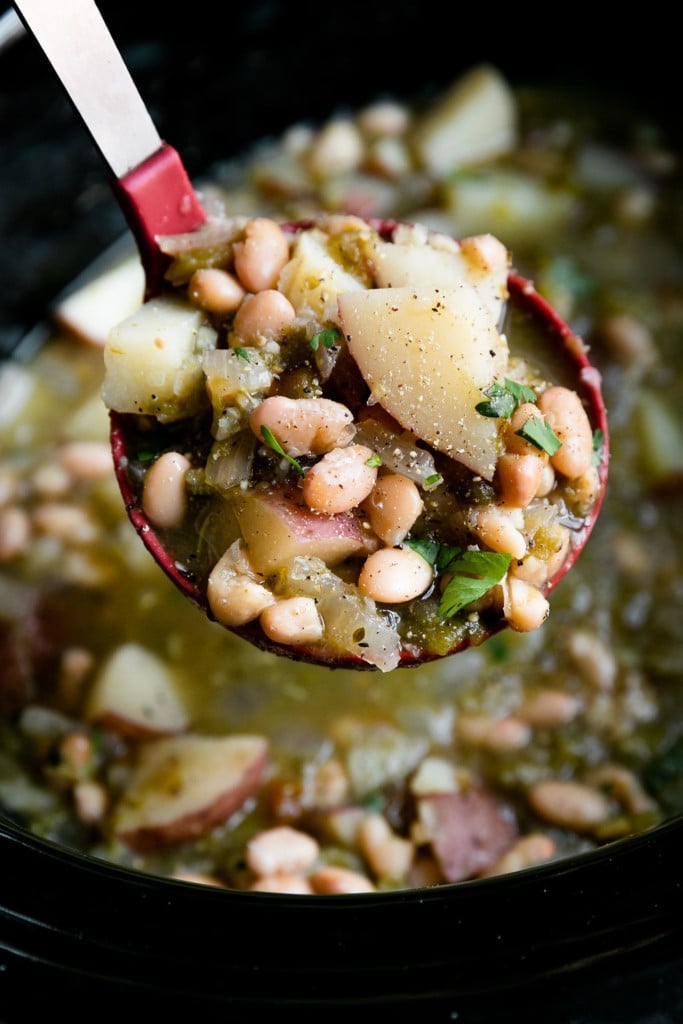 1. White Beans
Fiber per serving: 10 grams per ½ cup cooked
All beans, including black beans, pinto beans, red beans, and kidney beans, are high in fiber and excellent fiber food choices. But white beans contain just a bit more than other types. Types of white beans include cannellini beans, Great Northern beans, navy beans, and lima beans.
Beans in any form, whether cooked from the dried form or used out of a can, can help you increase the amount of fiber in your diet.
Beans are also a good source of plant-based protein and heart-healthy nutrients, including iron and magnesium. Some common ways to eat more beans are to add them to casseroles, soups, layered dips, and salads.
---
2. Oats
Fiber per serving: 8 grams per 1 cup cooked
Start your day with 1 to 2 cups of oatmeal, and you'll be well on your way to getting your required daily fiber intake. Oats are a naturally gluten-free whole grain, and they're an excellent source of beta-glucans.
Beta-glucans (β-glucans) are a type of soluble fiber that, when digested, takes on a gel-like consistency in your gut and helps to keep your digested food moving. Research shows that beta glucans lower cholesterol, reduce blood sugar, and increase the feeling of fullness, which can help decrease mindless snacking.
Steel-cut oats offer the most fiber, and old-fashioned rolled oats are a close second. Instant oats have less fiber since they have been pounded thinner and smaller in order to cook faster.
Some good ways to eat more oats are in oatmeal (or baked oatmeal), overnight oats, baked goods, and no-bake treats.
---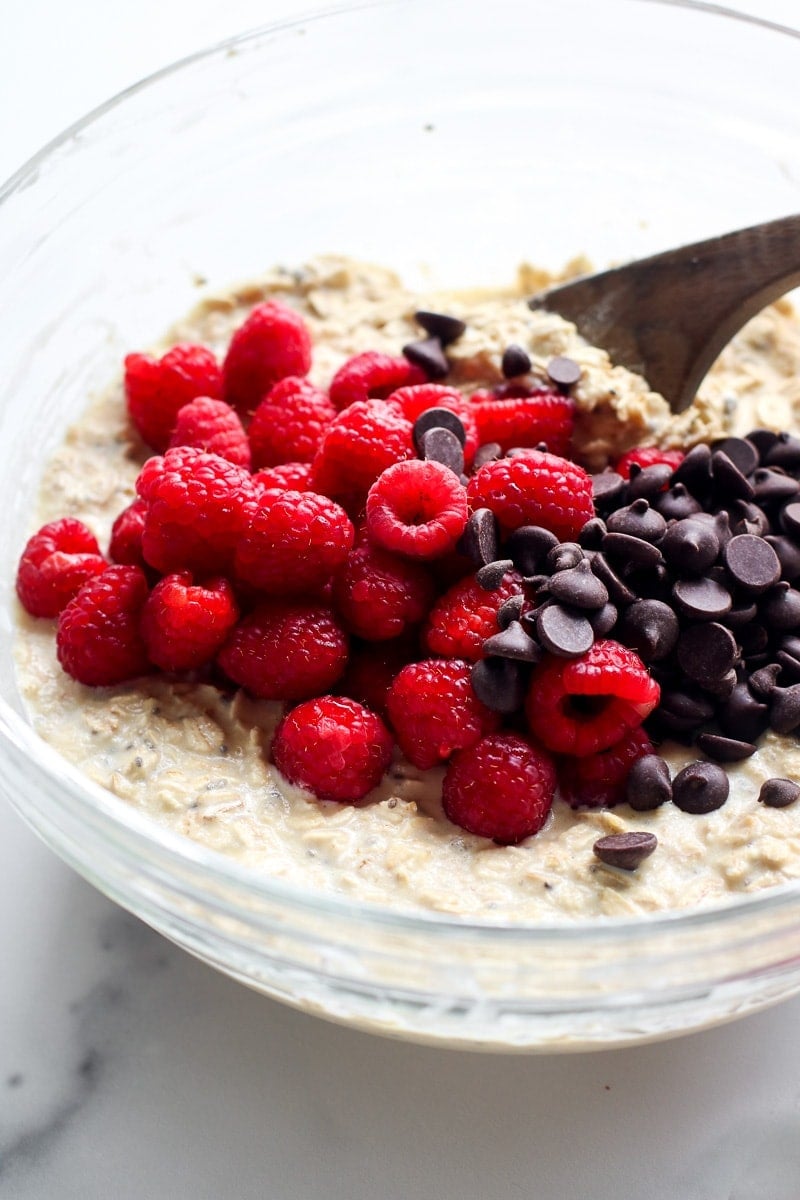 3. Raspberries
Fiber per serving: 8 grams per 1 cup
Raspberries are one of the highest-fiber fruits and contain more fiber than any other type of berry. Other types of berries, including strawberries and blackberries, are good sources of fiber. However, raspberries contain the most grams of fiber thanks to the many little seeds and fibrous threads that each berry contains.
Raspberries are also an excellent source of potassium, which helps blunt the impact of a high-sodium diet on blood pressure. They're also high in flavonoids, a powerful type of antioxidant.
Enjoy fresh or frozen raspberries in smoothies, salads, baked goods, and sauces.
---
4. Lentils, Legumes, and Pulses
Fiber per serving: 8 grams per ½ cup cooked
All lentils are legumes, and all legumes are pulses. Let us explain… Pulse is the latin word for "thick soup," and it categorizes a group of crops that are the edible seeds of foods known as legumes and beans.
Some well-known pulses and legumes include lentils, chickpeas, dry beans, dry peas, split peas, lupins, cow peas, and pigeon peas.
Legumes and pulses are great sources of fiber, plant-based protein, and important minerals. Studies have shown that people who eat ½ cup or more of pulses per day have higher intakes of fiber, protein, calcium, potassium, folate, zinc, iron, and magnesium.
---
5. Artichokes
Fiber per serving: 7 grams in 1 medium artichoke
Whether you're enjoying artichokes cooked whole or just the hearts added to a dip, side dish, or main dish recipe, artichokes are an incredibly healthy veggie to incorporate into your meals. Artichokes are high in a type of prebiotic fiber called inulin, which has been shown to decrease inflammation and autoimmune response while increasing insulin sensitivity. They also contain the highest antioxidant count of all vegetables, making them an anti-aging powerhouse.
---
6. Avocado
Fiber per serving: 7 grams per ½ avocado
Avocado is often cited for being a great source of monounsaturated healthy fats, which it is. But it's also an excellent source of insoluble fiber and soluble fiber.
For both of these reasons, we love to incorporate avocado as a healthful addition to:
Salads
Smoothies (like our Go-To 5-Ingredient Green Smoothie, which boasts 7 grams of fiber per serving)
Baked goods, as a replacement for butter and oil
Casseroles, soups, and tacos, as a delicious topping
---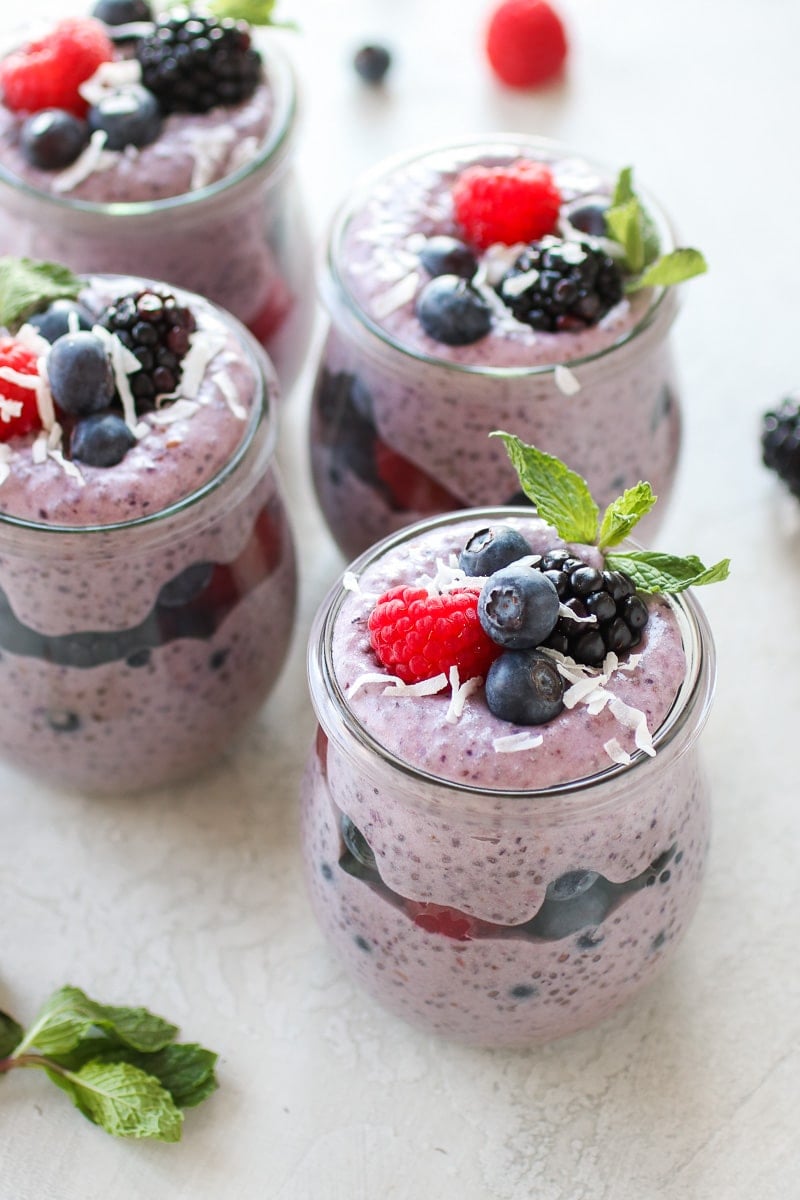 7. Chia Seeds
Fiber per serving: 7 grams per 2 tablespoons
Chia seeds are 80% fiber, which comes as both insoluble fiber and soluble fiber. These tiny seeds have earned their health accolades, being so high in fiber as well as being a good source of coveted omega-3 fatty acids.
Add a sprinkle of chia seeds to your oatmeal or cereal, salads, salad dressings, baked goods, and turn them into chia pudding as a great way to eat more of these nutritious seeds.
---
8. Chickpeas
Fiber per serving: 6 grams per ½ cup cooked
Chickpeas, also called garbanzo beans, are a type of bean so versatile that we felt it deserved its own call-out as a high-fiber food.
Chickpeas are the type of bean that is typically used to make hummus. And we love hummus because it has turned beans into a readily enjoyable snack food (here's our favorite layered dip with hummus). Bonus: You're getting fiber in delicious snack-food form!
Chickpeas are an especially good source for warding off heart disease due to the fiber content. They're also a low Glycemic Index food that can help lower blood sugar and triglycerides.
---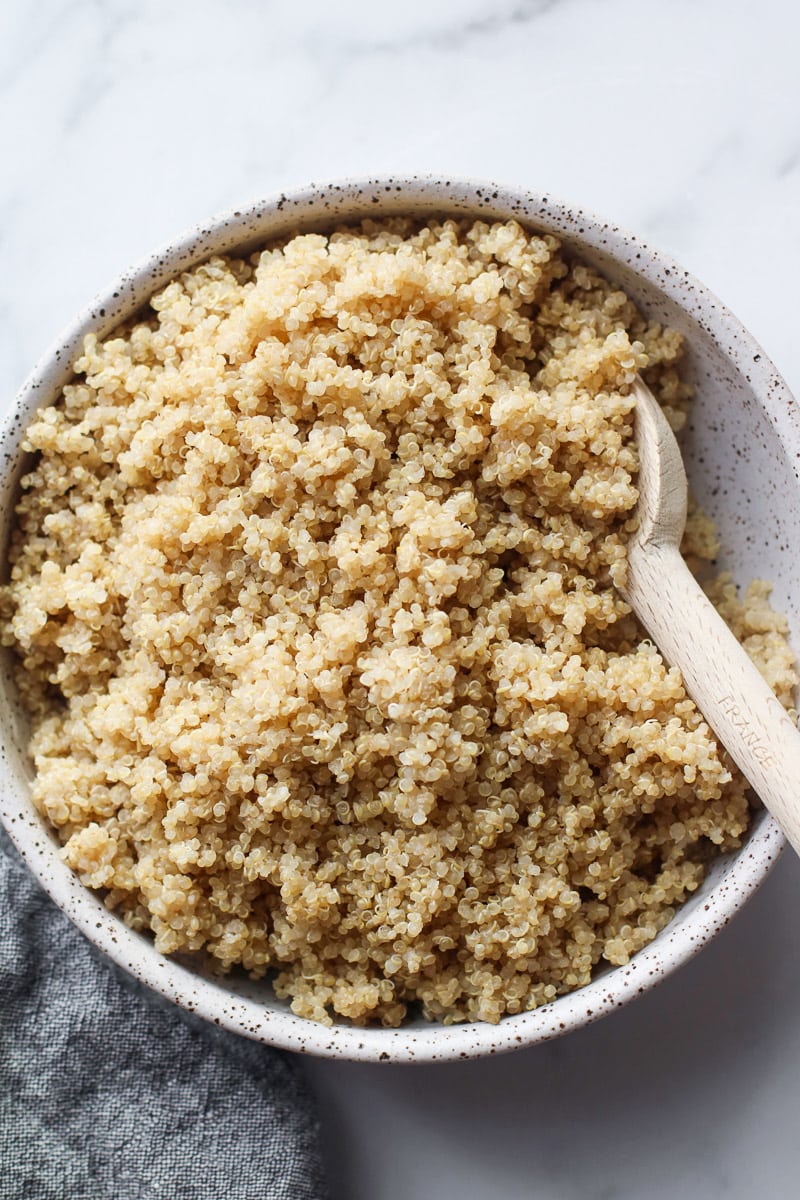 9. Quinoa
Fiber per serving: 5 grams per 1 cup cooked
There's no doubt about it: Quinoa is one of our favorite gluten-free whole grains. We love to develop healthy quinoa recipes that give you more options to incorporate this nutritious food into your menus.
Quinoa is a complete source of protein, which is rare in the world of seeds and grains. This means that quinoa contains all 9 of the amino acids necessary for our nutritional needs and that our bodies don't create fully on their own. One cup of cooked quinoa contains 8 grams of protein, as well as many more health benefits.
In addition to being high in fiber and plant-based protein, quinoa is a good source of other important nutrients, including iron, calcium, manganese, magnesium, and copper.
---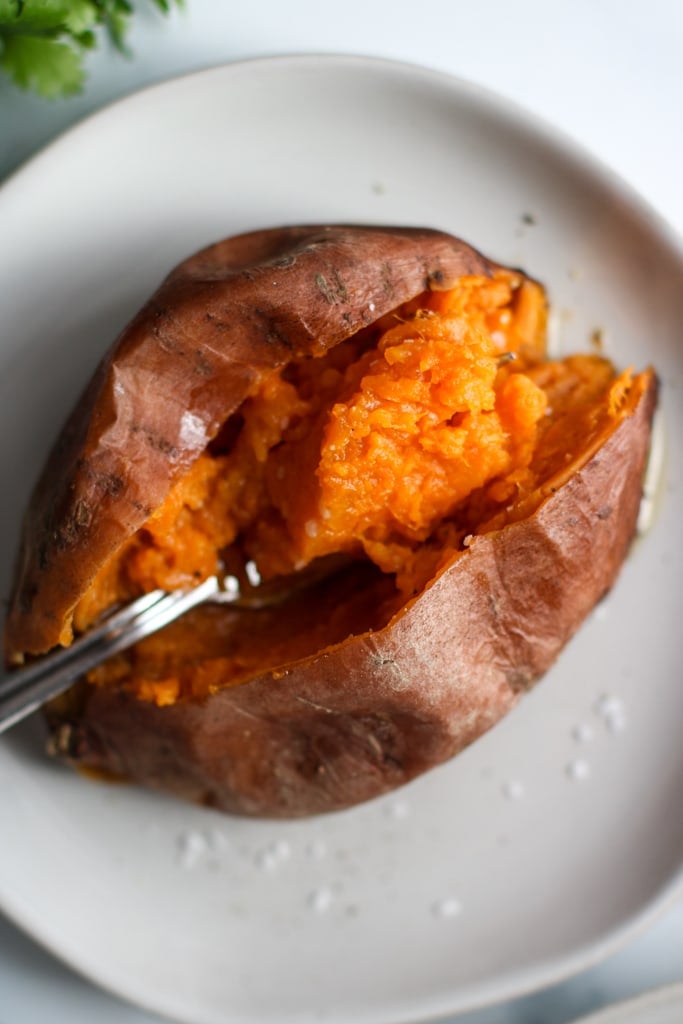 10. Sweet Potatoes
Fiber per serving: 5 grams per medium-large sweet potato
The plentiful health benefits of sweet potatoes begin with their high amount of fiber. And if you eat the skin of a sweet potato and not just the inner flesh, you get even more fiber.
The fiber in sweet potatoes is both soluble and insoluble. That's why sweet potatoes are great for helping to improve digestion, as well as feeding your good gut bacteria, known as your microbiome. Sweet potatoes are also high in vitamins A, C, and B6.
We love to incorporate them into healthy sweet potato recipes of all kinds.
---
11. Almonds
Fiber per serving: 5 grams per ¼ cup whole almonds
Most nuts provide you with some fiber, and almonds are one of the highest-fiber nuts you can eat, especially if you eat them whole or chopped with the skins still on. Blanched and sliced almonds still contain fiber, but less than whole almonds do.
Reach for almonds for snacking, adding to a charcuterie board, incorporating into recipes, and using as almond flour. In addition to fiber, you'll also be getting immunity-boosting antioxidants, skin-healthy vitamin E, and plant-based protein.
---
12. Apples
Fiber per serving: 5 grams per large apple
Eating an apple a day is a great way to increase fiber content — most people like the taste of apples, and they're reasonably easy and cheap to obtain.
All types of apples are a great source of fiber. By eating an apple with the skin still on and pairing an apple with peanut butter, you can increase the fiber content even more.
The fiber in apples is largely in the form of pectin, which helps prevent cholesterol buildup in blood vessels and reduces constipation.
---
13. Flaxseeds and Flaxseed Meal
Fiber per serving: 4 grams per 2 tablespoons ground
When we use flaxseeds in recipes, it's almost always in the form of ground flaxseed meal, which has the consistency of flour. This is because whole flax seeds can often go through your intestines without breaking down. When that happens, you're not getting all of the great nutrition they contain, including their fiber and omega-3 fatty acids.
We find that ground flaxseed meal makes a great addition to baked goods and no-baked treats. It's also one of our favorite ways to replace an egg in a recipe by making a flax egg.
To make a flax egg: Mix 1 tablespoon ground flaxseeds (or flax meal) into 2 to 3 tablespoons of water; let it sit until thickened, then add to the recipe in place of 1 egg. Unfortunately, it's not a good substitute for recipes with more than 2 eggs.
---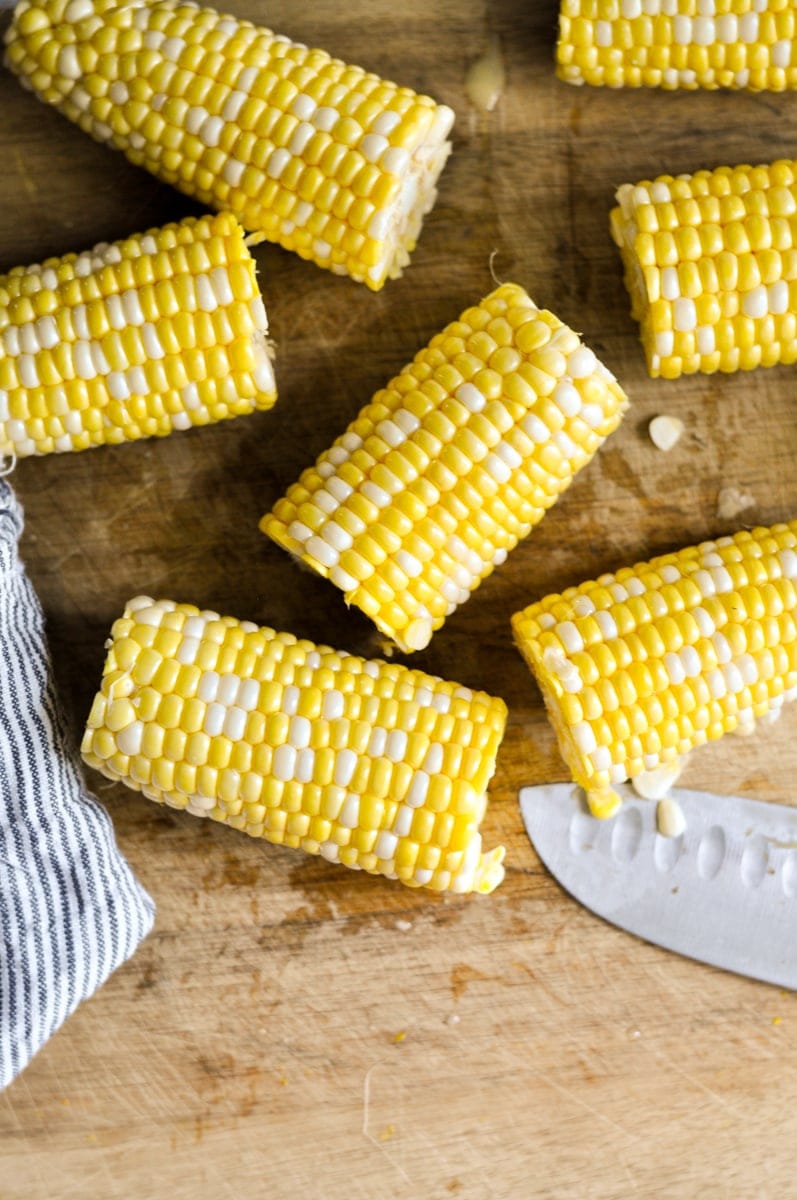 14. Corn
Fiber per serving: 4 grams per 1 cup kernels
Corn, whether you're eating it off the cob, frozen, or out of a can, is an excellent real-food fiber choice. Corn is technically a whole grain that boasts a bunch of B vitamins, as well as fiber and eye-protective carotenoids, which are a type of antioxidant.
Try corn cooked or boiled right on the cob, as well as canned corn and frozen corn as the base for fresh salads or added to soups and chowders.
---
15. Carrots
Fiber per serving: 4 grams per 1 cup
Carrots are a much-loved veggie due to their affordability, crunchy texture, and good taste (some people even say they're naturally sweet).
Both raw and cooked carrots are a good source of fiber. They contain high amounts of vitamin A (needed for eye health) and cell-protective antioxidants.
---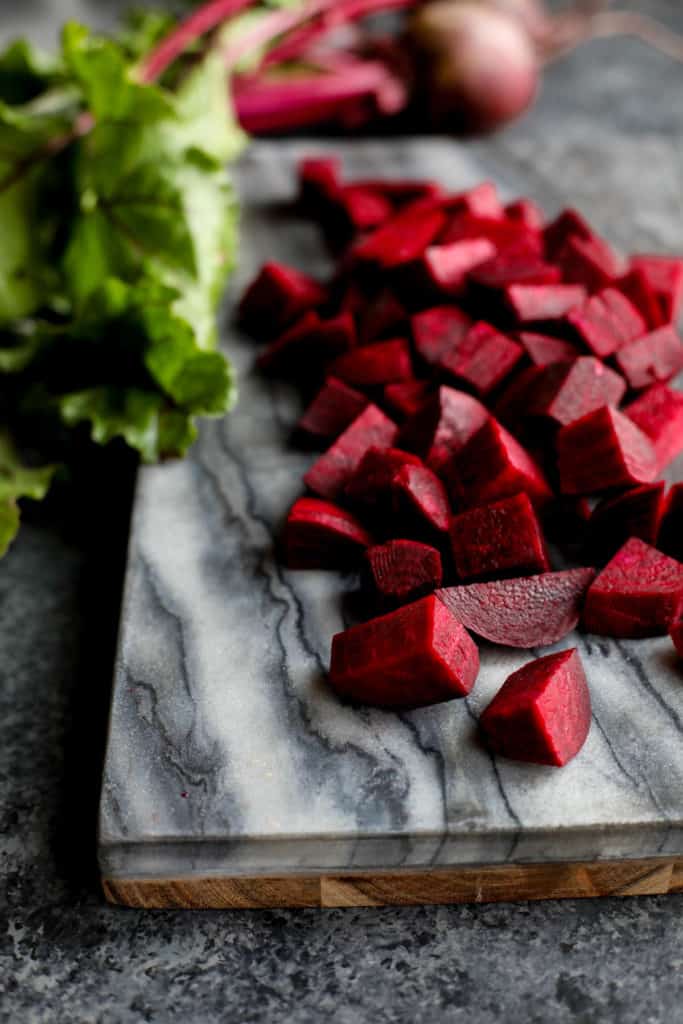 16. Beets
Fiber per serving: 4 grams per 1 cup cooked
Beets: You either love 'em, or you hate 'em. But one reason to embrace them is the high dietary fiber content they contain, as well as the many other health benefits they provide.
Beets in all forms, including beet juice and dehydrated beet powder, have been studied and lauded for their connection to:
Lowered blood pressure and inflammation
Increased stamina in athletic performance
Improvement in symptoms of digestive issues
Don't want to deal with cooking and peeling beets (and want to avoid staining your clothes and countertops)? It's easier than ever to add cooked beets to salads, smoothies, dips, and other dishes thanks to convenient precooked packages of organic beets like these.
---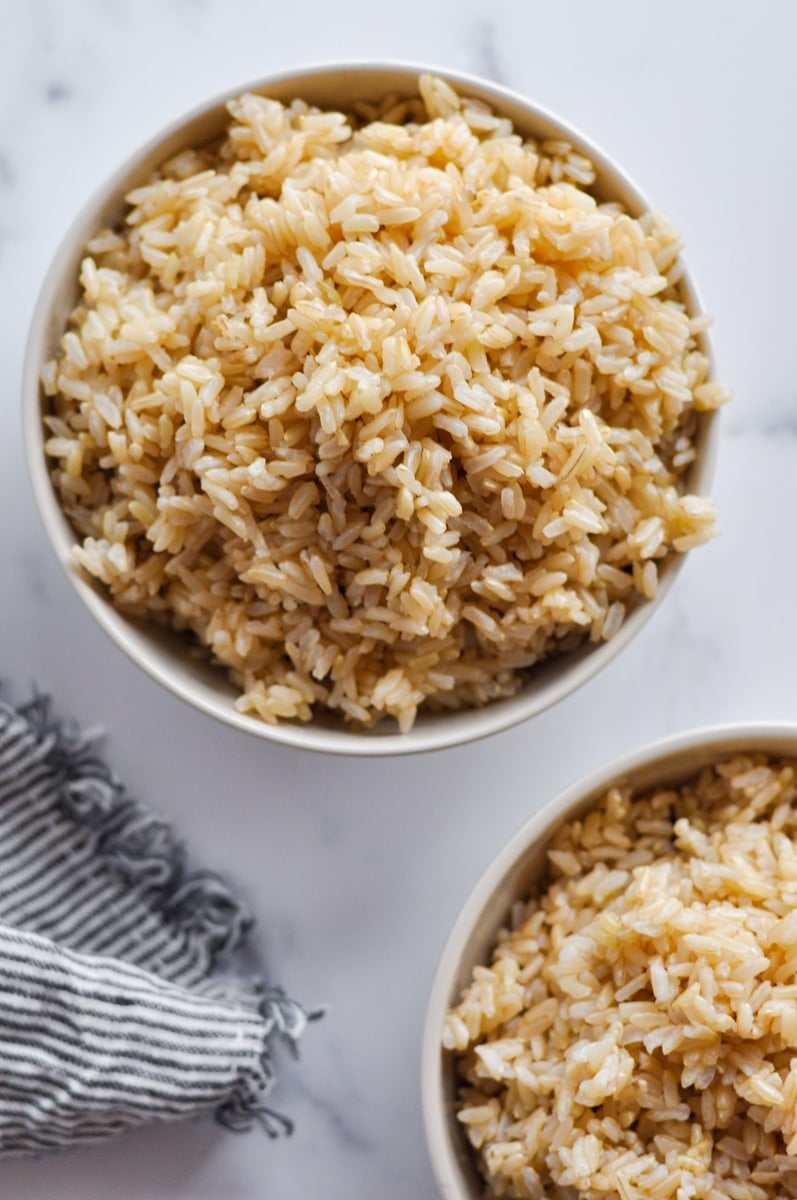 17. Brown Rice
Fiber per serving: 3.5 grams in 1 cup cooked
Brown rice is considered a whole grain, like whole wheat and barley, because it contains all parts of the grain: the bran, germ, and endosperm. This also means that, like other whole grains, brown rice is a great source of dietary fiber.
Other types of rice, including black rice, red rice, and white rice, contain fiber, too. Black rice and brown rice contain the most, and both are also excellent sources of B vitamins, zinc, and magnesium.
And, though it's not technically a type of rice, wild rice is also an excellent whole grain and high fiber food choice that we love to enjoy in this Creamy Crockpot Chicken and Wild Rice Soup.
---
18. Dried Coconut
Fiber per serving: 3.5 grams per ¼ cup
Dried coconut, which you can buy as flaked coconut and shredded coconut, is an excellent source of fiber. We like to use it most often as unsweetened shredded coconut added to granola bars and other baked goods and no-baked treats.
Coconut is high in fat, most of which is a type of saturated fat called medium-chain triglycerides (MCTs). MCTs are metabolized differently than other fats, making them a quick source of energy. There's some evidence that the MCT fats in coconut may be a beneficial choice for weight loss and improved metabolism.
Coconut also provides important minerals needed for bone health, including manganese and iron.
---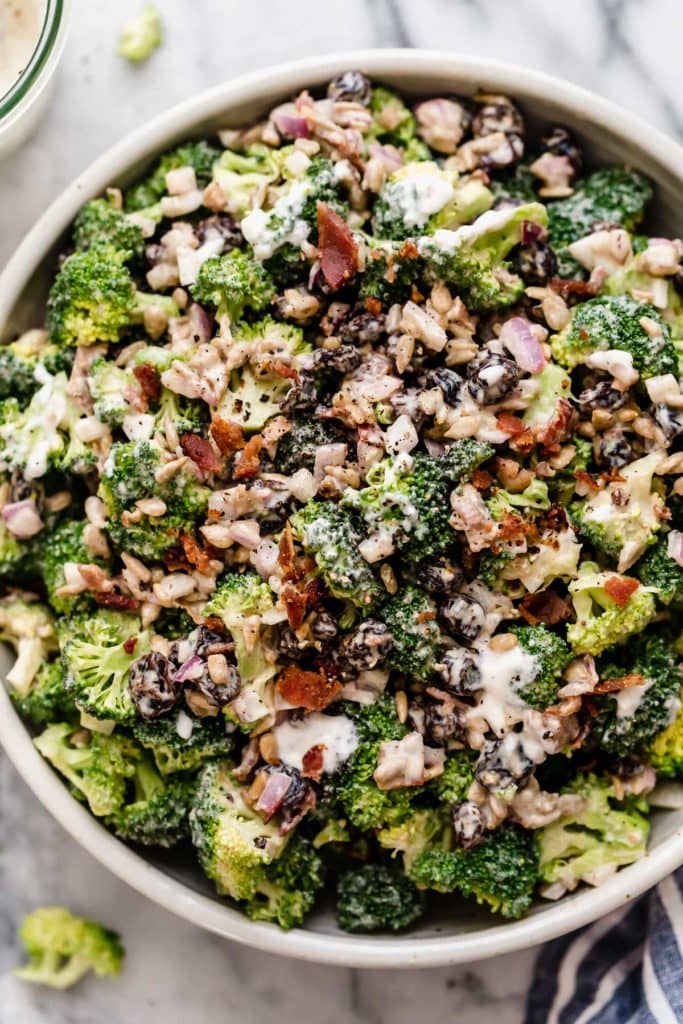 19. Broccoli
Fiber per serving: 3 grams per 1 cup
Broccoli is one of the healthiest foods on the planet, containing fiber, high amounts of vitamin C and K, as well as several essential minerals.
One of our favorite ways to enjoy broccoli is drizzled with olive oil and a pinch of salt and roasted on a sheet pan at 400 degrees for 15-20 minutes, which gives it a nice crispness. When adding broccoli to a veggie tray, we recommend that you blanch it first to remove some of the bitterness while also brightening the color and flavor.
---
20. Brussels Sprouts
Fiber per serving: 3 grams per 1 cup
Brussels sprouts are the tiny cabbage we have all come to love. In addition to being a terrific source of fiber to help keep your digestive system healthy, Brussels sprouts contain high amounts of vitamins A, C, and K, which promote good heart health.
They cook easily and crisp up perfectly in these stovetop, sheet pan, and air fryer recipes, and Brussels also taste great when shaved or sliced into salads.
We have so many recipes to showcase cooking Brussels sprouts in many different ways.
---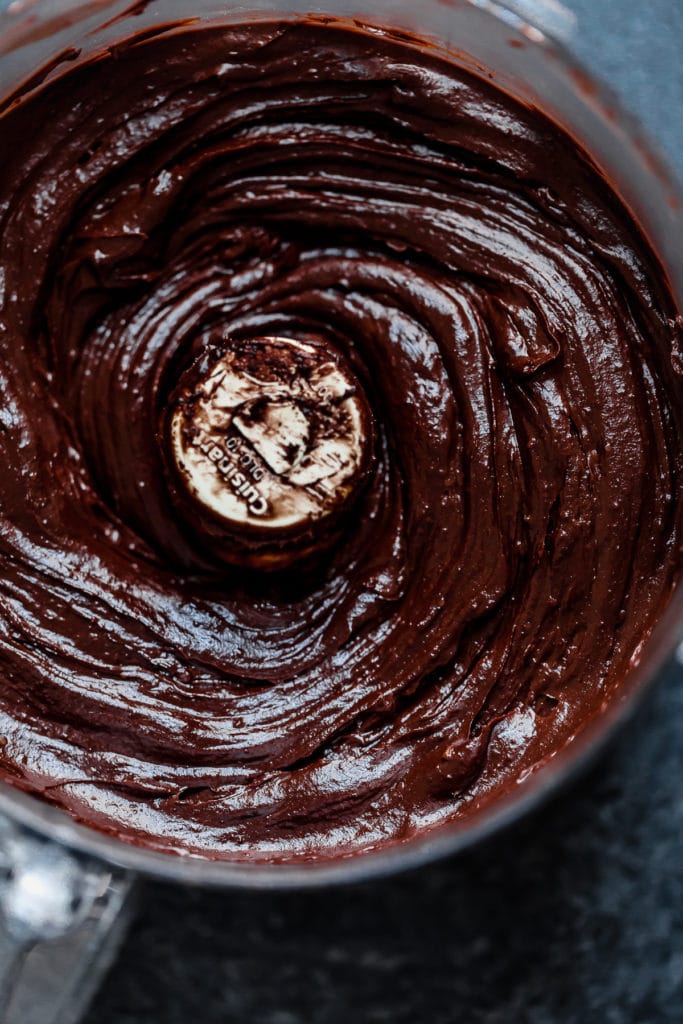 21. Dark Chocolate
Fiber per serving: 3 grams per ounce
Many people are surprised to learn that dark chocolate is a great source of fiber. A typical 3.5-ounce bar of dark chocolate will provide you with 10 grams of fiber.
The higher the percentage of cacao, the more fiber that dark chocolate contains. You'll find dark chocolate with cacao amounts as high as 90%, though most people prefer dark chocolate in the range of 60-75% cacao.
Whether it's in bar form, melted form, or chocolate chips, dark chocolate will provide you with some fiber, which comes from the ground cacao.
The Higher The Cacao, The More Fiber
The higher the percentage of cacao (or cocoa) in a bar of chocolate, the higher the amount of fiber it contains. Seek out chocolate that is 60% cacao or darker for the best health benefits.
---
22. Wild Blueberries
Fiber per serving: 3 grams per ½ cup
Wild blueberries, which are sold frozen and are smaller and darker than regular blueberries, are an excellent fiber food choice. In fact, you can get 25% of the daily recommended intake of fiber just by eating a cup of delicious wild blueberries. They contain 72% more fiber than regular blueberries, due to the higher skin-to-pulp ratio of these indigenous berries.
Wild blueberries also offer many other excellent health benefits, including 30% less sugar than fresh blueberries. Try incorporating wild blueberries into smoothies and adding to oatmeal or yogurt, or using them in baked goods.
---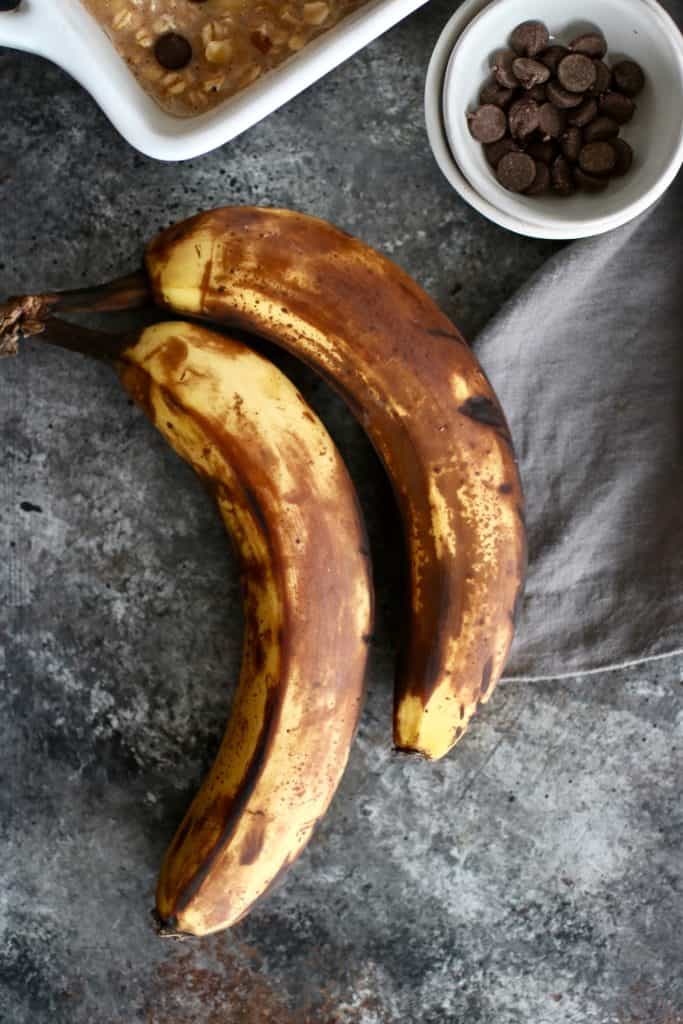 23. Bananas
Fiber per serving: 3 grams per 1 medium banana
Most people know bananas for the awesome amount of potassium they provide. But bananas are also incredibly rich in two special types of fiber: resistant starch and pectin.
Resistant starch is a prebiotic that helps grow the beneficial bacteria in your gut, which is prime for everything from your immunity to your skin health. It is especially high in underripe and green bananas. Pectin, which is a fiber in both ripe and unripe bananas, is beneficial for preventing constipation and softening stools.
Mashed bananas are often used as a replacement for fat in recipes, as well as a way to add moisture and texture to baked goods.
---
24. Dried Fruit
Fiber per serving: 2-4 grams per ¼ cup
Dried fruit, including raisins, figs, prunes, dried cranberries, dried cherries, dried apricots, dried pineapple, and dried mango, are all good sources of fiber. Prunes and figs contain the most fiber, but all dried fruits provide fiber, since they are condensed and packed versions of fruits that are already high in fiber.
Dried fruits are also naturally sweet, meaning you can typically reduce or omit the sugar in recipes that contain dried fruit. Add dried fruit to salads, stuffing, casseroles, trail mixes, granolas, granola bars, and energy bites.
---
Frequently Asked Questions
What's the best way to increase your fiber intake?
While many doctors will prescribe a fiber supplement, such as Metamucil, one of the most natural ways to increase your fiber content is to add more plant-based foods to your diet. 
Plant-based foods, such as whole grains, fruits, and vegetables, contain many different types of beneficial fibers. They also boast other health benefits, including high amounts of vitamins, minerals, and antioxidants. 

How much fiber do you need to consume per day?
The Academy of Nutrition and Dietetics, the American Heart Association, the USDA Dietary Guidelines, and the Mayo Clinic all recommend that adults get a minimum of 25 grams of fiber per day. A range of 25 to 38 grams of fiber per day is optimal for most people. 
Another way to calculate fiber recommendations is to aim for 14 grams of dietary fiber for every 1,000 calories consumed per day.
How can I get 30g of fiber a day?
Here's an example of a daily meal plan that would provide you with 30-32 grams of fiber. 
– Breakfast: 1 cup oatmeal with ⅓ cup raspberries and 1 tablespoon peanut butter = 8 g fiber
– Lunch: 1 ⅓ cups beef and bean chili with ¼ cup diced avocado = 10 to 12 g fiber
– Snack: 1 medium apple with 2 tablespoons peanut butter = 7 g fiber
– Dinner: 1 chicken breast with 1 cup roasted vegetables = 5 g fiber
Daily Total = 30-32 grams fiber
Which fruit is highest in fiber?
Raspberries are the fruit that contains the most fiber. Other high-fiber fruits are apples, bananas, mango, a medium pear, and other types of berries.
What foods are high in fiber but low in calories?
Some foods that are high fiber but low in calories are Brussels sprouts, broccoli, raspberries, sweet potatoes, carrots, and quinoa.
What foods are high in fiber but low in carbs?
Some foods that are high in fiber but generally low in carbohydrates are:
– Artichokes
– Carrots
– Brussels sprouts
– Raspberries
– Avocado
– Bananas
– Chia seeds
– Flax seeds
– Almonds
– Broccoli and other cruciferous vegetables

Also, check out our recommendations for how to get more fiber when eating a gluten-free or grain-free diet.
What foods are high in insoluble fiber?
Foods high in insoluble fiber include:
– Wheat bran
– Whole wheat bread and pasta
– Beans
– Lentils
– Berries
– Whole grains
– Peas
– Spinach
– Radishes
– Apples
– Pears
– Turnips
– Popcorn
– Dried coconut
– Avocado
– Nuts and seeds
What are the highest fiber foods?
Beans and other legumes like lentils, edamame, and green peas are the category of food that contains the most fiber. Whole grains, fruits, and vegetables are also healthy fiber-containing foods.
What are the benefits of a high-fiber diet?
Getting enough fiber in your diet has many benefits, including:
– Better, more consistent digestion
– Less constipation
– Stronger immunity to fight off diseases and infections
– Lowered blood pressure
– Less inflammation
– Better blood sugar regulation
– Reduced cholesterol levels and triglycerides
– Weight loss/weight management
– Lowered risk of heart disease, type 2 diabetes, and some types of cancer
How much is too much fiber per day?
More than 70 grams of fiber per day is not advised, particularly when consumed over a short period of time. This amount of fiber may cause side effects such as bloating, gas, and cramping as your body works to digest the fiber.
Aim for 14 grams of fiber per every 1,000 calories you consume each day. For example, someone who eats a roughly 2,000-calorie diet should aim for about 28 grams of fiber.
Do I need to ease into adding more fiber to my diet?
If you are not used to eating much fiber or suspect that you don't get enough fiber right now, it's best to increase your fiber intake slowly over one to two weeks' time. 
Adding too much fiber too quickly, whether it's from a fiber supplement or high-fiber foods, can promote intestinal gas, abdominal bloating, and cramping. However, you should work toward getting a minimum amount of 25 grams of fiber per day. 
It is also helpful to increase your water intake as you eat more fiber-rich foods.
Do fiber needs increase while breastfeeding?
Yes, most nutrition and OB GYN experts say that both pregnant and breastfeeding women have an increased need for dietary fiber. They can meet this need by eating more whole grains, beans, and other plant-based foods. 
A fiber-rich diet during pregnancy and breastfeeding stages has several health benefits to the mother, including lowered risk of gestational diabetes, preeclampsia, and constipation.
What are some good fiber choices for kids?
Some high-fiber foods that kids tend to enjoy are apples and pears, berries, popcorn, avocado, bananas, and hummus. 
You can feed kids (who are old enough to chew their foods) the same high-fiber foods that adults eat. It can be beneficial and influential for kids to see adults eating the same healthful foods that they are served.
Pin now to reference later!
For ultimate success, we highly recommend reading the tips in the full blog post above. All photos and content are copyright protected. Please do not use our photos without prior written permission. Thank you!