Craving some dark and rich (and packed with antioxidants?) Try our Dairy-Free Dark Chocolate Mousse – no one but you has to know that it's made with healthier swaps!
Just so you know…This post was sponsored by our friends at Stevia In The Raw®.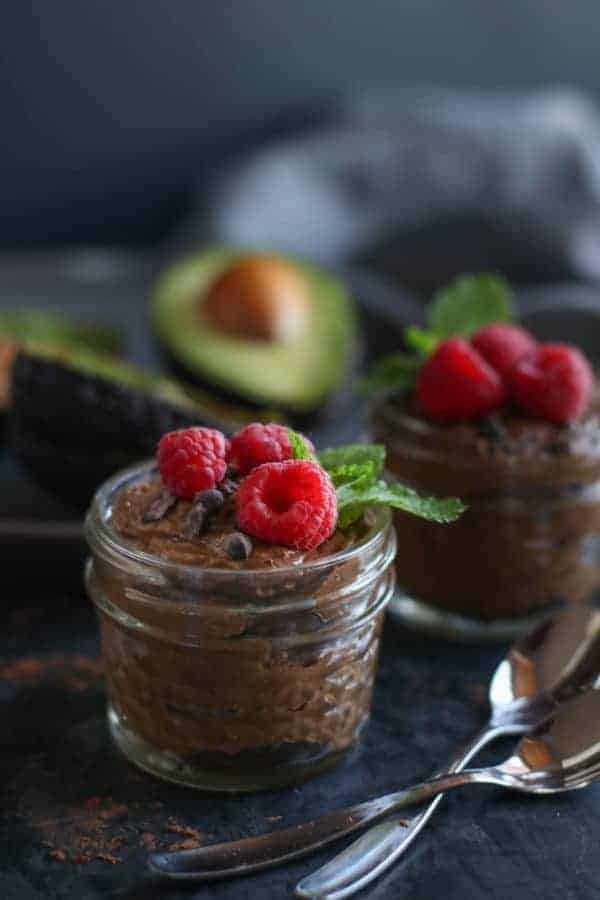 Celebrate something big, something small or just treat yourself with this Dairy-Free Dark Chocolate Mousse
When I was growing up it was a family tradition to have pie on your birthday. Any kind of pie your heart desired.
My heart always desired something richer and more decadent than the apple and berry pies my dad and I would make together in the fall and summer, respectively. Something dark and chocolatey hidden under swirls of whipped cream and topped with big curls of shaved chocolate. French Silk pie.
However, as much as I adored French Silk pie, that pie did NOT love me back. Every year, I'd request the same pie and as a result, I suffered from the same belly ache. Now, was this due to the ridiculously high sugar content? Probably. The dairy in the filling and whipped cream? Possibly. Maybe it was also the egg yolk – my body sending warning signals years before I developed a full-blown egg allergy. Whatever it was, the belly ache was always serious. Yet, the pie was so good that I would somehow forget about the previous year's mega belly ache by the time October rolled around again each year and you guessed it, I'd ask for French Silk birthday pie again.
If I close my eyes and think about it, I can still taste the bitter sweetness of the chocolate, feel the richness on my tongue and hear my dad and brother croaking out their best rendition of "Happy Birthday," complete with "You look like a monkey and you smell like one, too." Because, brothers.
Thanks for indulging me on that little trip down food memory lane. Now, let's fast forward to the present. Decades later, I have no remorse about the annual birthday pie or the belly aches, but now I know better and I don't have time for stomach pain anymore. Besides, these days I can get that same dark chocolate bitter sweetness and rich mouthfeel in this Dairy-free Dark Chocolate Mousse without the belly ache and without any added sugar thanks to a little Stevia In The Raw®. It takes just four ingredients and less than 10 minutes to whip up a batch so it's an easy, guilt-free, belly ache-free treat that I can enjoy whenever I want.
And the whipped cream? I've found that I don't really need it – all I really wanted was that dark chocolatey layer anyways. However, if you want to go all out and top this mousse with a little coconut whipped cream, then by all means, go for it.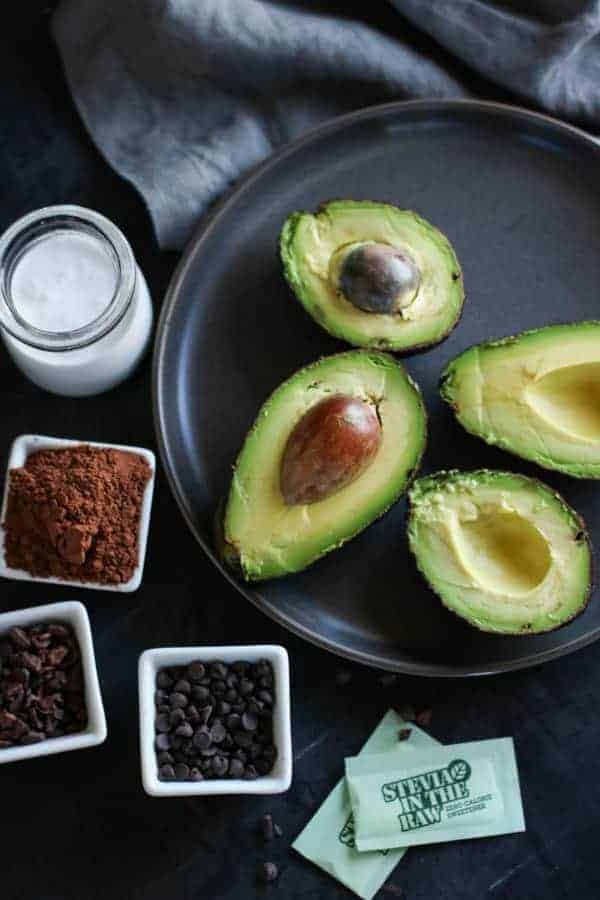 So let's talk about those four little ingredients, shall we?
Avocados – Rich in monounsaturated fat and a great source of fiber. Did you know that a medium avocado has 10 grams of fiber?
Cocoa Powder  – Rich source of magnesium, iron, calcium and phosphorus. It's also low in sugar and a good source of fiber (offering 2 grams per tablespoon).
Coconut Milk – Rich in lauric acid, a medium-chain fatty acid that's easily absorbed by the body making it a readily available energy source.
Stevia In The Raw® – A zero-calorie sweetener extracted from the leaves of the stevia plant. The stevia plant is native to South America has been used for over 400 years as a sweetener. Perfect for those looking to decrease their overall sugar intake or those on a very low carbohydrate diet who are looking for a little sweetness in their lives.
What is Stevia In The Raw®?
Stevia In The Raw® is a zero-calorie sweetener that contains extracts from the sweet leaves of the stevia plant and is available in packets (each packet is equivalent in sweetness to two teaspoons of sugar) and a Bakers Bag (which measures conveniently cup for cup, just like sugar).
*Each packet of Stevia In The Raw® contains less than 4 calories which is considered zero by the FDA, which governs food labeling.
Because stevia extracts are so highly concentrated, a little goes a very long way. To make Stevia In The Raw® packets and Stevia In The Raw® Bakers Bag easier to use and measure, a small amount of dextrose and maltodextrin, respectively, are added to help create the perfect balance of sweetness. You can also reach for new Organic Stevia In The Raw®, which is blended with a small amount of organic cane sugar instead. No matter what, when we compare our Dairy-Free Dark Chocolate Mousse to the real deal, you can see that it's still a significant savings for those looking to cut their sugar intake.
Now, who's ready for some impossibly rich and creamy chocolatey goodness?
This Dairy-Free Dark Chocolate Mousse isn't just for birthdays! In fact, it's the PERFECT little dessert to share with those you adore on Valentine's Day (or really, any time you're looking for a healthy sweet treat). Go ahead and treat yourself – you can even be rewarded for doing so! Simply share a photo of how you plan to treat yourself on Instagram using #SweetYourself and #sweepstakes, and make sure to tag @intheraw
Let's do this.
Round up all of your ingredients. Don't be surprised if this takes you less than a minute to do!
Slice the avocados in half lengthwise, remove the pits and scoop the flesh from the skin using a large spoon. Place avocado flesh in the container of a blender or bowl of a food processor.
Add cocoa powder, coconut milk, Stevia In The Raw® and a pinch of salt, if desired. I used just one packet of sweetener which is where I recommend you start, too. You can always add more and blend again if you want it a little sweeter.
Blend or process, stopping to scrape down the sides with a spatula as needed, until mousse is smooth and creamy. Taste and adjust sweetness as needed.
Spoon mousse into small cups, dishes or jars. Garnish with mini-chocolate chips, roasted cacao nibs (for a no-sugar option) and fresh berries, as desired.
Dig in!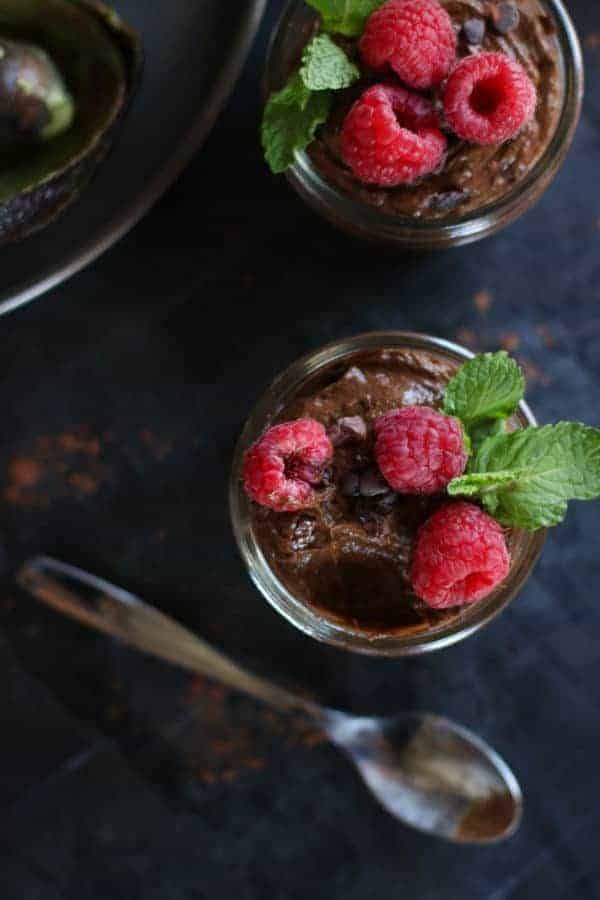 Treat yourself right with this Dairy-Free Dark Chocolate Mousse – no guilt or bellyaches allowed!
Recipe
Dairy-Free Dark Chocolate Mousse
Dark, rich, chocolatey and made without dairy or added sugar, this Dairy-Free Chocolate Mousse is the perfect dessert for any occasion.
Prep:
5 mins.
Total:
5 minutes
Ingredients
2

medium ripe avocados

2 Tbsp

. cocoa powder

3 Tbsp

. full-fat canned coconut milk
Pinch of sea salt (optional)

1

–

2

packets Stevia In The Raw®
Cut avocados in half lengthwise. Remove pit from each avocado and scoop flesh into the container of a blender or food processor using a large spoon.

Add remaining ingredients. Process until smooth. Taste and adjust sweetness if desired.
Last Step! Please leave a review and rating letting us know how you liked this recipe! This helps our business thrive so we can continue providing free recipes and high-quality content for you.
Notes
All photos and content are copyright protected. Please do not use our photos without prior written permission. If you wish to republish this recipe, please rewrite the recipe in your own unique words and link back to the source recipe here on The Real Food Dietitians. Thank you!
Nutrition Information
Serving Size:

⅓ of recipe

Calories:

186

Fat:

17g

Sodium:

50mg

Carbohydrate:

10g

(Fiber:

8g

Sugar:

1g

)
Protein:

3g
Dietary
Pin now, make later!

---
This post was written in paid partnership with Stevia in the Raw®. Though we received compensation for this post, the opinions expressed here are  – as always -100% our own. Thank you for supporting the great companies we work with thereby allowing us to continue creating great recipes and content for you.
SaveSave