We say you can never go wrong with a casserole that gets topped with creamy mashed potatoes. Imagine your serving spoon breaking through that crunchy-smooth layer of garlic-herbed mashers. Dreamy, right? But what's below the surface of this Vegan Shepherd's Pie is just as special as the topping. A tender and flavorful lentil gravy loaded with veggies awaits you there. And it all comes together for a meatless meal that's satisfying, rich, warming, and oh-so-good!
A Comforting Crave-Worthy vegan Shepherd's Pie
Whether you make Shepherd's Pie for St. Patrick's Day or as a cozy-weather warm-up meal, this 100% Vegan Shepherd's Pie may just become your new favorite version. A creamy and thick, perfectly seasoned lentil-veggie gravy replaces the typical ground beef or ground lamb. So you still get the satisfying casserole you crave, but made with all plant-based nutrition and goodness.
ingredients to make vegan shepherd's pie
Gather these plant-based ingredients to make vegan cottage pie tonight:
Lentils – use 1 cup of green or brown lentils
Onion – you'll need a medium yellow onion or white onion
Mushrooms – use fresh cremini or button mushrooms, caps and stems diced
Vegetable broth – the lentils cook in broth until tender, and you'll also need some veggie broth for whipping the potatoes
Frozen peas and carrots mix – a bag of frozen peas and carrots mix saves you chopping time and cooks perfectly in this Lentil Shepherd's Pie
Coconut milk – you'll use one 14-ounce can of full-fat coconut milk; this ingredient helps create the creamy, savory gravy sauce and doesn't taste at all like coconut in the finished dish
Garlic cloves – this aromatic flavor-enhancer is added to both the Vegan Shepherd's Pie and the mashed potato topping
Coconut aminos – can sub 1/2 tablespoon soy sauce or tamari mix with 1/2 tablespoon water
Russet potatoes – we love how russet potatoes cook tender and mash smoothly without getting too gummy. But you can sub in any type of potato you prefer, such as Yukon golds
Cornstarch – you'll make a simple cornstarch-water slurry to help thicken the gravy sauce; or you can sub in arrowroot powder or tapioca starch for a Whole30 compliant ingredient
Olive oil – or you can sub in avocado oil
Dried thyme, sea salt, and black pepper
Fresh chives – adds color and flavor to the mashed potatoes; can sub in minced green onion, fresh parsley, fresh rosemary, fresh thyme, or other fresh herb
Though they appear in many Shepherd's Pie recipes, including vegan versions, you won't find any tomatoes, tomato paste, celery, green beans, vegan Worcestershire sauce, vegan butter, or non-dairy milk used here. We streamlined the ingredients so you'll get maximum flavor with minimal cook time and effort.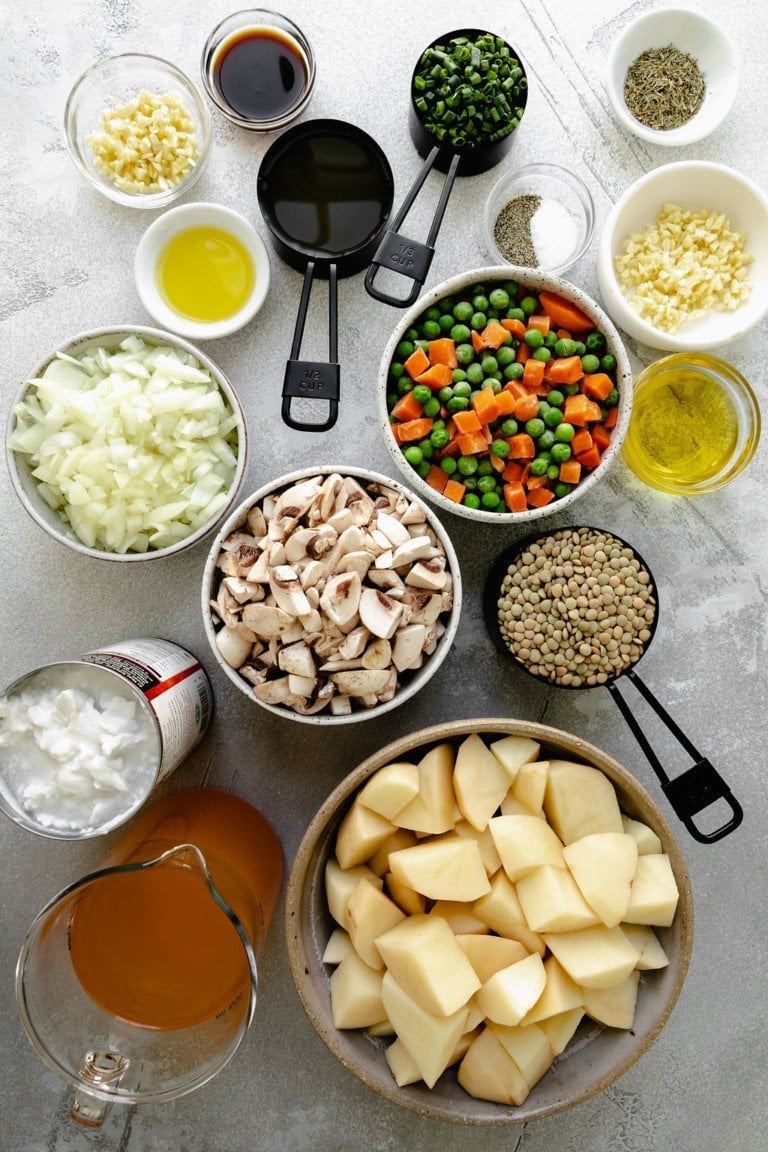 How to make this Lentil Shepherd's Pie Recipe
When you make this Plant-Based Shepherd's Pie Recipe, you simultaneously cook the filling in an oven-safe skillet while making the mashed potatoes in a separate pot. Then, combine the two and send it off to the oven to bake.
Make the lentil-veggie filling: On the stovetop, you'll cook the onion, mushrooms, carrots, peas, and lentils until tender over medium high heat. Then, you'll thicken this mixture by stirring in a can of coconut milk and seasonings. Finally, you'll stir in a cornstarch slurry, then simmer and heat until it thickens to a gravy.
Boil and mash the potatoes: Meanwhile, you'll cook peeled and cubed russet potatoes in a large pot of boiling water. Once tender, you'll drain the potatoes and return them to the pot, where you'll whip them with olive oil, garlic, seasonings, and broth until smooth and creamy.
Assemble the shepherd's pie: Next, you'll spoon those delicious mashed potatoes over the lentil-veggie filling. Spread the mashers around in an even layer in the pan with the back of a spoon.
Bake the shepherd's pie: Finally, place the skillet on top of a baking sheet and set it in the oven to bake until the potatoes get crispy on top.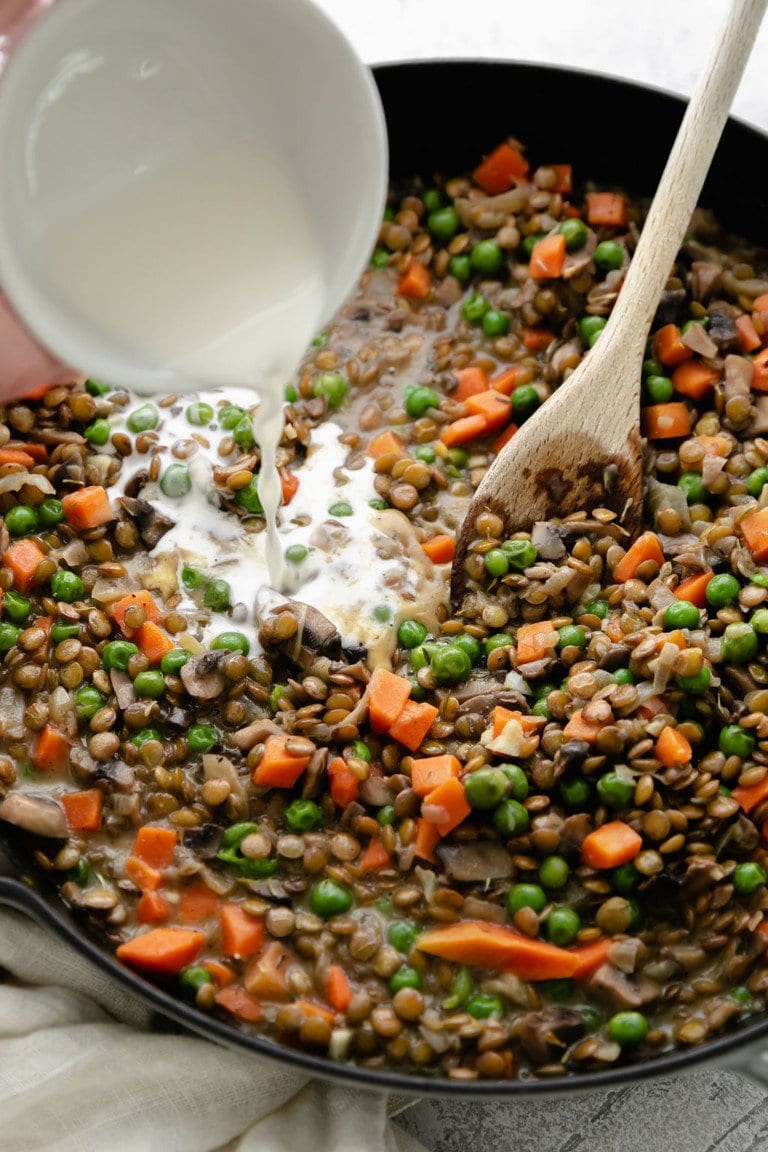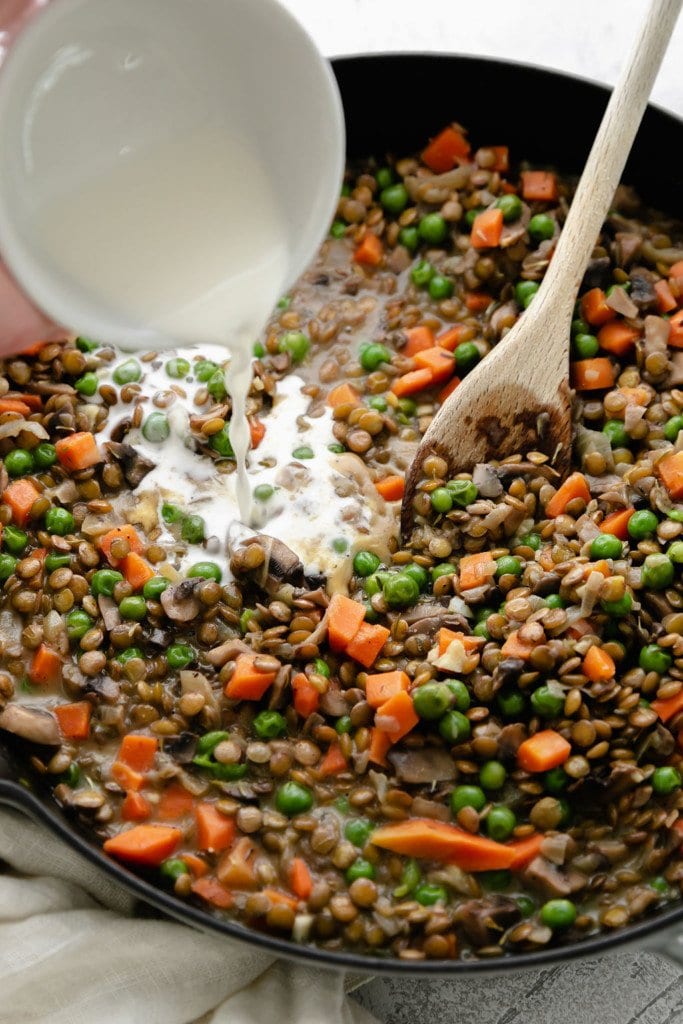 Healthy ingredients in vegan Shepherd's Pie Recipe
This vegetarian shepherd's pie is not only comforting and delicious, but it's loaded with a lot of good-for-you plant-based nutrition. Here are some stand-out ingredients:
Lentils – these hearty little legumes are nearly 25% protein, making them a good stand-in for ground meat in vegan recipes like this one. They're also a great source of fiber, iron, B vitamins, and minerals, which are all wonderful for your cardiovascular health
Mushrooms – often used as a stand-in for meat in plant-based dishes, mushrooms have a "meaty" umami-like quality to them, as well as being a good source of blood pressure-lowering potassium and fiber
Peas and carrots – this classic veggie combo is colorful, slightly sweet, and a great source of powerful antioxidants call carotenoids that we need for overall better vision and skin health
Coconut milk – this plant-based creamy and thick milk is made up of a healthy type of fat called medium-chain triglycerides (or MCTs), which have been connected to better blood cholesterol and weight loss
Russet potatoes – sometimes overlooked for other types of smaller potatoes, we love to use russets in this vegan shepherd's pie recipe because they mash and brown so perfectly. Russet potatoes are also a good source of fiber, as well as bone-supporting minerals like zinc, calcium, magnesium, and phosphorous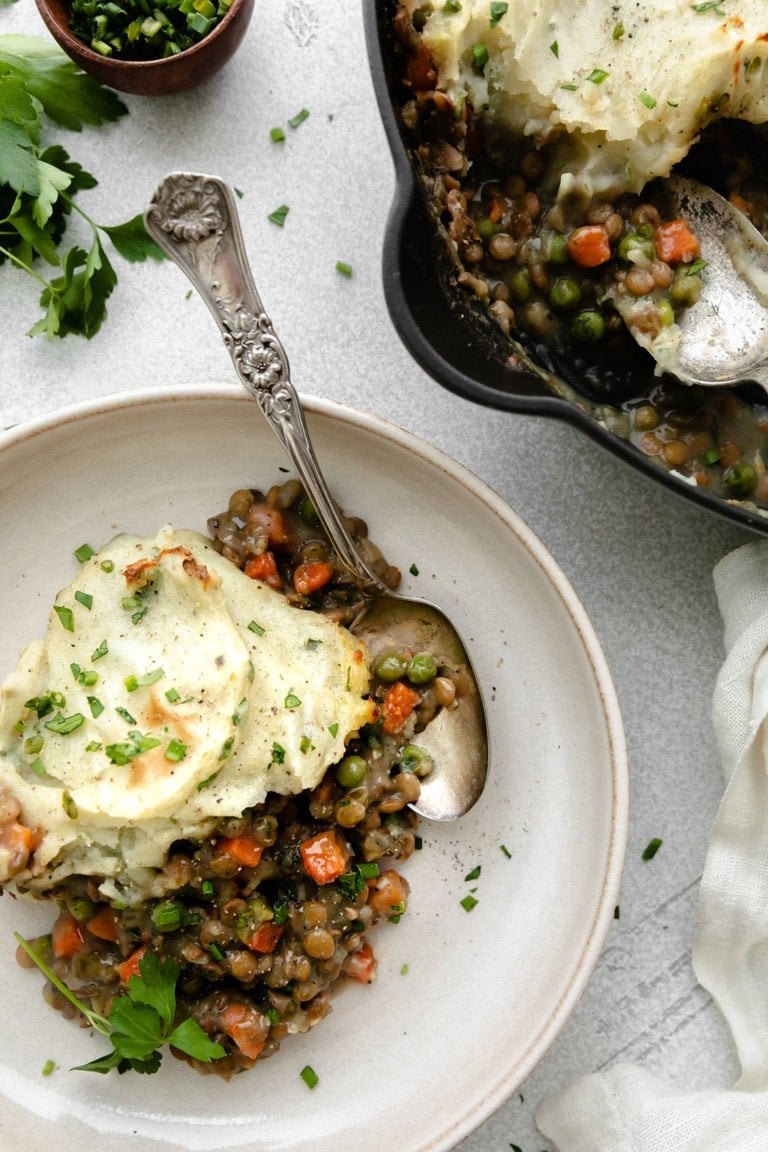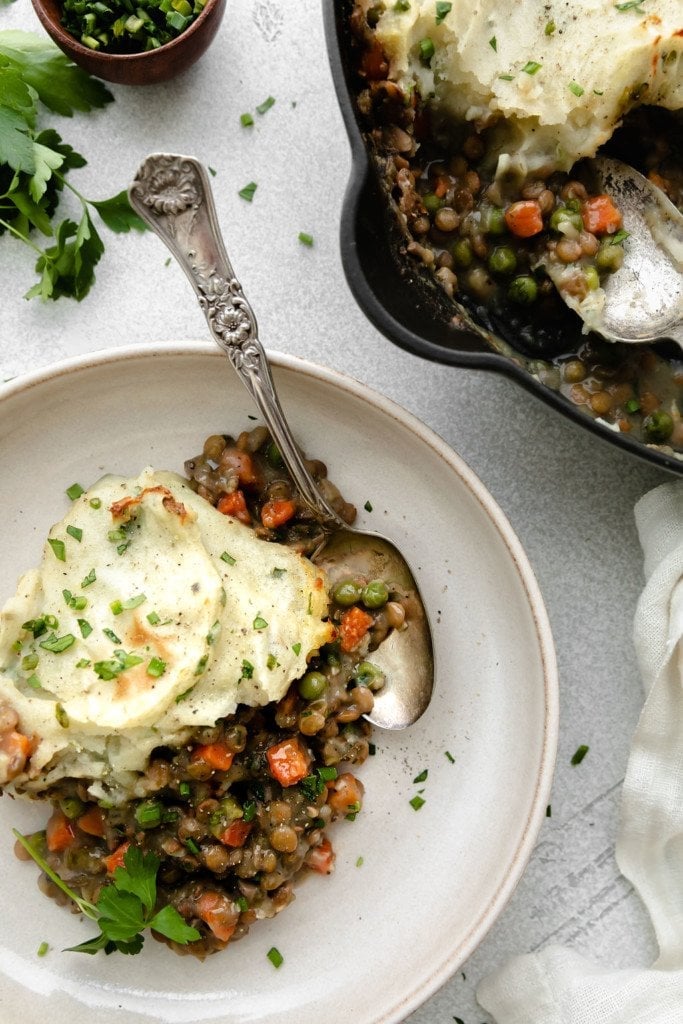 when to serve vegan Shepherd's pie
We don't think anyone needs a special occasion to make this vegan cottage pie, though it does make the perfect casserole for several occasions, including:
St. Patrick's Day – though some argue that the origin of Shepherd's Pie is more British than Irish, you'll find many who say Irish Shepherd's Pie is as synonymous with St. Patty's Day as corned beef and cabbage. Why not try this Vegan Irish Cottage Pie as a nutritious way to celebrate Irish heritage and good luck? For another twist on the classic, try our Sweet Potato Shepherd's Pie
Easter – this spring holiday begs for a cozy casserole, especially since the weather can sometimes be cool, depending on when Easter lands on the calendar each year. A crowd-pleasing Vegetarian Shepherd's Pie is just the thing to pass around the table at a celebratory Easter brunch
Other holidays – the comforting flavors and mashed potato topping in this Vegan Shepherd's Pie recipe make it fancy enough for holidays ranging from Thanksgiving and Christmas to New Year's Day. It's also a cozy, family-style casserole that can bring just the right down-home vibe to your next friend or family holiday gathering.
Fall and winter weekends – when the air has a chill and you just want to hunker down with a comfort food recipe, this plant-based cottage pie can nourish you with its familiar delicious flavors and veggie-filled nutrition
A make-ahead comfort dish to share – a sick friend, a busy family member, an overwhelmed neighbor, a new parent, a loved one in mourning … think of all the people who would benefit from you showing up at their door with this healthy and delicious spin on a comfort food favorite? Read below for our suggestions for how to make it ahead and bake later.
how this Lentil shepherd's pie fits in special diets
One of our specialities here at The Real Food Dietitians is to create recipes that anyone can enjoy. Here's how this vegan cottage pie can work for people with food allergies or special diets.
Gluten-free – since there is no flour thickening agents or gluten-containing flavorings in this shepherd's pie, it is naturally gluten free
Dairy-free – we use coconut milk to create a thick gravy, giving you the impression that it's made with cream, even though this is a 100% dairy-free shepherd's pie
Nut-free – if someone you're feeding has a nut allergy, you won't find any nuts in this recipe
Egg-free – there are no eggs or egg-containing ingredients in this shepherd's pie
Vegan / Plant-Based – we don't use any animal proteins or animal fats in this vegan shepherd's pie, so it is 100% plant-based, vegetarian, and vegan
Plant-Based Whole30 – this newer version of the Whole30 plan allows for beans and legumes, like lentils, to provide plant-based nutrition. When you use arrowroot powder or tapioca starch (instead of cornstarch) to thicken the lentil-veggie gravy, this recipe is compliant with the Plant-Based Whole30 plan
See the recipe card below for complete nutrition information, including calories, carbohydrates, protein, and fiber in this classic casserole dish.
can i make Vegan Shepherd's Pie ahead of time?
Yes, you can make this lentil cottage pie ahead of time! Simply prep it up to the point of baking, and bake it later. This is especially convenient if you want a meal-prep dinner to serve later in the week. Or, if you want to make it for a friend. To make ahead of time, simply follow the steps up to the point of covering the filling with the potatoes. Cover the skillet and chill in the fridge for up to 3 days. Bake at 375 degrees as directed, though for longer – about 45-55 minutes since the casserole will be chilled when it goes into the oven. Or, for a freezer version, transfer the cooked and thickened lentil mixture to a disposable or reusable 9×13-inch baking dish; spread the mashed potatoes over top, cover, and freeze up to 3 months. To bake, let the casserole thaw in the refrigerator for 24 hours. Then bake at 375 degrees until the filling and potatoes are hot, 45 to 55 minutes.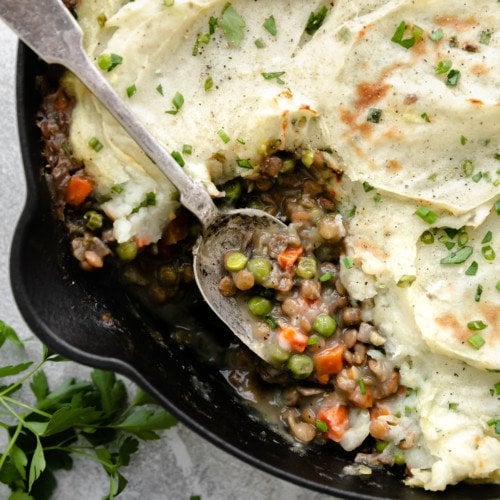 Recipe
Vegan Shepherd's Pie with Lentils
A classic comfort casserole gets a plant-based makeover with this full-flavor vegan version of cottage pie. A thick and creamy lentil and veggie filling gets topped with perfectly seasoned garlic-chive mashed potatoes and baked until warm and heavenly. 
Prep:
20 mins
Cook:
1 hour, 10 mins
Total:
1 hour, 30 mins
Ingredients
For the Filling:
1 tablespoon

olive oil

1

medium onion, chopped

8 oz

fresh cremini or button mushrooms, caps and stems diced

1 cup

uncooked green or brown lentils

2 cups

vegetable broth

1 ½ cups

frozen peas and carrots mix

1

14-ounce can full-fat coconut milk

4

garlic cloves, minced

1 tablespoon

coconut aminos

1 teaspoon

dried thyme

1 teaspoon

sea salt

½ teaspoon

black pepper

2 tablespoons

cornstarch, arrowroot powder, or tapioca starch
For the Mashed Potatoes
2

lbs russet potatoes (about

5

small-medium), peeled and chopped

Water and salt

3 tablespoons

olive oil 

4

garlic cloves, minced

½ teaspoon

sea salt

¼ teaspoon

black pepper

½

to

1

cup vegetable broth

⅓ cup

minced fresh chives
In a 10-inch cast-iron skillet or other 3-quart oven-safe skillet over medium-high heat, heat the 1 tablespoon olive oil. At the same time, fill a pot halfway with lightly salted water and bring to a boil over high heat. 

When the oil is shimmering in the skillet, add the onion and mushrooms; saute until the mushrooms have released their liquid, 7-10 minutes. 

When the water in the pot comes to a boil, add the peeled and chopped potatoes (to make the mashed potatoes). 

When the onions and mushrooms have cooked down in the skillet, add the lentils and broth to the skillet; set heat to medium and let simmer (uncovered) for 20-25 minutes, or until the lentils are tender. 

Meanwhile, preheat the oven to 375 degrees and position a rack in the top third of the oven. Once the potatoes are tender and easily pierced with a fork, drain the water from the pot and return the potatoes to the pot. Add the olive oil, garlic, salt, and pepper. Using a hand mixer, whip the potatoes until they are well mashed and creamy, increasing the speed as you continue to whip for a full minute or two. Add ½ to 1 cup broth and continue to whip until the potatoes are very creamy. Add the chives and whip again until the chives are incorporated. Set the mashed potatoes aside. (Alternatively, you can whip the potatoes with a stand mixer or a hand potato masher.) 

Back at the skillet, once the lentils have cooked and most of the liquid has been absorbed, add the frozen peas and carrots mix, coconut milk, garlic, coconut aminos, thyme, salt, and pepper. Stir well and increase heat to bring to a simmer. 

In a small bowl or dish, combine the cornstarch with 2 tablespoons cold water; whisk until the cornstarch is dissolved. Then, slowly pour the cornstarch slurry into the mixture in the skillet, stirring until well incorporated and the mixture thickens to a gravy, about 1-2 minutes. 

Remove the skillet from the heat and place the skillet on a sheet pan (this helps prevent spillage in the oven). Gently add the mashed potatoes in a layer over the lentil-gravy mixture. Use the back of a spoon to spread the potatoes evenly in a wavy pattern. 

Place the sheet pan with the skillet on the top rack in the oven. Bake for 20-25 minutes. 

Remove from heat and let sit for 5 minutes before serving. If desired, garnish servings with additional chives or fresh parsley. Store leftovers in a covered container in the refrigerator for up to 5 days.
Last Step! Please leave a review and rating letting us know how you liked this recipe! This helps our business thrive so we can continue providing free recipes and high-quality content for you.
Nutrition Information
Serving Size:

1/8 of the recipe

Calories:

352

Fat:

15 g

(Sat Fat:

8 g

)
Sodium:

629 mg

Carbohydrate:

26 g

(Fiber:

6 g

Sugar:

5 g

)
Protein:

11 g

Cholesterol:

0 mg
Dietary
Pin It Now To Make It Later!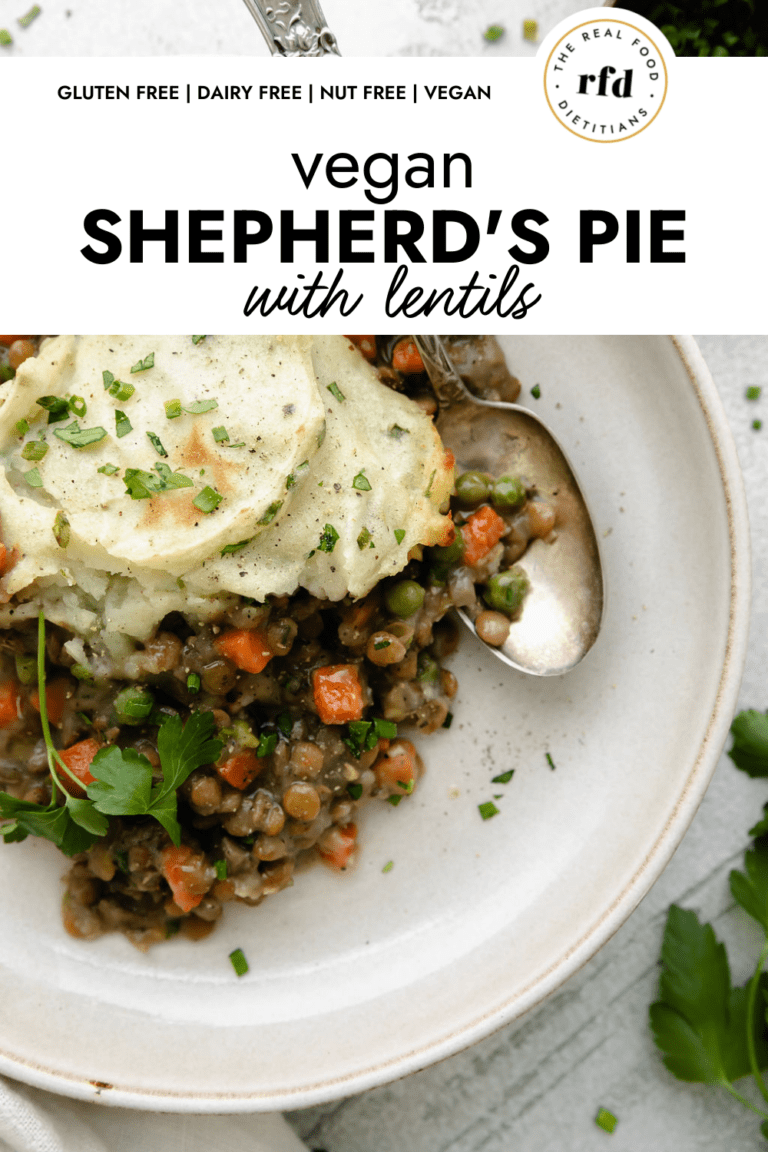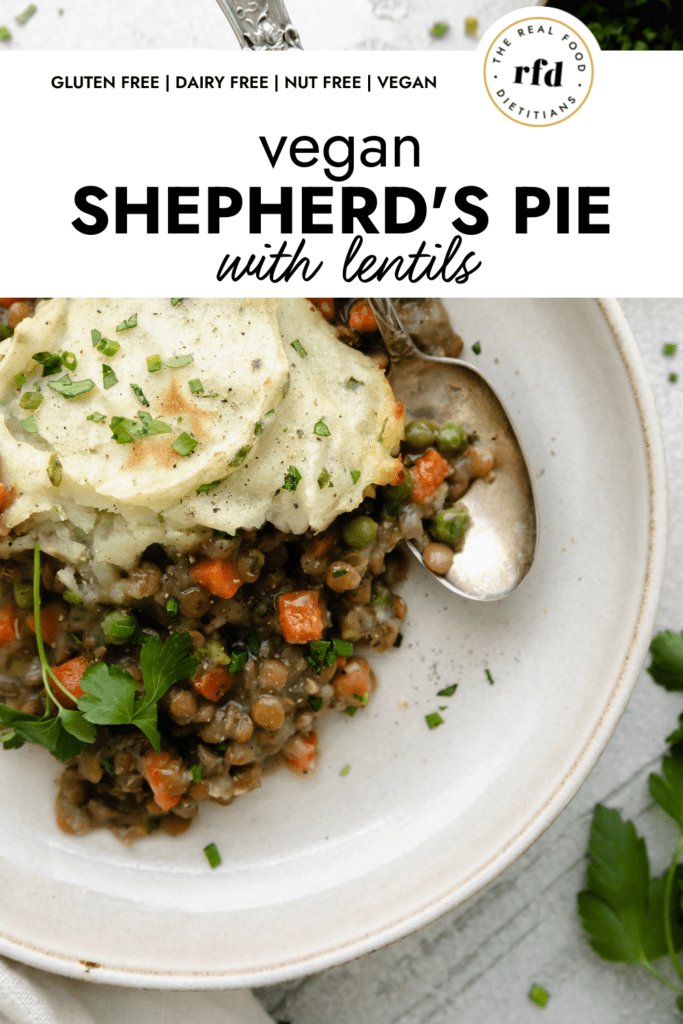 Photo Credit: The photos in this blog post were taken by Rachel Cook of Half Acre House.
For ultimate success, we highly recommend reading the tips in the full blog post above. All photos and content are copyright protected. Please do not use our photos without prior written permission. If you wish to republish this recipe, please rewrite the recipe in your own unique words. Link back to the source recipe here on The Real Food Dietitians. Thank you!