Guacamole is a deceptively simple dish with a complex depth of flavors. We've got a go-to recipe that will "guac" your world! Our yummy recipe is perfect for tortilla chips or eating with veggies. You can even use it as a topping for tacos or taco salad.
This easy guacamole recipe is simple, quick, and customizable to your taste and dietary preferences. But beware: After you bring it once, you'll be asked to bring it to family gatherings and get-togethers forever.
Recipe Highlights: Homemade Guacamole Recipe
After your first time trying this guac recipe, you'll never want store-bought guacamole again. Luckily, this guacamole checks all the boxes:
Easy to make, with no fancy equipment and only a handful of ingredients.

Nutrient-dense and easy to adjust for your taste preferences.

Perfect for gluten-free, dairy-free, and plant-based diets.

Prep time

is only 10 minutes, and it's ready to eat after that!

Serve with eggs, on top of a salad, use it for quick avocado toast, or to level up your next plate of

nachos

.
A Classic Addition to Any Mexican Dish
This guacamole comes together with just 8 ingredients (not including salt and pepper) in no time. It's the perfect complement to Mexican-inspired dishes such as our One-Dish Fajita Bake, One-Pan Shrimp Fajita Bowls, or as an appetizer for holidays, parties, and last-minute get-togethers.
We thoroughly enjoy it as an afternoon snack when we need just a little something to get to dinner!
Health Benefits of Homemade Guacamole
Avocados, a very nutrient-dense food, are the main ingredient in guacamole. They're packed with heart-healthy monounsaturated fats, high in fiber, low in carbohydrates, antioxidant-rich, and contain 20 different vitamins and minerals.
The creamy green single-seed fruits are also low on the glycemic index, making them great for people trying to control their blood sugar. In fact, a 12-week study in 2022 linked avocado consumption to improved glucose control and reduced biomarkers of cardiometabolic risk.
Ingredients To Make Tasty Guacamole
Our recipe is the chunky kind of guacamole, loaded with fresh ingredients and a Mexican spice combination. It's a guacamole you can really sink your teeth into and get serious about.
Take a moment to gather the ingredients because you'll only need 10 minutes before this is ready to eat.
Avocados — The best guacamole needs perfectly ripe avocados. We like to pick up our avocados as close to prep time as possible to avoid them being unripe or overripe.
Aromatics — Minced garlic cloves and chopped onions are a must in guac. White onions are the sweetest raw and will have a milder flavor, while red onions offer more of a spicy onion bite. Grating the garlic with a microplane grater helps further diffuse that delicious garlicky flavor into every bite.
Bell pepper — Diced bell peppers provide an extra crunch and boost this recipe's vitamin C and potassium.
Spices — A simple combination of ground cumin, cayenne, salt, and pepper is all you need to season good guacamole.
Fresh cilantro — Cilantro helps balance all the flavors and adds an extra layer of freshness to the dip.
Fresh lime juice — A squeeze of lime juice brings a citrus twist to the recipe. You can use lemon juice in place of lime.
This recipe is entirely adjustable to your liking. You can add jalapeño along with or in place of the bell pepper. If you want it even spicier, try some chopped serrano pepper.
Feel free to throw in some extra mix-ins like diced Roma tomatoes, corn, or black beans. Authentic guacamole from Mexico tends to keep things simple, but that shouldn't stop you from getting creative.
Find the ingredient list with exact measurements in the recipe card below.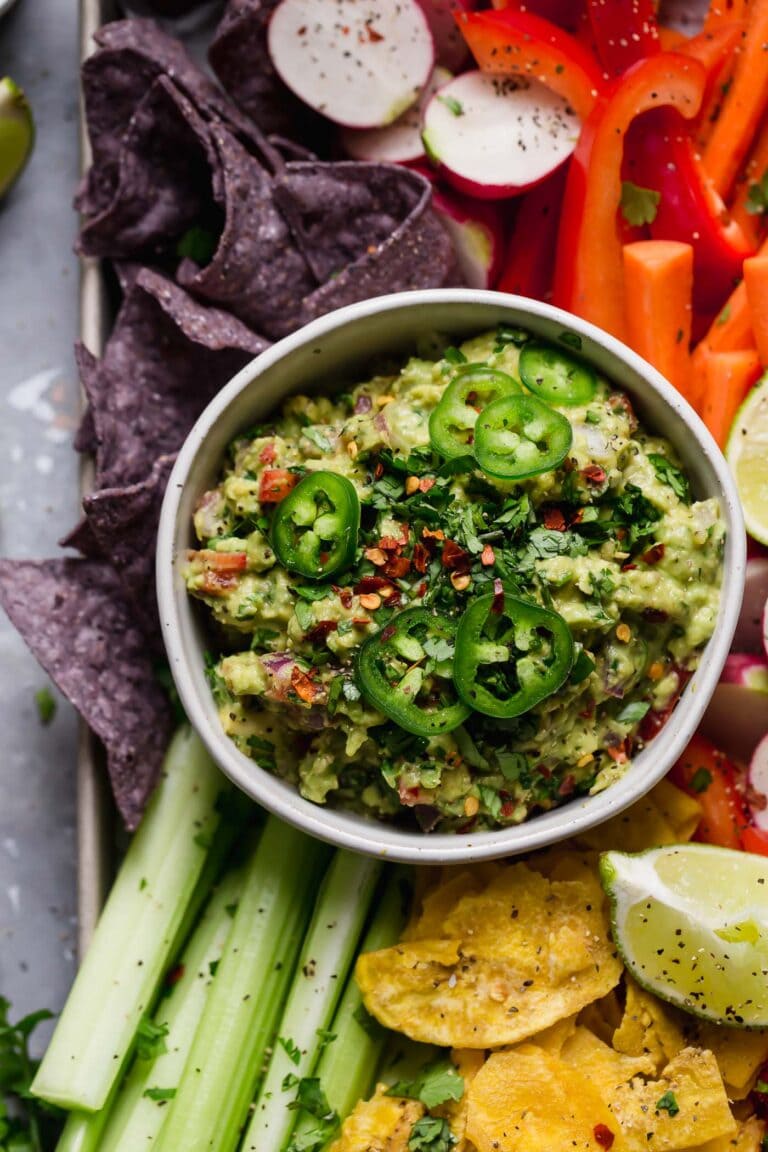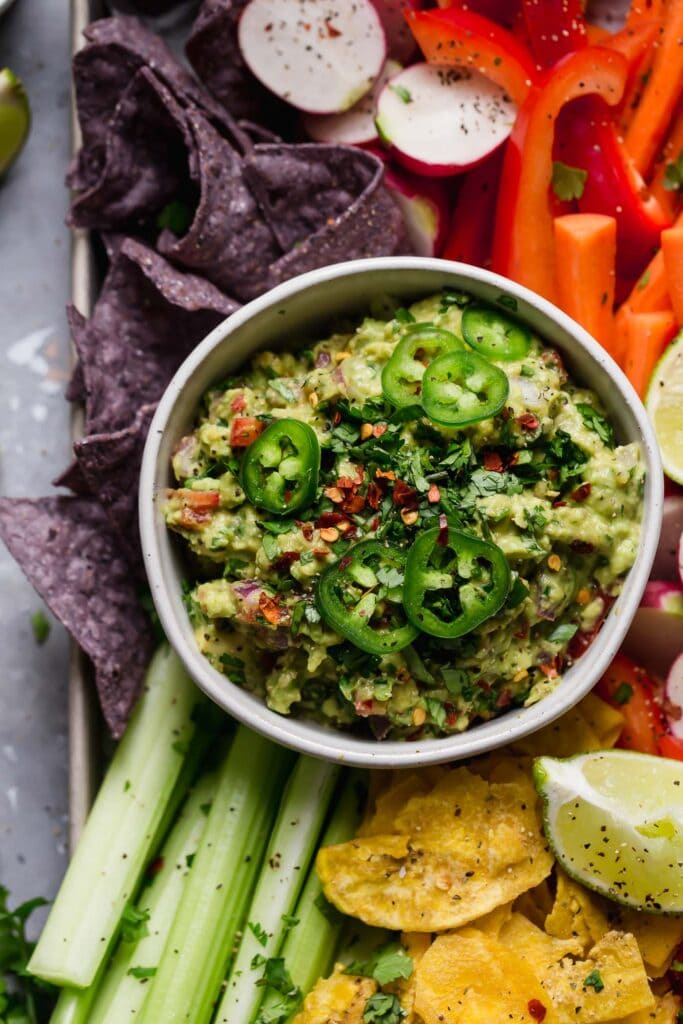 Only have one avocado?
If you blinked and missed the window of opportunity to use one of your avocados, you can pivot your guac into a guacamole dip. Blend your avocado with sour cream, plain full-fat yogurt, or silken tofu to make a dip if you don't have enough avocados for the recipe. You can also try blending in an edamame mash to cut the fat and boost the protein in your dip.
Picking the Perfect Avocados
Unripe avocados tend to be a lighter shade of green than ripe avocados, but sometimes the skin can be deceiving. The best way to check the ripeness of an avocado is to give it a gentle squeeze.
Your avocado should have a little give but not too much. If the fruit is hard, it's unripe and should be left at room temperature to soften up. Look for an avocado with a tiny stem, too. That little cap is a barrier that prevents oxidation.
How To Ripen an Avocado Quickly
If the grocery store only has unripe avocados, grab a paper bag and a ripe banana while you're there. Putting the avocado and banana in the bag together will speed up the process as the banana naturally produces ethylene gas. This triggers the ripening process for the avocado!
How To Make Guacamole
Making this recipe is quick and easy. After you've peeled and pitted your avocados, add them to a mixing bowl with the remaining ingredients. Mix well, and enjoy!
For serving size and the complete directions and ingredient amounts, scroll down to the recipe card below. All of our recipes include the nutrition analysis, listing calories (kcals), protein, carbohydrates, fiber, sugar, sodium, cholesterol, and more per serving.
How To Store Your Leftover Guacamole
Fresh, homemade guacamole lasts about 3-4 days in the fridge and can be stored for 3-4 months in the freezer. We've tried several ways to store our guac leftovers, and there are a couple of options we've found work great to prevent browning.
What is the best way to store guacamole? The best way to store guacamole is to seal your container with plastic wrap after covering the top of it with a thin layer of water.
Covering the surface of the guacamole with plastic wrap prevents air from getting to the guacamole, which keeps it green. By smoothing out the leftover guac and covering the top with water, you'll also prevent air from browning the avocado.
Keep in mind that you'll need to drain the water before eating it again. We don't recommend storing it like this for longer than 3 days.
We don't recommend adding extra lime or lemon juice, as this alters the flavor and doesn't significantly prevent your yummy guacamole from turning brown. We've also tried leaving the pit in — this doesn't work, either.
Does leaving the pit in guacamole keep it green? No, avocado pits don't prevent guacamole from browning. The surface area under the pit might be protected from air, but you'd accomplish the same by using our water and plastic wrap tip (except you can protect all of your guac).
The Best Ways To Enjoy This Guacamole Recipe
There is no right or wrong way to enjoy this guacamole recipe. It pairs well with any Mexican-inspired cuisine. We love serving it with an enchilada dinner. We've even used it for a quick avocado toast spread.
It is also great just to be eaten with corn tortilla chips, blue corn chips, or plantain chips.
Guacamole isn't just for chips. Yes, you heard us. There are plenty of healthy things to dip in guacamole because it doubles as a fantastic veggie dip. To make everyone happy, serve with both veggies and chips.
History of Guacamole
The avocado is native to South Central Mexico. Guacamole is a recipe believed to have been created by the Aztecs originally. The name "guacamole" comes from the Nahuatl term āhuacamōlli, which translates to "avocado sauce." The word āhuacatl means avocado, and mōlli means sauce.
The origins of this dip were so long ago it is hard to define the "authentic recipe." Some say that authentic guacamole doesn't have much lime juice (or any at all) because that changes the flavor of the avocado too much. Others argue over tomatoes and tomatillos.
We just know that our recipe is super tasty and will have you coming back for more!
Frequently Asked Questions
What is traditional guacamole made with?
Traditional guacamole is made with avocados, onions, tomatoes, cilantro, jalapeños, lime juice, and salt. Our guacamole is chunky, although some say that traditional guac is more blended and creamy. Traditionally, guacamole is prepared using a molcajete – a large mortar and pestle made from volcanic stone. While you can still make great guacamole using a fork and bowl, a molcajete takes it up a notch and is a great conversation piece.
Is lemon or lime juice better in guac?
We prefer lime juice in our guacamole to give it a little extra zing. Lemon juice will be a little milder if you don't want as much citrus flavor. No matter which you use, our team loves this 2-in-1 citrus squeezer to get every last drop from limes and lemons.
What is the difference between guacamole and salsa?
The difference between guacamole and salsa is the base ingredient. Guacamole uses avocado as a base, while salsa commonly uses tomatoes. But salsa isn't always a tomato base — "salsa" means sauce, so technically guacamole is a salsa, too.
Is guacamole good for you?
Guacamole is calorically dense and rich in nutrients, monounsaturated fats, fiber, and fresh ingredients. Plus, it works for most special diets without substitutions.
Should you make guacamole ahead of time?
Guacamole is best fresh, but you can prepare it about a day ahead of time before it starts to oxidize and turn brown.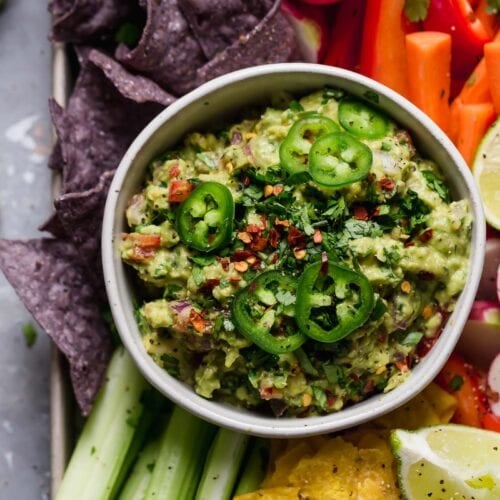 Recipe
Homemade Guacamole Recipe
We've made a kickin' and chunky guacamole for you to add to your Mexican-inspired dishes and salads. Use it to dip your favorite veggies or for the perfect appetizer to serve at your next get-together. Try add-ons like tomatoes, black beans, corn, pico de gallo, or jalapeño peppers to make it your own.
Prep:
10 mins
Total:
10 mins
Ingredients
2

large avocados, ripe (slightly soft to the touch)

2

cloves garlic, minced or grated

⅓ cup

onion, finely

diced

⅓ cup

bell pepper, finely

diced

½ teaspoon

ground

cumin

Pinch of cayenne (more for kick)

¼ teaspoon

fine

sea salt

or to taste

Dash of pepper

3 tablespoons

fresh

cilantro

, chopped

Juice of

1

lime
Garnish: Lime wedge, jalapeño slices, fresh cilantro
Peel avocados and remove pits.

Score avocados into squares using a small paring knife.

In a medium bowl, mash avocados with a fork or

potato masher

.

Add the rest of the ingredients, and mix well to combine.

Garnish as you please. Serve with veggies and/or your favorite chips.
Last Step! Please leave a review and rating letting us know how you liked this recipe! This helps our business thrive so we can continue providing free recipes and high-quality content for you.
Nutrition Information
Serving Size:

1/8 of recipe

Calories:

70

Fat:

6 g

Sodium:

150 mg

Carbohydrate:

5 g

(Fiber:

2 g

Sugar:

1 g

)
Protein:

1 g
Dietary
Pin Now to Make It Later!
---
Photo Credit: The photos in this blog post were taken by Jess of Plays Well with Butter.
For ultimate success, we highly recommend reading the tips in the full blog post above. All photos and content are copyright protected. Please do not use our photos without prior written permission. If you wish to republish a recipe, please rewrite the recipe in your own unique words. Link back to the source recipe here on The Real Food Dietitians. Thank you!