Life is hard enough…so why not make your morning simpler with these Grain-free Banana Coconut Muffins?
This post is sponsored by our friends at Simple Mills
My breakfast game hit rock bottom
If there's any meal I dread, it's breakfast. Maybe it's because I'm a mom, entrepreneur and wannabe urban homesteader and there just aren't enough hours in the day to get it all done. Even though breakfast is one of the most important meals of the day – you are 'breaking your fast' from the night before – it's the one that get's the least attention at our house.
Anyone else feel this way? Always behind and scrambling to stay afloat always with the goal of someday getting ahead? Um hmmmm. I didn't think I was the only one!
Recently I had to take back control of the breakfast scene in our home. A busy fall and hectic holiday season exacerbated by a family emergency meant too many mornings of cold cereal and milk or toast and honey – my kids' go-to when mom doesn't have time/make time to have a breakfast plan. I reached my breaking point just after Christmas – we'd had too many mornings of simple, blood sugar-spiking carbs and too many crash and burn mid-morning meltdowns. And I KNOW better! I tell people what to eat for a living. I'm a food blogger and recipe creative. I'm always concocting something new and delicious so why wasn't I paying any attention to what my kids were eating breakfast?
Because I'm human. Because I'm not perfect. Because sometimes I have way too damn much on my already full plate, that's why.
Admitting that it wasn't working was the first step. Doing something about it was the obvious next step. But where to start? The solution had to be simple. Are you feeling me here?!
Start simple
If you're nodding your head fiercely right now like I think you might be, then read on. I'm 'bout to spill the beans on how I took back breakfast and re-upped my real food game for the craziest of mornings.
It's simple. I started simple. I gave myself some grace for once and took the easiest route this side of toaster waffles and grabbed a couple boxes of Simple Mills Banana Muffin & Bread Mix and I went to town making muffins. Yes, I could have used a recipe and started from scratch – but let me remind you, I was eyeballs deep in family drama with two kids on winter break and blogging deadlines to meet. And the ingredients in the box – almond flour, banana, organic coconut sugar, arrowroot flour, organic coconut flour, baking soda and sea salt were the exact same wholesome, clean ingredients I'd use in a recipe if I had time. Bonus points for the fact that I didn't have to have special flours on hand or do any measuring. Just add, stir, scoop and bake.
Two dozen muffins later and I was ready to load them up into freezer bags and pop them in the freezer so I'd have plenty of easy options in the coming weeks. Bam!
Can I just tell you how good it felt to know I was finally ahead of the breakfast game for once? So good. The icing on the cake though was that by using the Banana Muffin & Bread Mix from Simple Mills I wasn't compromising quality or taste. Not one bit thanks to the super clean ingredient list. My only regret was that I didn't make more of these Grain-free Banana Coconut Muffins that I'm about to share with you today because they were such a hit in our house.
Stay simple
It bears mentioning that not only did I go crazy with the banana muffins, I also broke out the Pumpkin Muffin & Bread and Pancake & Waffle Mix and went to town with those too. I love taking advantage of bulk cooking opportunities so I can stock the freezer. Especially when it's made super simple with a mix that contains ingredients I feel good about feeding to my family.
In under 2 hours I'd made enough muffins and blueberry pancakes to fill the freezer and clean up the mess. With so many easy 'reheat & eat' options at my fingertips – all I have to add is a scrambled egg or some breakfast sausage (like this recipe or this recipe) and I'll have breakfast in the bag for the next month. Omg…Talk about feeling seriously awesome! 
Make your mornings simpler with these Grain-free Banana Coconut Muffins #SIMPLESTART #simplemills #paleo
Click To Tweet
And the awesomeness doesn't end there. Not only does Simple Mills make mixes that make breakfast wholesome, easy and delicious they've got a whole line of the most insanely crave-able grain-free snack crackers to make life even easier. These are my new go-to cracker for the kids' lunches. They love them and even offered to do extra chores if I bought an extra box of the Simple Mills Farmhouse Cheddar Crackers. Between you and me, I would have bought them anyway. Though they did muck out the chicken coop and bed the nest boxes in record time without any whining so I had that going for me. Yay for cheese cracker-powered kids! And double yay for having discovered a line of baking mixes and snack crackers that are 100% free of dairy, grains, gluten, soy, additives and preservatives. #winning
Not sure where to find Simple Mills products? Don't worry! They're available at Whole Foods, Target, Sprouts, Amazon and SimpleMills.com. For other locations check out their store locator, too!
Okay, back to muffins.
Muffins made your way
The beauty of a mix like Simple Mills Banana Muffin & Bread Mix means the add-in combinations are nearly infinite. During my recent muffin making binge I used frozen wild blueberries, mini dairy-free chocolate chips, toasted pecans and leftover crumbled bacon (totally not kidding there), chia seeds and coconut. For this recipe today I'm sharing the version with coconut and chia seeds because they're something you probably always have on hand. And coconut and chia sees are both great sources of fiber and they add a little crunch to the muffin along with a dose of healthy fats.
Make breakfast simpler this week with these Grain-free Banana Coconut Muffins
Unless, of course, you like flying by the seat of your pants every morning.
Recipe
Grain-free Banana Coconut Muffins
Grain-free, dairy-free Banana Muffins made with coconut and chia seeds to make your breakfast life a whole lot easier. Feel free to add mix-ins of your choice such as nuts, seeds, frozen berries or even leftover crumbled bacon!
Prep:
10 mins
Cook:
20 mins
Total:
30 mins
Preheat oven to 350℉.
Lightly grease a 12-cup muffin pan with coconut oil or line with paper liners and set aside.
In a medium bowl, whisk together eggs, water and melted coconut oil.
Add coconut, chia seeds, cinnamon and baking mix. Whisk until well blended and no lumps remain.
Pour batter into lightly greased or paper-lined muffin pan, filling each well 2/3 full.
Sprinkle tops with additional coconut, if desired.
Bake 18-22 minutes or until a toothpick inserted in the center comes out clean.
Remove pan from oven and place on a wire rack to cool 5 minutes. After 5 minutes, transfer muffins to the baking rack to cool completely before storing in a covered container in the fridge or freezer.
Last Step! Please leave a review and rating letting us know how you liked this recipe! This helps our business thrive so we can continue providing free recipes and high-quality content for you.
Notes
All photos and content are copyright protected. Please do not use our photos without prior written permission. If you wish to republish this recipe, please rewrite the recipe in your own unique words and link back to the source recipe here on The Real Food Dietitians. Thank you!
Nutrition Information
Serving Size:

1 muffin

Calories:

100

Fat:

4g

Sodium:

130

Carbohydrate:

14g

(Fiber:

4g

Sugar:

7g

)
Protein:

2g
Dietary
What's one thing you plan to do this week to make your life simpler? It doesn't have to be about food – it can be anything – share in the comments below!

---
This post was made possible by our friends at Simple Mills. Though we received compensation for this post, the opinions expressed here are  – as always -100% our own. Thank you for supporting the great companies we work with thereby allowing us to continue creating great recipes and content for you.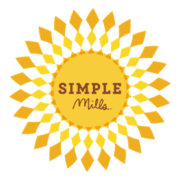 This post may contain affiliate links which won't change your price but will share some commission.
SaveSave