We love to incorporate sweet potatoes into meals and recipes of all types. A nutrient-rich vegetable (that's technically a starch), sweet potatoes have a mildly sweet flavor and creamy texture that works great in a variety of breakfasts, lunches, and dinner recipes. To make mealtimes easy, we've gathered up 45 of our best sweet potato recipes to help you utilize sweet potatoes in a variety of ways. Select some favorites from this collection for simple meals made with whole food ingredients that you can feel good about eating and serving.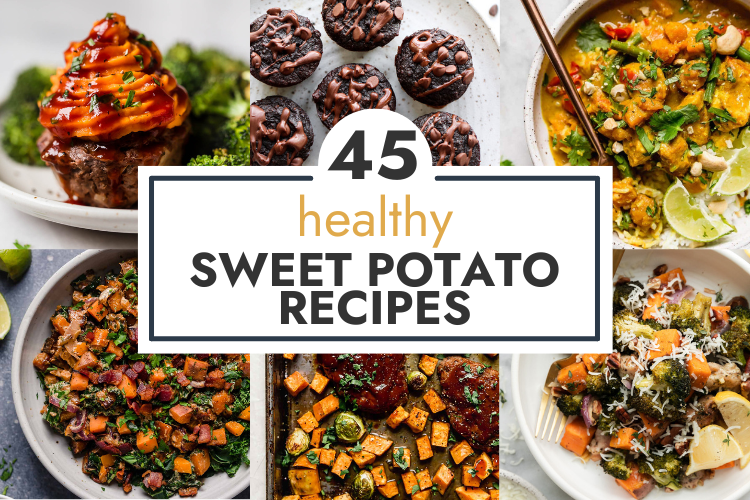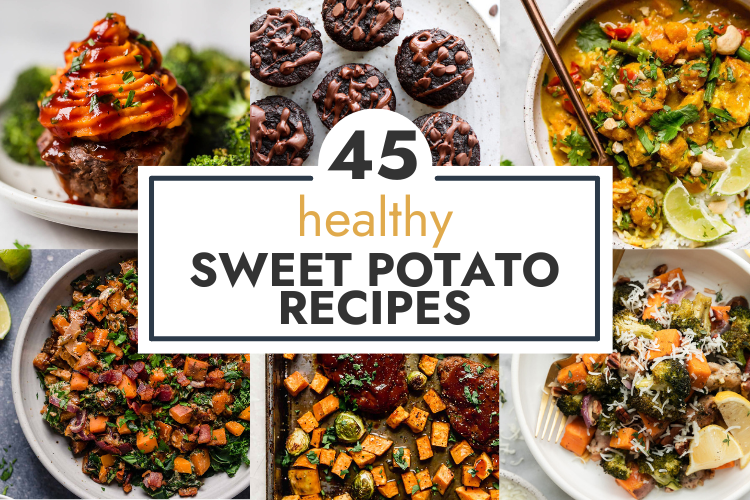 Healthy Sweet Potato Recipes for Every Occasion
Contrary to popular belief, sweet potatoes can be used for so much more than just a side of fries. Don't get us wrong, we love a serving of sweet potato wedges, especially when they're paired with a Burger Bowl with Special Sauce. However, sweet potatoes also taste great when incorporated into complete dishes and they can be paired with a variety of proteins, vegetables, and spices for complete meals you'll find yourself making all year long. So, the next time you're in need of a nutrient-rich dinner or a side dish the whole family will love, reach for one of these healthy sweet potato recipes. Also, don't forget to bookmark this page so it's easy to find a sweet potato recipe when you want it.
45 Healthy Sweet Potato Recipes
Check out this collection of healthful sweet potato recipes so you can include this nutritious veggie in a variety of delicious ways.
Frequently Asked Questions
Is a sweet potato the healthiest potato?
All types of potatoes are full of vitamins, nutrients, and fiber, and one is not healthier than another. For example, sweet potatoes do contain higher levels of vitamin A than other varieties. Meanwhile, regular white potatoes contain more potassium than sweet potatoes. As a result, both can be consumed as a healthy component of a well-rounded diet. We wrote more about the unique health benefits of sweet potatoes in this post.
Do sweet potatoes spike blood sugar? 
Sweet potatoes are high in carbohydrates, meaning they can elevate blood sugar levels. To reduce their impact, opt for boiling or steaming them, and be sure to consume their fiber-rich skin. Paring carbohydrate-rich foods like sweet potatoes with protein and fat helps moderate the normal post-meal rise in blood sugar. 
Is it better to leave the skin on sweet potatoes? 
If you're looking to get the most out of the nutritional value of sweet potatoes, we recommend eating the skin. They're rich in fiber, nutrients, and antioxidants and can help keep you full and improve gut health.
How to Store Sweet Potato Recipes
We provide specific storage instructions for each recipe in their dedicated posts. However, in general, cooked sweet potatoes can be cooled and transferred to an airtight container and stored in the refrigerator for 3-5 days or in the freezer for several months.
How to Reheat
Most leftover sweet potato recipes can be thawed in the fridge overnight and warmed in the microwave, oven, or on the stovetop when you're ready to eat. Or, if you're reheating a crockpot recipe, just place it back in the crockpot on high until it's heated through.
When to Serve Healthy Sweet Potato Recipes
As you can see, there's no right or wrong time to serve healthy sweet potato recipes. We love to make them ahead of time to enjoy for breakfast, lunch, and dinner…sometimes on repeat!
Pin Now To Make Later!
For ultimate success, we highly recommend reading the tips in the full blog post above. All photos and content are copyright protected. Please do not use our photos without prior written permission. If you wish to republish a recipe, please rewrite the recipe in your own unique words. Link back to the source recipe here on The Real Food Dietitians. Thank you!