A variety of root vegetables are tossed with a simple sauce made of melted butter, sweet honey, and fresh sage then roasted to perfection to create the most scrumptious and stunning side dish for any occasion.
Roasted Root Vegetables are a stunning and nutritious addition to any meal
Humble root vegetables such as carrots, beets, and parsnips get a nutritious glow-up thanks to the addition to a buttery, sweet, and herbaceous glaze in these Honey-Sage Roasted Root Vegetables. Equally stunning as they are delicious, they're nutrient-dense addition to your holiday menu.
For a little extra sweet-and-salty we recommend drizzling the roasted vegetables with additional honey and sprinkling them with a dusting of flaky sea salt and fresh sage.
Recipe Highlights
You're going to love how simple and delicious these roasted root vegetables are! They're a stunning addition to a your holiday menu yet simple enough for everyday meals. Here are a few reasons we love this recipe:
Features nutrient-dense ingredients like beets, carrots, parsnips and real honey
Good source of fiber and antioxidants
Made with a variety of long-storing, budget-friendly root vegetables
Ingredients for honey sage roasted root vegetables
You'll be amazed at what you can do with just 6 ingredients plus a little salt and pepper. Here's what you'll need to create this show-stopper side dish:
Carrots – Choose whole carrots over baby carrots for best results. Rainbow carrots may also be used to add even more color.
Parsnips – A white root vegetable that's larger in diameter than a carrot. Their slightly spicy bite mellows with roasting provides a delicious contrast to the sweet carrots.
Beets – Deep red in color and packed with antioxidants, beets have a sweet yet earthy flavor.
Red onion – May also use yellow onion or shallots
Butter – For a vegan and dairy-free option, use vegan butter, avocado oil, or olive oil.
Honey – We use just enough to enhance the natural sweetness of the roasted root vegetables and promote flavor-boosting caramelization of the vegetables. Replace with maple syrup for a vegan-friendly option.
Fresh sage – This herb not only pairs well with the sweet honey but also compliments other dishes at the table such as chicken or turkey.
Fine salt and black pepper – Used to season the vegetables before roasting
Flaky sea salt for garnish – An easy way to add a visual pizazz and a pleasant salty crunch to roasted vegetables. Kosher salt or coarse sea salt may also be used if you can't find flaked sea salt (Maldon is our go-to and a box goes a long way since it's used primarily for garnishing savory dishes or sprinkling on cookies before baking).
Find the ingredient list with exact measurements in the recipe card below.
How To Make Roasted Root Vegetables with Honey-Sage Glaze
Preheat the oven. Want to use your air fryer? See air fryer directions at the bottom of this post.
Add the vegetables to large rimmed baking sheet.
Combine the melted butter, honey, sage, salt, and pepper in a small bowl and stir to combine.
Drizzle the butter mixture over the vegetables and toss to coat.
Roast for 40-50 minutes or until the vegetables are cooked through and slightly golden brown on the edges, tossing halfway through baking time.
Drizzle with a little extra honey and sprinkle with flaky sea salt and fresh sage before serving.
For the complete directions and ingredient amounts, scroll down to the recipe card below. All of our recipes include the nutrition analysis, listing calories, protein, carbohydrates, fiber, sugar, sodium, and more per serving.
How to Make in the Air Fryer
Using your air fryer not only speeds up the cooking time of these Honey-Sage Roasted Root Vegetables, it also frees up the oven for other dishes. We know that oven space is at a premium during the holidays so we've tested these roasted root vegetables using an air fryer in case you want to go that route.
Preheat air fryer to 390℉ for 2 minutes with the basket closed.
In a large bowl, combine the vegetables, melted butter, honey, salt, and pepper tossing well to coat.
Remove the basket and lightly coat cooking surface with cooking spray.
Add the vegetables to the basket and in a single layer. Depending on the capacity of your air fryer, you may need to do this in two batches).
Cook at 390℉ for 15-17 minutes, shaking halfway through, until the root vegetables are tender with lightly browned and caramelized edges. Repeat with the remaining vegetables and serve.
How To Make Ahead For The Holidays
The vegetables can be washed, peeled and chopped up to 4 days in advance. Store the vegetables together in an airtight container in the refrigerator until ready to use.
Frequently Asked Questions
Can this recipe be made vegan?
You bet! Simply replace the butter with vegan butter, avocado oil or olive oil and swap out the honey for maple syrup for a 100% plant-based side dish your guests will love.
Are roasted root vegetables healthy?
Yes! Root vegetables are a packed with vitamins and minerals and most are a good source of fiber too. 
What can I substitute for parsnips?
If you can't find parsnips at your local market, you can use turnips, rutabagas, or additional carrots
Where can I find fresh sage leaves?
Fresh sage leaves can be found in the produce aisle. They're often packed in small plastic sleeves or containers. During the holidays, you'll find them along with rosemary, thyme, and bay in blend of 'poultry herbs'. Since you only need a few leaves for this roasted root vegetable recipe, if you're buying a mix of fresh herbs for your turkey or stuffing, just nab a few sage leaves from the container.
Can dried herbs be used in this recipe?
You can used dried, rubbed sage (not ground) in place of fresh. Simply halve the amount of sage called for the in the recipe. 

How many days in advance can I prepare these roasted root vegetables?
We recommend prepping the vegetables up to 4 days in advance and roasting them on the day of your event but if oven space is an issue, you can roast the vegetables up to 2 days in advance and reheat them prior to serving. 

Where do I get flaky sea salt? Can I use kosher salt instead?
Flaky sea salt can be found in the spice aisle alongside other types of salt (sea salt, Himalayan salt, kosher salt, etc.) in most well-stocked grocery stores. You can also order it online. One box goes a long way and once you experience the magic of flaked sea salt, we're pretty sure you'll find many ways to use it (one of our favorite ways is to sprinkle a little onto cookies before baking).  If you don't have flaky salt, you can use kosher salt or other coarse salt. 

What to Serve with Roasted Root Vegetables
These Honey-Sage Roasted Root Vegetables are a fantastic addition to your holiday menu and can be served alongside turkey, roast beef, chicken, or fish.
They're also a delicious addition to a salad or grain bowl!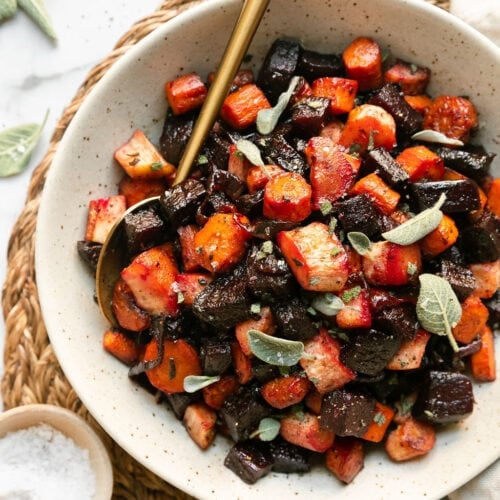 Recipe
Honey Sage Roasted Root Vegetables
Humble root vegetables such as carrots, beets, and parsnips get a nutritious glow-up thanks to the addition to a buttery, sweet, and herbaceous glaze in these Honey-Sage Roasted Root Vegetables. 
Prep:
15 minutes
Cook:
45 minutes
Total:
1 hour
Pin Now to Make Later!
Photo Credit: The photos in this blog post were taken by Rachel of Half Acre House
For ultimate success, we highly recommend reading the tips in the full blog post above. All photos and content are copyright protected. Please do not use our photos without prior written permission. If you wish to republish a recipe, please rewrite the recipe in your own unique words. Link back to the source recipe here on The Real Food Dietitians. Thank you!