This flavorful and colorful Mexican Street Corn Pasta Salad recipe comes together easily and features a seasonal blend of pasta, corn kernels, cilantro, avocado, red onion, and Cotija cheese. Tossed with a creamy dressing made with yogurt and mayonnaise, this pasta salad is light enough to serve as a side dish at your summer bbq or potluck yet filling enough to enjoy as a main course. It's also simple to make as a gluten-free pasta salad, if needed.
This post was created in partnership with siggi's.
Recipe Highlights: Mexican Street Corn Pasta Salad
There's so much to love about this pasta salad including:
An excellent balance of healthy carbohydrates, fiber, and good-for-you fats along with many other vitamins, minerals, and micronutrients
Quick to make for summer side dishes and easy lunches
Great to add to your weekly meal prep as it stores well in an airtight container and tastes even better the next day
A recipe that's nut-free and vegetarian, and can easily be made gluten-free
Minimal prep work and a total time of just 30 minutes
Summer Pasta Salad with a Creamy Yogurt Dressing
If you're looking for a crowd-pleasing dish to take to your next bbq or just need something new to feed the family, this elote-inspired Mexican street corn pasta salad is for you! One of our most delicious pasta salad recipes, it features a variety of fresh produce for added texture, nutrients, and fiber, as well as tender cooked pasta (use gluten-free if desired) for satisfying carbohydrates. Tossed in a creamy Greek yogurt dressing, it's higher in protein than your average pasta salad and full of flavor that's sure to please even the pickiest of eaters. Toss all the ingredients together in a large bowl, and it's ready in minutes so you can get out of the kitchen and back to your summer activities.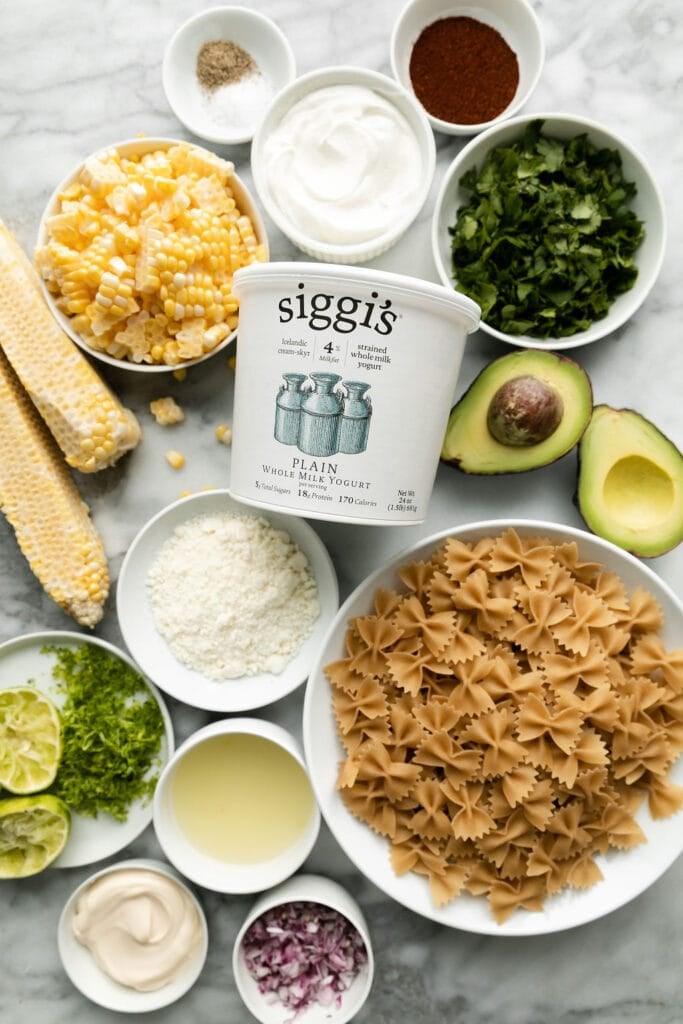 Ingredients to Make Mexican Street Corn Pasta Salad
Here's what you need to make this Mexican-inspired Street Corn Salad today:
The Salad Ingredients:
Pasta (use gluten-free if needed) – we prefer gluten-free rotini or bow tie pasta, but you can use any type and shape of pasta for this recipe.
Corn – use fresh whole ears of corn and discard the husks. Or, find already husked and trimmed ears of corn in the frozen and fresh vegetable section at most grocery stores. Alternatively you can use 2 cups of frozen fire-roasted corn kernels. See the notes below on how to roast frozen corn if fire-roasted kernels are not available.
Fresh cilantro leaves
Avocado
Red onion – we love to include red onion to pack in lots of vitamin C and give this salad a boost of tangy flavor. However, if you are one that does not care for onions, feel free to omit them. Or, use green onion instead for a milder option
Cotija cheese – may sub crumbled feta cheese, queso fresco, Mexican crema, or Parmesan
The Dressing Ingredients:
Siggi's whole milk plain yogurt – we recommend siggi's whole milk plain yogurt because it has a creamy texture and tangy flavor that replicates sour cream while adding extra protein and probiotics and reducing the amount of sugar, saturated fats, and trans fat. In addition, it's a great source of calcium and potassium.
Mayonnaise – We recommend an avocado-oil based mayo. For an egg-free salad, use vegan mayo
Lime juice and zest
Seasonings – you'll need chili powder, fine salt, and black pepper
For the complete directions and ingredient amounts, scroll down to the recipe card below. All of our recipes include complete nutrition information, listing calories, protein, carbohydrates, fiber, sugar, sodium, cholesterol, and more per serving.
Upgrade With Your Favorite Add-Ins
This recipe is a great way to use up any fresh produce lingering in your fridge. Feel free to include different ingredients and add-ins for a boost of flavor and nutrients. Some of our favorites include:
jalapeño slices (to add some heat)
diced bell pepper (great color and an excellent source of vitamin C)
black beans (for plant-based protein, healthy carbohydrates, and fiber)
spicy seasonings (try a dash of cumin, paprika, cayenne pepper, or additional chili powder to taste)
How to Make Mexican Street Corn Pasta Salad Recipe
Here are the simple steps to make this Mexican street corn pasta salad in minutes:
Cook the pasta: Boil water in a medium pot on the stovetop, and add a pinch of salt and the uncooked pasta. Cook to al dente according to the package directions. Drain, rinse with old water, and transfer the cooked pasta to a large bowl before placing it in the fridge to cool.
Roast the corn: Heat a cast-iron skillet until it is almost smoking. Add avocado oil or olive oil and the fresh corn kernels. Cook until the corn begins to char and smells fragrant, stirring occasionally.
Prepare the dressing: Whisk all of the dressing ingredients in a small bowl until smooth.
Combine the salad: Add the corn kernels, cilantro, diced avocado, red onion, and Cotija cheese to the bowl of cooked pasta. Pour the dressing on top, and gently stir to coat. Garnish with extra cheese, chopped cilantro, and a dusting of chili powder, and enjoy!
How To Roast Frozen Corn
Roasting frozen corn requires a slightly different process than if you use fresh corn, but it's still quick and easy when you follow the steps below.
Thaw the corn. Using the defrost setting on your microwave, thaw the corn until it is no longer frozen. Or, use drained, canned corn instead.
Roast the corn. Heat oil in a skillet on the stovetop over medium-high heat, swirling it around evenly. Once the oil is hot, add the thawed corn in an even layer., and cook until it begins to char, stirring occasionally.
Cool. Remove the kernels from the heat, and allow them to cool completely.
Cook Pasta Perfectly
Cooking pasta properly is key to creating the best pasta salad recipe, and we've got 13 pasta cooking tips to help you out. You can read all the details. However, for this recipe, the most important tips are as follows:
Use 1 tablespoon of salt for every pound of pasta
Use 4 quarts of water (a nice full pot helps prevent sticking and uncooked pasta)
Stir the pasta as soon as it hits the water (this prevents sticking, too)
Pick the right pasta shape (we prefer bow-tie or rotini for this recipe)
Taste test the pasta as you cook (you're looking for al dente texture)
Don't add oil to the water (this make the pasta too slippery in the salad)
Drain/strain your pasta as soon as it is fully cooked
What Should I Serve With This Mexican Street Corn Pasta Salad Recipe?
We love this colorful pasta salad in so many ways, including serving this recipe on its own as a vegetarian meal. Or, we like to round it out by a favorite protein, such as cooked chicken or shrimp. You can also enjoy this salad as a side dish alongside a favorite grilled mains, such as bison burgers, teriyaki chicken pineapple kabobs, and grilled pork tenderloin.
Hosting a weekend grill out? Don't forget the Real-Food Margaritas and Low-Sugar Palomas, too!
Frequently Asked Questions
What is Mexican corn salad made of?
There are many different variations of this elote-inspired fresh corn dish. The main components of most Mexican street corn salad recipes include grilled corn, Cotija cheese, lime, creamy dressing, and traditional Mexican spices, such as chili powder, cumin, or paprika. However, in other variations, you might also find ingredients like bell peppers, Mexican crema, black beans, smoked paprika, and cumin.
Can I make this Mexican pasta salad ahead of time?
Yes, when transferred to an airtight container, this recipe will stay fresh in the fridge for up to 2 days. For the best results, we suggest leaving out the avocado until just before serving to prevent the avocado from turning brown. You can also prepare the dressing ahead of time and store it in the fridge for up to 5 days. Then, you can use it to make another batch of pasta salad or top off all your favorite recipes! Feel free to add an extra teaspoon chili powder or Cotija cheese, too.
Can I freeze leftovers?
We do not recommend that you freeze this recipe, as dairy and pasta do not tend to thaw well.
Should this recipe be eaten hot or cold?
We recommend enjoying this pasta salad cold or at room temperature.
Why is it called Mexican street corn?
Sweet corn on the cob is a popular street food served in Mexico. In most cases, you'll find it being called elote, which is a type of grilled corn served on the cob and topped with a zesty, creamy dressing consisting of mayonnaise and toppings like Cotija cheese, lime juice, lime zest, and chili powder or chipotle.
What's an easy way to get corn off the cob?
The easiest way to get cooked corn off the cob is to stand the cob upright. Then, holding the top, use a sharp knife and slice downward at an angle removing the kernels without actually slicing into the cob itself.
Can I use grilled corn?
Absolutely, grilling the corn is a great way to get the nice char you're looking for with minimal prep time or cleanup.
Should I rinse the pasta for this recipe?
You can, but it isn't required. Some people prefer to rinse their pasta with cold water when making a cold dish, such as this pasta salad, since rinsing can help remove excess starch and prevent the noodles from clumping together.
Is yogurt a good source of monounsaturated fat?
Most dairy yogurt contains more saturated fat than other types of fat, but yogurt is also a source of monounsaturated fat. The specific breakdown of the fat content differs depending on the brand and percentage we choose. This is why we choose siggi's since it doesn't contain a lot of sugar, has a lower fat content, and has more protein than most other yogurts.
When To Serve Mexican Street Corn Pasta Salad
We're partial to serving this pasta salad during the summer months, but it's great all year long! Prepare it ahead of time for barbecues, potlucks, picnics, weeknight dinners, and even packed lunches. Whether you're enjoying it on its own or with your favorite main course, you really can't go wrong.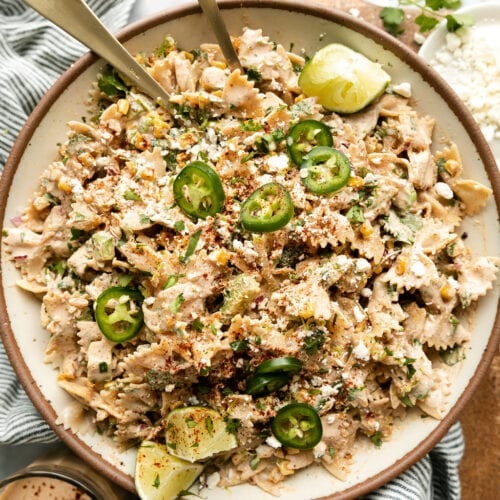 Recipe
Mexican Street Corn Pasta Salad
This delicious and colorful pasta salad features the flavors of popular Mexican street corn (also known as elote). It makes a great side dish or could be a vegetarian main dish salad. It features a creamy lime dressing and can be easily modified to be gluten free, if needed.
Prep:
15 mins
Cook:
15 mins
Total:
30 minutes
Servings:
8

servings (8 cups)

1

x
Ingredients
8 ounces

rotini

or bowtie pasta, use

gluten free

if needed (3 ½ cups uncooked or

5 ½ cups

cooked)

3

medium ears corn, cut from the

cob

 (about

2 cups

) (see Note if

fresh corn

is not available)*

1 cup

fresh cilantro

leaves, loosely packed, chopped

1

medium avocado,

diced

⅓ cup

finely

diced

red onion

⅓ cup

crumbled or grated

Cotija cheese

(may substitute

feta or Parmesan cheese

) 
For the Dressing:
¾ cup

siggi's whole milk plain yogurt

**

3 tablespoons

mayonnaise 

Zest and juice of 2 small limes (3 tablespoons juice + 1-2 teaspoons zest)

2

teaspoons chili powder

 

½ teaspoon

fine salt

¼ teaspoon

black pepper
Bring a medium pot of water to boil. When the water is boiling, add a pinch of salt and the uncooked pasta. Cook for 11-13 minutes or according to package directions until

al dente

.

Drain

pasta in a colander and rinse with

cold water

. Transfer to a

large bowl

and place in the refrigerator to cool.

While the pasta is cooking, roast the corn by placing a large cast-iron skillet over

medium-high heat

. When the skillet is very hot (almost smoking), add 1 tablespoon of oil and swirl the pan to coat with the oil. 

Add the

corn kernels

to the pan and cook for 5-6 minutes or until the corn starts to char and smells very fragrant, stirring occasionally. 

Remove the corn from the skillet and place it in a bowl in the refrigerator  to cool to room temperature, about 5-10 minutes.

Make the dressing by combining the yogurt, mayonnaise,

lime zest

,

lime juice

,

chili powder

, salt, and pepper in a

small bowl

. Whisk until smooth. 

To the bowl of cooked and cooled pasta, add

corn kernels

,

cilantro

, avocado,

red onion

, and

cotija cheese

. Pour dressing over the salad ingredients then gently stir to combine.

Sprinkle with additional cotija cheese, chopped cilantro, and a dusting of chili powder.
Last Step! Please leave a review and rating letting us know how you liked this recipe! This helps our business thrive so we can continue providing free recipes and high-quality content for you.
Notes
*Find fire-roasted corn in the freezer section of Trader Joe's or Whole Foods (this is just the corn, not the corn with added mayo, cheese, etc.) You can also use canned fire-roasted corn (such as DelMonte) or roast your own at home. If fresh corn is not available, use 2 cups frozen fire-roasted corn kernels, thawed. If frozen fire-roasted corn is not available, you can roast your own.
How to roast frozen corn: 
Thaw corn in the microwave until no longer frozen (does not need to be hot) and

drain

. You can also use drained,

canned corn

. 

Place a large skillet over

medium-high heat

(cast iron works great). When the skillet is hot, add 2 teaspoons

olive oil

or avocado oil and swirl to coat.

Add thawed corn to the skillet and spread into an even layer. 

Allow corn to cook for 5-6 minutes or until the corn starts to char. Stir and cook for another 5 minutes or until corn has dark brown/black bits of char. Remove from heat and allow to cool before using in the recipe.
** We love to use siggi's whole milk skyr because it has a great creamy texture for salads like this, and it's made from just a few simple real-food ingredients and not a lot of sugar
Nutrition Information
Serving Size:

1 cup

Calories:

252

Fat:

10 g

(Sat Fat:

3 g

)
Sodium:

366 mg

Carbohydrate:

30 g

(Fiber:

4 g

Sugar:

3 g

)
Protein:

7 g

Cholesterol:

11 mg
Dietary
Pin Now To Make It Later!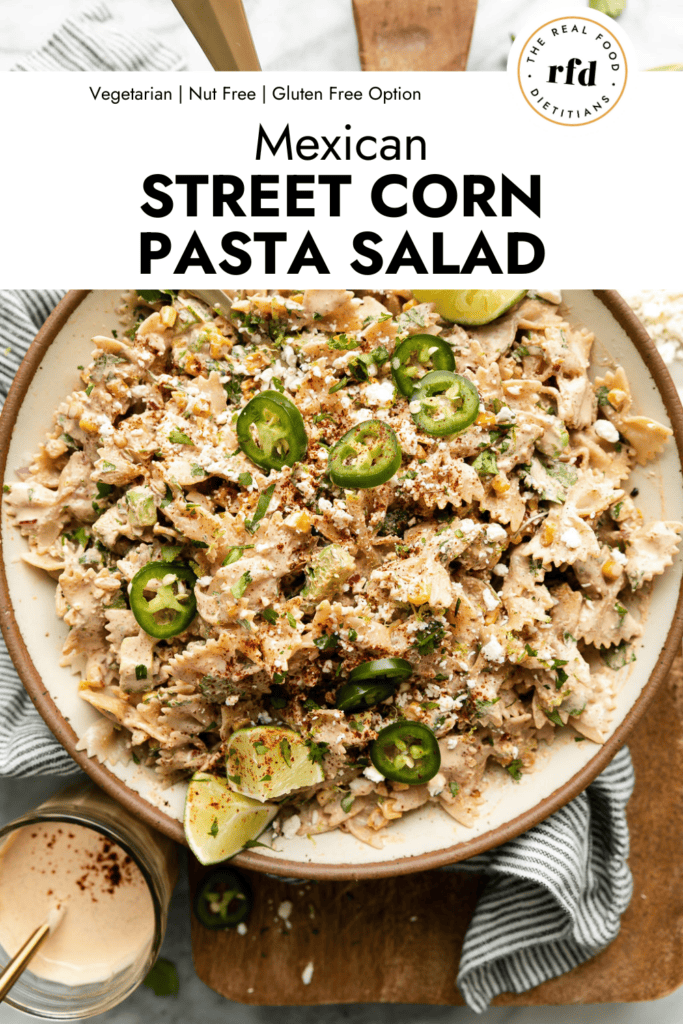 The photos in this blog post were taken by Rachel Cook of Half Acre House.
This is a sponsored post. Although we received compensation for this post, the opinions expressed here are – as always – 100% our own. Thank you for supporting the great companies we work with thereby allowing us to continue creating high-quality recipes and content for you.
For ultimate success, we highly recommend reading the tips in the full blog post above. All photos and content are copyright protected. Please do not use our photos without prior written permission. If you wish to republish a recipe, please rewrite the recipe in your own unique words. Link back to the source recipe here on The Real Food Dietitians. Thank you!