If there's anything we love more than good food, it's good and easy food, just like this set-it-and-forget-it Slow Cooker Chicken Corn Chowder. This recipe is ultra-comforting, rich, and so creamy. It will surely become a family favorite on cozy nights.
Chicken Corn Chowder is the perfect one-pot, no-fuss fall meal. All you have to do is toss the ingredients in the slow cooker in the morning. When you come home, you'll be greeted by the yummy aroma of comfort food bliss.
Don't worry, if you didn't plan ahead, you can opt for the Instant Pot version to put dinner on the table in under an hour.
What is Chowder?
Chowder is a thick, rich soup with a creamy base and chunky texture. It's a hearty dish that often includes seafood, potatoes, and other vegetables, but chicken and corn chowders are still very popular.
Ingredients To Make Slow Cooker Chicken Corn Chowder
Chicken Corn Chowder doesn't require any hard-to-find ingredients.
What are the ingredients of the soup? Everything you need will either be in your kitchen already or easy to find at any grocery store. Here's what you'll need:
Chicken — You can use boneless skinless chicken breasts or chicken thighs for this recipe.
Butter — This is for the Instant Pot version only. You can feel free to use ghee or cooking oil instead of butter.
Red potatoes — This is our potato of choice for our crockpot chicken corn chowder, but you can use russet potatoes or Yukon gold if that is what you have on hand.
Carrots — Carrots add texture, color, and flavor to the dish. They also give you a boost of vitamin A in the form of beta carotene.
Celery ribs — Sliced in thick pieces, celery will add texture and aromatics.
Yellow onion — Diced onions round out the base of the soup broth before the cream and starch are added.
Garlic — Because you can't have a recipe without garlic!
Corn — You can use fresh corn from the cob or frozen corn. Sweet corn is so yummy in this dish. Avoid creamed corn if you're using canned corn.
Chicken broth — Use store-bought or homemade broth leftover from making an Instant Pot Whole Chicken or shredded chicken.
Dried herbs, salt, and pepper — Used to season the dish just right.
Potato starch — Instead of all-purpose flour and making a roux, we use potato starch to thicken our chowder. You can substitute cornstarch or arrowroot starch for this ingredient.
Heavy cream — We use this ingredient sparingly, but it is so good in this soup recipe. For a lighter option, you can use half and half instead.
Bacon — Crispy bacon is the perfect topping for this creamy soup. Remember to use a paper towel to get rid of any excess fat.
Garnish — Optional garnishes may include bacon crumbles, fresh thyme or parsley, and crumbled goat or shredded cheddar cheese to name a few.
Find the ingredient list with exact measurements in the recipe card below.
How To Make Slow Cooker Chicken Corn Chowder
The best part about this recipe is that it only requires 20 minutes of prep time. There's no need to sauté anything or dirty up large pots and pans.
Just chop your veggies, slice the corn kernels off the cob if you're using fresh corn, and cube your chicken. Then, all you have to do is add the ingredients, broth, and seasoning to the slow cooker and press start. This process is even faster if you're using frozen corn because the corn goes right into the slow cooker without thawing.
Before serving, you will mix in the potato starch and stir until the chowder is thickened slightly. When your chicken corn chowder is at a nice thick consistency, add in the heavy cream and bacon. The cream is added at the end of the cooking time so that it doesn't curdle.
Taste and adjust seasonings to your liking. Garnish with fresh herbs or any other toppings of your choosing. Then, enjoy your yummy dinner with your whole family!
Cooking this recipe on the stovetop requires a bit more attention. In a big soup pot or Dutch oven, cook on medium-high heat until the veggies are tender and the chicken is cooked through.
We've also included directions for an Instant Pot method of making chicken corn chowder in the recipe card.
For serving size and the complete directions and ingredient amounts, scroll down to the recipe card below. All of our recipes include the nutrition analysis, listing calories (kcals), protein, carbohydrates/carb, fiber, sugar, sodium, cholesterol, and more per serving.
Avoid Overcooked Chicken
Use raw chicken in this recipe to avoid getting a chewy or dry texture. The chicken will cook all the way through in the crock pot. If you want to use leftover rotisserie chicken, add it during the last 10 minutes of cooking.
Make It Dairy-Free
You don't need a lot of heavy cream because a little goes a long way, but if you need this recipe to be dairy-free, you can opt for a plain, unsweetened, non-dairy creamer or milk alternative. We like cashew, oat, or almond milk for this recipe.
How To Store Your Leftover Chicken Corn Chowder
If you manage to have leftovers after making this creamy chicken corn chowder crock pot recipe, you can store the remainder in an airtight container for 3-4 days. When you're ready to eat it again, just reheat it all the way through.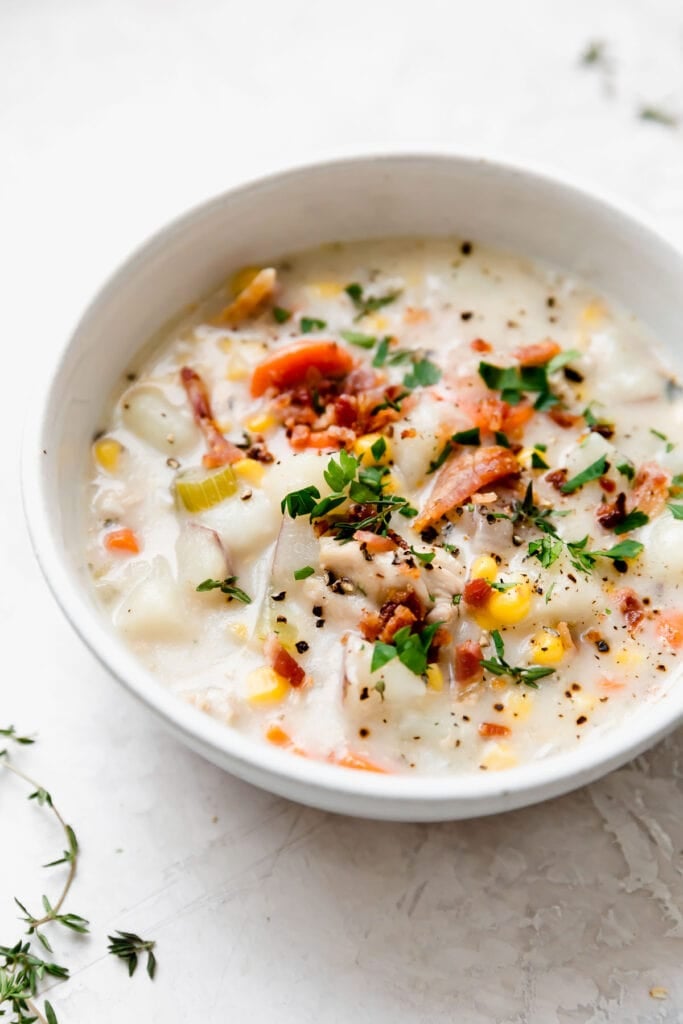 Freezer Friendly Chicken Corn Chowder
Freezing creamy soups is often not recommended because of separation that may occur and throw the texture off. However, you can prep and cook most of the soup ahead of time. You'd cook all the ingredients in the crock pot and freeze the batch before adding potato starch and cream. See the recipe card below for detailed instructions.
How To Serve Chicken Corn Chowder
This soup recipe is perfect for big bowls and biscuits on the side. We think it pairs well with our Gluten-Free Sweet Potato Buttermilk Biscuits or yummy Garlic Cheddar Biscuits. Topping the soup with some extra crispy bacon is a nice texture contrast. You can also sprinkle fresh herb garnishes over top, shredded cheddar or goat cheese, sliced green onions, or cracked black pepper.
Frequently Asked Questions
What type of soup is chicken corn chowder?
Chicken Corn Chowder is distinguished from other types of soup by its creaminess and chunky ingredients. This particular chowder is a comforting, filling dish perfect for colder months or as a satisfying meal year-round. The protein from the chicken, starchy carbohydrates from the potatoes, and color and fiber from the vegetables make it a well-rounded and nutritious option.
How many servings are in one recipe of Chicken Corn Chowder?
Our recipe for Slow Cooker Chicken Corn Chowder is for 6 servings.
What is the main ingredient of this recipe?
Corn is the main ingredient and star of this recipe thanks to its natural sweetness and it's a fairly good source of protein, vitamins, and minerals too
Why does my corn chowder taste bland?
Corn can be the culprit of a bland chowder. To avoid this, choose fresh, sweet corn, or corn frozen at peak ripeness. Blandness can also come from using old, outdated spices. It's best to replace your spices at least once a year to ensure you're getting the best flavor. You may also need more salt to suit your taste.
What can I use to thicken corn chowder?
We use potato starch to thicken our version of Chicken Corn Chowder, but you can also use cornstarch or arrowroot starch.
How many calories are in a bowl of chicken corn chowder?
There are 348 calories per serving of Chicken Corn Chowder.
Is there a way to make my Chicken Corn Chowder spicy?
You can spice up your Chicken Corn Chowder by adding a dash of ground cayenne pepper, sliced jalapenos, or crushed red pepper flakes as a garnish, or cook them in the chowder. 

You could even give the recipe some southwest spice by adding bell peppers, canned green chiles, and black beans to your crockpot.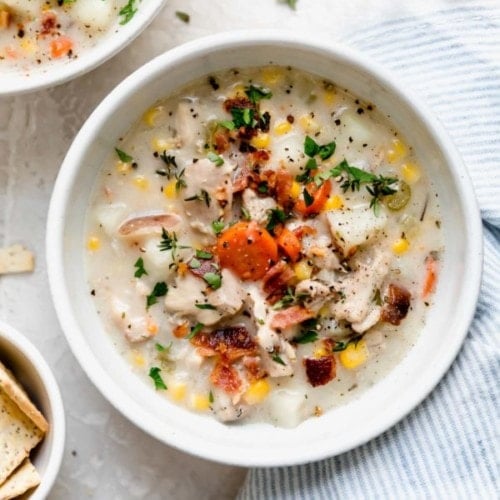 Recipe
Chicken Corn Chowder Recipe
Chicken Corn Chowder is a rich and comforting soup that is so simple to make in the slow cooker (or Instant Pot). Its creamy base and the hearty combination of tender chicken and sweet corn are a satisfyingly delicious blend of flavors and textures. 
Prep:
20 mins
Cook:
7 hours
Total:
7 hours 20 mins
Ingredients
1

  lb. boneless, skinless

chicken breasts

or thighs, cut into bite-sized pieces

1 tablespoon

butter, ghee, or cooking oil of choice (for the Instant Pot version only)

1

lb. red potatoes, cut into

½

-inch cubes

2

large carrots, sliced

2

celery ribs, sliced

1

medium

yellow onion

,

diced

3

cloves garlic, minced

2 cups

corn, fresh or frozen

4

cups low-sodium chicken broth

(or

homemade bone broth

)

1 teaspoon

dried thyme

1 teaspoon

dried parsley

¼ teaspoon

black pepper

½ teaspoon

fine salt + more to taste

3 tablespoons

cornstarch to thicken, optional (may substitute ¼ cup arrowroot starch)

½

cup heavy cream

*

4

strips of

crispy

-cooked bacon, crumbled
Slow Cooker Directions:
Place the chicken, potatoes, carrots, celery, onions, garlic, and corn in the

slow cooker

.

Add broth, thyme, parsley, pepper, and salt. Stir well.

Place the lid on the

slow cooker

and cook on the

LOW heat

setting for 7-8 hours (or 4 hours on HIGH).

Just before

serving

, remove the lid. Mix cornstarch with ⅓ cup water. Stir into hot soup and replace the lid.

Cook for an additional 15-20 minutes or until the soup has thickened slightly. 

Turn off the heat. Stir in the cream and bacon. 

Taste and adjust seasonings as needed. 

Garnish

with fresh thyme and parsley, if desired.
Instant Pot Directions:
Select the '

Sauté

' function on the Instant Pot. 

Add 1 tablespoon butter/oil to the pot. 

When the pot is hot, add onions, celery, and carrots and cook, stirring occasionally, for 5-6 minutes or until onions just start to soften.

Stir in garlic and cook for an additional 30 seconds.

Add chicken, potatoes, corn, broth, thyme, parsley, pepper, and salt. Stir well.

Lock the lid into place and set the vent valve to the 'sealing' position.

Cook at high pressure for 15 minutes. Allow 5 minutes of natural pressure release before flipping the vent valve to the 'venting' position to release residual steam.

Mix potato starch with ⅓ cup water. Stir into hot soup until thickened slightly.

Turn off the heat. Stir in cream and bacon. Taste and adjust seasonings as needed.
Last Step! Please leave a review and rating letting us know how you liked this recipe! This helps our business thrive so we can continue providing free recipes and high-quality content for you.
Notes
To Make Dairy-Free: Substitute plain, unsweetened non-dairy creamer (such as NutPods, Ripple, etc.) or full-fat canned coconut milk
Tips for freezing: Prepare soup through Step 3 for the slow cooker (step 5 for the Instant Pot). Allow soup to cool completely in the fridge before transferring to a freezer-safe container.
Remove soup from the freezer and allow it to thaw overnight in the fridge. Place soup in a large pot (or a slow cooker set to high or your Instant Pot set to 'Sauté') and heat until hot. Thicken with cornstarch, if desired, and stir in the cream just before serving.
Nutrition Information
Serving Size:

1/6th recipe (1 ⅔ cups)

Calories:

348

Fat:

11g

Sodium:

375mg

Carbohydrate:

30g

(Fiber:

3g

Sugar:

6g

)
Protein:

28g
Dietary
---
For ultimate success, we highly recommend reading the tips in the full blog post above. All photos and content are copyright protected. Please do not use our photos without prior written permission. If you wish to republish a recipe, please rewrite the recipe in your own unique words. Link back to the source recipe here on The Real Food Dietitians. Thank you!
Photo Credit: The photos in this blog post were taken by Jess of Plays Well with Butter.