Spring and carrots go together like May and flowers! These Gluten-Free Healthy Carrot Cake Bars are the perfect spring dessert recipe, a healthier take on classic carrot cake that everyone will love. Made with fresh grated carrots, warm cinnamon, a handful of walnuts, and applesauce, this healthy carrot cake recipe is moist and especially tender with a little crunch. Once you top it off with extra creamy cream cheese frosting, a dash of cinnamon, and a sprinkle of walnuts, you've got a guaranteed dessert win. We promise you're going to be mmmmm-ing your way through each bite!
Fresh-Baked Carrot Cake
Warm-up your oven and grate some carrots, this oh-so-delicious Gluten Free Carrot Cake is just begging to be made! This is a fresh and easy-to-make take on classic carrot cake, and we know you're going to love it. We've combined all the best ingredients to make a lightly spiced, perfectly moist, creamy and fluffy sweet treat that is simply irresistible. You can have these carrot cake bars ready in just 30 minutes (plus a little time for cooling). We think they're just right for a special occasion or a veg-filled sweet treat any day of the week.
Is it carrot cake or carrot cake bars?
Why not both? We adore carrot cake, but making this recipe into one-layer bars just came naturally because it's less fussy and you can serve it in easy-to-cut pieces. Our mission is to provide solutions so anyone can enjoy a sweet treat in a healthier-for-you way, and this recipe fits the bill. So whether you call this carrot cake recipe a 'cake' or 'bars' is completely up to you. By cutting the 'cake' into nice snack-size bars you'll have more to share, plus you're making portions that are just right (hello, kid-friendly, too) without serving a sugar overload.
Healthy Carrot Cake for all occasions
When we think of carrot cake, we typically associate it with Easter or Mother's Day. However, we're here to say that these fluffy, spicy, and carrot-filled bars can (and should!) be enjoyed year-round! This easy carrot cake recipe is lightly spicy, soft, and moist with the perfect amount of sweet and fluffy cream cheese frosting. Every last crumb is picked up and enjoyed!
Ingredients for Gluten-Free Healthy Carrot Cake Bars
Eggs
Cane sugar
Milk of choice – use non-dairy milk if needed
Unsweetened applesauce – here we use applesauce in place of oil. Be sure to choose unsweetened to avoid added sugar. You can substitute an equal amount of avocado oil or coconut oil
Pure vanilla extract
Gluten-free flour – we like Bob's Red Mill One-to-One Gluten-Free Baking Flour or King Arthur Measure-for-Measure Gluten-Free Flour. You can also use regular all-purpose flour if you don't need carrot cakes bars that are gluten free
Baking soda
Baking powder
Ground cinnamon
Allspice
Ground cloves
Fine salt
Dark raisins – soaking the raisins in hot water helps to plump them up and makes them nice and tender
Shredded carrots – shred carrots using a hand shredded or process in a food processor or purchase pre-shredded carrots

Walnuts – chopped walnuts work best, but you can easily omit them for a nut-free option
For the Cream Cheese Frosting
Cream cheese – plain cream cheese works best, and can substitute dairy-free cream cheese if needed
Unsalted butter – we like to use grass-fed unsalted butter, and you can use a dairy-free/vegan butter if needed
Pure vanilla extract
Powdered sugar
Milk of choice – use non-dairy milk if needed

Shop Thrive Market to get the best prices on natural, organic, and specialty foods. PLUS get a free gift valued at $24 when you sign-up! Shop Thrive Market for all of your baking essentials!
How to make this Gluten Free Carrot Cake recipe
Preheat the oven to 350 degrees and spray an 8×8 or 9×9 baking pan with cooking spray. For easy removal of the cake, you can also line the pan with foil leaving a little extra hang over the edges. Spray the foil with cooking spray.

In a bowl add the raisins and enough hot water to cover, set aside while you mix up the batter.
In a medium bowl, cream together the eggs and cane sugar. Add the applesauce, milk, and vanilla and whisk together.
Next, add the flour, salt, baking soda, baking powder, cinnamon, allspice, and clove, stir together. Drain the raisin and fold in along with the walnuts, and shredded carrots.
Pour the batter into the prepared baking dish and bake for 25-30 minutes or until a toothpick inserted in the center comes out clean. Cool carrot cake completely before frosting.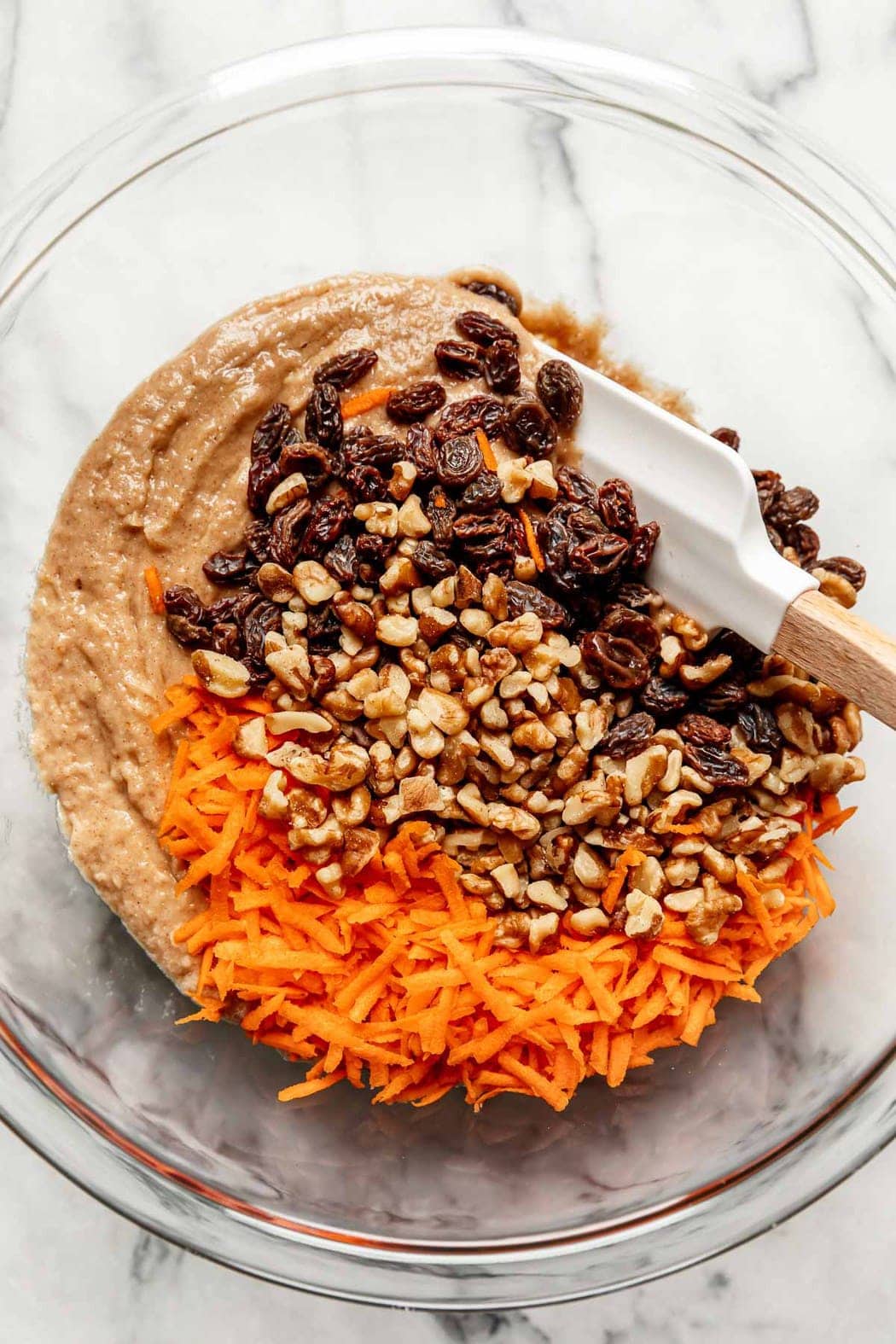 How to make the cream cheese frosting
In a bowl add the cream cheese, butter, and vanilla. Using a hand mixer or spoon, blend together. Add 1/2 cup of powdered sugar and mix until smooth. Add the other ½ cup powdered sugar and the milk; mix until the frosting reaches a thick and smooth consistency.

Frost the cooled bars and garnish with extra chopped nuts, a sprinkle of cinnamon, and carrot shreds if desired.
Can these healthy carrot cake bars be vegan?
These carrot cake bars can easily be made vegan-friendly. To do so, simply use a non-dairy milk alternative in the batter and frosting, use flax eggs in place of the chicken eggs, and use vegan cream cheese and butter in the frosting. We have tested and re-tested this recipe to make sure they turn out like a charm using these steps to make them completely vegan!
How to make carrot cake vegan:
Use dairy-free milk in the batter

Substitute the eggs for 'flax eggs'. In order to make flax eggs, whisk together 2 tablespoons ground flax meal + 4 tablespoons of warm water, let set for 3-5 minutes to thicken, then add to the batter.

Add 1 teaspoon of apple cider vinegar
How to make vegan frosting:
Use vegan butter, dairy-free milk, and a vegan cream cheese (such as Tofutti cream cheese) for the frosting.
What type of flour do you use to make healthy carrot cake?
We have tested these easy carrot cake bars many times using gluten-free flour and regular all-purpose flour. They turn out great with both options, so whether you need a gluten-free dessert or simply an easy 'regular' dessert, this recipe will work for you!
You can use the same amount of either gluten-free flour or all-purpose unbleached flour for this recipe. In either case, you can rest assured they will turn out moist and fluffy each time. When making gluten-free bars, we had the best results with Bob's Red Mill 1-for-1 Gluten-Free Baking Flour and King Arthur Measure-for-Measure Gluten-Free Flour.

How to store healthy carrot cake bars
These carrot cake bars store very nicely for up to 5 days. Once the bars have cooled completely, store them like this:
Unfrosted – store in a container with a lid at room temperature for up to 3 days or in the refrigerator for up to 5 days
Frosted – store frosted bars in a container with a lid in the refrigerator for up to 5 days
Are these freezer-friendly carrot cake bars?
You bet these bars are freezer-friendly! Having a pre-made delicious dessert tucked away in the freezer is a great idea for so many reasons. By making a batch of these carrot cake bars and and then freezing them, you'll always have a dessert ready to bring to a friend who needs a boost, just had a baby, when family visits, and simply for when you get a hankering for a sweet treat!
To freeze these bars, cool them completely. Once they've cooled, place the unfrosted and pre-cut bars in a freezer-friendly container, and freeze for up to 3 months. Frost the bars after they're been thawed.
Other delicious spring dessert recipes to try:
Gluten-Free Strawberry Rhubarb Crisp
Strawberry Pretzel Ice Cream Pie
Paleo Lemon Poppy Seed Cookies
Pin it Now, Make it Later!
All photos and content are copyright protected. Please do not use our photos without prior written permission. If you wish to republish this recipe, please rewrite the recipe in your own unique words and link back to the source recipe here on The Real Food Dietitians. Thank you!
Photo Credit: The photos in this blog post were taken by Jess of Plays Well with Butter.