Any night of the week can become 'Taco Tuesday' when you're serving up this delicious (and budget-friendly) Healthy Taco Hot Dish! We've taken all of the best flavors of one of our favorite handheld foods and combined them into one cozy hot dish (that's Midwestern speak for 'casserole', dontcha know?)
This post was created in collaboration with our friends at the Minnesota Beef Council.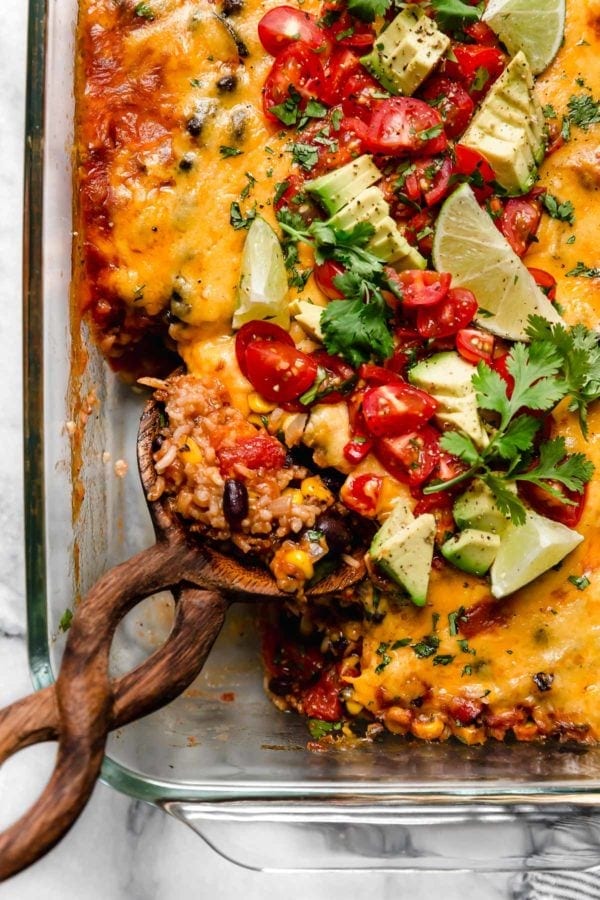 Comfort food at it's finest
Being that Stacie and I both grew up in Minnesota, we're no stranger to hot dishes—meals baked in a casserole dish that usually contains some kind of protein, starch, and sauce (typically a can of condensed cream of something). For those of you who grew up outside of the Midwest you probably call them casseroles or bakes, but whatever you call them they're usually warm, cozy, comforting and cheesy, and perfect for stretching your grocery budget or feeding a family.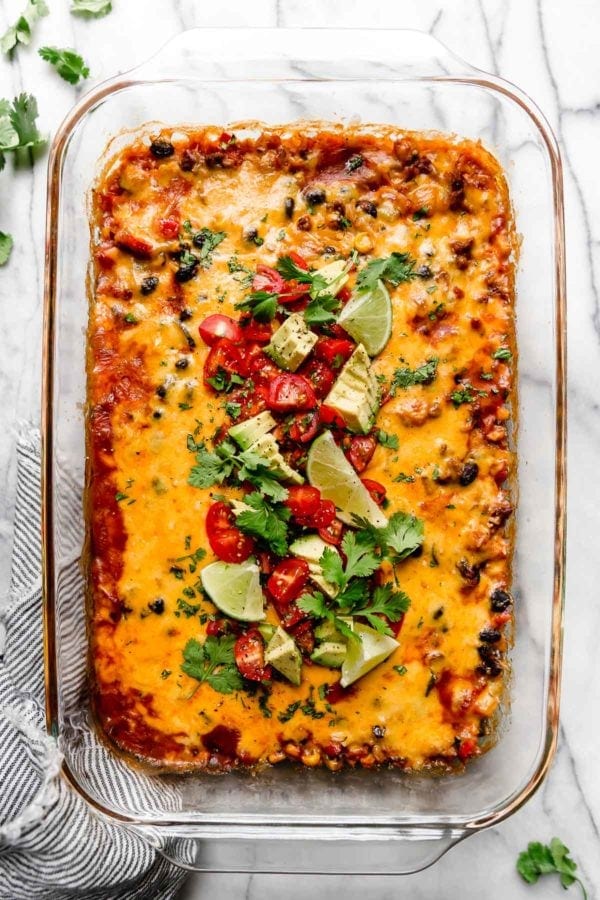 Tacos are everything
When the folks at the Minnesota Beef Council approached us about creating a one-dish recipe using lean ground beef my mind went right to something taco-esque because, well, tacos are everything. Warm, spicy, cheesy, somewhat basic yet familiar and comforting. So as a shout out to our shared Minnesota roots, we're sharing this Healthy Taco Hot dish to bring a little comfort to your dinner table and help you stretch your grocery budget just a bit.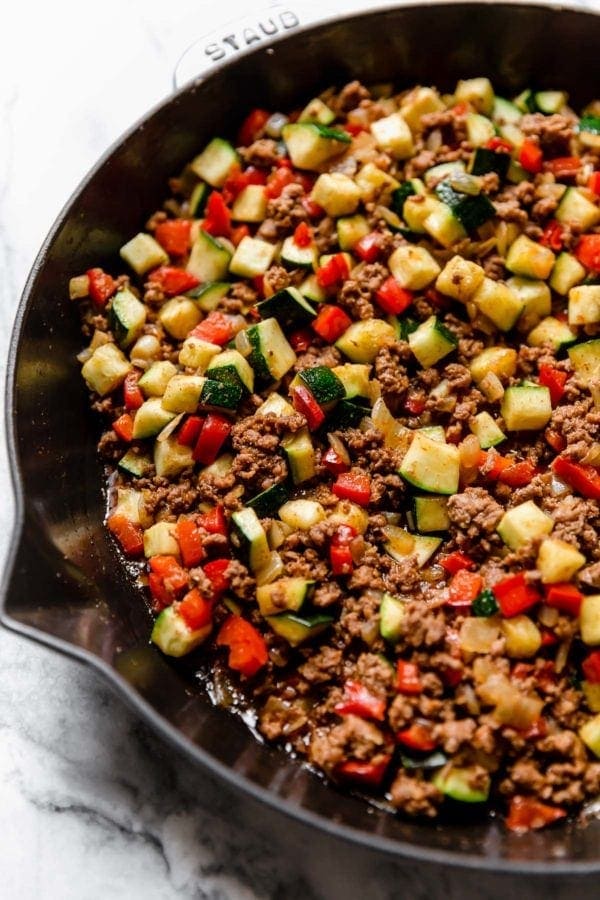 Ground beef for the nutrition win!
Lean ground beef is an ideal choice when it comes to hot dishes because it's so versatile. Adding loads of veggies and a can of black beans to the mix not only adds vitamins, minerals, and fiber, it also makes this Healthy Taco Hot Dish more filling, colorful, and well, healthy.
It's definitely a far cry from the cream of mushroom-based, tater tot-topped hot dishes of my youth, but I'm 100% here for this soul-satisfying remake of one of my favorite foods.
This post may contain affiliate links that will not change your price but will share some commission.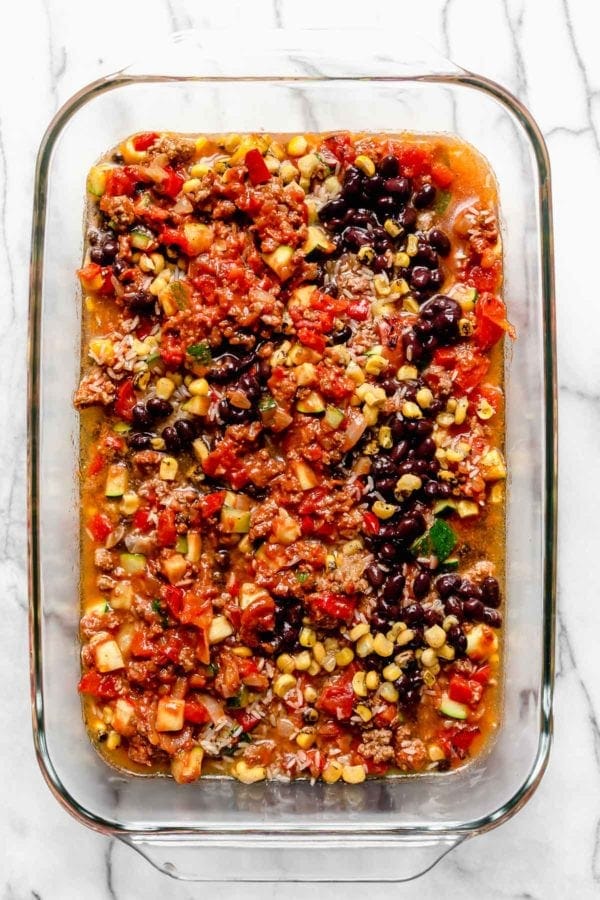 Healthy Taco Hot Dish Ingredients
Feel free to change up the veggies to use what you have on hand or what's in season. Carrots will work but you'll want to dice them pretty small and cook them until almost tender. Adding them to the skillet with the ground beef will give them more time to cook. You can also add a few handfuls of spinach or kale to the dish before baking if you've got some greens to use up or want to add more color.
Ground beef – Beef is an excellent source of 10 essential nutrients including protein, zinc, iron, and B vitamins to support overall good health (and it's delicious). Ground beef is also incredibly versatile and budget-friendly.
Onion – Any color onion will do for this recipe, but white onions tend to be my go-to for Mexican-inspired dishes because they tend to have a sharper, more pungent flavor than their yellow counterparts (but really, any onion will do). You can even substitute a bunch of green onions (scallions) if that's what you have on hand.
Bell pepper – Like onions, any color will do here. I prefer red, yellow, or orange peppers over green ones for the most part but those can also be more expensive, so use what works for your taste and budget. Frozen peppers will also work for this recipe, just allow them to partially defrost before adding them to the dish with the canned tomatoes.
Zucchini – Zucchini adds texture, color, and bulk to this Healthy Taco Hot Dish. Plus it can easily be swapped for yellow squash, even more onions, or bell pepper if you don't happen to have one on hand.
Garlic – This probably goes without saying—garlic is good and makes everything it touches better. Of course, if you don't have fresh garlic on hand you can substitute garlic powder in the recipe with good results.
Taco seasoning – This is where the taco flavor comes in so use your favorite store-bought taco seasoning (we like this one) or make your own using our Homemade Taco Seasoning.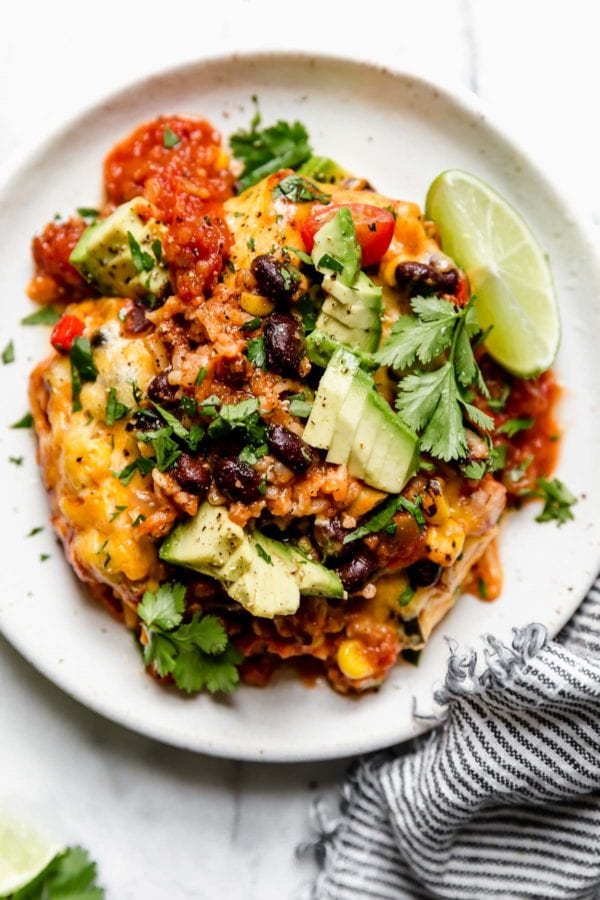 Canned diced tomatoes – While any canned, diced tomatoes will work we're big fans of the fire-roasted variety which adds an extra delicious dimension of flavor. Choosing canned tomatoes without added salt lets you control how much salt you add in order to suit your taste.
Tomato paste – Always keep tomato paste on hand. It's a great way to add richness to any dish thanks to its ultra-concentrated flavor.
Beef broth – This may be obvious, but like goes with like, beef broth is a natural choice for this dish since we're using ground beef. If you just so happen to be out, other types of broth will work or, in a pinch, you can use water.
Frozen corn – While not a big part of this recipe it adds color and texture. Surely you have a half-empty, nearly freezer-burned bag of frozen corn knocking around in your freezer that would be perfect for using up in this dish…but if not, no worries. Just leave it out.
Black beans – Pinto beans will also work well for this recipe. If you're using canned beans just be sure to drain and rinse them well before adding them to the dish. And if you're the type who prefers to use dried beans, let 'er rip (no pun intended). A 15-ounce can of beans yields roughly 1

½

cups of cooked beans.
Long-grain white rice – We've only tested this recipe with long-grain white rice though I'm sure medium-grain white rice, jasmine, or basmati rice would also work. Avoid using short-grain rice like sushi rice or arborio rice since they'd likely be too sticky.
Cheese – Yes, please! This IS a hot dish, after all. Pretty much any mild cheese will work, but Cheddar and Monterey Jack gave us the best results texture-and-taste-wise during testing (read: cheese pull on point). If you're looking for a dairy-free option, just leave the cheese out entirely. It will still be delicious.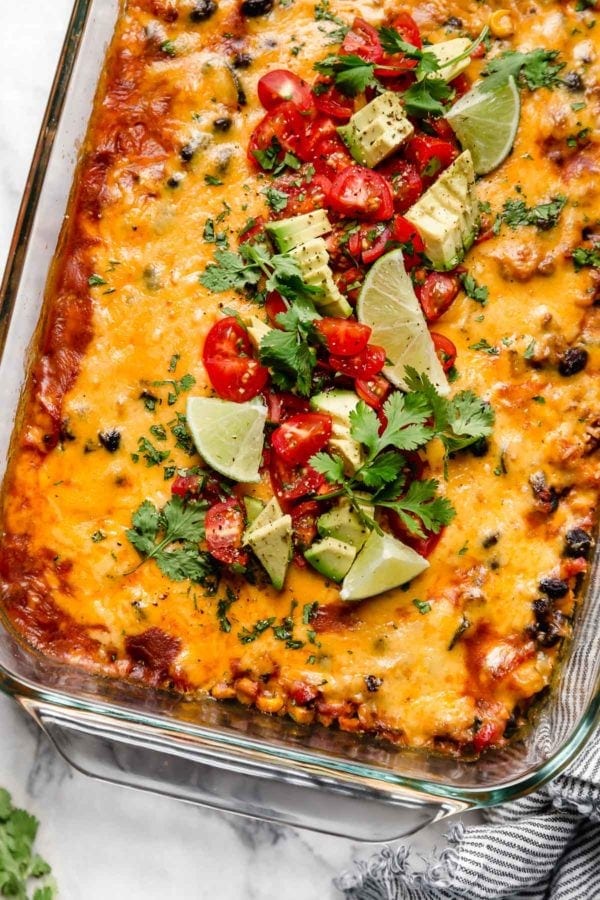 How to Make Healthy Taco Hot Dish
Start by sauteing the onions, peppers, and ground beef. When the ground beef is almost cooked through, add the zucchini, garlic, and taco seasoning. Cook it all a little longer until the zucchini is tender.
Transfer the meat and veggie mixture to the prepared baking dish. Add remaining ingredients (reserving 1 cup of cheese for later).
Cover the dish tightly with foil and bake for 45 minutes—resist the urge to open the oven or peek under the foil while it bakes.
After 45 minutes, remove the foil and sprinkle remaining cheese (and possibly more, if that's how you roll) over the top and bake another 5-10 minutes or until the cheese is melted and bubbly.
Remove the baking dish from the oven and allow it to stand for 5 minutes before serving with toppings of choice.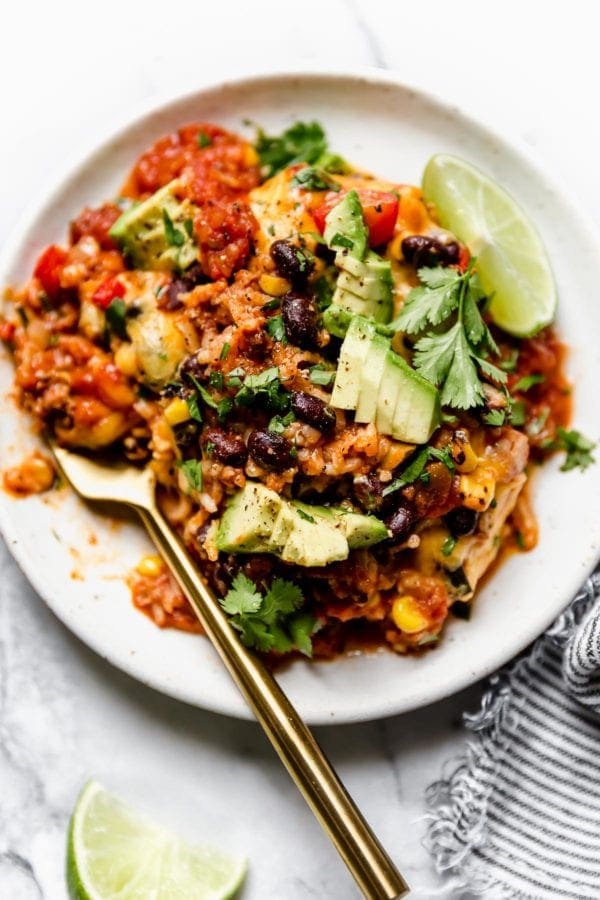 How to Prep Healthy Taco Hot Dish Ahead
Cook the meat and veggie mixture as directed in steps 3 and 4. Cool and store in a covered container in the fridge for up to 3 days.
When it's time to cook, continue as directed picking up where you left off at step 5, adding an extra 5 minutes to the initial baking time (i.e. when it's covered with foil).
You can also make this as directed then cool and refrigerate until ready to reheat in a covered skillet, in a toaster oven, or in the microwave.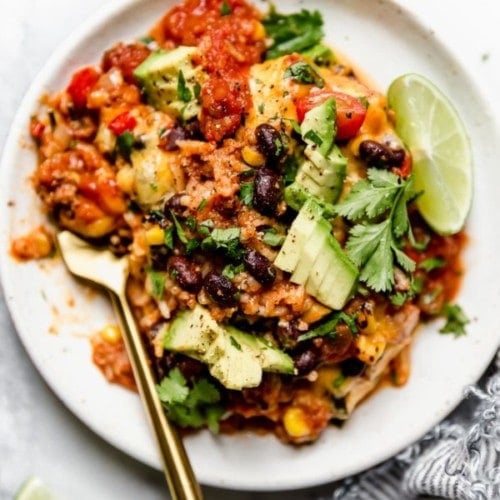 Prep:
20 mins.
Cook:
55 mins.
Total:
1 hr, 15 mins.
Ingredients
Cooking spray

1

lb. lean ground beef (we use 90/10) 

½

medium onion, diced

1

small bell pepper, diced

2

small zucchini, diced

3

cloves garlic, peeled and minced (may substitute a scant ½ tsp garlic powder)

2 Tbsp

. homemade taco seasoning (or store-bought)

1

(14-oz.) can fire-roasted diced tomatoes

1

(6-ounce) can tomato paste

2 ¾ cups

beef broth

½ cup

frozen corn

1

(15-oz.) can black beans, drained and rinsed

1 cup

uncooked long-grain white rice (such as American long-grain, basmati, or jasmine rice)

1 ½ cups

(6 ounces) shredded cheddar or Monterey jack cheese, divided
Optional toppings: Sals

a, diced avocado, sour cream, fresh cilantro, lime wedges, pickled jalapenos, etc.
Preheat the oven to 375F.

Grease (or spray) and a 9×13-inch baking dish and set aside.

Place a large skillet over medium-high heat. When the pan is hot, spray the pan with cooking spray then add the ground beef, onion, and bell pepper. Use a spatula to break up the meat and cook until the beef is just barely pink and onions and peppers have softened. About 8 minutes.

Add zucchini, garlic, and taco seasoning. Stir and cook an additional 3-4 minutes or until zucchini is just barely tender.

Remove from heat and drain excess fat from beef mixture if there is quite a bit. Transfer the meat and veggie mixture to the greased baking dish. 

Add the diced tomatoes, tomato paste, beef broth, 

drained beans, corn, rice, and ½ cup shredded cheese to the baking dish and stir to combine.

Cover the baking dish with foil and bake for 50-65 minutes or until the rice is tender. Be sure to test the recipe for tenderness and add additional time if needed. Remove the foil and sprinkle remaining cheese over the top and continue to bake for 5-10 minutes or until the cheese is bubbly.

Allow the hot dish to stand for 5 minutes before serving with toppings of choice.
Last Step! Please leave a review and rating letting us know how you liked this recipe! This helps our business thrive so we can continue providing free recipes and high-quality content for you.
Notes
Check the rice at 50 minutes to determine if additional baking time is needed before uncovering and adding the cheese. Cooking time will depend on the rice used (may vary by brand) and oven-temperature (not all ovens are true-to-temp so an oven thermometer is always a good idea). We do not recommend using brown rice. 
Nutrition Information
Serving Size:

1/8th recipe (without toppings)

Calories:

430

Fat:

10g

(Sat Fat:

5g

)
Sodium:

500mg

Carbohydrate:

57g

(Fiber:

6g

Sugar:

6g

)
Protein:

25g
Dietary
Pin it now & Make it later!
---
This post was made possible by our friends at Minnesota Beef Council. Although we received compensation for this post, the opinions expressed here are – as always – 100% our own. Thank you for supporting the great companies we work with thereby allowing us to continue creating great recipes and content for you.
Photo Credit: The photos in this blog post were taken by Jess of Plays Well with Butter.