Any night of the week can become 'Taco Tuesday' when you're serving up this delicious (and budget-friendly) Healthy Taco Casserole recipe! We've taken all of the best flavors of one of our favorite handheld foods and combined them into one cozy hot dish (that's Midwestern speak for 'casserole', don'tcha know?)
This post was created in partnership with the Minnesota Beef Council.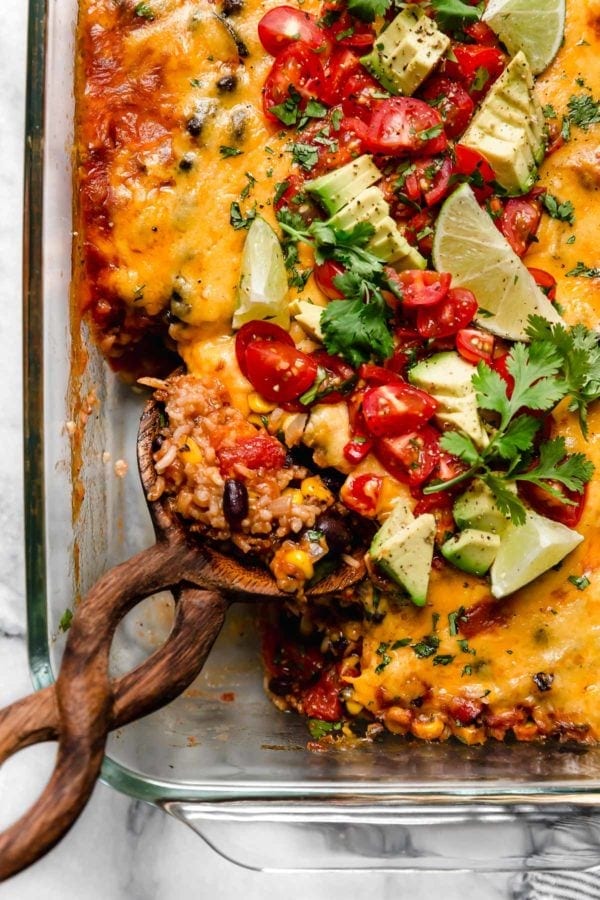 Comfort food at it's finest
Being that we all grew up in the Midwest, we're no strangers to hot dish recipes. Also known as casseroles or bakes, they usually contain some kind of protein, starch, and sauce (typically a can of condensed cream of something soup). Whatever you call them, these dishes are warm, cozy, comforting, and often cheesy. Satisfying and tasty, they're perfect for stretching your grocery budget or feeding a family, and this healthy taco casserole is one of our favorite recipes.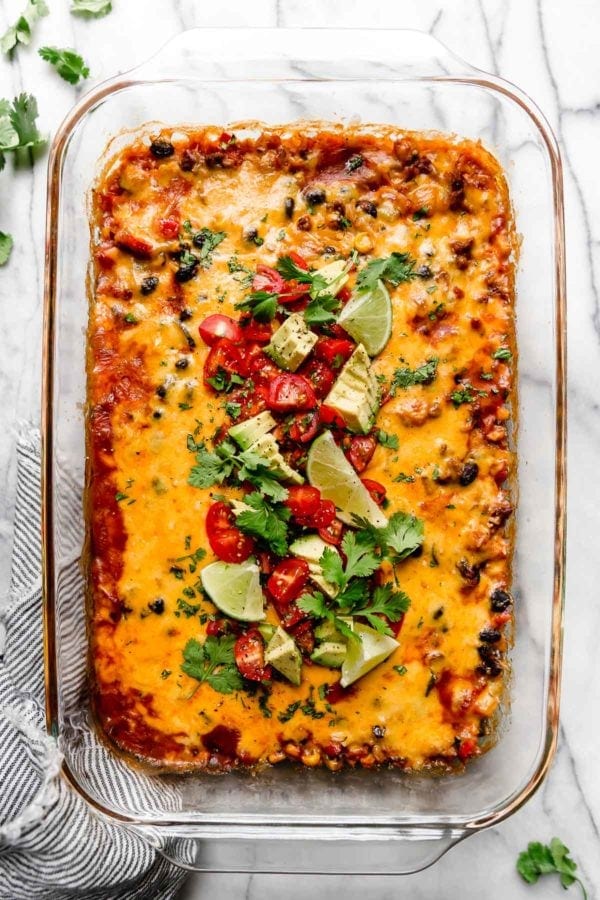 Recipe Highlights: Ground Beef
Lean ground beef is an ideal choice for family-friendly recipes because it's so versatile. Plus, incorporating loads of veggies and a can of black beans to the mix like we do in this Healthy Taco Casserole recipe, not only adds vitamins, minerals, and fiber, but also makes for an extra filling, colorful, and well, all-around healthy recipe.
Ingredient Spotlight: Lean Ground Beef
Not only is it delicious and easy to use, but it also: 
provides an excellent source of high-quality protein
is a good source of healthy omega-3 fatty acids
contains in B vitamins, niacin, zinc, and iron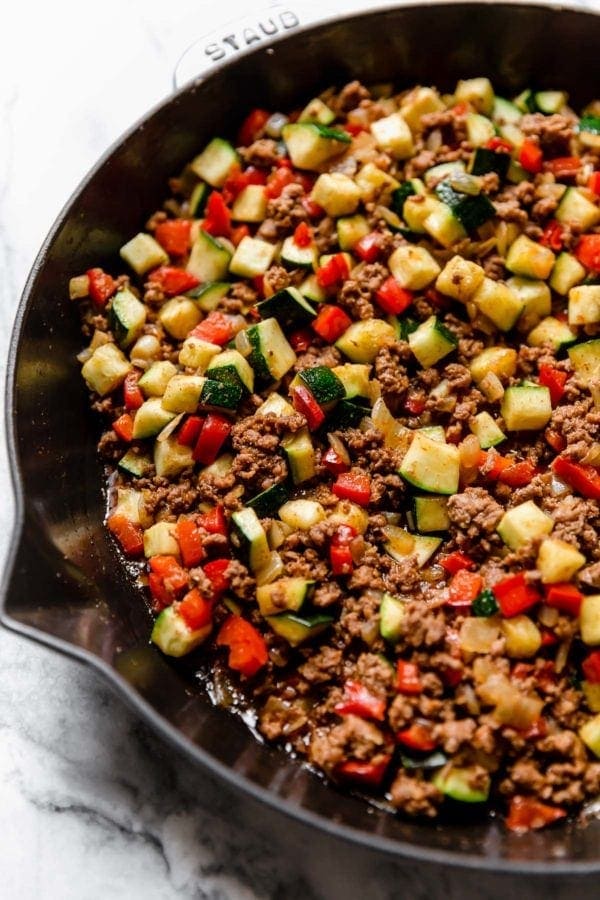 Tacos Are Everything
If you've found your way to this recipe then you already know how great tacos are. They're warm, spicy, and cheesy, somewhat basic, yet familiar and comforting. So as a shout-out to our Minnesota roots, we're sharing this Healthy Taco Casserole to bring a little comfort to your dinner table and help you stretch your grocery budget just a bit while staying full and satisfied.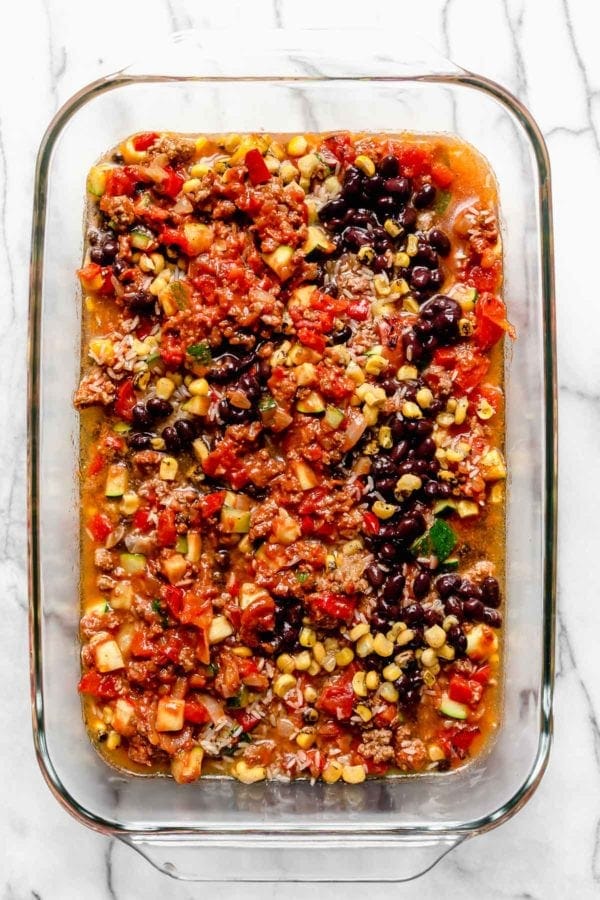 Healthy Taco Casserole Ingredients
When it comes to healthy taco casserole recipes, we like to keep the ingredient list simple, easy, and, of course, nutritious! Inspired by handheld tacos, you'll find plenty of bold flavor and cheesy goodness in this recipe. Here's what you'll need:
Ground beef – Beef is an excellent source of 10 essential nutrients including protein, zinc, iron, and B vitamins to support overall good health (and it's delicious). Ground beef is also incredibly versatile and budget-friendly, so much so we've created 20 Healthy Ground Beef Recipes for you to try!
Onion – Any color onion will do for this recipe, but white onions tend to be our go-to for Mexican-inspired dishes because they tend to have a sharper, more pungent flavor than their yellow counterparts (but really, any onion will do). You can even substitute a bunch of green onions (scallions) if that's what you have on hand
Bell pepper – Like onions, any color will do here. We prefer red, yellow, or orange peppers over green ones for the most part. However, those can also be more expensive. So, use what works for your taste and budget. Frozen peppers will also work for this Healthy Taco Casserole recipe. Just allow them to partially defrost before adding them to the dish
Zucchini – Zucchini adds texture, color, and bulk to this casserole recipe Plus, it can easily be swapped for yellow squash, even more onions, or bell pepper if you don't happen to have one on hand
Garlic – This probably goes without saying— garlic is good and makes everything it touches even more delicious! Of course, if you don't have fresh garlic on hand, you can substitute garlic powder in this recipe with good results
Taco seasoning – This is where the taco flavor comes in. So, use your favorite store-bought taco seasoning (we like this one), or make your own using our Homemade Taco Seasoning blend
Canned diced tomatoes – While any canned, diced tomatoes will work, we're big fans of the fire-roasted variety which adds an extra delicious dimension of flavor. Choosing canned tomatoes without added salt lets you control how much sodium you add in order to suit your taste preferences and dietary needs.
Tomato paste – We recommend always keeping tomato paste on hand! It's a great way to add richness to any dish thanks to its ultra-concentrated flavor
Beef broth – This may be obvious, but like goes with like, beef broth is a natural choice for this dish since we're using ground beef. If you just so happen to be out, other types of broth will work. Or, in a pinch, you can use water. The end results will still be tasty just not quite as flavorful
Frozen corn – While not a big part of this recipe, it adds color and texture. Surely you have a half-empty, nearly freezer-burned bag of frozen corn knocking around in your freezer that would be perfect for using up in this dish…but if not, no worries! Just leave it out
Black beans – Pinto beans will also work well for this recipe. If you're using canned beans just be sure to drain and rinse them well before adding them to the casserole. Or, if you're the type who prefers to use dried beans, let 'er rip (no pun intended). A 15-ounce can of beans yields roughly 1 ½ cups of cooked beans
Long-grain white rice – We've only tested this recipe with long-grain white rice, but we're sure medium-grain white rice, jasmine, or basmati rice would also work. Avoid using short-grain rice like sushi rice or arborio rice since they'd likely be too sticky.
Cheese – Yes, please! This IS a taco casserole recipe, after all. Pretty much any mild cheese will work, but Cheddar and Monterey Jack gave us the best results texture-and-taste-wise during testing (Read: cheese pull on point).
For the complete directions and ingredient amounts, scroll down to the recipe card below. All of our recipes include the nutrition information, listing kcals, protein, carbohydrates, cholesterol, fiber, sugar, sodium, total fat, and more per serving.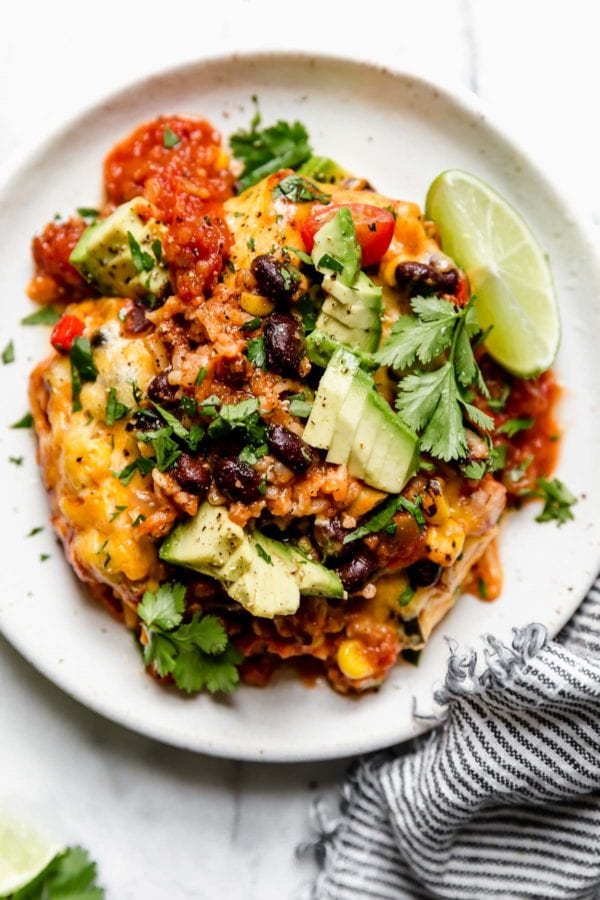 Ingredient Variations to Try
Feel free to switch up the ingredients, particularly the veggies, to mix and match and use up what you have on hand or what's in season. For instance, some of our favorite variations and add-ins include:
Carrots – Dice them up pretty small, and cook them until almost tender. Adding them to the skillet with the ground beef will give them more time to cook
Greens – Add a few handfuls of spinach or kale before baking for extra bulk, nutrients, and color and to use up those last few handfuls you happen to have in the fridge
Protein – If preferred, swap out the beef with ground chicken or turkey
Spice – If you prefer your healthy taco casserole recipes with a little heat, feel free to mix in a dash of cayenne or diced chipotle peppers in adobo sauce. Or, just add a drizzle of hot sauce!
Toppings – We love to finish off all our taco casserole recipes with all the best toppings like salsa, diced avocado, sour cream, fresh cilantro, lime wedges, pickled onions or jalapeños, and whatever else your heart desires! You really can't go wrong
Serving Suggestion
Scoop this casserole into warm tortilla shells for a homemade burrito, serve it over a bed of lettuce as a filling salad, or spread it over your favorite tortilla chips to make nachos!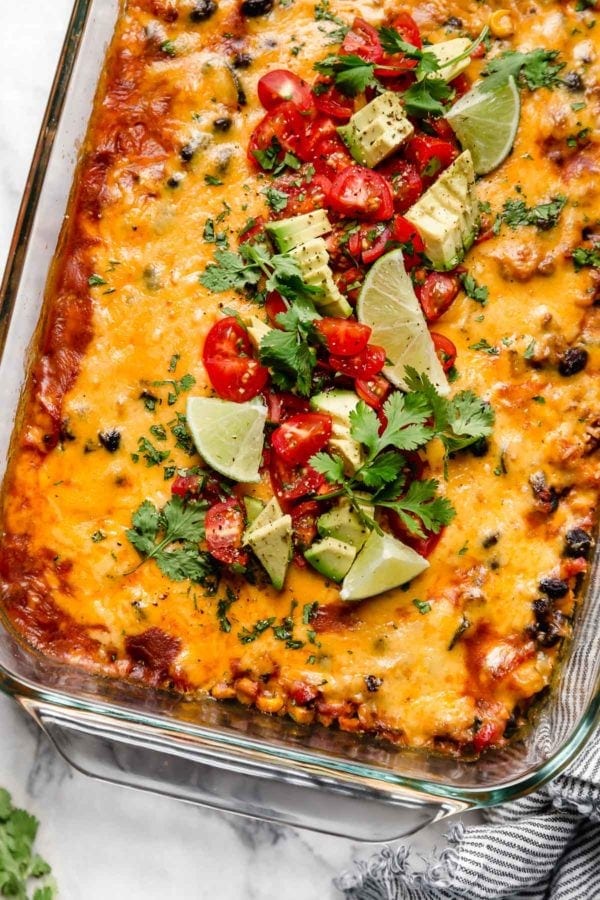 How to Make Healthy Taco Casserole (Easy and Budget Friendly)
Even easier than traditional stovetop tacos, you'll love how easily healthy taco casserole recipes come together!
Prepare the beef mixture: In a greased pan over medium-high heat, cook the ground beef with the onion and bell pepper until it is just barely pink and the veggies have softened. Use a spatula to break the beef up as it cooks. Add the zucchini, garlic, and taco seasoning, continuing to cook until the zucchini is just barely tender.
Combine the ingredients: Drain any excess fat from the beef, and transfer the mixture to a greased baking dish. Add the remaining ingredients, leaving out ½ the cheese, and stir to combine.
Bake your Healthy Taco Casserole: Cover the baking dish with foil, and bake until the rice is tender. Remove the foil, sprinkle the remaining cheese on top, and pop the dish back in the oven until the cheese is golden brown and bubbly.
Top and serve: Allow the casserole to stand for 5 minutes. Then, add all your favorite fixin's, and enjoy!

Test the Recipe
Every oven cooks differently. So, be sure to check your Healthy Taco Casserole for tenderness after 50-65 minutes of baking, and add extra baking time if needed.
We always recommend using an oven thermometer. This inexpensive gadget can tell you if your oven is 'true to temp' or if you need to adjust the oven temperature control up or down to give you the best results.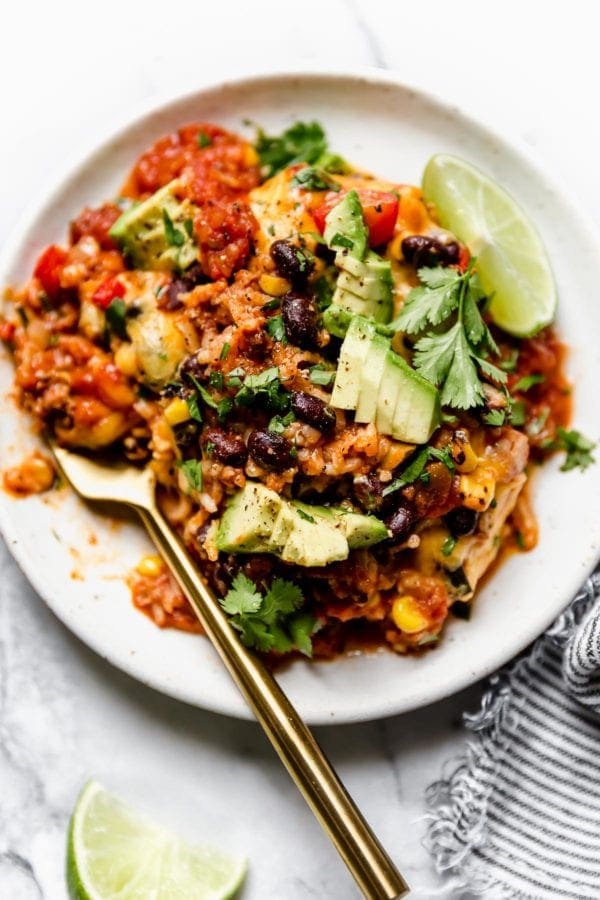 Frequently Asked Questions
Can I prep this Healthy Taco Casserole ahead? 
Yes! Cook the meat and veggie mixture as directed in steps 3 and 4. Let it cool, and store it in an airtight container in the fridge for up to 3 days. Then, when you're ready to bake, just pick up where you left off, and add 5 minutes to the baking time (while the dish is covered)! 
How long do leftovers last? 
Once fully baked and cooled, this casserole will stay fresh in an airtight container in the refrigerator for up to 4 days. 
Is this recipe freezer-friendly? 
You bet! Freeze leftovers for up to 3 months. 
How should I reheat leftovers? 
We recommend warming leftovers in a covered skillet, toaster oven, or microwave. 
Can I use quinoa in place of the rice?
We haven't tested this taco hot dish using quinoa so we cannot say for sure if you would need to modify the amount of liquid or the cooking time. If you're looking for a Mexican-inspired casserole that uses quinoa, we recommend our Southwest Chicken Quinoa Casserole or this Chipotle Quinoa Casserole.
Recipe Swaps and Substitutes
Make it Dairy-Free
This Healthy Taco Casserole recipe calls for cheese, but to make it dairy-free, you can swap it out. Use your favorite plant-based cheese instead. Or, leave it out completely! You can always top your finished casserole off with Vegan Queso or Vegan Nacho Cheese, too.
Make It Vegetarian
If you're following a vegetarian diet, you can easily make this recipe plant-based. To do so, omit the beef, and add an extra can of beans or lentils or replace the ground beef with 16 ounces of fresh mushrooms.
When to Make Healthy Taco Casserole
This recipe is a lifesaver on busy weeknights and is great to add to your weekly meal prep. However, it's also perfect for pitch-ins, potlucks, game days, parties, and more. Whip it up in no time for a surefire way to satisfy even the hungriest of crowds. Got a houseful of hungry teens? This is the recipe for that!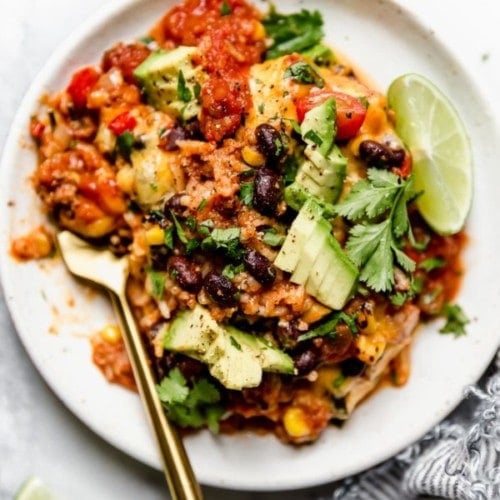 Recipe
Healthy Taco Casserole (Easy and Budget Friendly)
Quick, easy, and budget-friendly, this healthy taco casserole is made with all your favorite Mexican-inspired ingredients for the ultimate family-friendly comfort food!
Prep:
20 mins.
Cook:
55 mins.
Total:
1 hr, 15 mins.
Ingredients
Cooking spray

1

lb. lean ground beef (we use 90/10) 

½

medium onion, diced

1

small bell pepper, diced

2

small zucchini, diced

3

cloves garlic, peeled and minced (may substitute a scant ½ tsp garlic powder)

2 Tablespoons

homemade taco seasoning (or store-bought)

1

(14-oz.) can fire-roasted diced tomatoes

1

(6-ounce) can tomato paste

2 ¾ cups

beef broth

½ cup

frozen corn

1

(15-oz.) can black beans, drained and rinsed

1 cup

uncooked long-grain white rice (such as American long-grain, basmati, or jasmine rice)

1 ½ cups

(6 ounces) shredded cheddar cheese or Monterey jack cheese, divided
Optional toppings: Sals

a, diced avocado, sour cream, fresh cilantro, lime wedges, pickled jalapeños, etc.
Preheat the oven to 375°F.

Spray a 9×13-inch baking dish with cooking spray and set aside.

Place a large skillet over medium-high heat. Once hot, spray the pan with cooking spray then add the ground beef, onion, and bell pepper. Use a spatula to break up the meat and cook until the beef is just barely pink and onions and peppers have softened. About 8 minutes.

Add zucchini, garlic, and taco seasoning. Stir and cook an additional 3-4 minutes or until zucchini is just barely tender.

Remove from heat and drain excess fat from beef mixture if there is quite a bit. Transfer the meat and veggie mixture to the greased baking dish. 

Add the diced tomatoes, tomato paste, beef broth, 

drained beans, corn, rice, and ½ cup shredded cheese to the baking dish and stir to combine.

Cover the baking dish with foil and bake for 50-65 minutes or until the rice is tender. Be sure to test the recipe for tenderness and add additional time if needed. Remove the foil and sprinkle remaining cheese over the top and continue to bake for 5-10 minutes or until the cheese is bubbly.

Allow the hot dish to stand for 5 minutes before serving with toppings of choice.
Last Step! Please leave a review and rating letting us know how you liked this recipe! This helps our business thrive so we can continue providing free recipes and high-quality content for you.
Notes
Check the rice at 50 minutes to determine if additional baking time is needed before uncovering and adding the cheese. Cooking time will depend on the rice used (may vary by brand) and oven-temperature (not all ovens are true-to-temp so an oven thermometer is always a good idea). We do not recommend using brown rice. 
Nutrition Information
Serving Size:

1/8th recipe (without toppings)

Calories:

430

Fat:

10g

(Sat Fat:

5g

)
Sodium:

500mg

Carbohydrate:

57g

(Fiber:

6g

Sugar:

6g

)
Protein:

25g
Dietary
Pin now To Make it later!
Photo Credit: The photos in this blog post were taken by Jess of Plays Well with Butter.
For ultimate success, we highly recommend reading the tips in the full blog post above. All photos and content are copyright protected. Please do not use our photos without prior written permission. If you wish to republish a recipe, please rewrite the recipe in your own unique words. Link back to the source recipe here on The Real Food Dietitians. Thank you!