These paleo-friendly Almond Joy Protein Bites are like the candy you love – only better – when you want a sweet bite without the sugar crash.
This post was created in partnership with our friends at Primal Kitchen.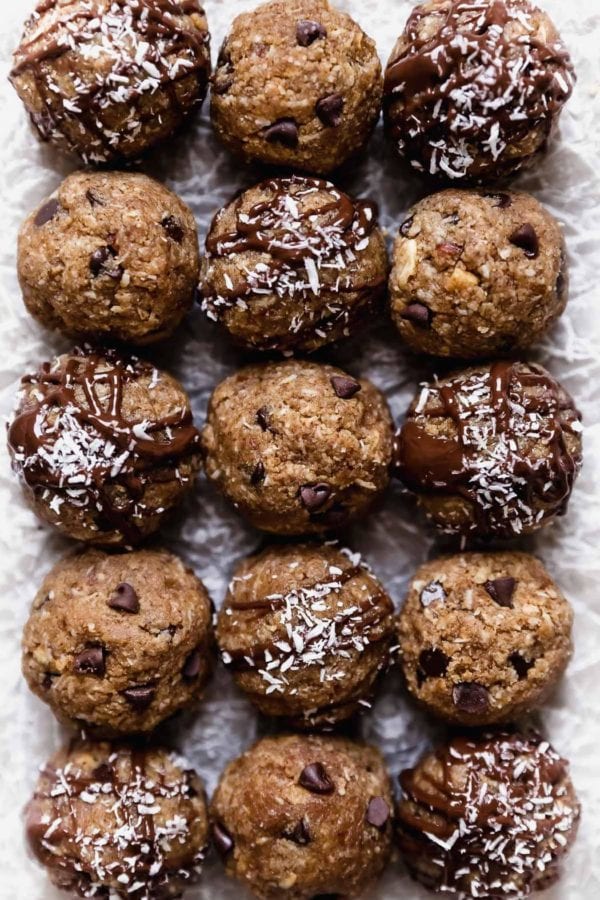 Less sugar. More protein.
The perfect little protein bite to curb your craving for something just a little sweet and a great option for when you just need a little something to get you by until the next meal. These Almond Joy Protein Bites include both quality protein and healthy fats, two macronutrients that help with satiety (the feeling of fullness). With only 2 tablespoons of maple syrup for a touch of sweetness they come in at just 5 grams of sugar per bite and taste very similar to the popular candy bar we know of, but with much less sugar and more protein. They also make for a great lunchbox addition, afternoon snacks for kids', pre-workout fuel or even a tasty food gift for new moms.
Just a few ingredients including coconut flakes, collagen, almond butter and dark chocolate come together to create these paleo-friendly Almond Joy Protein Bites.
I'm all about keeping it simple because I know that recipes with a long ingredient list and multiple steps can be overwhelming. You'll be glad to hear that all you need to make these Almond Joy Protein Bites is a mixing bowl, a mixing utensil, your hands, eight simple ingredients and about 15 minutes of your time. When making these bites, you may need to add a little water for the dough to come together. This depends on the consistency of almond butter you use as that can vary from smooth and runny to pretty thick. I prefer using an almond butter that is more on the runny side.
This post may contain affiliate links that will not change your price but will share some commission.
Almond Joy Protein Bites are a sweet treat without the sugar crash. #ad @primalkitchenco #realfood
Click To Tweet
Paleo Almond Joy Protein Bites are perfect for meal prep and freezer-friendly, too.
Almost every meal prep I complete includes some sort of energy bite, protein bite or granola bar. Both my husband and I like to have them on hand for an easy grab-and-go option. And because I'm exclusively breastfeeding, these bites also make for a great nursing snack and come with a much-needed boost of protein and healthy fats. Additionally, Almond Joy Protein Bites are freezer-friendly so I often double the recipe and stash some away in the freezer. You never can have too many healthy snack options on hand!
A nice boost of protein from our favorite Primal Kitchen Collagen Peptides.
It's fun to find new ways to sneak collagen into my diet. Exactly why we are excited to be partnered with Primal Kitchen to bring to you a series of grab-and-go recipes that include a boost of protein from collagen. Why collagen? Collagen is one of the most abundant proteins in the body, and Primal Kitchen's collagen contains only high-quality bovine collagen peptides, with 10g of type 1 and 3 collagen to support hair, skin, and nails.
These Almond Joy Protein Bites are one of many ways you can enjoy the benefits of Primal Kitchen Collagen Peptides. Feel free to substitute any of your favorite Primal Kitchen Collagens – so many flavors.
Drizzle them with chocolate and sprinkle with unsweetened coconut flakes of you wish.
Hungry for More? Subscribe to get our newsletter delivered straight to your inbox! And be sure to stay in touch on Facebook, Twitter, Pinterest and Instagram for all of the latest updates.
Let's Get Cookin'
Paleo Almond Joy Protein Bites
Author:
Prep Time: 20 mins.
Total Time: 20 mins.
Yield: 16 bites 1x
Cuisine: Paleo, Grain-Free, Dairy-Free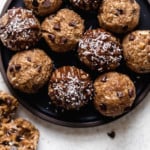 Ingredients
⅔ cup shredded coconut, unsweetened
⅔ cup almond flour
½ cup smooth or crunchy almond butter (or nut butter of choice)
2 Tbsp. maple syrup
½ tsp. pure vanilla extract
2 scoops of Primal Kitchen Unflavored Collagen Peptides (or collagen flavor of choice) 
¼ cup chopped almonds
¼ cup mini chocolate chips or roughly chopped chocolate bar (dairy-free, if needed) 
1 tsp. water (more if needed)
Instructions
In a bowl, combine all of the ingredients except for the water.
Mix well with hands until the dough comes together. 
Add water ½ tsp. at a time if needed in order for the dough to come together. This will depend on the consistency of the almond butter used. 
Once the dough comes together, roll into 16 small balls. 
Optional step – Drizzle each ball with a little melted chocolate and sprinkle with coconut flakes.
Nutrition
Serving Size: 1 Bite
Calories: 136
Sugar: 5g
Sodium: 45mg
Fat: 9g
Carbohydrates: 8g
Fiber: 2g
Protein: 7g
Pin it now and make it later!
---
This post was made possible by our friends at Primal Kitchen. Although we received compensation for this post, the opinions expressed here are – as always – 100% our own. Thank you for supporting the great companies we work with thereby allowing us to continue creating great recipes and content for you

Photo Credit: The photos in this blog post were taken by Jess of Plays Well with Butter.