If you love smoothies, then you'll love these healthy Creamy Yogurt Popsicles with Berries. Made from just five real-food ingredients, these adult- and kid-friendly homemade popsicles make a delicious and refreshing cool-me-down. Perfect for summer gatherings, 4th of July, afternoon snacks, birthday parties, and any time you want a cool treat. Light, creamy, and sweet, these homemade yogurty-fruity swirl pops will hit the spot!
Creamy Yogurt-Berry Swirl Popsicles are so fresh and easy
Goodbye sugar-laden bomb pops. See you later low-nutrition, high-cost frozen treats. This recipe for Creamy Yogurt Popsicles with Berries is fast, easy, and customizable. These yogurt-berry pops are so fun to make.
We like to think of them as snowflakes – no two are alike! Have some fun with this recipe and make it your own, using your favorite type of fresh berries.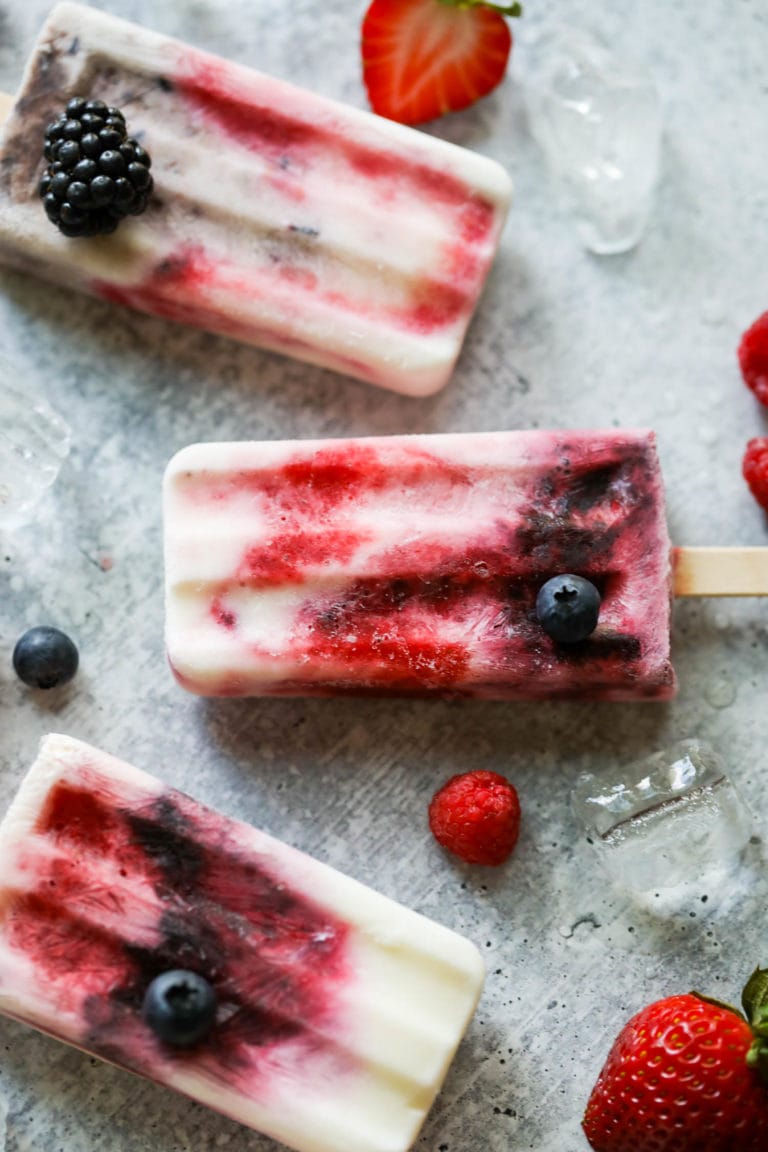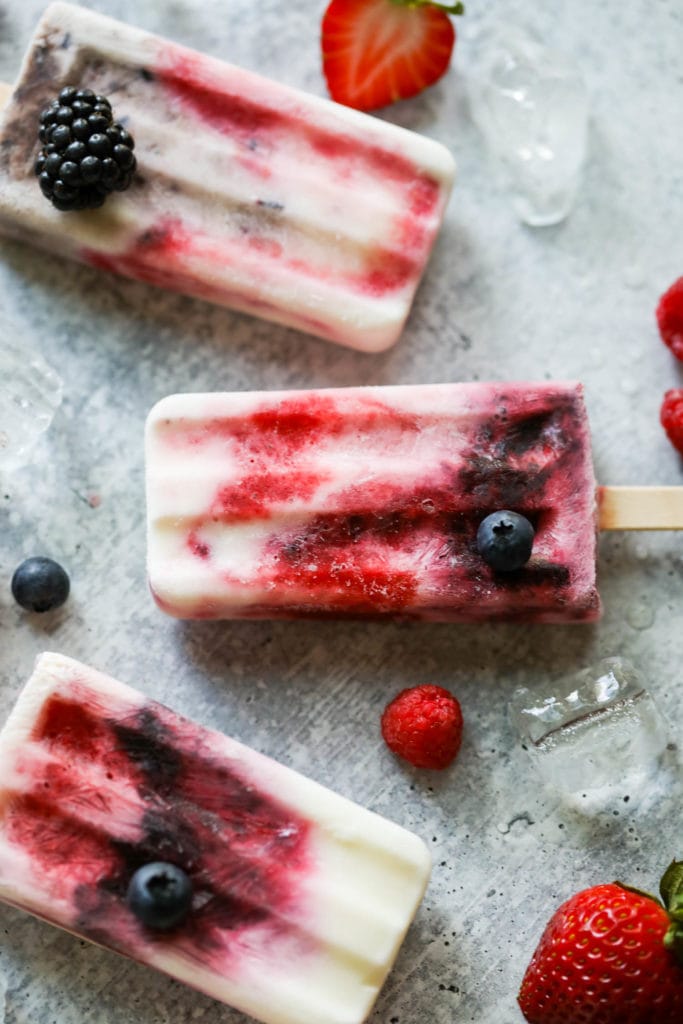 Ingredients to make Creamy Yogurt Popsicles with Berries
Unsweetened plain kefir – you can also use unsweetened plain Greek yogurt. Also, you could use vanilla-flavored yogurt and omit the honey and vanilla. Flavored kefir does contain added sugar, however, so we chose to use unsweetened kefir and add our own sweetener to reduce the added sugars overall. To make dairy-free popsicles, use canned coconut milk.
Honey – or use maple syrup or agave syrup
Fresh berries – use any combination of strawberries, raspberries, blueberries, or blackberries (or any other berry that you choose). You can also use cherries, peaches, or frozen and thawed berries, too
Pure vanilla extract
What is kefir? And is kefir nutritious?
Kefir is often referred to as "drinkable yogurt." It is very similar to yogurt in that it is a cultured dairy product with probiotic benefits. Though kefir is thicker than milk, it is thinner than yogurt. Kefir is pourable and tart and has even more of a powerful probiotic effect than yogurt.
Kefir is made by fermenting "kefir grains" in milk. Though they are called "kefir grains," kefir is not derived from grains as we think of grains nutritionally. The "kefir grains" are not like cereal grains, but rather grain-like colonies of yeast and lactic acid. Kefir is both grain free and gluten free.
Because even more cultures are used to make kefir than yogurt, kefir is an exceptional source of probiotics that are beneficial for gut health and overall immunity. Kefir is also an excellent source of protein and calcium, and kefir is typically lower in sugar than yogurt. Read more about how we like to use kefir in this post.
How to make Yogurt Popsicles with Berries
To make these beautiful homemade yogurt popsicles, start by blending fresh or frozen-thawed berries into a puree. Use two different types of berries to create and red, white, and blue swirled look. We love the combination of blackberries and raspberries, as well as blackberries and strawberries. We find that everyone has their favorite type of berry, so use the kind that you love the most!
After creating your two colors of berry puree, it's time to make the swirl pops. In your popsicle molds, spoon roughly 1 tablespoon of the kefir mixture followed by one type of berry puree. Use a chopstick to swirl it together, then repeat the layers until the mold is full.
To create a blended look, in a bowl, gently combine the kefir and berry purees. Swirl them together with a spoon and then gently spoon the mixture into the popsicle molds.
You can also fully mix the kefir and berry purees to make more of a smoothie-type popsicle (this is the quickest+ easiest method!). Remember that there are no mistakes. Every popsicle can be unique!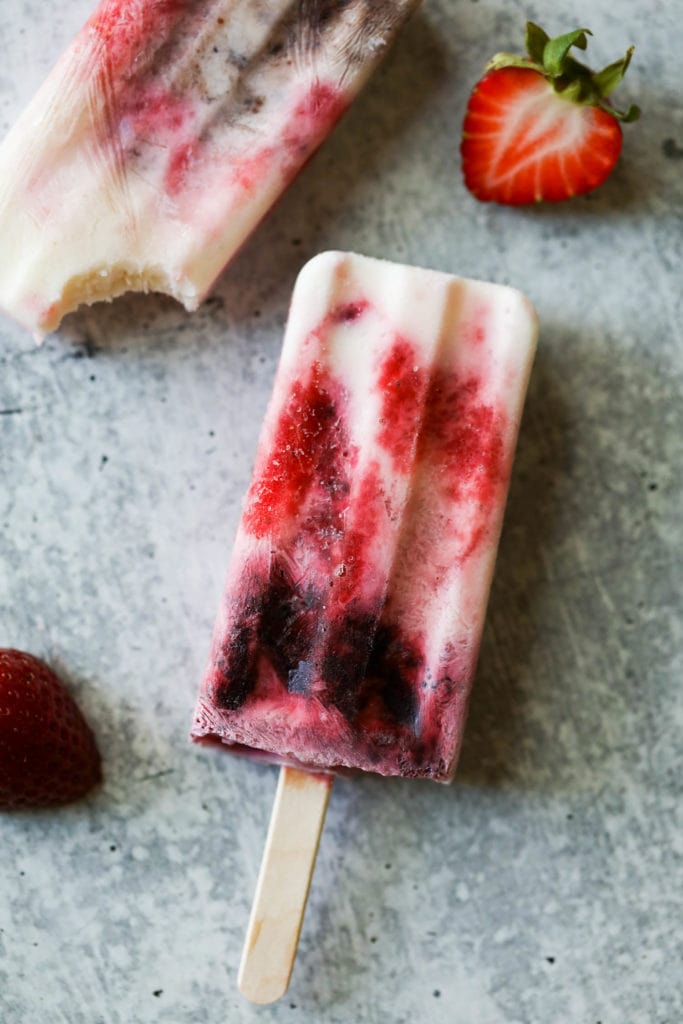 What popsicle molds should I use to make these yogurt-berry popsicles?
You can use whatever popsicle mold you have on hand. We used this 10-cavity silicone mold that makes 3-ounce popsicles. We like these molds because the bendable silicone makes it easy to remove the popsicles from each cavity, and it comes with a lid that helps hold the popsicle sticks in place in the freezer.
No popsicle mold? No problem! You can also use small juice cups or paper cups. Top the cups with tin foil and poke the popsicle sticks through the foil so they will stand up until the popsicles are frozen.
Recipe
Creamy Yogurt Popsicles with Berries
So easy and so refreshing! Save some money and up the nutrition in your popsicles by making these healthy, creamy popsicles from just five ingredients.
Prep:
15 mins
Total:
15 mins + 6 hours freeze time
Servings:
10

to

15

popsicles

1

x
Ingredients
6 ounces

fresh strawberries or raspberries

6 ounces

fresh blueberries or blackberries

2 cups

unsweetened plain whole-milk kefir or Greek yogurt

2 tablespoons

honey

1 teaspoon

pure vanilla extract
In a food processor or blender, blend one type of berries until pureed and pourable like liquid. Remove the berry puree to a bowl and rinse out the food processor. Blend the second type of berry and transfer the puree to a bowl.
Place the kefir in a third bowl. Add the honey and vanilla to the bowl with the kefir and whisk until incorporated.
Alternate layers of the kefir and berry purees in each popsicle mold. To make swirls, use a chopstick. You can also blend small amounts of the kefir and berries together and then pour into the molds.
Transfer popsicle mold to the freeze and freeze at least 6 hours before removing from the molds.
Last Step! Please leave a review and rating letting us know how you liked this recipe! This helps our business thrive so we can continue providing free recipes and high-quality content for you.
Notes
Have fun with the popsicle creation process! Remember that (like snowflakes) no two swirl popsicles are exactly alike.
This makes about 30 ounces, so depending on the size of your popsicle mold, you will get roughly 10 to 15 popsicles. If you're using a 3-ounce popsicle mold, like what we show in the photos, you will have enough to make 10 popsicles.
You could use sweetened vanilla-flavored yogurt or kefir, and then omit the honey and vanilla. Flavored kefir does contain added sugars so we chose to use unsweetened kefir so that we could reduce the total amount of sweetener in these popsicles.
To make popsicles that are dairy-free, replace kefir with 1 14-ounce can of canned coconut milk.
Nutrition Information
Serving Size:

1 3-ounce popsicle

Calories:

63

Fat:

2 g

(Sat Fat:

1 g

)
Sodium:

25 mg

Carbohydrate:

9 g

(Fiber:

2 g

Sugar:

7 g

)
Protein:

3 g

Cholesterol:

6 mg
Dietary
Pin It Now, Make It Later!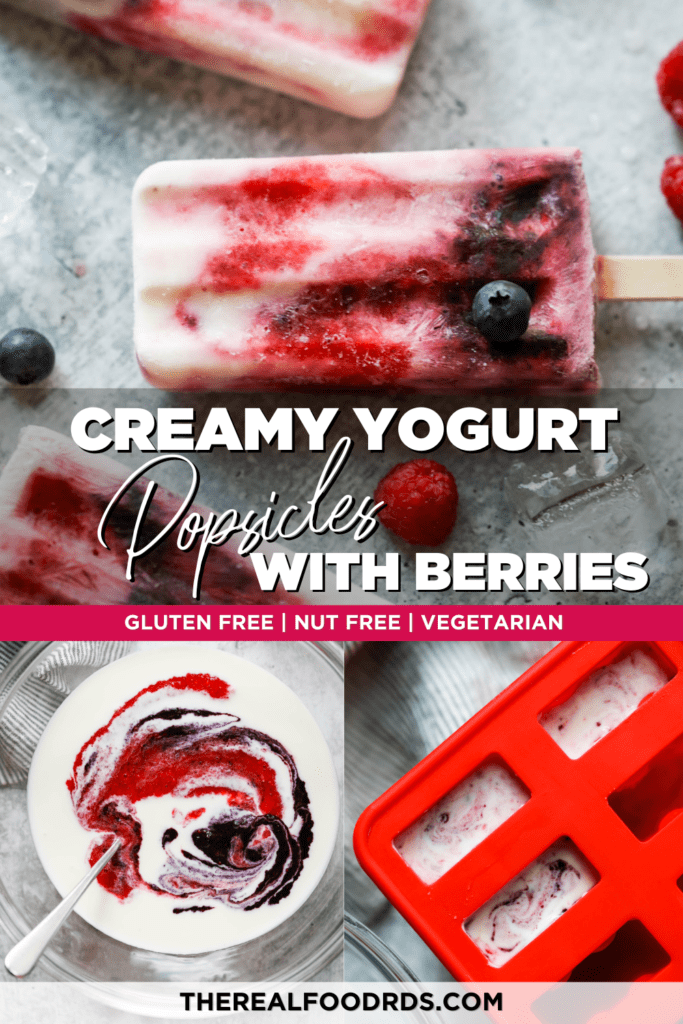 All photos and content are copyright protected. Please do not use our photos without prior written permission. If you wish to republish this recipe, please rewrite the recipe in your own unique words and link back to the source recipe here on The Real Food Dietitians. Thank you!