We've combined two delicious things: mojitos and wild blueberries, to create a fun and fruity twist on a favorite summer cocktail. Frozen wild blueberries make a wonderful addition to this lower-sugar cocktail since they pack a big punch of flavor, color, and nutrition all in one. You can also opt to make this a non-alcoholic mocktail by replacing the white rum. We've included both versions in the recipe card below.
​​This post was created in partnership with Wild Blueberries of North America
A Refreshing Lower-Sugar Mojito Made With Wild Blueberries
This lower-sugar mojito recipe doesn't contain any refined sugars or simple syrup (or mint simple syrup). It's sweetened with a small amount of honey, an optional ingredient that you may not even need because of the natural sweetness of the addition of wild blueberries. Whereas a typical mojito contains about 20 to 25 grams of sugar, our lower-sugar mojito contains just 6 grams of sugar per serving. And if you omit the honey, it contains even less – just 2 grams of sugar per serving!
We know you'll love this refreshing low-calorie and lower-sugar version of a classic cocktail, which results in a stunning dark purple drink that is so fun to serve and sip on. We think they're just the thing to enjoy on the back deck with friends this summer! 
History Of The Mojito Cocktail
A traditional mojito is a highball drink, meaning it is a mixed drink that combines alcohol with a larger amount of a non-alcoholic mixer. Classic mojitos were first created in Cuba, and this drink contains many Cuban ingredients native and bountiful in the country: rum, lime juice, fresh mint leaves, and cane sugar that are muddled together and topped off with club soda. The end result is a sweet, flavorful, minty, and fizzy drink that has become a very popular summer drink.
What You Need To Make A Blueberry Mojito
Frozen wild blueberries – find them in the freezer case and always look for "wild blueberries" on the package. For the most flavorful berry mojito, we recommend you use wild blueberries, though you could sub blackberries or raspberries, both of which would be more tart. For garnish, you may want about an additional ¼ cup blueberries to top the glasses.
Limes
Honey – may substitute agave nectar or omit completely if you like yours less sweet
Fresh mint leaves
Crushed ice
White rum – see recipe card below for how to replace the rum and make this a mocktail
Sparkling water – we recommend lime-flavored sparkling water, but may also use blueberry flavor or unflavored
Find the ingredient list with exact measurements in the recipe card below.
How To Make This Blueberry Mojito Recipe
Here are the 4 simple steps to make a batch of wild blueberry mojitos:
Puree the wild blueberries: Puree the thawed wild frozen blueberries and their juice in a high-speed blender or mini chopper. Add the fresh lime juice and honey; blend again.
Muddle the mint: Divide the mint leaves among 4 tall glasses. With the end of a wooden spoon or a muddler, smash the mint leaves until all leaves are darker in color and slightly wilted.
Add ice and rum: Divide the blueberry puree among the 4 glasses. Add crushed ice cubes to each glass, then add 1 to 1 ½ ounces rum to each glass.
Top it off and garnish: Top each glass off with sparkling water, adding a few ounces to each one; stir. Garnish with a sprig of fresh sprig of mint, extra blueberries, and/or lime wedges.
For the complete directions, ingredient amounts, and nutrition analysis that lists calories (kcal), protein, carbohydrates, total fat, fiber, sugar, sodium, and cholesterol per serving, scroll down to the recipe card below.
Thaw The Wild Blueberries First
Before making these delicious and fresh blueberry mojitos, thaw the frozen wild blueberries in the microwave (or by placing them in the refrigerator overnight). This creates the perfect texture and juiciness for blending the wild blueberries into the puree you'll need for the drinks. If you were to blend the wild blueberries while still frozen, you'd get more of a slushy texture.
Our Favorite Tools To Make Mojitos
Like margaritas, mojitos have become an iconic summer cocktail that are as fun to make as they are to drink! Here are our favorite tools to making this refreshing drink at home:
Tall glasses – you can serve these mojitos in any tall glass, such as a pint glass. But mojitos are typically served in a tall and untapered skinny glass. Or, if you'd like to serve these from a pitcher, you could use a mojito pitcher, which is tall and skinny, as well, to show off all the beautiful ingredients inside. Here's our favorite mojtio pitcher and glasses set.
Muddler – we love a nice flat-bottomed cocktail muddler, which is used to press and bruise the mint leaves (and other ingredients) to release their flavor and aroma. If you don't have a muddler, you can also use the handle end of a wooden spoon
Cocktail spoon – this drink is stirred, not shaken, so you don't need a cocktail shaker. You can use any long spoon to stir the drinks, but a long cocktail spoon like this one is perfect made to get the job done without spilling any ingredients out of the glass
Cocktails: It's All About The Garnish
Just like no outfit is really complete without a well-chosen accessory or two, we believe a good cocktail isn't finished until it has the right garnish. For this wild blueberry mojito, you have a few options. Some perfect garnishes are sprigs of fresh mint leaves, a spoonful of frozen wild blueberries (perfect for keeping the drinks cold), and/or a lime wedge or lime slices.
Frequently Asked Questions
What is a blueberry mojito made of?
These wild blueberry mojitos are made of frozen wild blueberries, lime juice, honey, mint, rum, and sparkling water.
Can I use fresh blueberries in this recipe? 
We recommend that you use frozen wild blueberries as they add great taste and puree nicely for this recipe, however you could use fresh blueberries. They just may not be as flavorful or colorful in your mojitos.
How much sugar is in a mojito? 
A typical mojito contains about 20 to 25 grams of sugar. By comparison, our lower-sugar mojito contains just 6 grams of sugar per serving. And if you omit the honey, it contains even less – just 2 grams of sugar per serving!
Does a
blueberry mojito contain alcohol? 
This blueberry mojito recipe does contain alcohol from the addition of rum. However, we've also provided a blueberry mojito mocktail version that does not contain alcohol.
How do you make a wild blueberry mojito non alcoholic?
In this mojito recipe with wild blueberries, we've provided instructions for how to make a non alcoholic version. To do so, replace the rum with 1 ½ to 2 ounces of ginger-flavored kombucha in each glass.
What is the best rum for Mojitos?
To keep the nice clear color and to prevent the mojitos from getting cloudy, we recommend that you use white rum (also known as light rum).
What is a mocktail?
A mocktail is a nonalcoholic version of a cocktail. The name comes from combining the words "mock" and "cocktail".
What's the best way to use blueberries in cocktails? 
We think one of the best ways to use blueberries in a cocktail is to use frozen wild blueberries. Allow them to thaw, which creates tender little berries with lots of juice. This ingredient can then either be pureed or muddled to use in cocktail recipes.
What are the health benefits of wild blueberries?
Wild blueberries are a high-fiber fruit that is rich in many nutrients, including vitamins, potassium, and manganese. They are also a lower-sugar fruit and have been connected to brain health benefits. Read more about the health benefits of wild blueberries in this post.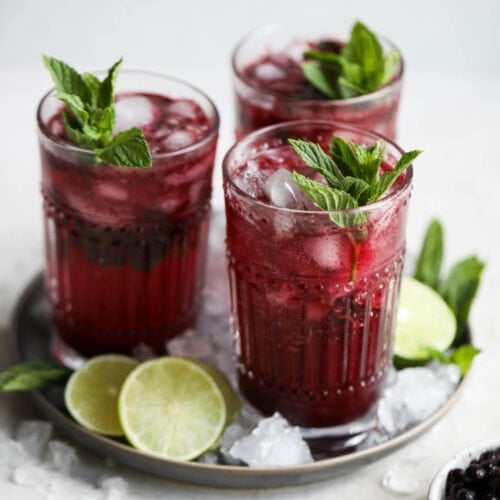 Recipe
Wild Blueberry Mojito (Includes Mocktail Version)
A stunning drink for summer, these Wild Blueberry Mojitos are lower in sugar and taste so refreshing! Plus, you can easily turn them into a mocktail with our easy instructions, if you desire a non-alcoholic mojito. 
Prep:
10 mins
Cook:
0 mins
Total:
10 mins
Ingredients
1 cup

frozen wild blueberries, thawed
Juice of

2

limes

(2 oz or ~¼ cup)

1 tablespoon

honey or agave nectar

20

fresh mint leaves

(~ ⅓ cup)

Crushed ice

4

–

6

ounces

white rum

*

Lime flavored sparkling water (may also use blueberry flavor or unflavored)
To a high-speed blender or mini chopper, add the thawed wild blueberries and their juice. Puree until you achieve a pureed juice consistency.

Add the

lime juice

and honey to the blueberry puree and blend again. You'll have about ¾ cup of puree. 

Divide the

mint leaves

among 4 tall skinny glasses. With the end of a

wooden spoon

or a

muddler

,

muddle

the mint. Smash the

mint leaves

until all leaves are darker in color and slightly wilted. 

Divide the blueberry puree among the 4 glasses, adding about 3 tablespoons to each. Next, add crushed ice to each glass until each glass is roughly ⅔ full.

Next, add 1 to 1 ½ ounces rum to each glass. Finally, top each glass off with sparkling water. Use a long spoon or stir stick to stir each cocktail until well mixed. Garnish with a sprig of fresh mint, additional frozen wild blueberries, and/or a lime slice. Enjoy!
Last Step! Please leave a review and rating letting us know how you liked this recipe! This helps our business thrive so we can continue providing free recipes and high-quality content for you.
Notes
* For a mocktail, prepare the drinks as directed above in steps 1-4. In place of the rum, use ginger-flavored kombucha (add roughly 1 ½ to 2 ounces kombucha to each glass). Finish off each glass with lime flavored sparkling water as directed above.
Nutrition Information
Serving Size:

Per drink (honey included)

Calories:

102

Fat:

0 g

Sodium:

8 mg

Carbohydrate:

11 g

(Fiber:

2 g

Sugar:

6 g

)
Protein:

0 g

Cholesterol:

0 mg
Dietary
Pin Now to Make It Later!
This is a sponsored post. Although we received compensation for this post, the opinions expressed here are – as always – 100% our own. Thank you for supporting the great companies we work with thereby allowing us to continue creating high-quality recipes and content for you.
For ultimate success, we highly recommend reading the tips in the full blog post above. All photos and content are copyright protected. Please do not use our photos without prior written permission. If you wish to republish a recipe, please rewrite the recipe in your own unique words. Link back to the source recipe here on The Real Food Dietitians. Thank you!