Here's a dish that will bring everyone to the kitchen! These 100-percent plant-based enchiladas are full of whole-food nutrition in every delicious bite – it's a home-cooked win-win! Want to get your family to eat more fiber-rich beans, heart-healthy nuts, vitamin-loaded veggies, and antioxidant-boosting spices? Then let's get rolling!
Delicious homemade comfort food — boosted with tons of fresh veggies and warm spices. This recipe has three distinct parts. You can make each of those homemade or just some of them.
Enchilada sauce – use a purchased red enchilada sauce or make our delicious and easy Homemade Enchilada Sauce
Vegan Queso – use purchased vegan queso (we like Siete Foods and The Honest Stand) or make our awesome Vegan Queso; if you don't need or want a 100% vegan enchilada recipe, then you could also use cheese-based purchased queso or shredded cheese to top the enchiladas
Vegan Taco Meat – made from nutritious cashews, mushrooms, beans, and spices
How to make Homemade Meat Replacement: Vegan Filling for Enchiladas
Before we get to the main recipe, we have to start with the filling! This recipe includes an absolutely delicious meat-like filling that is made from two healthy whole-food ingredients: cashews and mushrooms. We've heard it from all of our meat-eating tasters: This filling is FANTASTIC! And even if you or someone you're serving is not a huge fan of mushrooms, you'd never know they're in there! The mushrooms and cashews get ground into smaller pieces and then cooked down to release the water before stirring in beans and spices.
Start by soaking 1 cup of raw cashews (you can also use walnuts) in boiling water for at least 30 minutes or up to 60 minutes. We found that cashews softened more than walnuts, so there was none of the lingering nut texture that could be a dead giveaway that this isn't actually ground beef (otherwise you could easily be fooled). However, either cashews or walnuts will work just fine.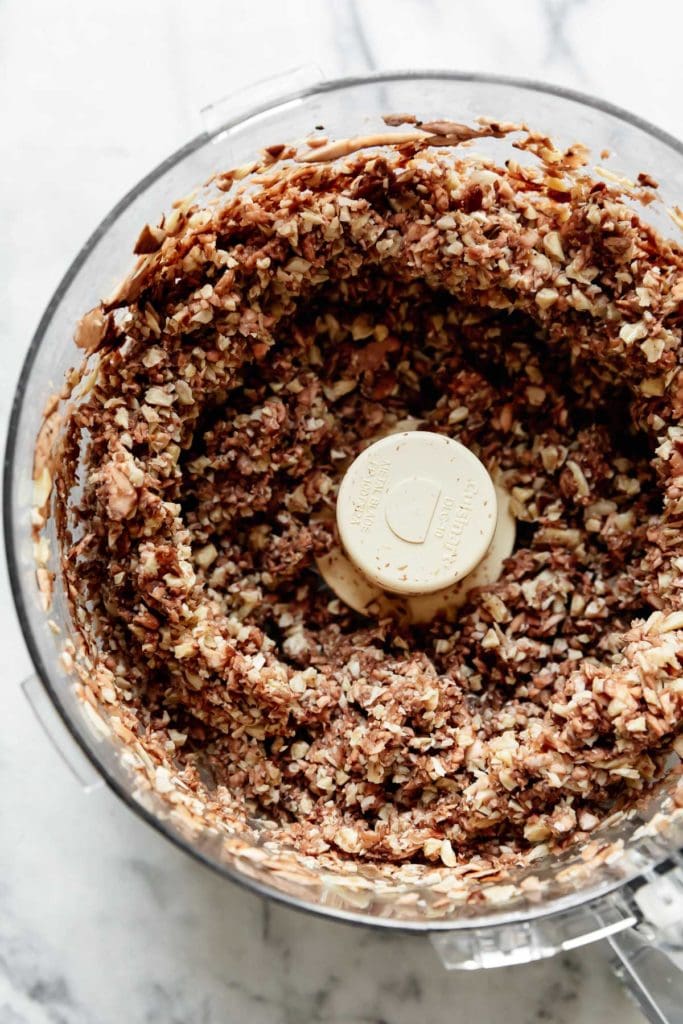 Next, grind the cashews and walnuts in the food processor until you have crumbles. The mixture should resemble the texture of ground meat, so don't overprocess it into a paste or paté. Transfer this mixture to a skillet over medium heat. You don't need to add oil to the pan because the nuts will release their own natural oil and the mushrooms will release some of their water.
Saute about 5 minutes, until the mushrooms are cooked, and then stir in 1/2 cup of vegetable broth (or water), plus drained black beans, chili powder, onion powder, and ground cumin. Now taste it! Many would find it hard to believe this isn't taco meat made with ground beef. Wow, right?
Ways to use Vegan Taco Meat
This method for homemade meat replacement is so easy and quick to make (plus chock full of nutritious whole-food ingredients) that you'll want to find all sorts of ways to use it. We love to serve it in tacos and burritos, sprinkled over nachos or potatoes, to round out power bowls, or to make vegan taco salad, and of course in this recipe for Vegan Enchiladas.
You could also use this Vegan Taco Meat to replace the regular taco meat in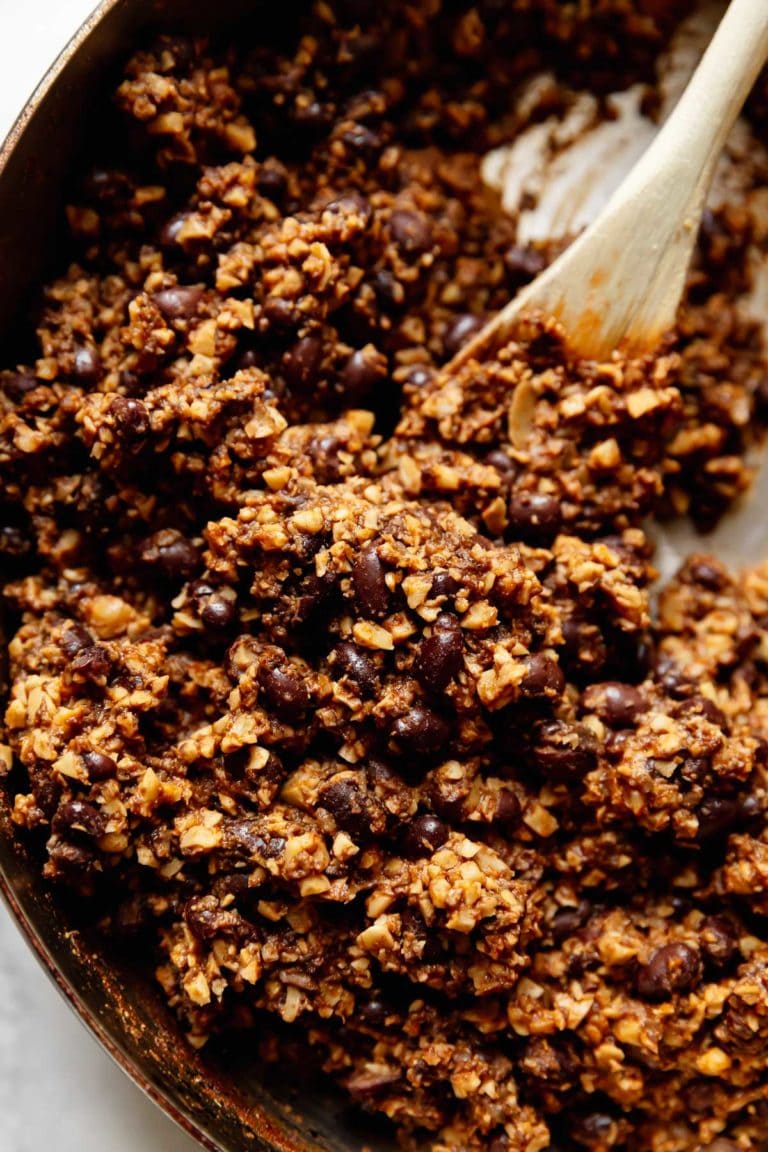 Ingredients to make Vegan Enchiladas
Once you have the components ready, this recipe comes together very quickly. Then it's just a matter of stuffing and rolling the tortillas, saucing them up, and baking until everything is hot.
Here's what you'll need to make the Vegan Taco Meat and complete the enchiladas:
Raw cashews – or you could use walnuts. We prefer cashews because they get softer and are also what we use in the Vegan Queso
Cremini mushrooms – or you could use the white button, portobello, or shiitake mushrooms; or if you just can't stand the idea of mushrooms, you could use eggplant or cauliflower (though even our mushroom-disliking taste testers couldn't tell they were in there)
Black beans or pinto beans – we use no-salt-added canned beans

Chili powder
Ground cumin
Onion powder
Vegetable broth or water
6-inch flour tortillas – we found the flour tortillas work so much better than corn tortillas in these enchiladas, which crumbled in every test, but if you need a gluten-free solution, use gluten-free tortillas or we have a recipe to make your own Grain-Free Tortillas from cassava flour.
Vegan Queso – use store-bought or make our awesome Vegan Queso
Enchilada Sauce – highly recommend our 15 Minute easy Homemade Enchilada Sauce
How to make Vegan Enchiladas
To make the vegan enchiladas, it's best to set up an assembly line. On the countertop, place your container of prepared vegan taco meat with a 1/4-cup measure for scooping. Place the enchilada sauce in a glass measuring cup so you can pour it easily and have an empty plate nearby. Have a stack of 12 small flour tortillas ready to go, as well as the 9×13-inch baking dish.
Pour 1 cup of the enchilada sauce in the bottom of the baking dish and swirl it around. Pour another 1/2 cup of the enchilada sauce on a plate. Pick up 1 tortilla and place it on the plate of sauce. This way it gets nice and saucy on the outside before rolling. Place a generous 1/4 cup of the vegan taco meat on top of the tortilla, then roll the tortilla around it.
Place the filled tortilla, seam side down, in the baking dish, placing the enchiladas in rows that are 6 x 2, as shown in the photo above. Top with leftover enchilada sauce, bake, and serve with your favorite toppings!
How to make enchiladas fit in your diet
Enchiladas are a traditional Mexican dish that dates back to Aztec times. The hallmarks of enchiladas are 1) tortillas wrapped around a filling, 2) dipped in a spice-based sauce, and 3) baked. Traditional Mexican enchiladas were made with corn tortillas and fillings ranged from beans and squash to fish, game, or eggs.
Like a lot of Mexican dishes, enchiladas are a combination of food that allows you to eat from a variety of food groups with every bite. By swapping out the animal-based ingredients (beef and cheese), this enchiladas recipe is a great way to get well-rounded nutrition from all vegan ingredients that provide a mix of healthful fats (from the nuts, avocado/olive oil, and avocado-olive toppings), fiber-rich carbohydrate (from the beans and mushrooms), plus plant-based protein (from the beans and nuts).
For people who want to make better food choices due to a diagnosis of high cholesterol or high blood pressure, this veggie enchilada recipe would be an especially good choice because it contains 9 grams of heart-healthy fiber in every serving and we have significantly reigned in saturated fat and sodium, making it 3 to 4 times less fat and sodium than you'd get in a restaurant portion.
Looking for gluten-free and dairy-free enchiladas?
You could easily make this recipe 100% vegan AND gluten-free by swapping in gluten-free tortillas for the flour tortillas or use our recipe to make homemade gluten-free flour tortillas.
How to store enchiladas, and can enchiladas be frozen?
If you want to make this recipe ahead for meal prep, you can fully assemble the enchiladas in the baking dish, then cover with foil and refrigerate up to 3 days before baking. Or, make this dish ahead, cover tightly with foil, and freeze for up to 3 months. To serve from frozen, allow enchiladas to thaw overnight in the refrigerator, then bake as directed.
This veggie enchilada recipe would make a wonderful make-ahead meal for new parents (or, let's face it – old parents, too), to show support to friends who need some love, for people who are trying to eat more plant-based meals and need some new inspiration, or just to have on hand for a hectic day down the road (you'll thank yourself later)!
Ready to get rolling? If you make this recipe, we'd love to hear what you think by leaving a comment below!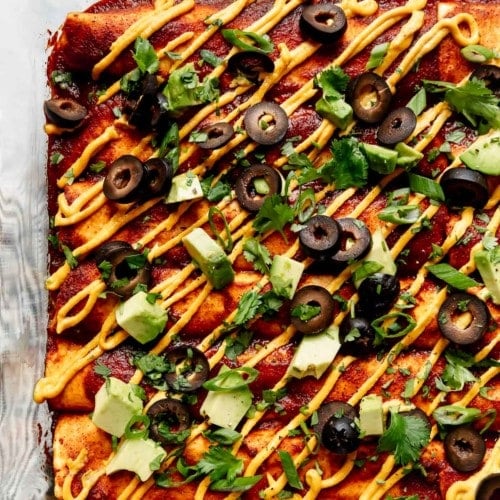 Made from real-food ingredients and packed with nutrition, this 100% plant-based vegan enchilada recipe is a delicious way to enjoy a favorite dish. Can be made ahead and refrigerated up to 3 days or frozen up to 3 months.
Prep:
35 mins
Cook:
25 mins
Total:
1 hour (includes cashew soaking time)
Servings:
6

servings (12 enchiladas)

1

x
Ingredients
1 cup

raw cashews or walnuts
Boiling water

8 oz

cremini mushrooms

1

15-ounce can low-sodium black beans or pinto beans, drained

1 tablespoon

chili powder

2 teaspoons

ground cumin

2 teaspoons

onion powder

½ cup

vegetable broth or water

2 1/2 cups

red enchilada sauce (purchased or Homemade Enchilada Sauce)

12

small 6-inch flour tortillas*

2 cups

vegan queso (purchased or Homemade Vegan Queso), optional
Optional toppings (avocado, cilantro, green onions, black olives)
Place the cashews (or walnuts) in a small bowl; pour boiling water over top and cover bowl with a small plate; set aside for 30 to 60 minutes. If also making Homemade Vegan Queso, soak another 1 cup raw cashews for the queso now, then complete the queso in Step 6.
If making your own Homemade Enchilada Sauce, do that step now.
Preheat the oven to 350 degrees. Drain the cashews. In a food processor, combine the drained cashews and mushrooms; pulse a few times until finely chopped. (Mixture should resemble the texture of ground meat, so don't overprocess it into a paste/paté.) In a nonstick skillet over medium heat, add ground cashew-mushroom mixture (no need to add oil). Saute, stirring often, until mushrooms are cooked, about 5 minutes. Stir in drained beans and spices; mix until well combined. Add ½ cup broth or water; stir and heat until liquid is absorbed, 2-3 minutes.
To assemble enchiladas, pour 1 cup of the enchilada sauce in the bottom of a 9×13-inch baking dish; swirl to coat the bottom. Pour ½ cup enchilada sauce onto a plate. Place one tortilla in the sauce on the plate (to get the outside of the tortilla nice and saucy) and top tortilla with a generous ¼ cup of the cashew-mushroom mixture. Roll enchilada to enclose filling and place, seam side down, in the baking dish (arrange tortillas in 2 rows along the long side, 6 enchiladas per row). Repeat with remaining tortillas and filling, placing each tortilla on the plate of sauce while you add the filling.
Pour any remaining enchilada sauce (plus any left on the plate) over the enchiladas. Bake for 15 minutes.
If making Homemade Vegan Queso, complete the steps to do so now.
To serve, drizzle purchased or homemade vegan queso over enchiladas, or smear 1/3 cup of queso on each plate and top with 2 enchiladas per serving and desired toppings.**
Last Step! Please leave a review and rating letting us know how you liked this recipe! This helps our business thrive so we can continue providing free recipes and high-quality content for you.
Notes
*If you'd like to make gluten-free enchiladas, use 6-inch gluten-free flour tortillas or use our recipe for cassava-flour Grain-Free Tortillas. You could use corn tortillas, if you'd like, but we do not recommend them for this recipe since they will crumble after baking, even when frying the corn tortillas.
**If you have made the Vegan Queso to go with this recipe, we like to serve it by smearing a generous amount of the queso on the plate, then top with the enchiladas. This ensures you will get some of the queso with each bite and makes for a nice presentation.
Nutrition Information
Serving Size:

2 enchiladas without queso

Calories:

417

Fat:

17

(Sat Fat:

4

)
Sodium:

627

Carbohydrate:

52

(Fiber:

9

Sugar:

4

)
Protein:

15

Cholesterol:

0
Dietary
Pin it Now, Make it Later!
All photos and content are copyright protected. Please do not use our photos without prior written permission. If you wish to republish this recipe, please rewrite the recipe in your own unique words and link back to the source recipe here on The Real Food Dietitians. Thank you!
Photo Credit: The photos in this blog post were taken by Jess of Plays Well with Butter.