Healthy eating doesn't have to be complicated, especially when it involves this Slow Cooker Chunky Beef Chili with Sweet Potatoes!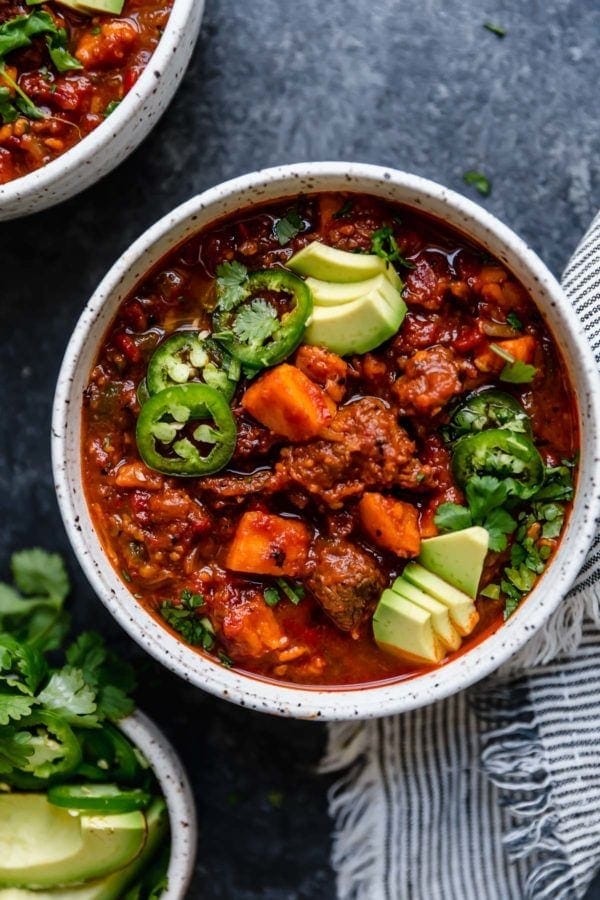 This post was created in collaboration with Beef. It's What's For Dinner on behalf of the Beef Checkoff. We received compensation, but all opinions are our own.
February is the month for hearts.
February not only means cute paper Valentine hearts for classroom celebrations, but it's also the month we recognize – and call attention to – the importance of heart health. For a few weeks every year, the American Heart Association (AHA) reminds us of how important it is to live a healthy lifestyle which is why we've teamed up with Beef. It's What's for Dinner. on behalf of the Beef Checkoff to bring you this Slow Cooker Chunky Beef Chili with Sweet Potatoes. It checks all of the boxes for us when it comes to taste, nutrition, and convenience.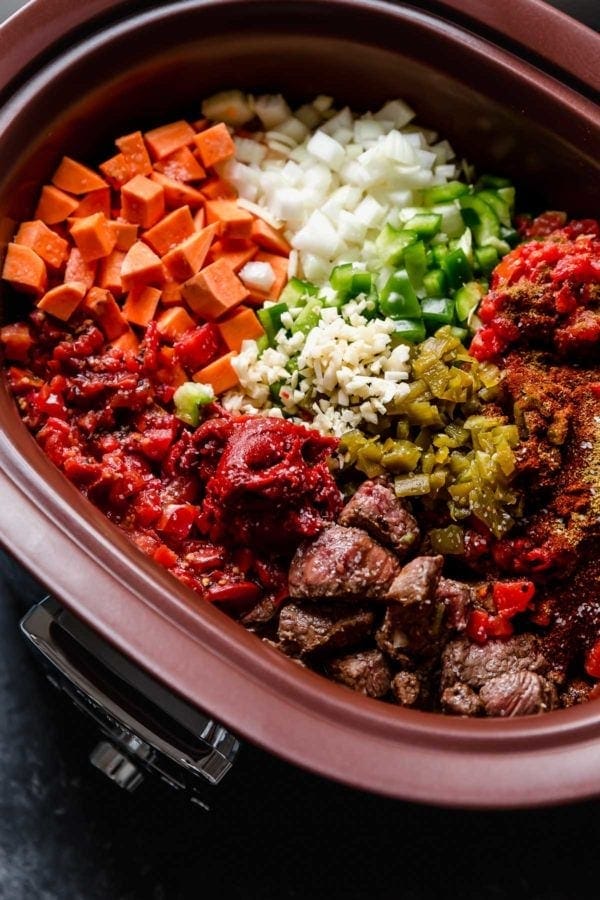 Eat Smart.
But before we dive into the recipe, we want to talk a little about "Heart Month" and the message to "Eat Smart" because it's something that we should be keeping top of mind throughout the year for better health.
We love the phrase 'eat smart' because it comes without judgment or the implication of restriction. As Registered Dietitians, people often ask us "What's the best diet out there right now?", "Which foods are the best and the worst?", "Should I be eating more X and less Y?". You may be surprised to find out that our answer is always, "The diet that works for you." with the caveat of diet meaning a 'way of eating' and not a ' way of restricting'. So, in other words, we want you to 'eat smart' and in a way that makes you feel your best.
Not sure what that means for you? Don't worry, we've got some tips to guide you! Also, be sure to check out this post from fellow Registered Dietitian, Carolyn Williams, for more ways to look after your heart health without making it overly complicated.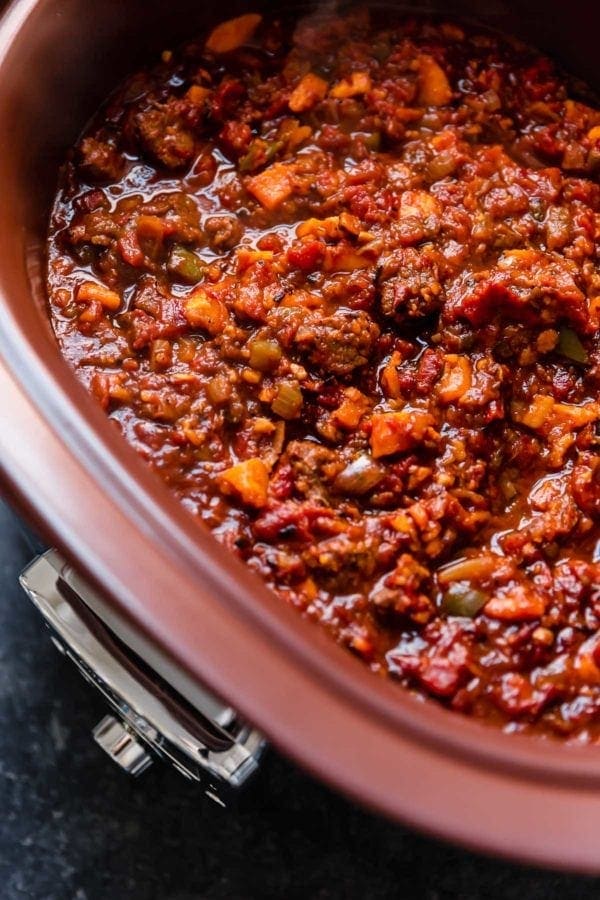 Eating for heart health.
You may have expected a long list of do's and don'ts but that's not what we're about. We know personally and professionally that what works for one doesn't work for everyone. This is why we want to share these tips – along with our recipe for Slow Cooker Chunky Beef Chili with Sweet Potatoes – today to help you craft a style of eating that provides adequate nourishment, is satisfying and sustainable, and doesn't take an advanced degree in nutrition science to execute!
No restrictions and no labels.

Putting a name or label on your diet may be one way to identify what you do or don't eat but, for many, over time it becomes a way of restricting themselves from foods they've deemed to be 'bad' or 'unhealthy'. Moving away from diet labels and embracing the idea that no foods are truly off-limits can be very freeing.

Lots of plants.

You've likely heard the famous Michael Pollan quote summing up everything he's learned about food in seven words,

"Eat food, mostly plants, not too much."

We could not have said it better ourselves. While we believe that less nutritious foods can be part of a healthy diet we also know that a diet that's heavily based on plants – fruits, vegetables, legumes, and gluten-free grains included – is one that helps you meet your nutrient needs without having to rely on supplements. Filling your plate half full with vegetables at lunch and dinner – and including fruits and vegetables at breakfast and snacks is an easy way to eat more plants without having to weigh or measure anything.

Make it colorful.

Ever wonder why fruits and vegetables come in so many different colors? It's because each one offers unique and varied phytochemicals that support health. If you aim to consume a diet that contains an array of colors, you won't have to remember which food contains which nutrients or phytochemicals.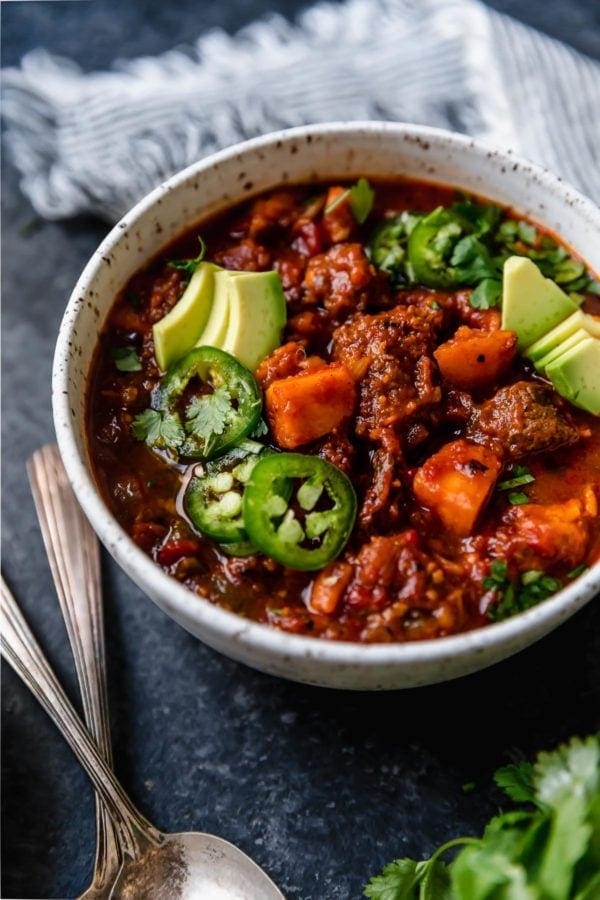 Keep it simple.

Don't overcomplicate things. When you focus on meals that include plenty of colorful produce, enough protein and fat to satisfy your hunger, and enough carbohydrates (from vegetables, fruits, legumes, grains, etc.) to support your energy levels you don't have to count calories or track your macros. Just keep it simple.

Lean protein for the win.

Before you think 'chicken, chicken, chicken' hear us out!

Beef is an excellent source of lean protein

and it's also a great source of iron, vitamins B6 and B12, and zinc and when combined with sweet potatoes and other vegetables in this Slow Cooker Chunky Beef Chili with Sweet Potatoes it's an easy and delicious way to eat smart all year round.

Studies

show that eating lean beef, as part of a balanced diet, supports healthy blood pressure and blood lipids.

Enjoy treats on occasion.

Is it possible to enjoy a treat here and there and still 'eat smart'? You'd better believe it is! Rather than thinking of treats or other less nutrient-dense foods as being off-limits, we like to think of them as foods we eat less often (weekly or even monthly, depending on the food). For example, while pizza may not be the best choice every night it's not inconceivable that a slice or two couldn't happen once a week with a big salad on the side as part of a family pizza night ritual. The same thing goes for sweet treats. A small square of dark chocolate might be the perfect indulgence on a regular basis and one that fits well into your overall diet while a trip to the local ice cream shop for a once a month treat is a special moment you share with a friend or your kids. Bottom line: Nothing makes you crave a food more than making it off-limits. By allowing and planning for treats you can enjoy them as part of a healthy diet and lifestyle without guilt.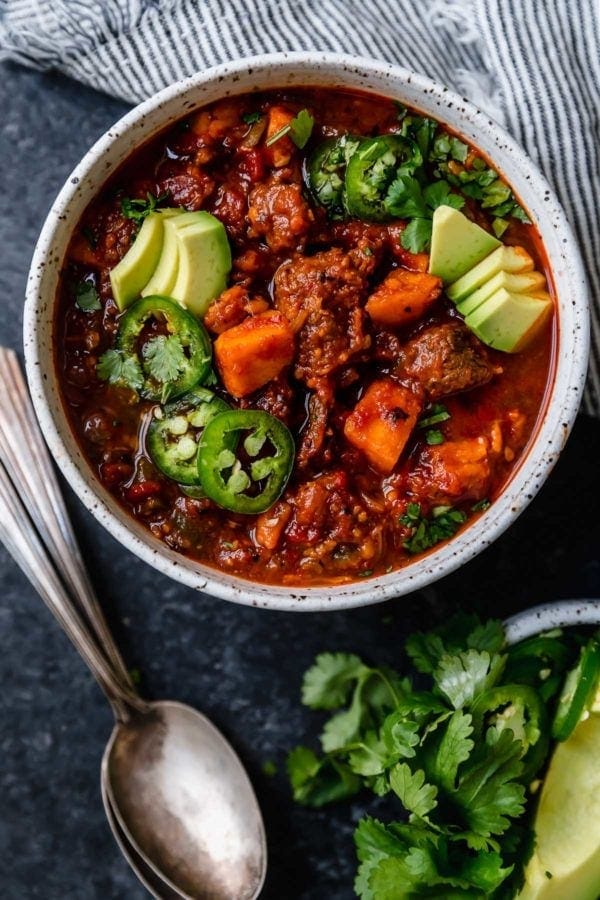 Putting it all together.
Are you wondering how this Slow Cooker Chunky Beef Chili with Sweet Potatoes fits into the grand scheme of things when it comes to eating smart and Heart Month? Well, it checks so many of the boxes! In addition to being packed with lean beef for protein, it also boasts a big punch of vitamins A and C from the tomatoes, peppers, and sweet potatoes. Add to that the fact that it takes just 20 minutes to prep and it's freezer-friendly and can be topped with different toppings to please everyone at the table and you've got one hearty, healthy, and seriously satisfying meal on your hands.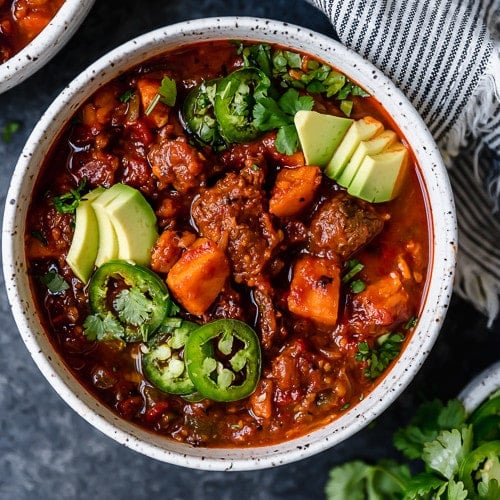 Recipe
Slow Cooker Chunky Beef Chili with Sweet Potatoes
Prep:
20 mins.
Cook:
8 hours
Total:
8 hours, 20 mins.
Ingredients
2

lbs. Boneless Beef Chuck or Round Roast, well-trimmed and cut into

1

-inch cubes

1 Tbsp

. olive oil or other cooking fat of choice, for optional browning of meat

1

medium yellow onion, diced 

1

green bell pepper, diced

6

garlic cloves, peeled and minced

2

medium sweet potatoes, peeled and cut into ½-inch cubes (about

3 cups

)

1

(4-ounce) can diced green chilies

2 Tbsp

. chili powder

1 Tbsp

. ground cumin

1 tsp

. salt, plus more to taste

½ tsp

. black pepper

2

(28-ounce) cans fire-roasted diced tomatoes, undrained

3 ounces

no-salt-added tomato paste (½ of a 6-ounce can) 

1 cup

low-sodium beef broth
Suggested toppings: Sliced avocado, pickled or fresh jalapeno slices, cilantro, lime wedges.
If browning the meat (this step is optional but recommended), heat olive oil in a large skillet or Dutch oven set over medium to medium-high heat. Add beef cubes and cook 2-3 minutes. Carefully flip each piece using a tong or spatula and continue the process until the meat is browned on all sides. Transfer to the slow cooker.

Combine all ingredients (beef through broth) in a slow cooker set on low. 

Cook for 8 hours on low or until beef is tender.

Season with additional salt and pepper as needed. Serve with desired toppings.
Last Step! Please leave a review and rating letting us know how you liked this recipe! This helps our business thrive so we can continue providing free recipes and high-quality content for you.
Notes
Leftover chili may be frozen for up to 3 months.
Nutrition Information
Serving Size:

1 ¾ cups (without toppings)

Calories:

356

Fat:

14g

(Sat Fat:

5g

)
Sodium:

485mg

Carbohydrate:

22g

(Fiber:

6g

Sugar:

11g

)
Protein:

33g
Dietary
Pin it now & Make it later!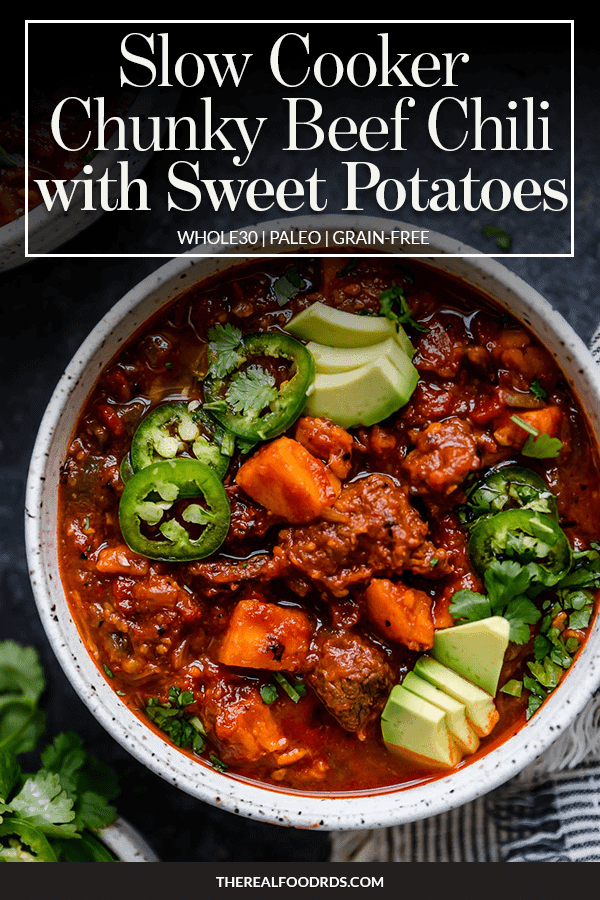 ---
This post was made possible by our friends at Beef. It's What's For Dinner. Although we received compensation for this post, the opinions expressed here are – as always – 100% our own. Thank you for supporting the great companies we work with thereby allowing us to continue creating great recipes and content for you.
Photo Credit: The photos in this blog post were taken by Jess of Plays Well with Butter.