This salad is worthy of a restaurant menu, but so easy to make at home. It's refreshing, healthy, and filling in all the right ways. Packed with crisp-crunchy veggies, toasted nuts, tender chicken, sweet oranges, and a delicious sesame-ginger sauce, this Chinese Chicken Salad is perfect for make-ahead meals or any gathering.
This post was originally published on May 28, 2019; Updated on April 15, 2021.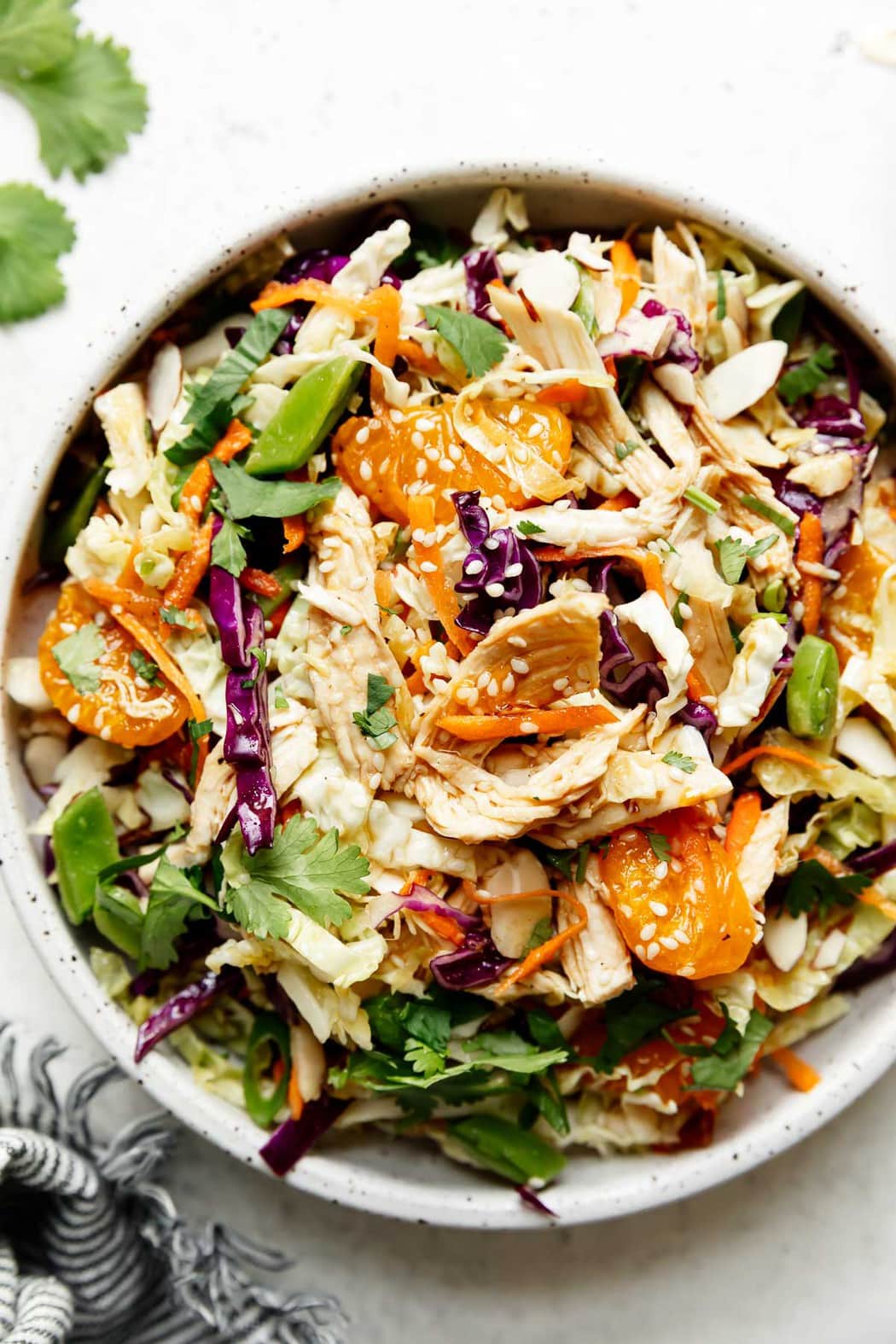 Everyone's favorite chicken salad

We put this salad right up there with the salad classics that are always a hit (like Broccoli Salad and BBQ Ranch Chopped Salad). This one checks off all the right flavor marks: salty, savory, and sweet. It also provides that refreshing crunch from crisp vegetables and toasted almonds. Once you toss in some tender oranges and a ginger-sesame dressing, and you've got a recipe for success.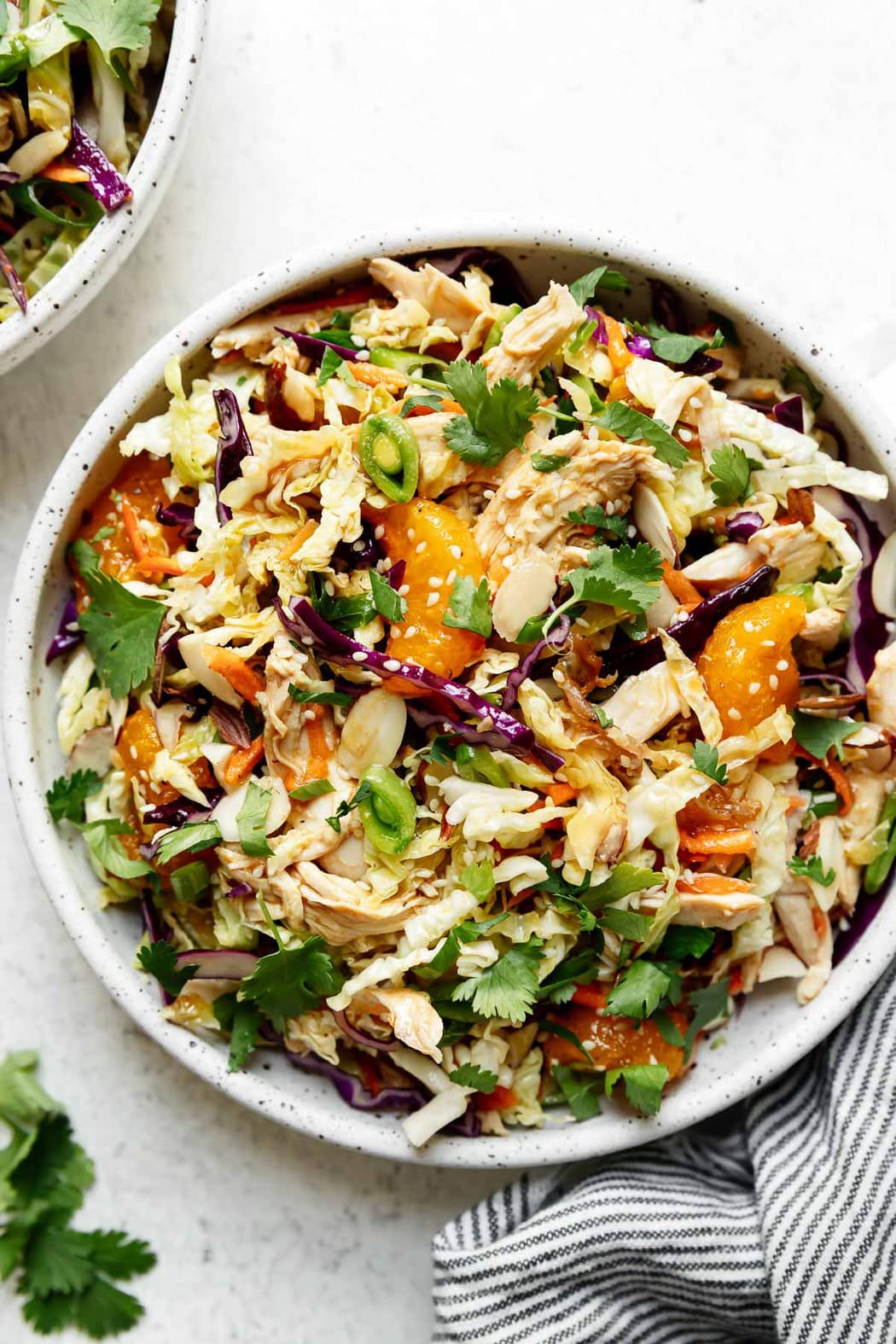 Does Chinese Chicken Salad originate from China?
No, this popular salad, which has also been called Asian Chicken Salad, or Mandarin Orange Chicken Salad, or Chinese Chicken Salad with Mandarin Oranges, was not invented in China, thus calling it any of those names is actually a misnomer. The reason we call ours Chinese-Inspired Chicken Salad is that several of the flavors in this dish are those that you'd typically find in some Chinese cuisines, such as rice vinegar, sesame, and soy (though we call for similar-tasting coconut aminos instead of soy sauce).
This particular style of salad, with a base of cabbage and chopped vegetables and studded with nuts and tossed with a sesame-flavored dressing, is an Asian-American fusion dish that first appeared in some versions in American cookbooks and magazines as early as the 1930s. It subsequently gained popularity on restaurant menus in 1990s and 2000s.
Many, but not all, versions of this salad call for mandarin oranges, which is considered a native tree of south-eastern Asia and the Philippines. Mandarin oranges are now grown in all sub-tropical regions of the world, but mostly in Japan, southern China, India, and the East Indies.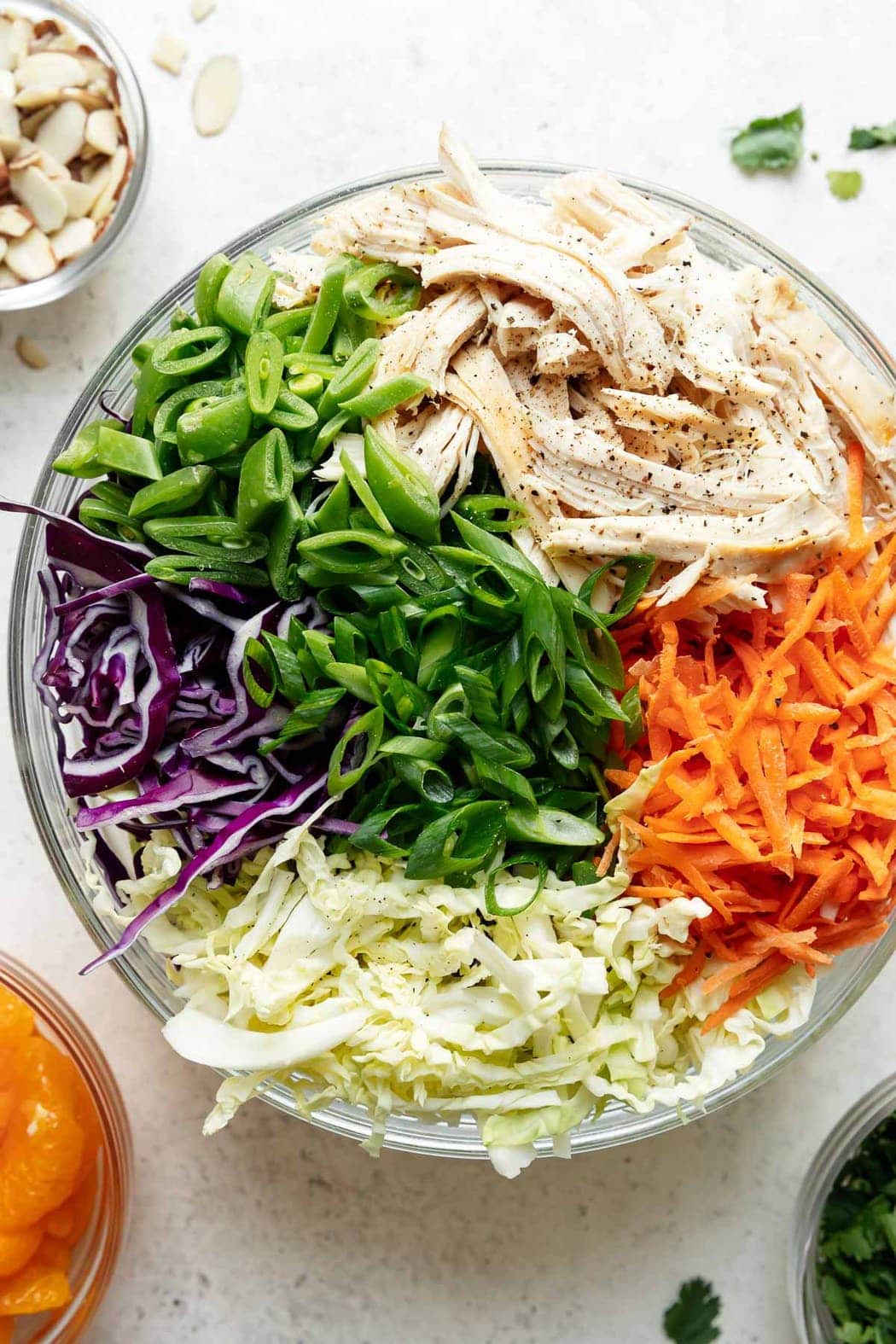 Ingredients to Make This Chinese-Inspired Chicken Salad Recipe
Napa and red cabbage – feel free to use a 12-ounce bag of shredded cabbage mix in place of the Napa and red cabbage and add in another 1/2 cup of shredded carrots or snap peas
Shredded carrots – shred yourself or buy already shredded carrots
Sugar snap peas
Fresh cilantro
Green onions
Fresh or canned mandarin oranges – can use any type of fresh orange (divided into segments) or a can of mandarin oranges. For a Whole30-friendly salad, use fresh oranges or choose oranges canned in water or juice, not syrup or light syrup.
Sliced or slivered almonds – can substitute cashews or peanuts
Cooked, shredded chicken – or use shredded turkey or pork, or omit for a vegan salad
Unseasoned rice vinegar – we call for unseasoned rice vinegar because it is made from just rice and water. Seasoned rice vinegar often has added salt and/or sugar
Toasted sesame oil – this is literally the 'secret sauce' when it comes to making a deliciously savory dressing
Coconut aminos – or you can use 1 ½ tablespoon of low-sodium soy sauce, shoyu, or tamari (gluten-free) mixed with 1 ½ tablespoon of water; for gluten-free, sodium sensitivity, or Whole30, we do recommend using coconut aminos, however, since it is lower in sodium and made from just two ingredients
Avocado oil or extra-virgin olive oil – Primal Kitchen is our go-to for avocado oil and organic extra virgin olive oil (save 10% with code REALFOODRDS)
Ground ginger
Garlic powder
Sesame Seeds (optional, for garnish)
Save Big on Pantry Essentials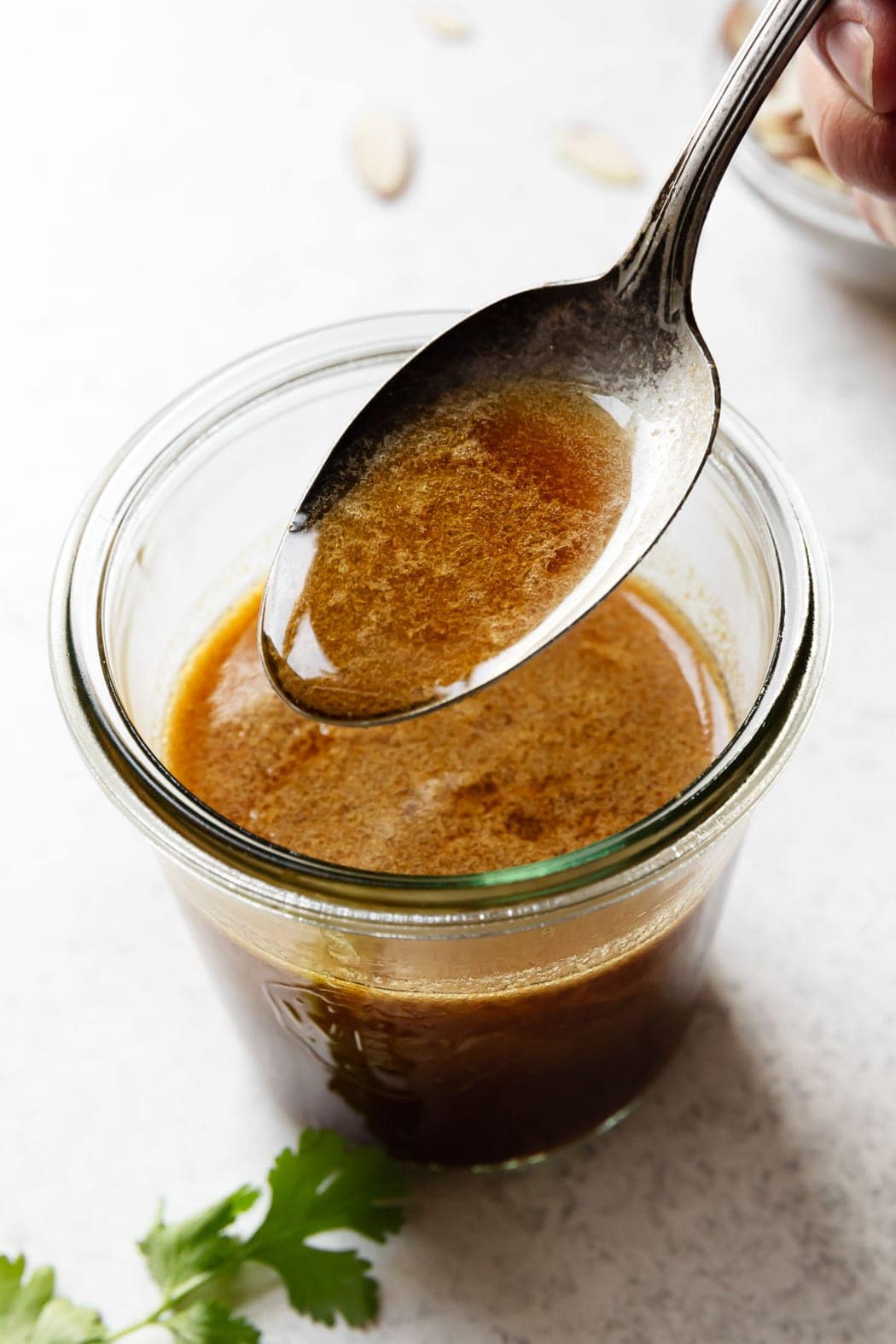 How to Make Chinese-Inspired Chicken Salad
If you don't have some already cooked and shredded chicken on hand, start there. Here are tips on how to understand poultry labels when buying chicken. We have several easy ways you can make perfectly shredded and moist chicken:
After the chicken is prepared, the bulk of your time will be spent chopping veggies, so put on a favorite podcast or music channel and start shredding. You can save time, of course, by purchasing already shredded cabbage and carrots. Next up, stir the salad dressing ingredients together and then toast the almonds. At this point, all that's left to do is toss everything together and enjoy!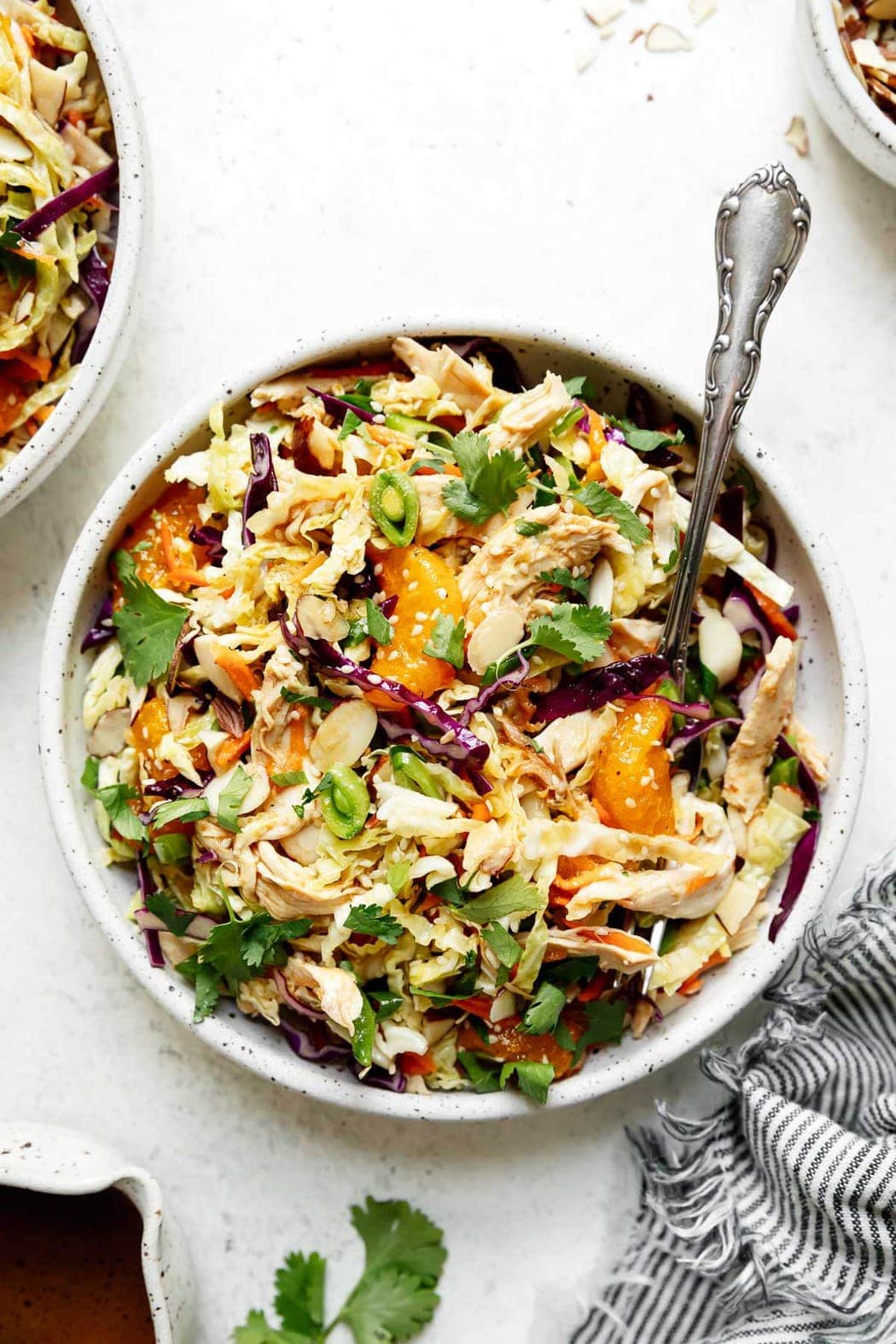 Is Chinese Chicken Salad Healthy?
It sure is! Not only does this salad contain foods from a variety of food groups (that's typically a green light for 'high nutrition'), but we've formulated the dressing to help reign in sodium and cut out any added refined sugar. Dig in with gusto – this is one especially delicious way to eat up a ton of colorful, nutrient-dense, and good-for-you foods.
Perfect occasions to serve Mandarin Chicken Salad
This salad is one of our most recommended options when people ask for a healthy recipe to have meals at home and to take to a special gathering. Here are all the times we think this Mandarin Orange Chicken Salad Recipe would be a perfect addition to the table:
Potlucks and picnics – it's especially easy to transport and serve chilled
When you want veggies to disappear – it's a salad that people LOVE to eat
Bridal showers and baby showers – it's a fresh and colorful crowd-pleaser
Make-ahead meals all week long – pre-cut the veggies, make the sauce, cook the chicken, then quickly assemble when it's time to serve
Working lunches – a perfectly healthy option for quick and/or on-the-go meals
Any day ending in y – honestly, you're going to love it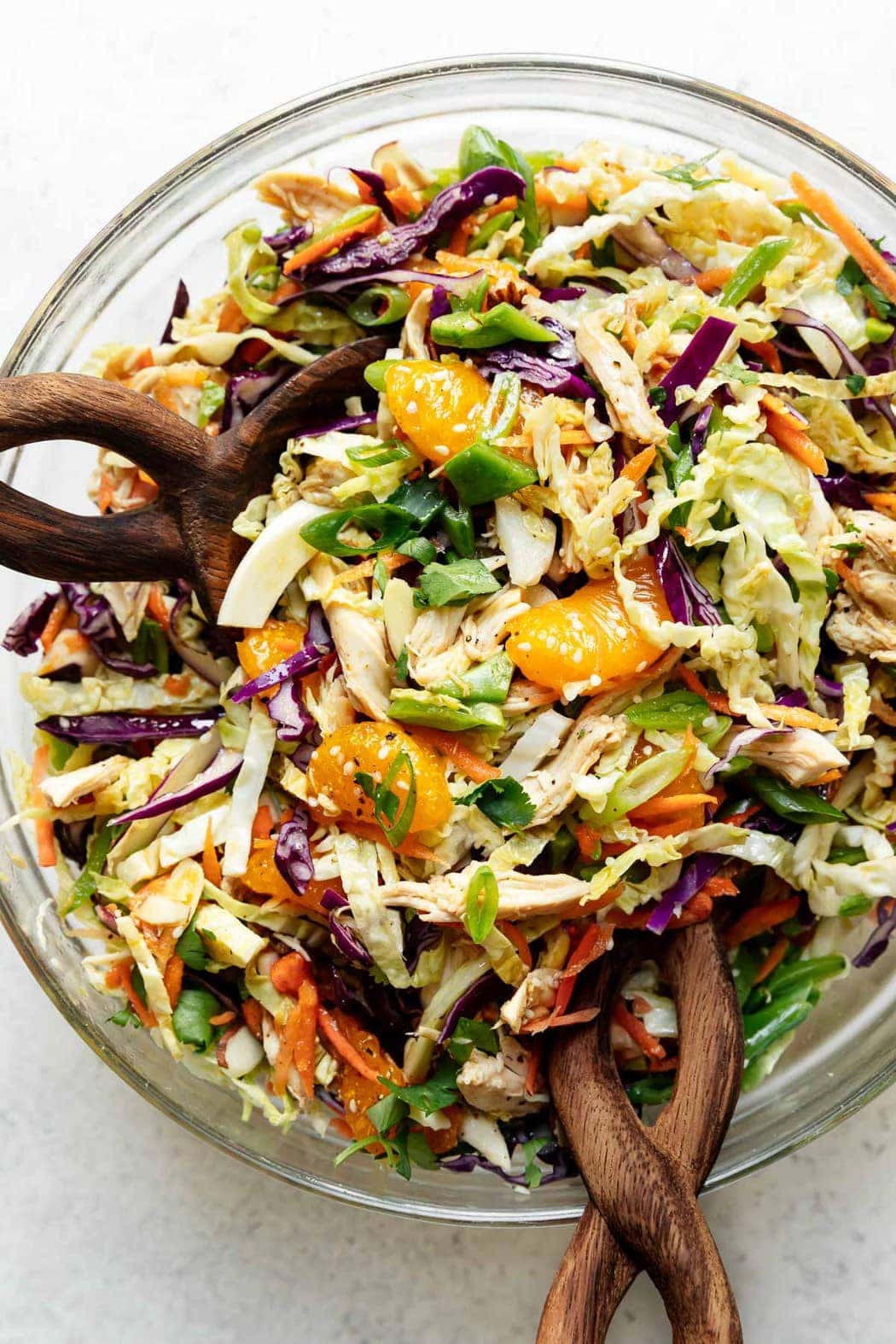 How to make Mandarin Orange Chicken Salad ahead of time
We like to have a "make-ahead mentality" when developing recipes for you, and this Chinese Chicken Salad Recipe definitely fits the bill.
Here are the various components of this recipe that can all be prepped up to three days ahead and stored in separate containers until you're ready to toss it all together.
Cook and shred the chicken
Slice the cabbage, green onions, and sugar snap peas
Shred or julienne the carrots (this julienne slicer makes quick work of this task!)
De-stem the cilantro leaves (i.e. remove the leaves from the stems)
Toast the almonds
Make the dressing
Cut or "supreme" the oranges if you're not using canned mandarin oranges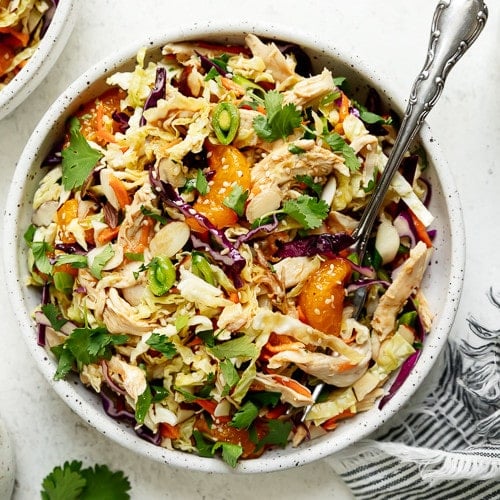 Recipe
Chinese-Inspired Chicken Salad
This crisp salad hits all the right flavor marks: sweet, salty, and savory. Plus, our simple sauce is made in a way that cuts out refined sugars and reigns in sodium.
Prep:
20 minutes
Total:
20 minutes
Ingredients
For the Salad:
3 cups

thinly sliced Napa or green cabbage*

1 cup

thinly sliced red cabbage*

1 cup

shredded carrots

1 cup

sugar snap peas, thinly sliced

3

green onions, white and green parts, thinly sliced

3 cups

cooked, shredded chicken (

12 ounces

cooked or

16 ounces

raw)

1 cup

orange segments (use a 12- to 15-ounce can of mandarin oranges in 100% juice, drained well, or supreme an orange, or cut fresh orange segments into chunks)

1 cup

fresh cilantro leaves, stems removed, leaves roughly chopped

⅓ cup

slivered or sliced almonds, toasted
Optional: Black and/or white sesame seeds for garnish
For the Dressing:
In a large bowl, combine cabbage, carrots, sugar snap peas, green onions, and cooked chicken. Toss well to combine.
In a small bowl or jar combine all of the dressing ingredients. Whisk or shake well to combine. Pour over salad just before serving.
Gently stir in oranges, cilantro, and toasted almonds. Sprinkle with sesame seeds, if desired.
Last Step! Please leave a review and rating letting us know how you liked this recipe! This helps our business thrive so we can continue providing free recipes and high-quality content for you.
Notes
*May substitute one 12-ounce bag of coleslaw mix for the green and red cabbage and add an additional ½ cup of shredded carrots or snow peas to create the same volume. 
**May substitute 1 ½ tablespoon of low-sodium soy sauce, shoyu, or tamari (gluten-free) mixed with 1 ½ tablespoons water for the coconut aminos
Nutrition Information
Serving Size:

1 cup (1/8th of recipe)

Calories:

188

Fat:

12 g

(Sat Fat:

2 g

)
Sodium:

329 mg

Carbohydrate:

9 g

(Fiber:

2 g

Sugar:

5 g

)
Protein:

12 g

Cholesterol:

30 mg
Dietary
Pin Now to Make Later!
Photo Credit: The photos in this blog post were taken by Jess of Plays Well with Butter.
For ultimate success, we highly recommend reading the tips in the full blog post above. All photos and content are copyright protected. Please do not use our photos without prior written permission. If you wish to republish a recipe, please rewrite the recipe in your own unique words. Link back to the source recipe here on The Real Food Dietitians. Thank you!