We love slow cooker recipes. You really can't beat the set-it and forget-it factor. For this simple real-food stew, just add everything to the slow cooker in the morning and by the evening you have a delicious and warm meal waiting for you. It's a true timesaver when life gets busy. And using the slow cooker to get a delicious plant-based dinner on the table like this southwestern style green chile stew? Consider that a winner dinner a thousand times over!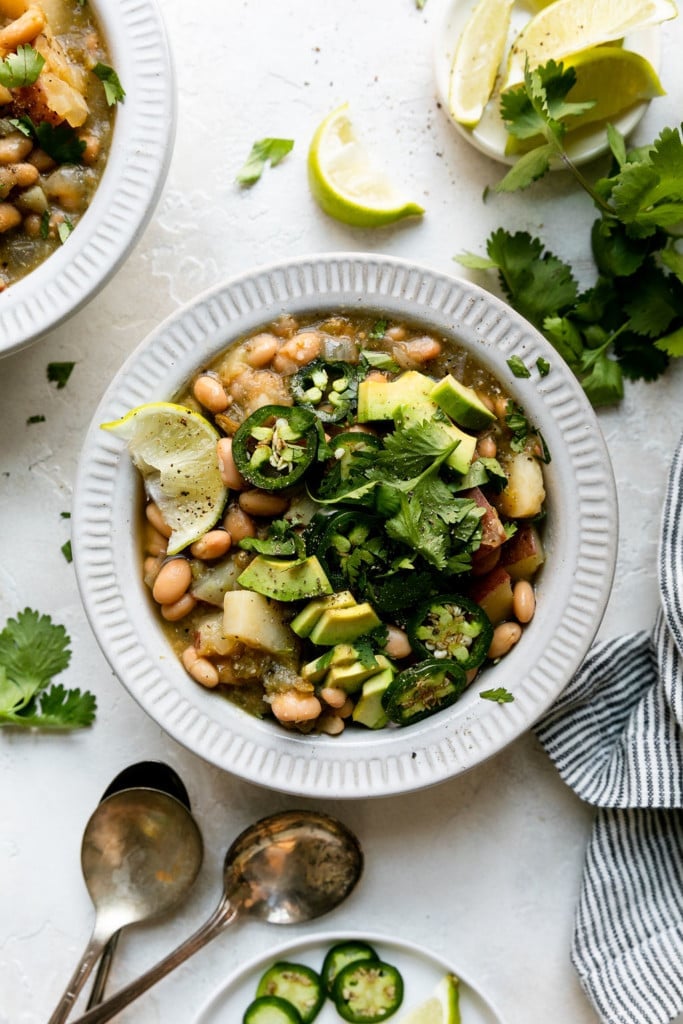 Green Chile Stew: A recipe that satisfies
You or others in your household might have a preconceived notion that a 100% vegan recipe won't fill them up or be satisfying. This Green Chile Stew proves otherwise, giving you delicious proof that plant-based eating can be so rewarding. The stew comes complete with plant-based protein, an ample amount of fiber from the beans, depth of flavor from the salsa verde and spices, and heartiness from the potatoes. It's a thick stew that will really win you over!
Ingredients for this Green Chili recipe
A slow cooker, a few pantry staples, and a couple of spices are all you need to make this recipe come together!
Great Northern beans – we love the size and texture of Great Northern beans, but feel free to substitute any type of canned white beans
Diced green chiles – we use canned mild green chiles in this recipe but if you'd like more spice and kick, use hot green chiles
Salsa verde – same as the chiles, we use mild salsa verde in this recipe, but if you'd like a little kick, go with medium or hot salsa verde
Vegetable broth – if you don't need this recipe to be vegan, you can also use chicken broth. Our Instant Pot Bone Broth works great!
Lime juice – a little acidity helps to enhance all the other flavors
Baby red potatoes – or Yukon gold potatoes also work
Yellow onion
Garlic cloves
Ground cumin
Dried oregano
Fine salt and black pepper
Optional garnishes for serving: Thinly sliced green onions, fresh cilantro, jalapeño slices, diced or sliced avocado, sour cream (omit for vegan), shredded white cheddar cheese (omit for vegan), and/or lime wedges
Tip! For Baking the Perfect Sheet Pan Pork Chops
These honey mustard pork chops are pretty darn fail-proof, but we've got a few extra tips to make sure they turn out perfect every single time. 
Let the pork come to room temperature.

This allows the pork chops to cook evenly, preventing the outside from getting done too quickly before the center is cooked through. 

Check the internal temperature.

Use an instant-read thermometer to ensure your pork chops reach an internal temperature of 145º F so you know they're done.

Rest the meat.

Allow your chops to sit on the baking sheet for a few minutes before you plate the dinners. This helps redistribute the juices, ensuring the pork chops are  succulent and tender all the way through.
How to make Slow Cooker Green Chili Stew
When we mean this recipe is easy, we REALLY mean it. Here's how you can get this delicious green chile stew on your table in 3 easy steps.
To a 6-quart slow cooker, add the beans, green chiles, salsa verde, broth, potatoes, onion, garlic, cumin, and oregano. Stir to combine.
Place the lid on the slow cooker and cook for 8 hours on low or 4-5 hours on high or until the potatoes are tender. Stir in lime juice. Add additional broth, if desired, for a thinner consistency.
Ladle it into bowls and serve with your favorite toppings.
How to store Green Chile Stew
This easy green chili can be made several days or months before you plan to serve it. Here's how you can make the stew and then store it for later.
In the refrigerator:
You can store the leftover stew in an airtight container in the fridge for up to 5 days.
In the freezer:
This stew makes for the perfect freezer-friendly recipe. There are two was you can freeze Green Chile Stew:
Freeze after cooking: After the stew has been completely cooked in the slow cooker, let it cool. Then store the cooled stew in an airtight freezer-safe bag or container and place in the freezer for up to 3 months. You can either store the stew in one large container or in multiple single-serve containers for an easy, reheat-and-eat meal.
Freeze before cooking: Another way you can freeze this recipe is by combining all of the raw, uncooked ingredients in a large container or reusable freezer-safe gallon-sized bag. Place in the freezer for up to 3 months. When ready to cook, transfer the container or bag in the refrigerator the day before you plan to serve the stew. In the morning, dump the thawed ingredients from the container into to the slow cooker and follow the instructions as written.
How to reheat Green Chile Stew
You can either reheat the stew in the microwave or on the stovetop. Simply place a serving of the thawed soup in the microwave and cook for 90 seconds (or 3-4 minutes on 60-70%, if frozen). Stir and continue to cook for 30 second intervals until hot. You can also reheat the stew (frozen or thawed) on the stovetop over medium heat, stirring occasionally until hot.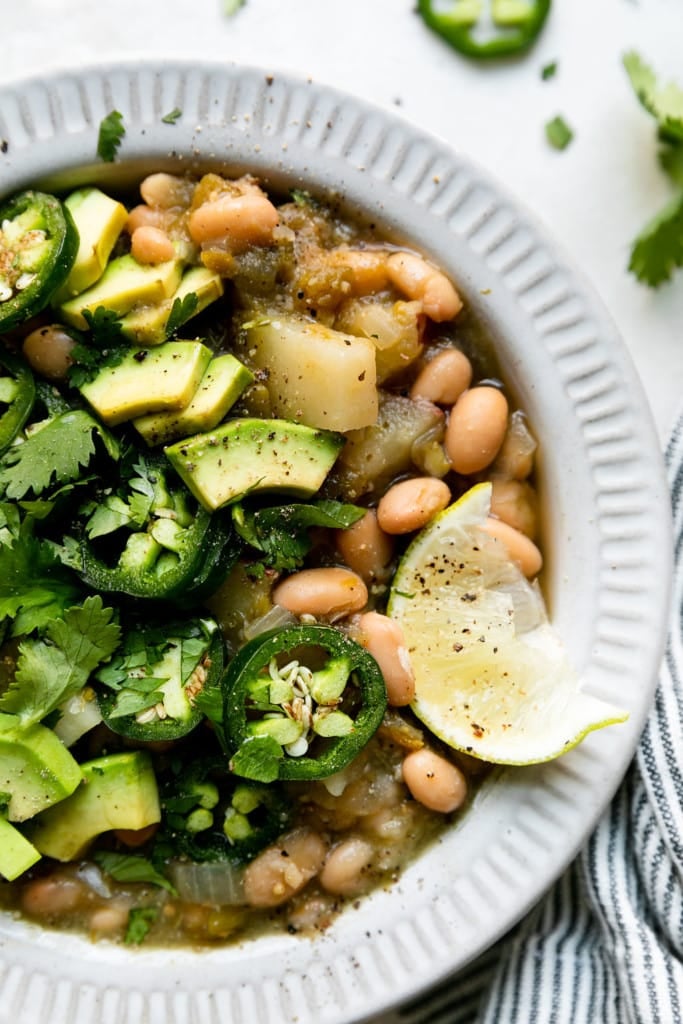 Top with avocado to increase nutrient absorption
Because this stew lacks much fat, we recommend topping servings of the Green Chile Stew with a generous amount diced avocado to help increase the absorption of fat-soluble vitamins (A, D, E, and K). These vitamins need to have fat present in order for our bodies to be able to absorb them and reap all the benefits. And what better way to add a little healthy fat than with some delicious avocado topper?
Other Green Chile Stew toppings you'll love
What you top this Crockpot Green Chile Stew with is what really takes this recipe to the next level. In addition to the avocado mentioned above, a few other toppings that taste great over this stew include:
Thinly sliced green onion, fresh chopped cilantro, sliced jalapeño, diced avocado as mentioned above, freshly squeezed lime juice, and/or crushed blue corn chips
If you don't need this to be dairy or vegan-friendly, sour cream and/or white cheddar cheese are also incredibly delicious toppings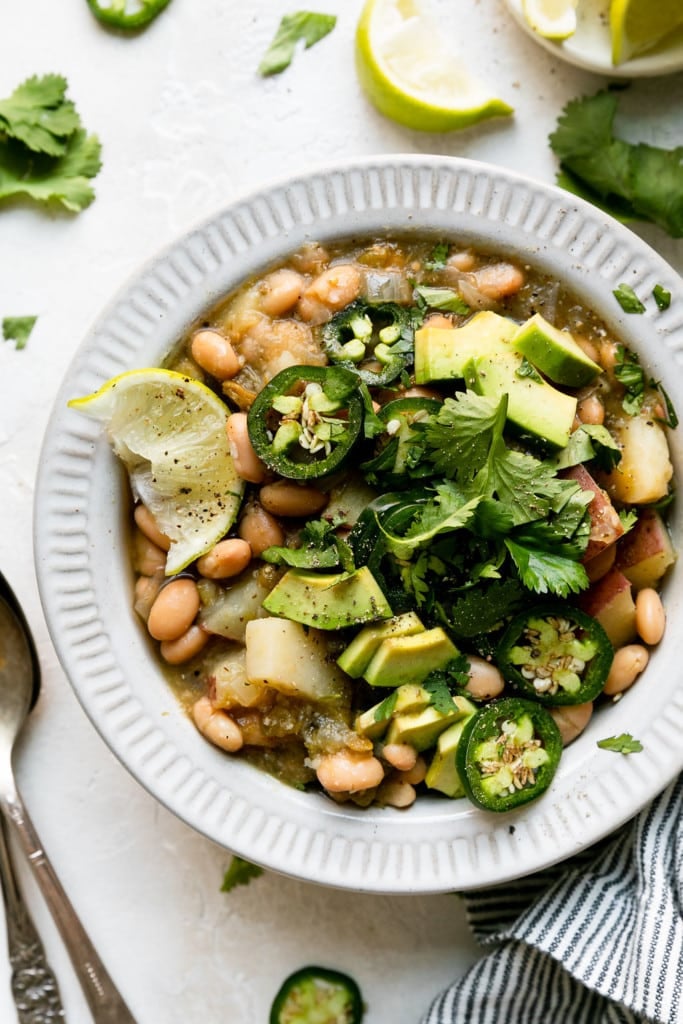 What Makes Vegan Green Chile Stew healthy?
This plant-based green chile is one of our favorite comfort foods when we want to feel good from the inside out. Here are some of the health benefits it provides:
Excellent source of fiber – thanks to the beans, this recipe is packed with fiber. Just 1 cup of beans contains 11 grams of fiber, which is associated with improved digestive health. In addition, the skin-on potatoes in this recipe also contribute to its high fiber content.
Great source of plant-based protein – beans also contain an ample amount of plant-based protein and make a great addition to the diet. Just 1 cup of beans contains 17 grams of protein.
Rich in nutrients and antioxidants – copper, iron, folate, zinc, vitamin B6, magnesium, vitamin C, and Vitamin E are just a few of the body-healing micronutrients that you'll get when enjoying this stew.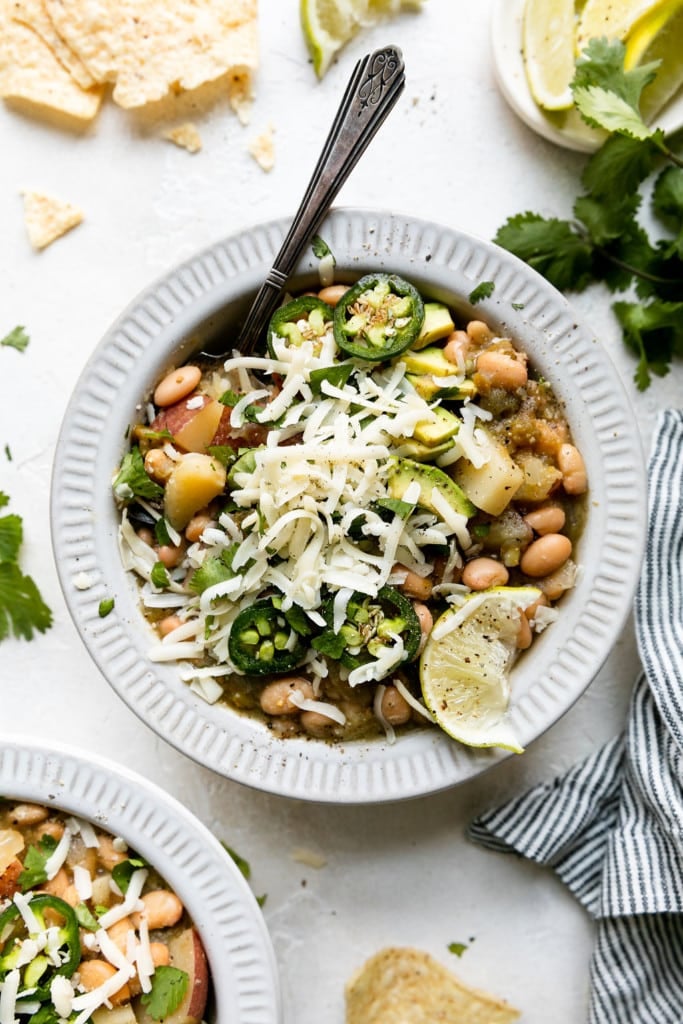 Recipe
Slow Cooker Green Chile Stew with Beans
A set-it and forget-it recipe, this Slow Cooker Green Chile Stew is perfect for busy weeknights. It's packed with ample fiber and plant-based protein and is vegan-friendly, satisfying, and delicious! 
Prep:
15 minutes
Cook:
8 hours
Total:
8 hours 15 minutes
Ingredients
2

(14-ounce) cans Great Northern beans, drained and rinsed

2

(4-ounce) cans diced mild green chiles

1 cup

salsa verde 

1½ cups

vegetable broth

1

lb. baby red potatoes, cut into

½

inch cubes

1

medium yellow onion, diced (about

2 cups

)

4

garlic cloves, minced

1 teaspoon

ground cumin

1 teaspoon

dried oregano
Juice of

1/2

large lime (about

2 tablespoons

)

Fine salt and black pepper to taste

Optional for serving: Thinly sliced green onions, fresh cilantro, jalapeño slices, diced or sliced avocado, sour cream (omit for vegan), shredded white cheddar cheese (omit for vegan), and/or lime wedges
To a 6-quart slow cooker, add the beans, green chiles, salsa verde, broth, potatoes, onion, garlic, cumin, and oregano. Stir all the ingredients to combine. 

Place the lid on the slow cooker and cook for 8 hours on low or 4-5 hours on high or until the potatoes are tender.

Stir in the lime juice. If you prefer a thinner consistency to your stew, stir in some additional broth.

Serve with your favorite toppings. 
Last Step! Please leave a review and rating letting us know how you liked this recipe! This helps our business thrive so we can continue providing free recipes and high-quality content for you.
Notes
Instant Pot instructions: cook on high pressure for 10 minutes and all for 10 minutes of natural release. 
Nutrition Information
Serving Size:

1 generous cup

Calories:

208

Fat:

1 g

(Sat Fat:

0 g

)
Sodium:

471 mg

Carbohydrate:

40 g

(Fiber:

11 g

Sugar:

6 g

)
Protein:

8 g

Cholesterol:

0 mg
Dietary
Pin it now to make it later
Photo Credit: The photos in this blog post were taken by Rachel of Half Acre House.
For ultimate success, we highly recommend reading the tips in the full blog post above. All photos and content are copyright protected. Please do not use our photos without prior written permission. If you wish to republish this recipe, please rewrite the recipe in your own unique words and link back to the source recipe here on The Real Food Dietitians. Thank you!