Making bone broth in your Instant Pot is easy, economical, and healthy. It's a great way to stretch your food dollar and provide your body with a boost of nutrients and protein. In this post, we show you step-by-step how to make Instant Pot Bone Broth.
This post was originally published on February 16th, 2017. Updated on February 8th, 2021.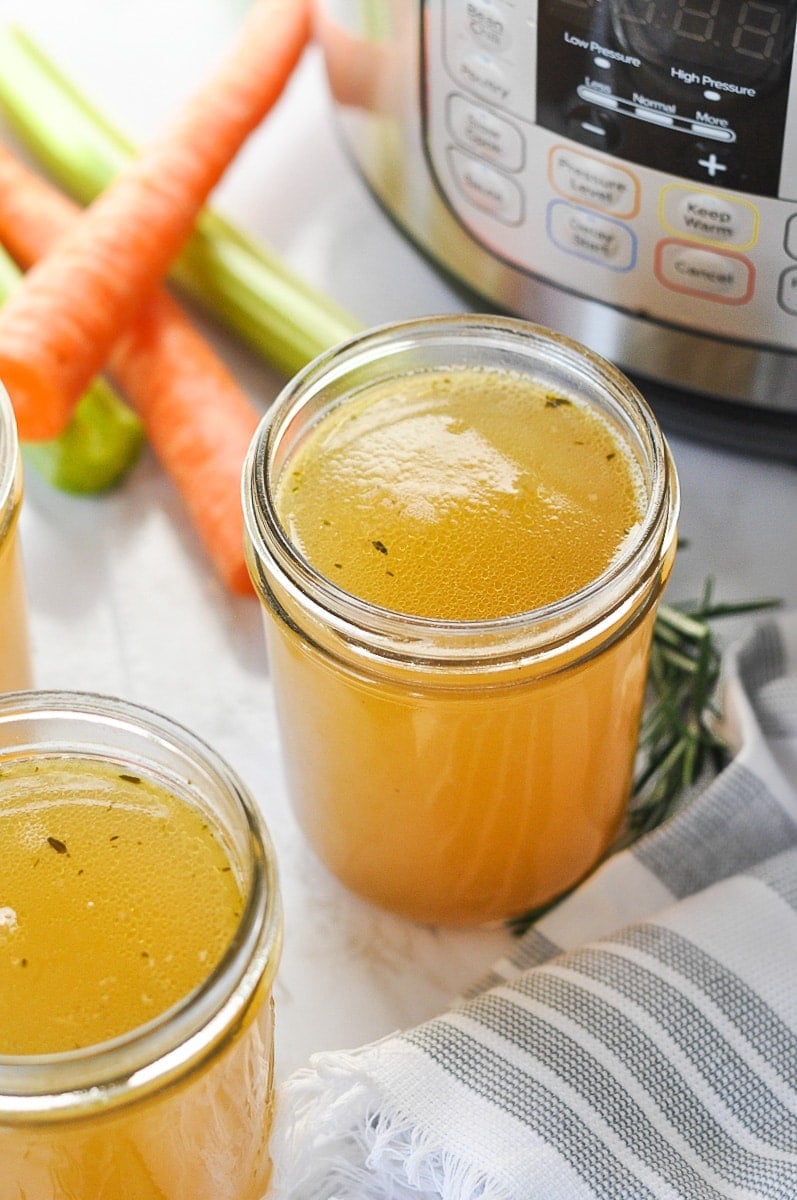 Instant Pot Bone Broth is always a good idea. For many reason!
Have you made a whole chicken in your Instant Pot yet? If not, you're missing out. It's by far the easiest and most economical way to get a big pile of tender, fall-off-the-bone chicken you'll ever make. And it's so juicy and delicious.
After you Make A Whole Chicken in an Instant Pot, the next natural step is to make delicious and nutritious homemade bone broth in your Instant Pot.
But if you don't have an Instant Pot, you can still make bone broth in your slow cooker. If that's what you're here for, head over to our Slow Cooker Bone Broth Recipe. Just know that it takes quite a bit longer to make broth in your slow cooker (24-36 hours) versus the less than 2 hours needed to make bone broth in an Instant Pot.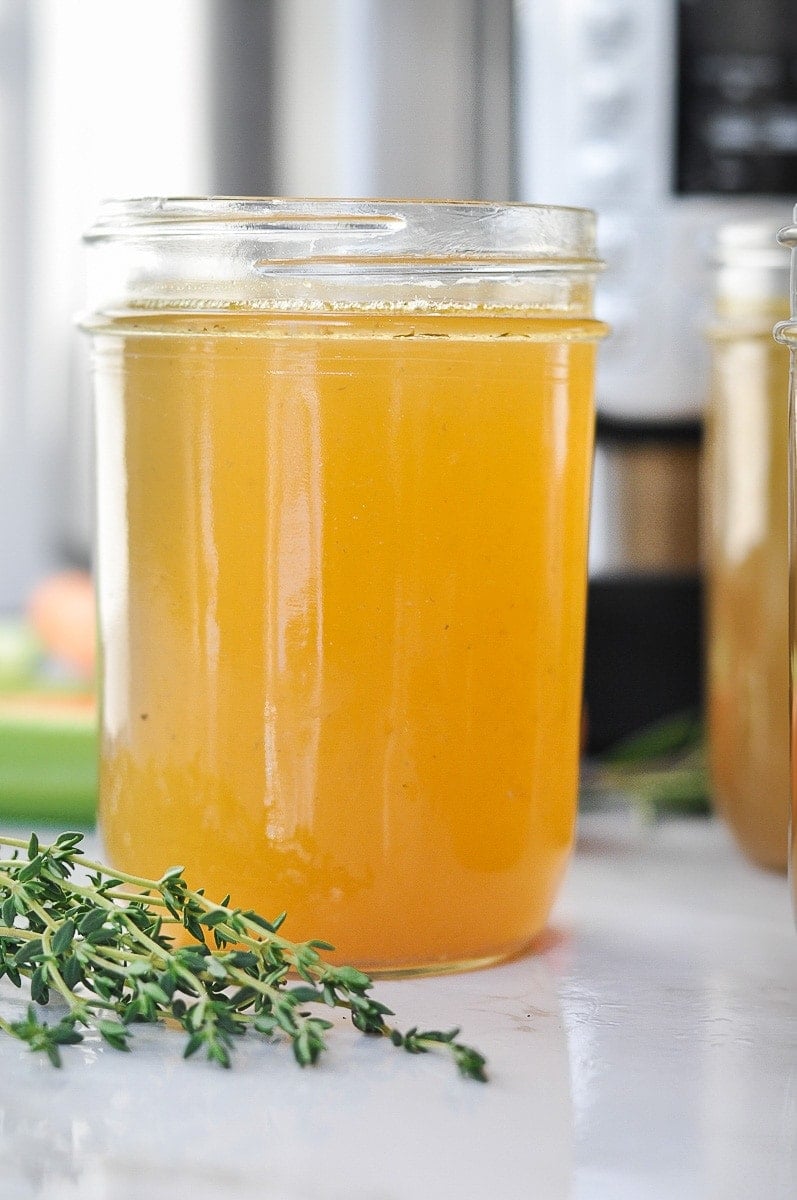 Why Bone Broth is Good For You
Making bone broth in your Instant Pot is easy, economical, and healthy. As the bones and connective tissue slowly simmer, the nutrients get released into the water, making a very nutritious liquid. Here are the main nutrients you get from bone broth.
A protein called collagen contains joint-supporting amino acids, such as

glucosamine and chondroitin

Minerals (calcium, potassium, magnesium, zinc, and iron)
Vitamins (A and K2)
Essential fatty acids (omega-3 and omega-6)
Read more about bone broth health benefits, such as improved digestion and gut healing in this post: All About Bone Broth. Also, this post from Healthline provides a good explanation about the researched health benefits of bone broth. 
Broth has become a staple in our households, appearing in soups and stews on a weekly basis. We also use it for mashing potatoes (in place of milk or cooking water), steaming vegetables, preparing rice (subbing broth for water), and we sip it from a mug when we want a little 'something' but don't want a full meal or a snack. It's great for breaking cravings and it's one of our go-to home remedies for colds and stomach bugs.
How to Use Bone Broth
You can use bone broth in any recipe that calls for broth. Using homemade bone broth gives recipes a real depth of flavor that makes it extra delicious (you'll see what we mean when you try it). Here are some of our favorite recipes calling for broth: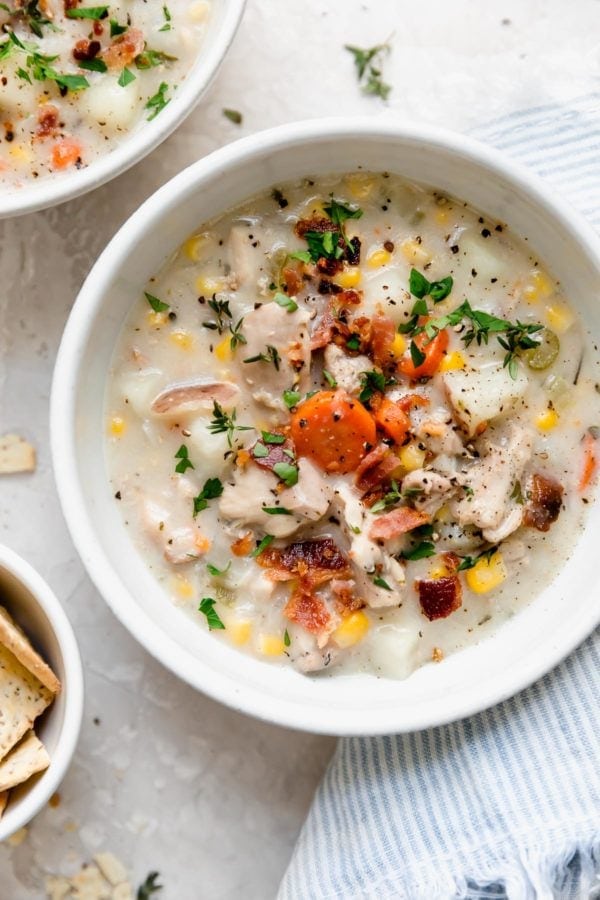 You can use bone broth in so many more ways than just as a standard broth replacement in recipes. Here are some ideas:
Sip bone broth warm in a mug to replace morning coffee or an afternoon cup of tea

Make a homemade gravy using bone broth
Use bone broth in place of water to cook rice, quinoa, or any pasta or grain
Add it to a smoothie for a nutrition boost
Use bone broth instead of water when making homemade BBQ Sauce
Use bone broth to make perfect chicken breasts every time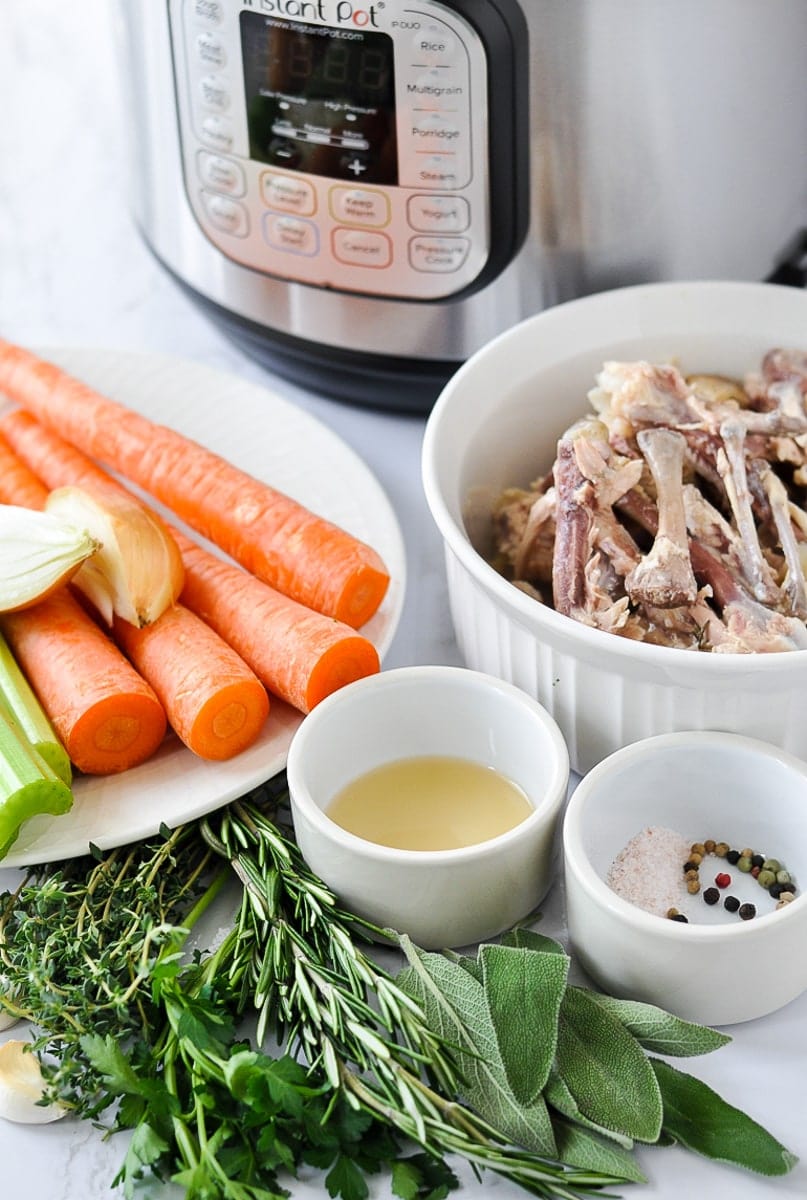 Instant Pot Chicken Bone Broth Ingredients:
Bones from (1) 3-4 lb chicken – we like to use the leftover bones from our Instant Pot Whole Chicken recipe or leftover bones from a rotisserie chicken to make things easy.
Apple Cider Vinegar – vinegar is a key ingredient as it pulls the nutrients from the bones into the broth.
Vegetables – Carrots, Celery, Parsnip, Onion, and Garlic. We recommend adding vegetables as they add great flavor and nutrients, however, they are optional.
Fresh Herbs – we like to use a mix of sage, rosemary, thyme, and/or parsley. Like vegetables, herbs are optional.
Seasoning  – salt, peppercorns, and a bay leaf
For the complete directions and ingredient amounts, scroll down to the recipe card below. All of our recipes include the nutrition information, listing kcals, protein, carbohydrates, cholesterol, fiber, sugar, sodium, total fat, and more per serving.
Pro tip: we like to collect leftover bones and vegetable trimmings (like the ends of onions or celery, mushroom stems, ends or peels of carrots or parsnips) in separate bags in the freezer. Throughout the week, we'll throw in any leftover bones from our meals, plus any veggies or herbs that are starting to go downhill. Then, when we're ready to make some bone broth, we have everything we need in the freezer!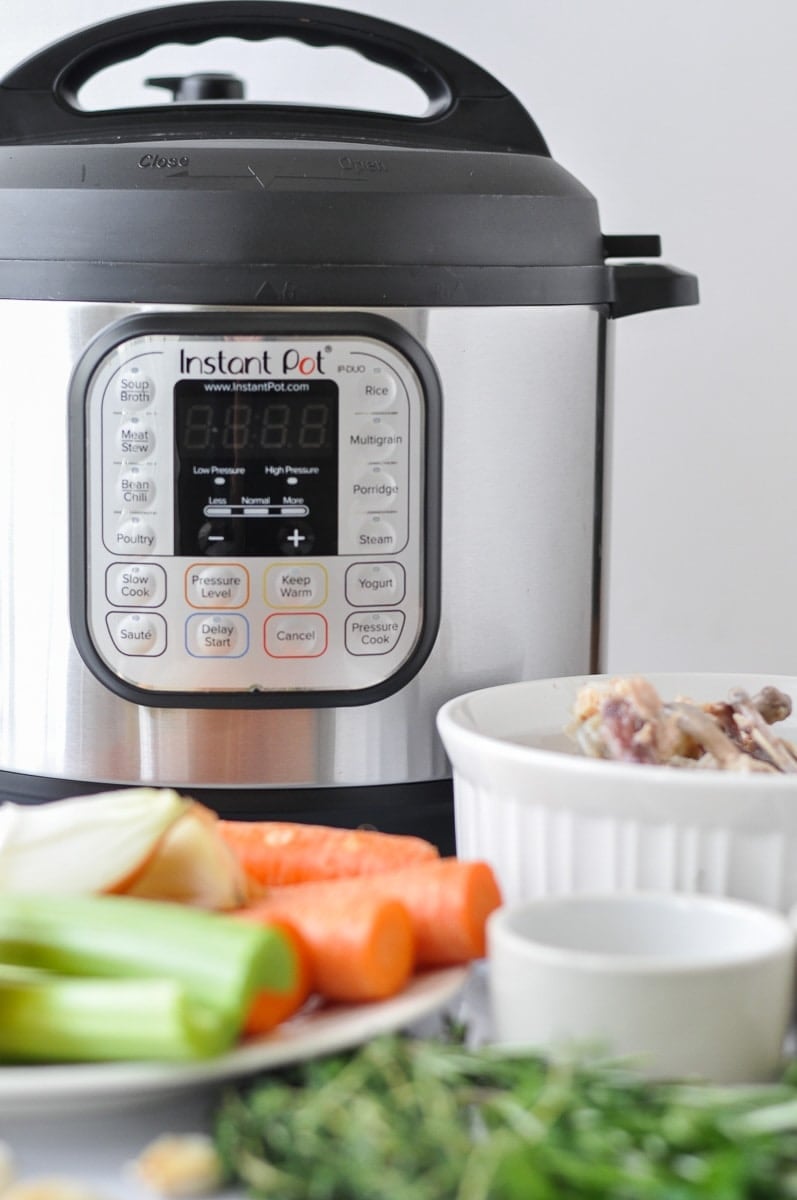 How to Make Instant Pot Bone Broth:
It might sound intimidating, but bone broth is truly so simple to make in your Instant Pot. Each step is explained in more detail (with pictures) below, but here's the game-plan:
Add bones, veggies, herbs/seasonings, apple cider vinegar, and plenty of water to your Instant Pot. Your water level should be just below the "max fill" line.
Lock Instant Pot lid into place, flip vent valve to "Sealing"
Select "Manual" (if you have a newer Instant Pot and don't have a manual option, select "Soup/Broth" and make sure the setting is on "High Pressure") and adjust the time to 120 minutes.
When cooking time is done, allow pressure to naturally release (this should take 20-30 minutes).
Allow to cool, then strain into storage containers (I like to use mason jars) to store in the refrigerator or freezer.
How to Make Bone Broth: Photo Tutorial
If you've just made the Instant Pot Whole Chicken recipe, then place the bones, skin, cartilage, and other 'bits' from the chicken along with any innards (gizzard, heart, liver, etc.) that may have come with your chicken (FYI: they're usually stuffed inside the cavity in a small bag) into the Instant Pot. You should still have a few cups of cooking liquid and herbs left in the pot from cooking the chicken.
If you haven't made the Instant Pot Whole Chicken and you're just starting with bones (either from a rotisserie chicken or leftover bones you've been collecting in a bag in the freezer), place those in the bottom of the Instant Pot. No need to thaw them, just put them in there.
To the pot, add the vegetables, aromatics (that's fancy talk for garlic and onions), bay leaf, any herbs you want to use – we use sage, rosemary, thyme, and parsley if we have it on hand – then a glug of apple cider vinegar and a few peppercorns.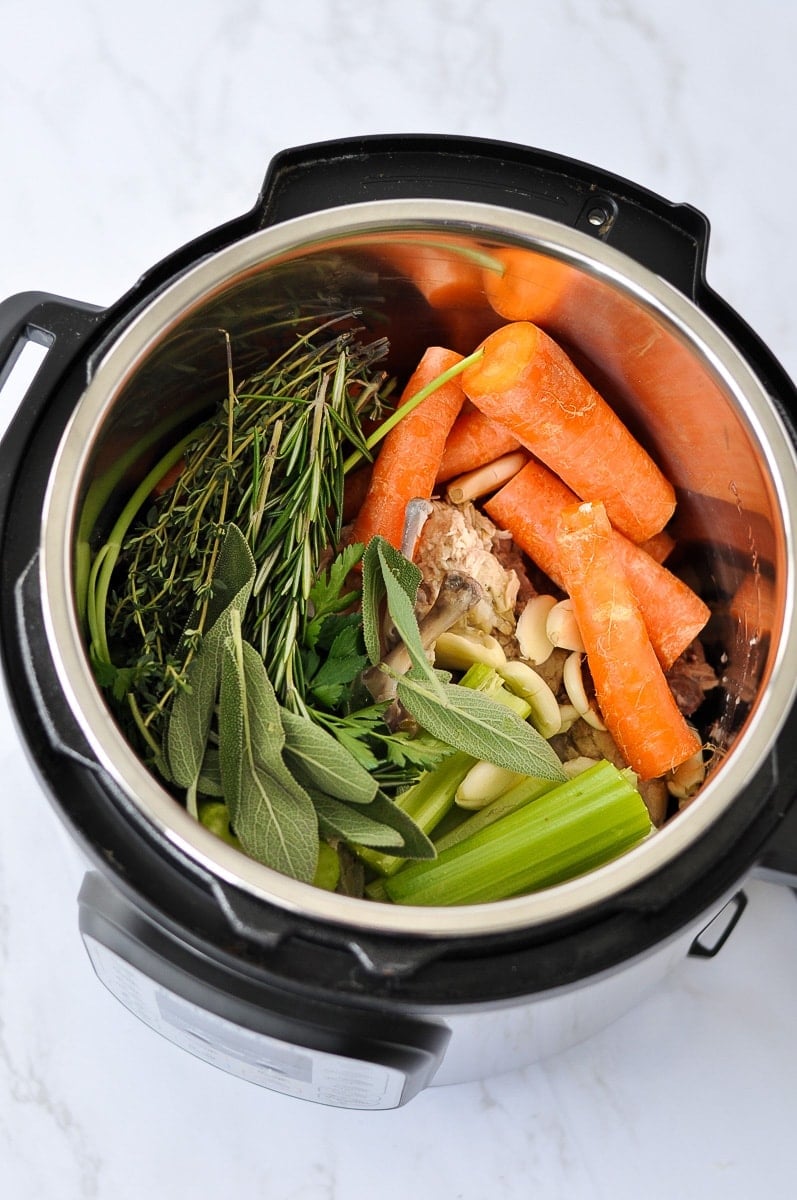 Don't worry, there's a full recipe coming (at the bottom of this post) so you'll know exactly how much we add of each thing. Though you can totally wing it and use what you have and it will still be fabulous.
Then cover everything with water (about 4-5 cups depending on how many bones you used), lock the lid in place, and cook for 120 minutes on high pressure.
Once the timer sounds, allow 20-30 minutes for the pressure inside the pot to naturally release before flipping the vent valve to 'Venting' to release any residual pressure.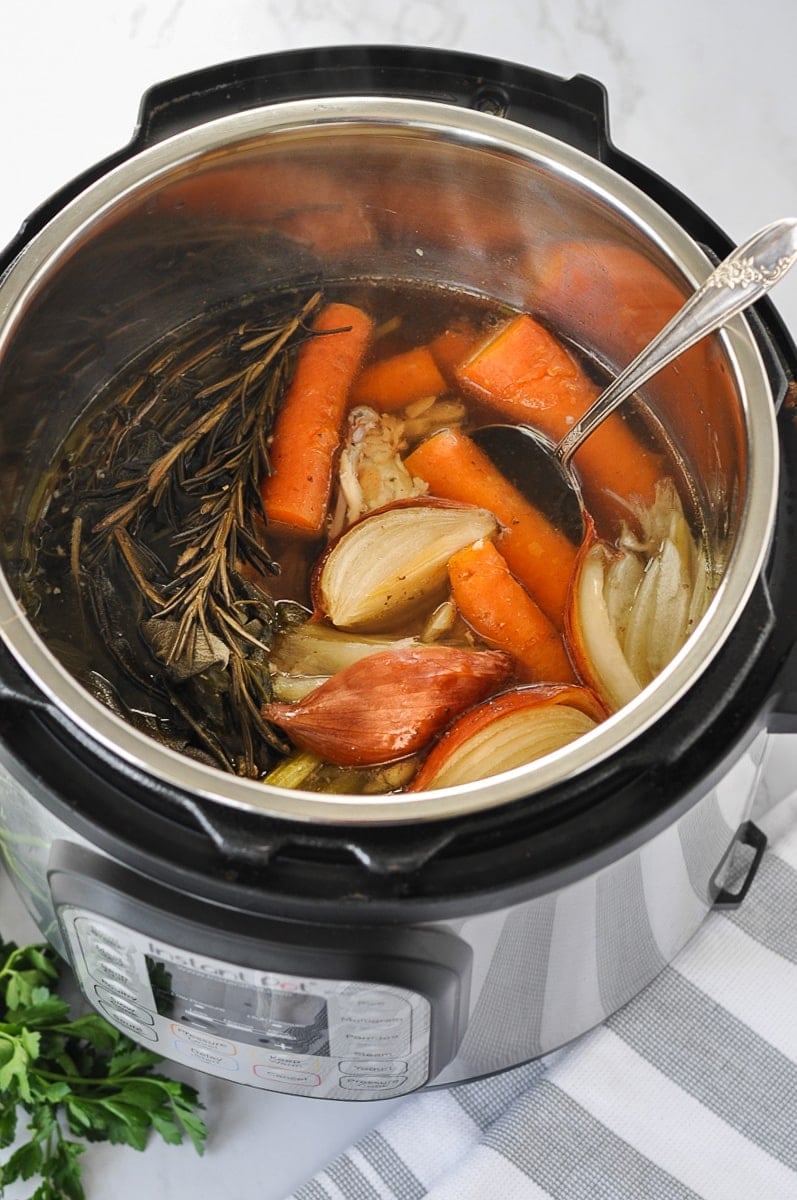 Voilà! You've just made broth!
Remove the insert and allow the broth to cool enough so that you can taste it without burning your tongue. Add sea salt to taste or leave it unsalted for use in recipes and as a cooking liquid for potatoes, vegetables, or rice.
Strain the broth into a large bowl with a pouring spout (we use this bowl and this strainer) to separate the liquid from the solids. Transfer broth to glass jars with lids – leaving the lids off until the broth has cooled enough to be refrigerated – usually 1 1/2 – 2 hours depending on the temperature of your kitchen.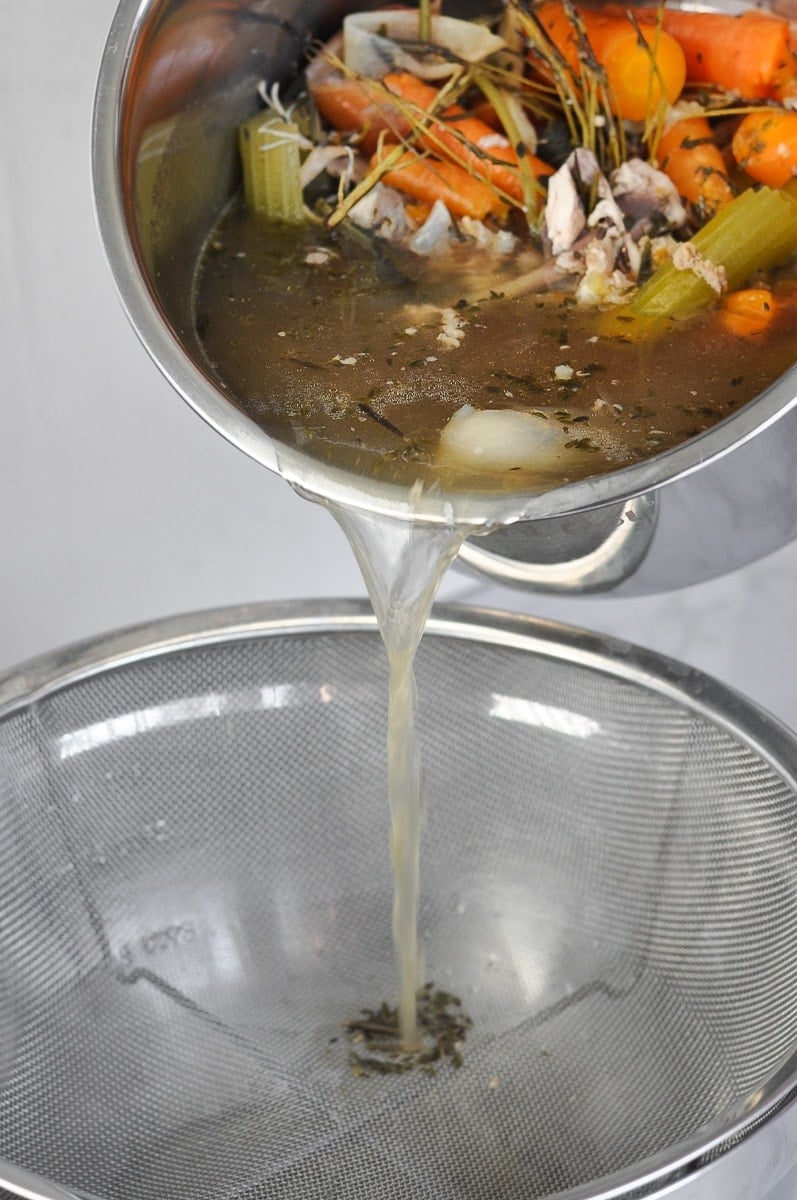 How to Store Instant Pot Bone Broth
Broth can be kept in the refrigerator in a sealed container, such as mason jars, for up to 5 days. Freeze or pressure can for longer storage.
How to freeze bone broth:
Freeze broth in silicone muffin cups or ice cube trays
Once broth blocks are solid, remove them from the tray and store the blocks in a ziplock bag or other freezer-friendly sealed container in your freezer.
When you're ready to use, simply remove the amount you need and reheat on the stove or in the microwave, or throw frozen blocks directly in soups for a flavor boost.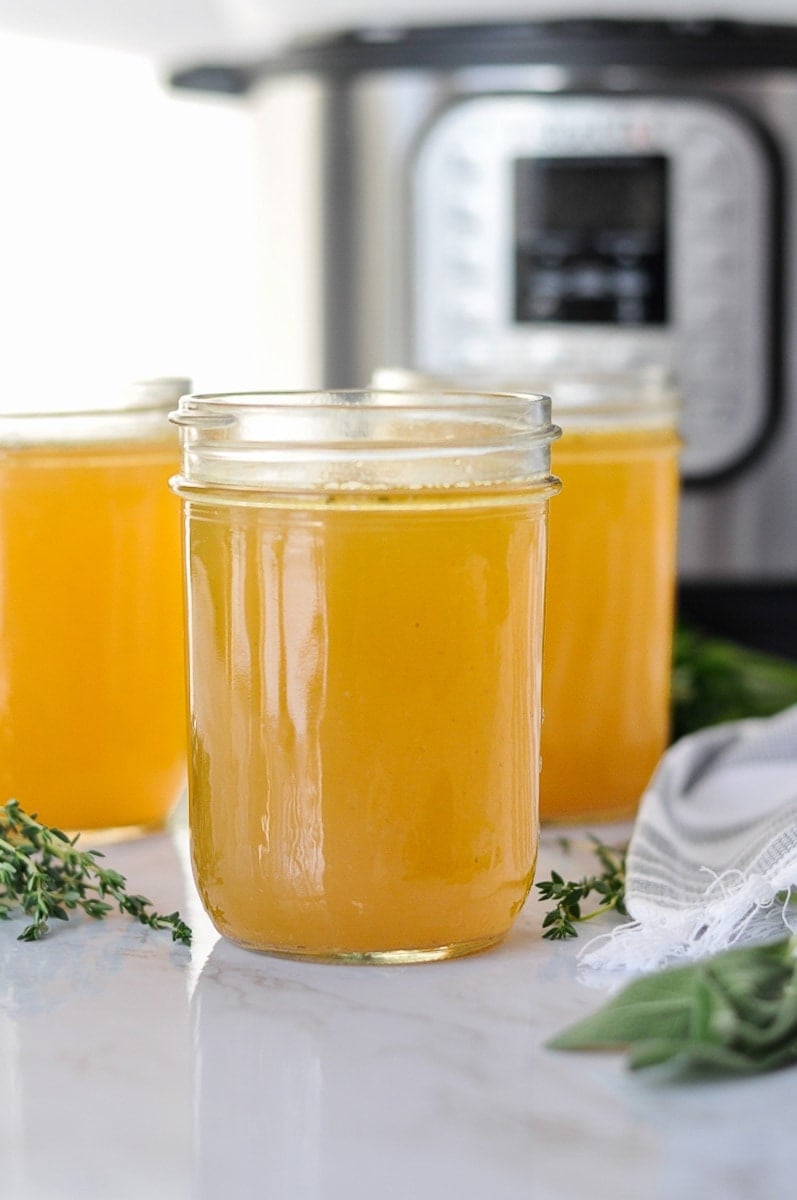 How to make gelatinous bone broth?
Simply run the 120-minute cycle a second time on 'low-pressure' this time to produce a gelatinous bone broth. A gelatinous broth is a good indicator that it's is rich in nourishing collagen. Note: the bone broth has to be cooled for it to gelatinize. Once it's reheated it will return to a liquid consistency.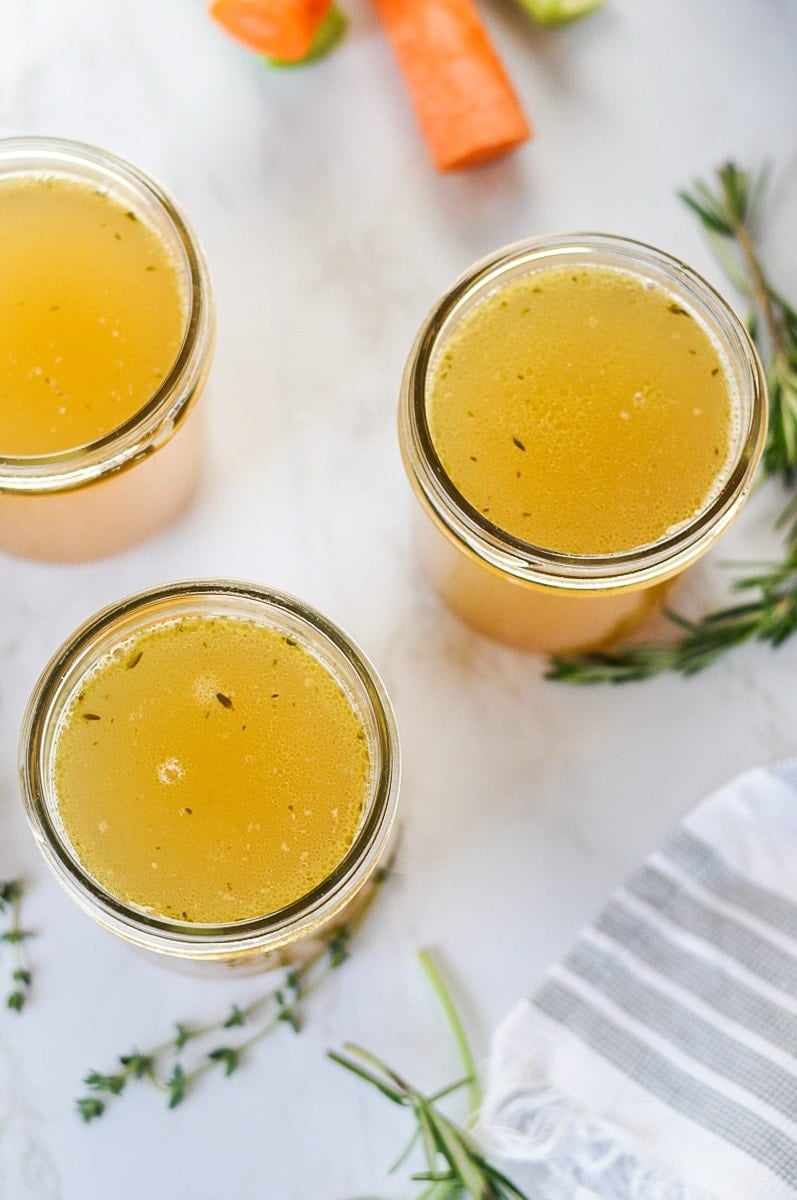 Other How-to tutorials: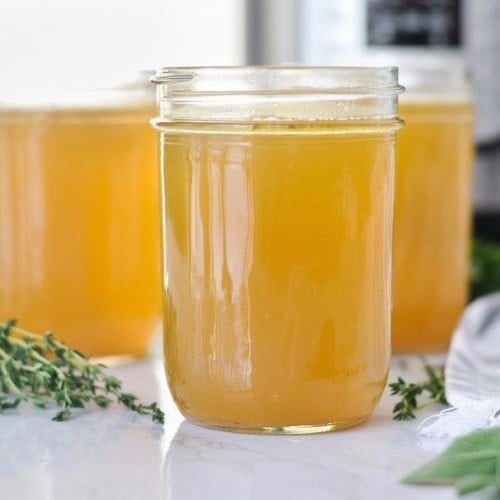 Recipe
How to Make Instant Pot Bone Broth
Easy, nourishing, and incredibly economical, bone broth is a great way to stretch your food dollar and provide your body with wholesome goodness.
Prep:
10 mins
Cook:
2 hours
Total:
2 hours 10 mins
Ingredients
bones from (1) 3-4lb. chicken

1 tablespoon

apple cider vinegar
Water
Salt to taste
We recommend adding vegetables and herbs (such as these below), as they add great flavor and nutrients. However, they are optional.
2

medium carrots, scrubbed and cut in half

1

medium parsnip, scrubbed and cut into large chunks (may substitute more carrots, if desired)

3

celery ribs (or ends and leaves to equal

1 cup

)

1

large yellow onion, quartered with skin and root end intact

6

garlic cloves, lightly smashed

1

bay leaf

8

–

10

peppercorns
A handful of fresh herbs (sage, rosemary, thyme, and/or parsley)
Place bones, vegetables, peppercorns, herbs, and vinegar into the pot of the Instant Pot.
Add enough water to just cover the bones and vegetables in the pot, about 3/4 full.
Wipe rim of insert dry with a towel. Place lid on Instant Pot and lock into place.
Flip vent valve to 'Sealing'.
Select 'Manual' or High-Pressure setting and adjust the cooking time to 120 minutes.
Optional: to ensure a gelatinous bone broth, run the cycle a second time for 120 minutes on low-pressure.
When cooking is done, allow pressure to release naturally (10-20 minutes).
Release any residual pressure using the vent valve before removing the lid.
Allow broth to cool before straining the broth through a mesh lined strainer into jars for storage.
Add salt to taste.
Last Step! Please leave a review and rating letting us know how you liked this recipe! This helps our business thrive so we can continue providing free recipes and high-quality content for you.
Notes
**If adding additional cooking time, you may need to release the pressure, remove the lid, and add more water to prevent the contents of the pot from burning. 
Nutrition Information
Serving Size:

2 cups

Calories:

80

Fat:

0

(Sat Fat:

0

)
Sodium:

270 mg

Carbohydrate:

0

(Fiber:

0

Sugar:

0

)
Protein:

20 g
Dietary
Pin now To Make it later!
For ultimate success, we highly recommend reading the tips in the full blog post above. All photos and content are copyright protected. Please do not use our photos without prior written permission. If you wish to republish a recipe, please rewrite the recipe in your own unique words. Link back to the source recipe here on The Real Food Dietitians. Thank you!
SaveSave