A pantry staple is put to good use in these 9 Healthy Quinoa Recipes. This budget-friendly, gluten-free grain substitute makes for a tasty, healthy and hearty addition to salads, sides, bakes or burgers! 
Pantry staples for the win.
As we continue to practice social distancing and are encouraged to stay home during this extremely unusual time, we're reaching for pantry staples more and more. Today on the blog, we're sharing 9 recipes that include quinoa.
Before I get to these wholesome and healthy quinoa recipes, I want to take a moment to acknowledge what is going on in the world and let you know that we're thinking about you as we combat this global health crisis. We feel you, we are in this with you and we are sending healthy vibes your way. I also want to encourage you to stay home and even limit grocery store visits to at most one time a week. Get creative in the kitchen and use what what you have on hand, modify recipes as needed. We got this! We will get through this together and come out stronger AND better in the kitchen!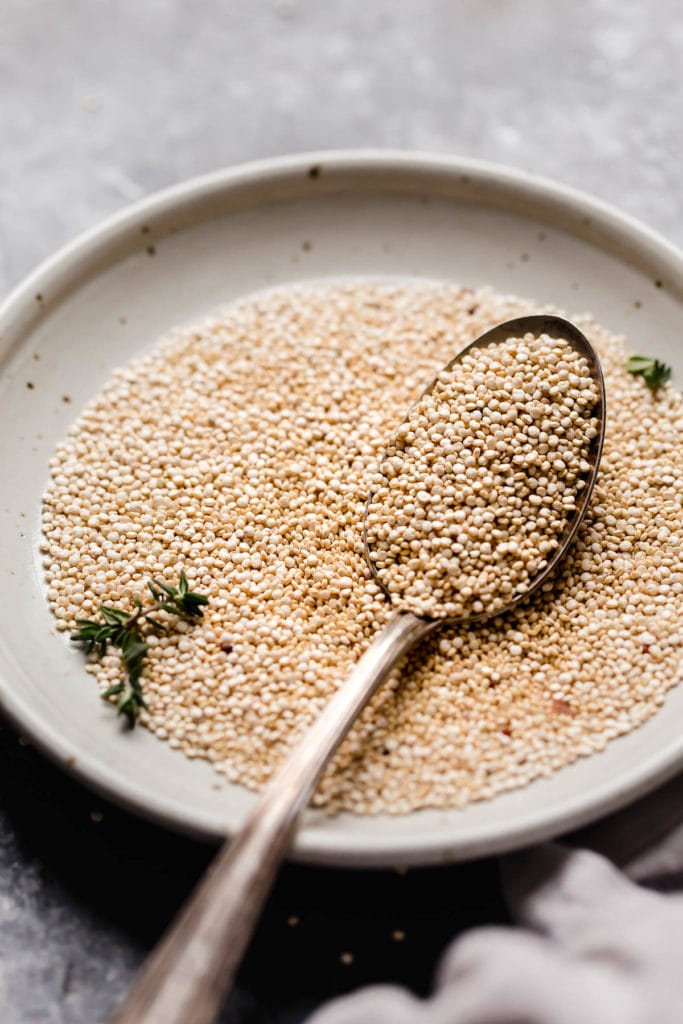 This post may contain affiliate links which won't change your price but will share some commission.
Lets talk about quinoa!
While most consider quinoa a grain because it makes for a fabulous substitution for rice and other grains, it is actually a seed from a weed-like plant called goosefoot. Here are a few facts about quinoa:
Quinoa is a complete source of protein which is rare in the world of grains. This means that it contains all of the amino acids necessary for our nutritional needs. It's especially great for those that consume a diet free of animal sourced foods. One cup of cooked quinoa contains 8 grams of protein.
Quinoa is high in iron and calcium, and is a good source of manganese, magnesium and copper.
Quinoa is a good source of fiber. One cup of quinoa contains 5 grams of fiber.
Quinoa is versatile in that it can be used in both sweet and savory cooking.
Quinoa is gluten-free making it a great option for those with a gluten intolerance.
Here are 9 Healthy Quinoa Recipes that you'll want to try!
Make the recipes work for you.
Substitute or omit vegetables depending on what you have on hand, what's available to you and what's in season.
For dairy-free, simply omit the cheese if the recipe calls for it (this will work in the salad and burger recipes below).
Change up the ground meat in the bakes and burger with what you have on hand. Ground beef, ground turkey, ground chicken, ground lamb or ground pork will work!
Substitute nuts, dried fruit and fresh fruit with what you have on hand in the pantry, freezer or refrigerator.
Get creative and have fun with these 9 Healthy Quinoa Recipes!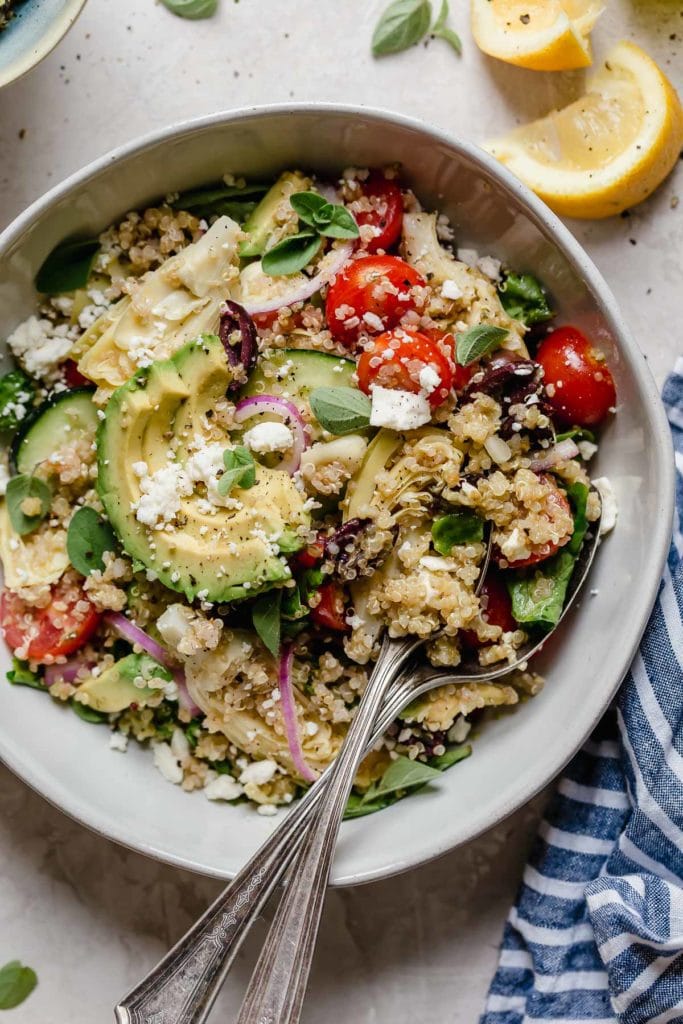 Hope you enjoyed this round-up of healthy quinoa recipes! We'd love to hear which recipes you give a try.
Pin now to make later!
---
All photos and content are copyright protected. Please do not use our photos without prior written permission. If you wish to republish this recipe, please rewrite the recipe in your own unique words and link back to the source recipe here on The Real Food Dietitians. Thank you!
Photo Credit: Some of the photos in this blog post were taken by Jess of Plays Well with Butter.