Got ground beef? Put it to good use in these easy Stovetop Sloppy Joes!
This post was created in partnership with our friends at Organic Prairie. 
Sloppy Joe, Slop-Sloppy Joe
C'mon, sing it with me! If you're not belting out "The Lunchlady Land" song right now then I'm sorry. You really should be because it's the only way to properly get in the mood for these fiercely tasty Stovetop Sloppy Joes. Maybe take a hot minute to see what I mean here (starting at 3:16) then hurry back and prepare yourself for Sloppy Joe amazingness. I'll wait right here. 
Simple is always better
I find it incredibly fitting that this recipe is appearing on the blog while I'm in Minnesota hanging with Stacie for one of our "work-cations" and that it's also showing up right about Father's Day. Growing up, my dad made a lot of Stovetop Sloppy Joes for me and my brother. They were easy, economical (thanks to a freezer of wild game), and simple to make with just a handful of ingredients – onions, garlic powder, ketchup, mustard, brown sugar, Worcestershire sauce, salt, and pepper.
Wondering if you should purchase grass-fed beef? Learn how to choose quality red meat in this post!
Since he always made them with his "special recipe," aka just adding ingredients to taste, he also took it upon himself to name them in his own special way as he has a knack for doing so. For example, Wild Rice Soup was "Fish Eye Soup" at our house and milk mixed with strawberry drink powder (yes, we drank that as kids in the 1980s) was "Pink Bunny Milk." Sloppy Joes were "Messy Marvins" and that's how I still affectionately refer to them when I make them for my own family. 
As you can see, from the short ingredient list, they really couldn't be any simpler. Except for the fact that many of the ingredients themselves have many ingredients, many of which are sugar, high-fructose corn syrup, stabilizers, preservatives, gluten, MSG, etc. This is EXACTLY why I felt called to recreate these in a way that I could feel really good about (and good after eating them!). 
Always start with the best ingredients
I always strive to use the best ingredients I can source taking into consideration my budget, my values, my location and what's available to me. For these Stovetop Sloppy Joes, since they're simple and the ingredients are fairly common (tomato paste, yellow mustard, onion, vinegar, etc.), I chose to turn my focus to the best quality ground beef. In this case, it's Organic Prairie Grass-Fed Beef. I know that when I see the Organic Prairie label on my meat, pork and poultry that I'm getting high-quality proteins that have been raised in accordance with USDA Organic standards with a focus on humane animal treatment and regenerative farming and ranching practices at a competitive price. 

Organic Prairie is an independent cooperative of organic family farms and true pioneers of organic meat production. They produce all of their meat without the use of antibiotics, synthetic hormones, or pesticides and while they uphold the USDA rules as the foundation of the organic industry, many of Organic Prairie's production standards go above and beyond government regulations. Learn more about Organic Prairie, their values and how they "do farming" here.
Can't find Organic Prairie in your local store? Ask your grocer to carry it or order online. 
How 'bout them Sloppy Joes?
I already mentioned that I have a soft spot for Sloppy Joes, but what I didn't tell you is that I developed a secret love of Manwich in college. Don't judge. Manwich on big fluffy onion buns was awesome after a day of skiing knee-deep powder or paddling the river. At least I DID secretly love that hyper-palatable canned concoction until I created this recipe for Stovetop Sloppy Joes and now Manwich is dead to me. 
Also, back in the day, it was onion buns, but now I enjoy my Stovetop Sloppy Joes on baked sweet potato rounds (aka sweet potato "buns") as a way to get more veggies in my diet and make them Whole30-friendly and gluten-free.
[adthrive-in-post-video-player video-id="Gq0hsy4p" upload-date="2020-02-17T23:47:49.000Z" name="Stovetop Sloppy Joes" description="Got ground beef? A childhood favorite gets a healthy makeover in these Stovetop Sloppy Joes. Whole30 friendly and made with real food ingredients. " player-type="default" override-embed="default"]
I'm sure you also have some secret food loves, and I would love to hear about them, so please share in the comments below AFTER you print off this recipe and add everything to your grocery list, of course. 
A childhood favorite gets a healthy makeover in these Stovetop Sloppy Joes #whole30 Click To Tweet
Oh, and one last thing – always make enough Stovetop Sloppy Joes so you have leftovers to stash for later in the week or to stash in the freezer for a super easy meal later on down the line. I've written the recipe to serve eight but feel free to use a bigger pan (or two pans) and double it to get 16 servings. Your future self will thank you!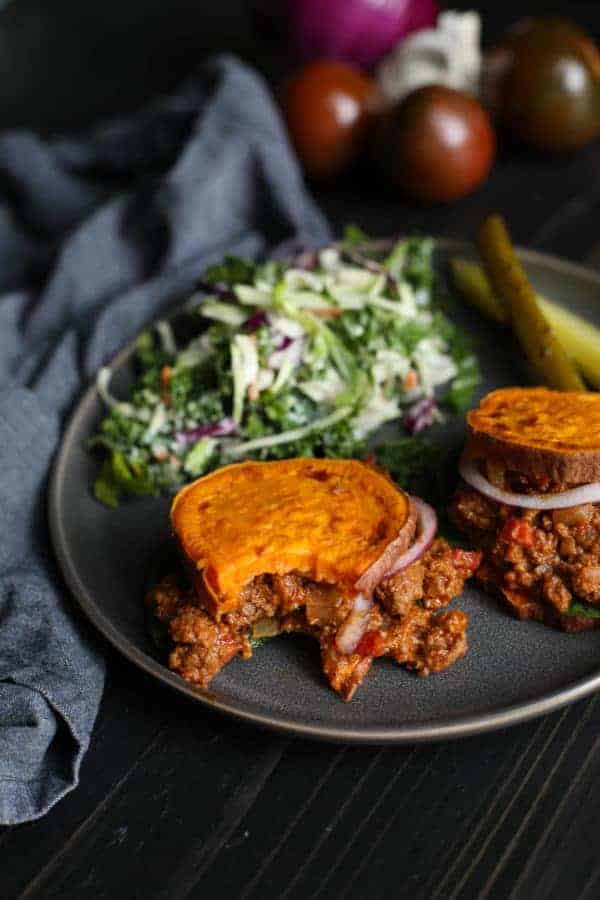 P.S. Don't forget to serve them up with a side of Creamy Broccoli Slaw. So good. 
Recipe
Stovetop Sloppy Joes
Prep:
10 min.
Cook:
25 min.
Total:
35 min.
Ingredients
For Sloppy Joes: 
2

lbs. Organic Prairie Grass-Fed Ground Beef (may substitute ground turkey)

2 tsp

. Organic Valley Ghee (or cooking fat of choice)

1

small yellow onion, diced

1

 small bell pepper, diced (any color, preferably organic)

 

3

cloves garlic, minced

1

6-ounce can no-salt-added tomato paste (preferably organic)

 

¾

 cup water

2 Tbsp

. yellow mustard (may substitute compliant Dijon mustard)

1 Tbsp

. apple cider vinegar

½

 tsp. fish sauce (may substitute coconut aminos or tamari*)

 

½ tsp

. paprika (smoked or sweet; I used smoked paprika) 

1½

–

2

 tsp. salt

¼ tsp

. black pepper
For Sweet Potato "Buns:"
2

large sweet potatoes cut into 1/4-inch thick rounds (with peel intact)

1 tsp

. Organic Valley Ghee, melted (may sub butter or olive oil)
*Note: Tamari contains soy and thus is not allowed on Whole30
Place a large skillet over medium to medium-high heat (I prefer cast iron). When the pan is hot, add ghee, onions, and peppers. Sauté, stirring occasionally, until onions start to soften (about 5-8 minutes).
Add ground beef and garlic. Use a large spoon to break up meat, cook, stirring occasionally until meat is browned and almost cooked through. About 10-12 minutes. Drain meat if desired.
To the meat mixture, add tomato paste, water, mustard, vinegar, fish sauce, paprika, salt, and pepper. Stir well to combine. Continue to cook over medium heat (about 10 minutes) until hot and ground beef is cooked through and peppers are tender.
Taste and season with additional salt and pepper to taste. Serve immediately or store in a covered container in the fridge for up to 4 days. May also be frozen up to 3 months.
To make Sweet Potato "Buns:"
Preheat oven to 350ºF. Line a large baking sheet (or two, depending on how many sweet potatoes you're going to bake) with parchment paper.
Arrange sweet potato slices in a single layer on baking sheet(s). Brush with ghee.
Bake for 25-30, flipping halfway through baking time, or until sweet potatoes are tender and lightly browned on the surface.
Last Step! Please leave a review and rating letting us know how you liked this recipe! This helps our business thrive so we can continue providing free recipes and high-quality content for you.
Nutrition Information
Serving Size:

⅛ recipe (meat only)

Calories:

287

Fat:

18g

Sodium:

468mg

Carbohydrate:

4g

(Fiber:

2g

Sugar:

2g

)
Protein:

22g
Dietary
What's your favorite easy meal to make using ground beef? Share in the comments below.
Pin this recipe!
---
This post was made possible by our friends at Organic Prairie. Though we received compensation for this post, the opinions expressed here are  – as always -100% our own. Thank you for supporting the great companies we work with thereby allowing us to continue creating great recipes and content for you.
All photos and content are copyright protected. Please do not use our photos without prior written permission. If you wish to republish this recipe, please rewrite the recipe in your own unique words and link back to the source recipe here on The Real Food Dietitians. Thank you!