Ready to try a chili recipe that will perk up your taste buds, nourish you from the inside out, and be the easiest homemade meal you'll make this week? Our Slow Cooker Sweet Potato Chili is chock full of nutrients from a variety of key ingredients, plus its a Whole30 chili, meaning that it fits in most special diets, including gluten-free, grain-free, dairy-free, and soy-free, plus it is chili with no added sugars, beans, or legumes.
This recipe was originally published Nov 30, 2017; Updated Jan 12, 2022.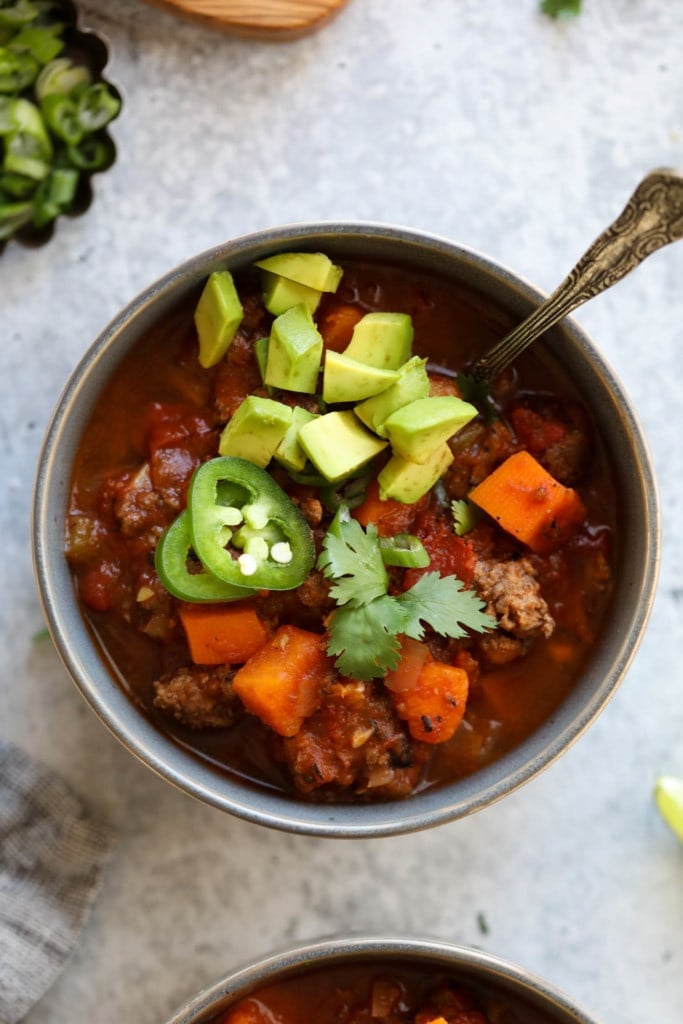 No More Chili Boredom with this Sweet Potato Chili
If you're stuck in a rut with your chili recipe and find yourself eating a bowl and being underwhelmed, let us help you out. This sweet potato chili recipe will freshen things up and get you excited about eating chili again. From the hearty veggies to the perfect spices and tender ground beef, we know you'll love this Slow Cooker Sweet Potato Chili even before you serve it with delicious toppings.
Ingredients to make slow cooker sweet potato chili
Gather these ingredients to get everything you need to get this chili cooking in your slow cooker today:
Ground beef – you can also use ground bison or ground turkey
Sweet potato – you'll need 1 large sweet potato; you can use an orange or white sweet potato or a yam
Yellow onion – you can sub a white onion, if that's what you have on hand
Garlic – you'll need 8 cloves garlic (about 8 teaspoons minced garlic)
Fire-roasted diced tomatoes – you need two 28-ounce cans or four 14-ounce cans (we love Muir Glen fire-roasted tomatoes)
Diced green chilies – use one 4-ounce can
Broth – you can use chicken broth, beef broth, or veggie broth here
Tomato paste
Chili powder
Ground cumin
Chipotle powder – this adds wonderful smokey flavor; use ground chipotle powder or ancho chili powder
Salt and black pepper
How to make sweet potato chili (whole30 chili)
We love to use our slow cookers to make chilis, soups, and stews of all kinds. Don't have a slow cooker, or prefer to use an Instant Pot? We've included directions to make this chili in your Instant Pot in the recipe card notes below. Here are the simple steps to get this sweet potato chili recipe cooking away:
Cook the ground beef: Cooking the ground beef before adding it to the slow cooker helps prevent excess grease from gathering in the chili and also helps prevent the meat from clumping.
Place all ingredients in slow cooker: Transfer the cooked ground beef to the slow cooker. Add all of the remaining ingredients and cover.
Let it slow cook to chili perfection: Cook on low for 6-8 hours or on high for 4 hours, or until sweet potatoes are tender. Enjoy the wonderful smells that permeate throughout your home, knowing you're about to taste one of the best chili recipes you've ever had! Serve with desired toppings.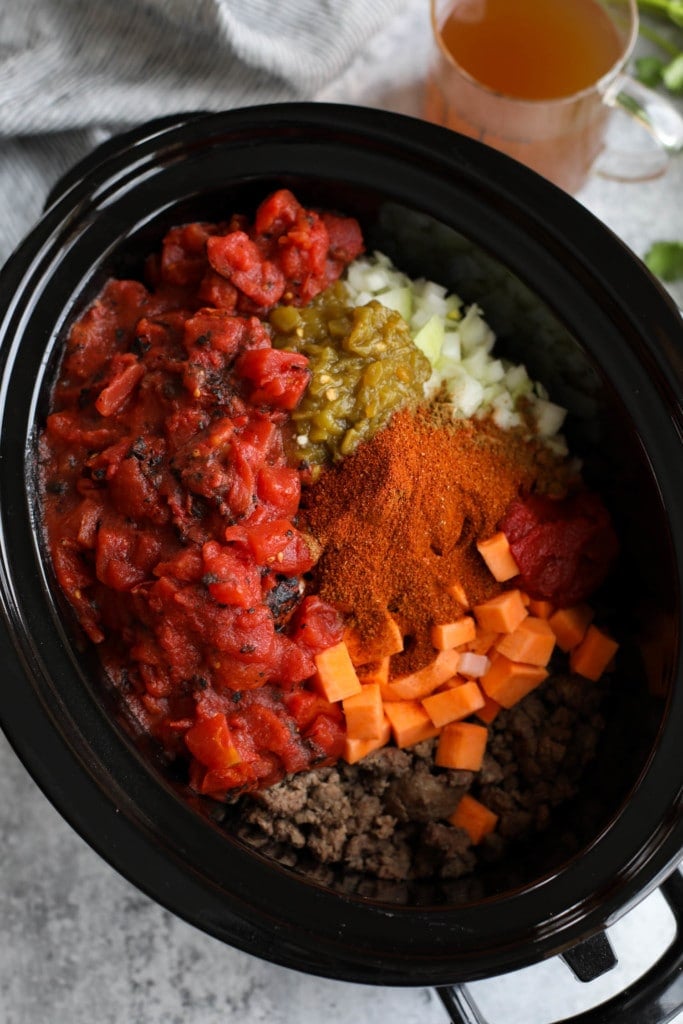 How this Healthy chili fits in your special diet
Many people are looking for a bean-free chili recipe. Don't get us wrong, we think beans are a super nutritious food, but there are plenty of bean chili recipes out there, including some delicious ones on our site. But here, we wanted to create a chili recipe that was super delicious and can be served to nearly anyone, no matter their dietary preferences or allergies. This recipe works for people who are looking for a chili that is:
gluten-free: there are no added thickeners or ingredients here that would make this chili contain gluten
grain-free: you won't find corn, rice, quinoa or other grains here, so this is a grain-free chili
dairy-free: there are no added dairy products in this chili
no added sugar: this chili doesn't contain any added sugars, such as brown sugar or molasses, which are common sweeteners in chili recipes. Instead, it gets a touch of natural sweetness from the sweet potato
no beans or legumes: this chili recipe with no beans is still thick and satisfying, thanks to the sweet potato, fire-roasted tomatoes, and perfect spice combination; also, sometimes chili recipes contain added peanut butter (a common flavor addition), which makes them non-compliant for Whole30 or a legume-free or bean-free chili recipe
nut-free: as we pointed out above, often, a chili recipe will contain added peanut butter as a flavor mix-in, which would make it not compliant for a legume-, bean-free, or nut-free chili
Whole30: the clean, whole-food ingredients in this chili make it a Whole30 chili recipe that doesn't contain any gluten, grains, dairy, beans, legumes, or added sugars
Ways to serve Sweet Potato Chili
This chili recipe provides a wonderful base for fresh toppings like a squeeze of lime juice, jalapeño slices, diced avocado, green onions, and/or cilantro (these are all Whole30 compliant chili toppers). We also love to serve a bowl with a cornbread muffin or some tortilla chips for added crunch. Also, try serving this chili:
Breakfast style: Have you ever had a bowl of chili for breakfast? It's a nourishing, protein-filled way to start the day. Try serving a scoop of the warm chili over a bed of fresh greens with a fried egg on top
Southwestern style: The sweet potato and fire-roasted tomatoes in this recipe already give it Tex-Mex flavor. Top servings with a squeeze of fresh lime juice, sliced jicama, sliced jalapeño, and cilantro to up the Southwestern feel
Cincinnati style: Try serving scoops of this chili over a bowl of spaghetti where the thick sweet potato chili mimics a bolognese-style pasta sauce
can you freeze This chili Recipe?
Yes, this fully cooked sweet potato chili recipe can be frozen. Simply prepare the chili from beginning to end and let it cool to room temperature. Ladle the chili into a large-freezer safe bag, or divide servings of the chili into individual bags for easy reheat-and-eat single meals. Freeze for up to 3 months.
Healthy ingredients in this chili
This chili features healthy ingredients and contains no added sugars. Here are some ingredients highlights:
Ground beef: We prefer to use grass-fed and grass-finished beef (we get ours from Butcher Box) because it is a high-quality protein containing all the essential amino acids and a lot of B vitamins (for optimal energy and better brain function). For more ground beef recipes, check out our 20 Healthy Ground Beef Recipes.
Sweet potatoes – this addition supplies natural sweetness and great texture to the chili, as well as tons of vitamin A, needed to keep our immunity, skin health, and eye health strong
Fire-roasted tomatoes – fire-roasted tomatoes have wonderful caramelized flavor, adding an interesting layer to this chili recipe. Heated and canned tomatoes also are a top source of lycopene, an antioxidant that can act as natural pain relief and protect your skin and eyes from sun damage
Chipotle powder: Chipotle chiles are smoke-dried red jalapeño peppers ground into a powder. In addition to adding great smokey flavor, chipotle powder (and other chili powders) has high antioxidant power from a compound called curcumin, which can help lower inflammation and improve heart health when eaten often
How to store This slow Cooker Chili
Store the fully cooked chili in a covered container in the refrigerator for up to 5 days. Reheat chili in a pot on the stovetop, or reheat individual servings on the stovetop or in the microwave.
Can you pre-prep this recipe for the freezer?
Yes! This is a wonderful and nourishing freezer meal chili recipe that you can partially prep and then store in your freezer until you're ready to cook it. This recipe is also a great one for partially prepping ahead and then gifting to a friend who needs a nutrition boost, such as:
parents of a newborn – this nutrient-filled chili is perfect for new moms because of the nutrition in the sweet potato, high-quality protein, and antioxidant-rich spices
someone recovering from illness or surgery – friends who are recovering from illness often need easy meals that won't require much effort. By prepping this nutritious recipe ahead, all your friend will need to do is dump the prepped ingredients in the slow cooker, set it, and enjoy a nutrient-filled meal that will make them feel better (and so loved)
an overwhelmed friend – everyone has a busy season of life, such as when work or travel schedules are overloaded, during harvest season, when school and extra-curricular activities take over the calendar, when training for a big race or competition, or when family and personal matters take priority over meal planning. That's when you can step in and prep this recipe for an overwhelmed friend who just needs an extra hand.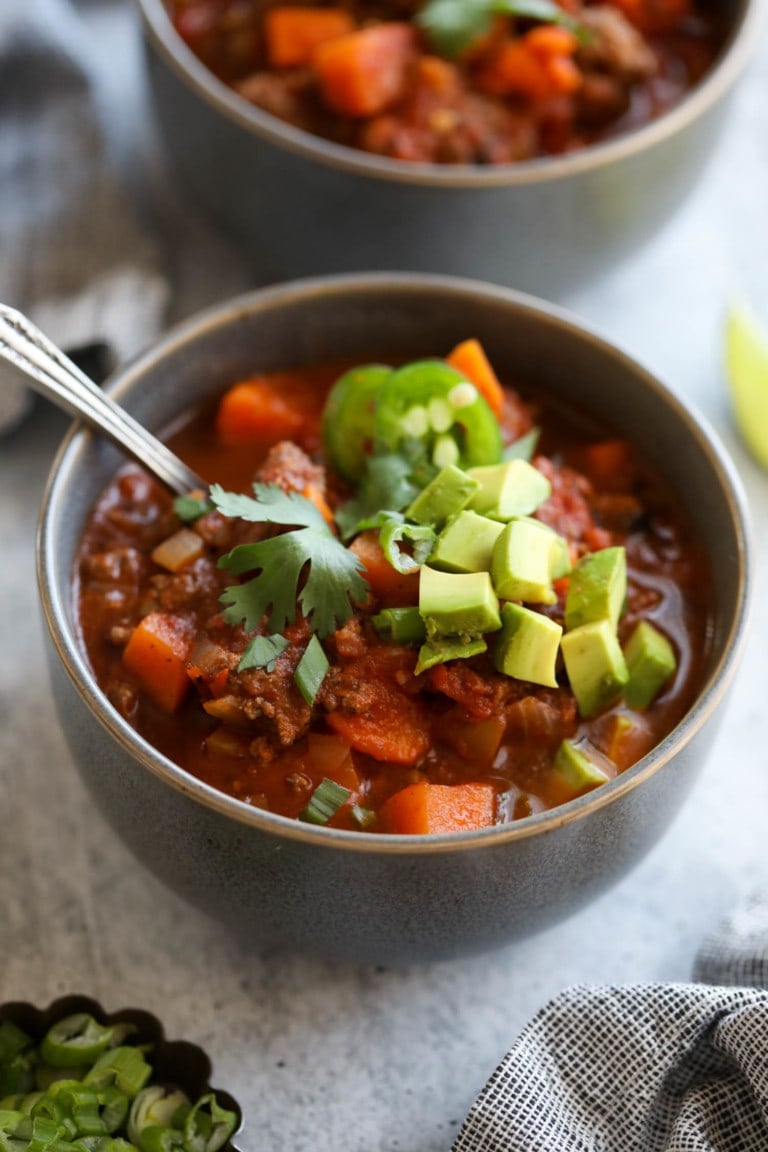 This is a Great Freezer-to-Slow Cooker chili recipe
Follow these steps to prep this recipe as a freezer-to-slow cooker chili recipe.
Fully brown and cool the ground beef.
Chop the sweet potato, onion, and garlic.
In a freezer-safe bag, combine the cooled ground beef, chopped sweet potato, onion, garlic, green chiles, fire-roasted tomatoes, tomato paste, and all spices.
Seal and send the bag of prepped ingredients along with the broth. Your friend can freeze the bag for up to 3 months. To cook: Allow the bag of frozen chili ingredients to thaw overnight in the refrigerator. Dump the thawed ingredients into a slow cooker, add the 2 cups broth, and cook on high for 4 hours or on low for 6 to 8 hours, or until the sweet potatoes are tender.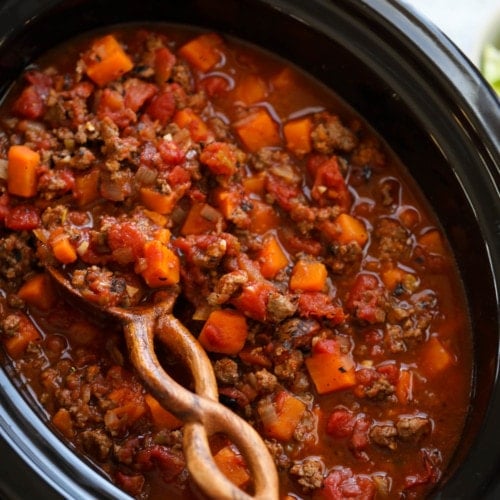 Recipe
Slow Cooker Sweet Potato Chili
A comforting, cozy chili recipe that nourishes you with great flavor and nutritious ingredients. High-quality protein and vitamin-loaded sweet potatoes make the base of this flavorful, easy chili that fits in special diets (Whole30, gluten-free, dairy-free) and contains no beans or added sugars. 
Prep:
15 mins
Cook:
4 – 8 hours
Total:
4 hours, 15 mins
Ingredients
2

lbs ground beef or ground bison

1

large sweet potato, peeled and cut in ½-inch cubes (about

3 cups

)

1

large yellow onion, diced

8

cloves garlic, minced

2

(28-ounce) cans fire-roasted diced tomatoes, undrained

1

(4-ounce) can diced green chilies

2 tablespoons

tomato paste

2 tablespoons

chili powder

1 tablespoon

ground cumin

½ teaspoon

ground chipotle or ancho chili powder

2 teaspoons

fine salt

½ teaspoon

black pepper

2 cups

beef broth, chicken broth, or vegetable broth
Optional Toppings: lime wedges, chopped cilantro, jalapeno slices, sliced green onions, jicama sticks, tortilla chips, sour cream, shredded cheese
In a large skillet over medium heat, cook the ground beef until browned, draining off any fat. Precooking the ground beef prevents the meat from clumping in the slow cooker and prevents excess grease from gathering in the slow cooker. 
Transfer the cooked ground beef to the slow cooker. Add all of the remaining ingredients.
Stir well, cover, and cook on high for 4 hours or on low for 6-8 hours, or until sweet potatoes are tender. Taste and add more seasonings, if you wish.
Serve with desired toppings.
Last Step! Please leave a review and rating letting us know how you liked this recipe! This helps our business thrive so we can continue providing free recipes and high-quality content for you.
Notes
Instant Pot Directions: Use the Saute function to cook the ground beef; drain off any excess fat. Add all remaining ingredients and spices to the Instant Pot; stir well. Lock the lid into place and set on High Pressure cooking for 10 minutes. It will take several minutes for the Instant Pot to build up pressure and for the timer to start. After the time is up, allow for natural pressure release for 5 minutes, before switching the Vent to release any remaining pressure and then opening the lid. 
Nutrition Information
Serving Size:

1 cup

Calories:

264

Fat:

10 g

(Sat Fat:

4 g

)
Sodium:

875 mg

Carbohydrate:

10 g

(Fiber:

2 g

Sugar:

7 g

)
Protein:

25 g

Cholesterol:

75 mg
Dietary
Pin It Now to Make It Later!
For ultimate success, we highly recommend reading the tips in the full blog post above. All photos and content are copyright protected. Please do not use our photos without prior written permission. If you wish to republish this recipe, please rewrite the recipe in your own unique words and link back to the source recipe here on The Real Food Dietitians. Thank you!
---