When you're short on time and dinner ideas, this Sheet Pan Baked Salmon with Vegetables is fast, balanced, and delicious! We love it because it uses one of our favorite kitchen tools of all time: the sheet pan (aka, a baking sheet with a rimmed edge).
This post was originally published on February 27th, 2017. Updated on February 23rd, 2021.

Why sheet pan recipes are so wonderful
Sheet pan recipes get high marks for several reasons, especially ones like this oven-baked salmon recipe. First, sheet pan recipes cook in just one pan, which makes everyone happy because the clean-up is fast. In fact, we often find that we can wash the cooking utensils, bowls, and counter space while the sheet pan recipe is in the oven, so in that way, the kitchen is tidy before dinner is even served. Win! Second, sheet pan dinners make it easy to eat a balanced and well-portioned meal because your side dishes cook right alongside your main dish. Third, the flavors of each ingredient meld together as they cook making everything more delicious. And fourth, they are really easy to prep in advance.
We always recommend lining your sheet pan with parchment paper to make clean up really easy. You can read this post to get an idea of why we don't recommend aluminum foil.
How to make sheet pan baked salmon and vegetables
For this oven-baked salmon recipe, you can make the marinade, slice the onion and sweet potato, and trim the green beans up to 3 days before you cook everything. Just store those components in separate containers in the refrigerator. But this recipe is so easy that you don't have to do anything in advance, especially if you're short on time. It really takes just three steps to make this sheet pan salmon recipe the same day you'll serve it.
Preheat the oven and prepare the marinade. Set aside 2 tablespoons of the marinade. Place the salmon fillets in a shallow dish and pour half of the remaining marinade over top. Refrigerate the marinating salmon fillets while you move on to step 2.
Cut the vegetables. Cut the sweet potato into thin slices, trim the green beans, and thinly slice the red onion.
Bake the vegetables on the sheet pan first. Add the sweet potato to the sheet pan and toss with the remaining half of the marinade; bake for 10 minutes. Then add the green beans and onion to the sheet pan (toss these with the 2 tablespoons of marinade you set aside in step 1) and pop everything back in the oven for another 5 minutes. Finally, add the salmon to the sheet pan and bake it all for 10 to 15 minutes more.
That's it. And when you follow those easy steps, everything will come out perfectly done, seasoned, and ready to serve. We recommend finishing it with a quick squeeze of lemon and a dash of salt and pepper, then call everyone to the table. Hooray, dinner is ready and nearly all the clean-up is already done. Another beautiful thing about this baked salmon recipe is that the sheet pan can double as a serving dish. Just place the pan on the dinner table and let everyone take their portions right off the baking sheet.

How to make a healthy marinade for salmon
Almost all marinades are made up of an oil, an acid, and some seasonings. The oil serves the purpose of basting and locking in moisture, the acid tenderizes (in this marinade, the acid is the lemon juice), and the seasonings add flavor. When you marinate salmon or other seafood, you don't need to marinate it for long, typically less than 1 hour. In fact, marinating salmon for too long will cause it to chemically "cook" the proteins, which is how ceviche is made.
For this baked salmon recipe, simply marinate the salmon for the amount of time it takes you to prep the sweet potato, onions, and green beans, and while those vegetables cook on the sheet pan for the first 15 minutes. Your salmon should marinate for somewhere in the range of 25 to 40 minutes total. Any longer than that and the acid in the marinade will make the texture of the fish mealy or kind of mushy.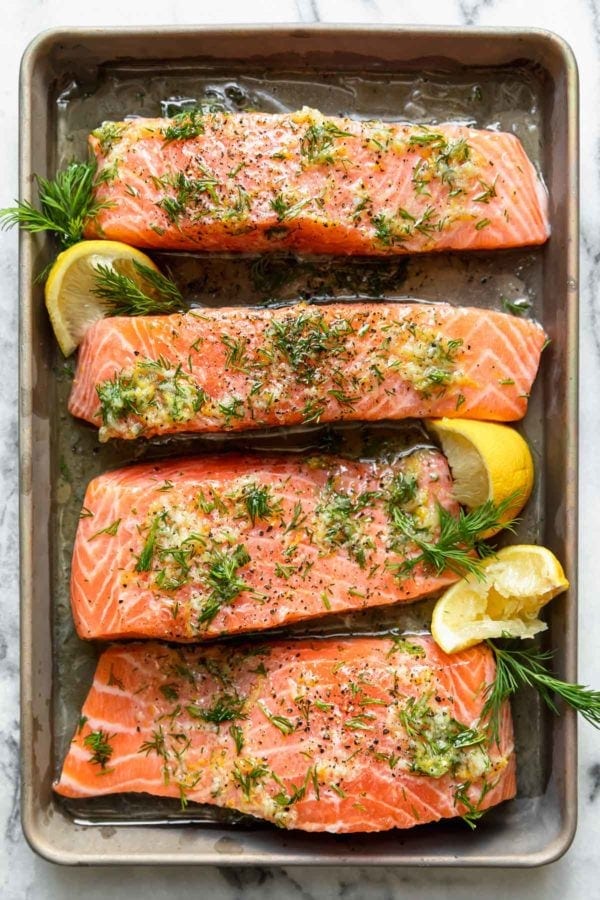 Our healthy salmon marinade
In this sheet pan salmon recipe, we call for a simple combination of olive oil (you can use extra-virgin olive oil or avocado oil), lemon juice, garlic, dill (use fresh or dried), salt, and pepper. These citrus-herb flavors pair well with the richness of salmon. Once the marinade is mixed, set aside 2 tablespoons of it, which you'll use to toss with the onion and green beans. Then, the remaining marinade gets divided in half (half to marinate the salmon and half to marinate the sweet potatoes).
It's always a good rule of thumb to discard any marinade after it has come in contact with raw seafood or meat, so any marinade that is left behind after you move the salmon onto the sheet pan should be discarded.
How long does salmon take to bake?
Since the thickness of salmon fillets can vary, and you might slice the sweet potatoes a little thicker than ⅛-inch each, the cooking time can vary, too. We recommend following the fork test. After the salmon has been cooking for 15 minutes (and the sweet potatoes have been cooking for a total of 30 minutes), use a fork to test for doneness. If the salmon flakes easily at this point, it is ready. If you can easily stab through a sweet potato piece with a fork, they are ready, too.
Sometimes the salmon may be done but the vegetables need to cook a bit longer. If that's the case for you, remove the salmon to a plate and cover it loosely with foil or a lid. Put the sheet pan with vegetables back in the oven for another 5-10 minutes until they're tender and to your liking.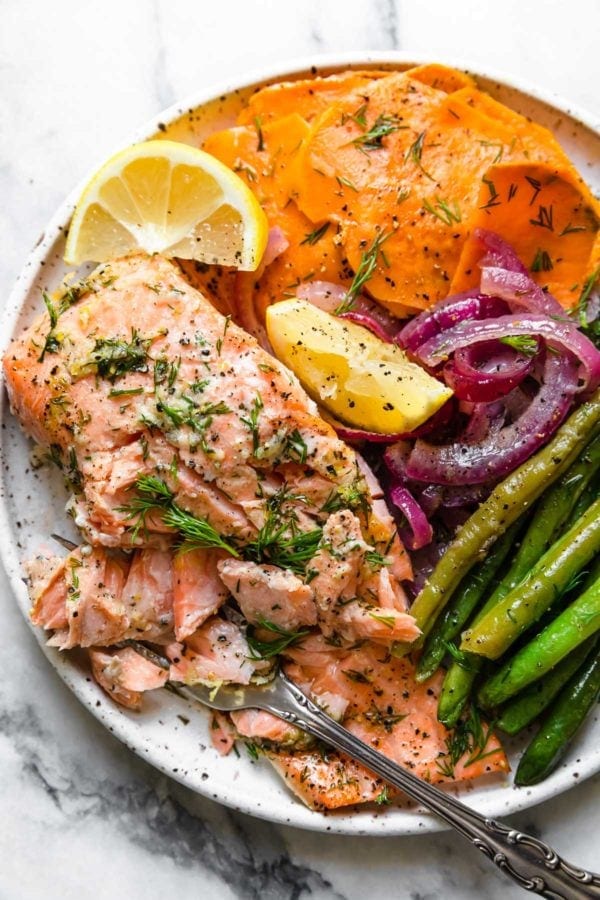 Why is salmon good for you?
Salmon is one of the most nutrient-dense foods you could eat, meaning that it packs a nutrition punch in every bite. Some of the health benefits of salmon include nutrients that are specifically good for your heart and brain, as well as nutrients that counteract diseases related to inflammation, such as arthritis, diabetes, some cancers, and Crohn's disease.
Heart health benefits of salmon: Salmon is the best food you could eat to get DHA and EPA, which are high-quality polyunsaturated fats known as omega-3 fatty acids. These nutrients are good for your heart and have been credited with helping to reduce high blood pressure, improve artery function, and reduce inflammation connected to heart disease. Salmon is also a good source of potassium which, studies show, can reduce high blood pressure and lower the risk of stroke.
Brain health benefits of salmon: The oils in fatty fish like salmon have been linked to reduced symptoms of depression, anxiety, and memory loss in many studies. Also, salmon contains a powerful antioxidant called astaxanthin that works with omega-3 fatty acids to prevent inflammation in the brain and nervous system.
Inflammation-fighting benefits of salmon: Inflammation is a silent condition that has been connected to a lot of ailments and diseases, including diabetes, poor gut health, colitis, cancer, arthritis, and others. Studies have shown that eating salmon two or more times per week is associated with reduced markers of inflammation in the blood.
To select the safest seafood for both you and the oceans, read our post on How to Choose Safer Seafood.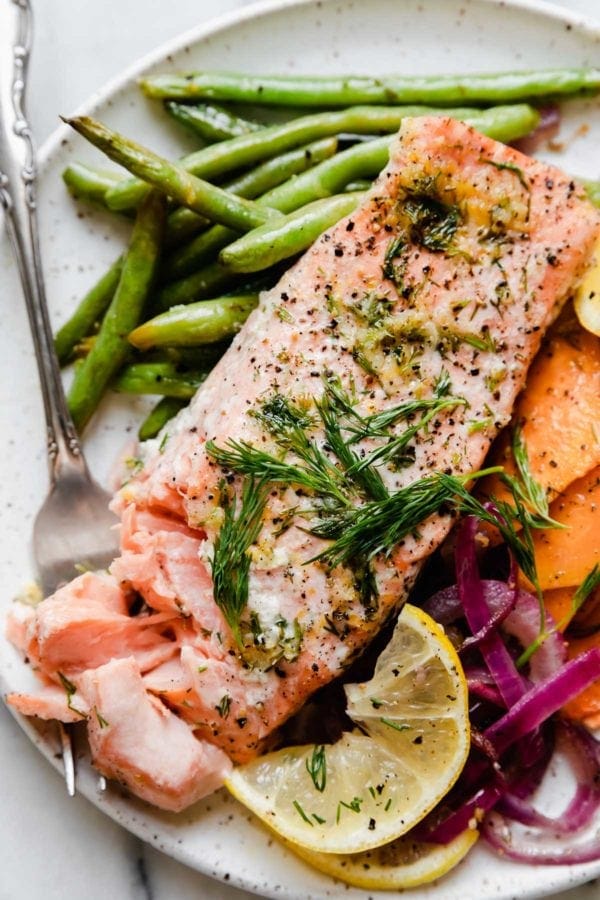 Cooking Tips & Substitutions
To make sure the sweet potatoes are nice and tender, slice them very thinly. We use a mandolin slicer to get mine just shy of

⅛

-inch thick. We love our mandolin slicers! But if you don't have one you can certainly use a knife, but a mandolin is going to make your life infinitely easier and you'll find that you use it for so many things other than this recipe.
If you'd like, swap the sweet potato for thin slices of Yukon gold potato, butternut squash, carrots, or parsnips. We like to use red onion because of the color it adds to this dish, but you could use any type of onion or fennel instead. In place of the green beans, you could use asparagus, snap peas, Brussels sprouts, broccoli, or broccolini.
Dill adds terrific flavor, but if it's not your favorite, you could use thyme, basil, or rosemary. If you use one of these, double the amount in the recipe. Fennel fronds also make a good substitute for dill.
If you'd like to try this recipe with a fish other than salmon, we suggest tuna steaks, arctic char, or trout.
Let us know if you try this baked salmon recipe by leaving a comment, sharing a photo or Story, and tagging @therealfoodrds on Instagram, or leave us a review below!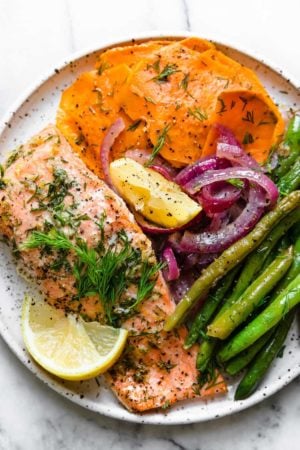 Recipe
Sheet Pan Baked Salmon with Vegetables
When you're short on time and dinner ideas, this Sheet Pan Baked Salmon with Vegetables is fast, balanced, and delicious! Made with omega-packed salmon, sweet potatoes, and fresh veggies, this salmon sheet pan dinner comes together in under an hour.
Prep:
15 mins
Cook:
30 mins
Total:
45 mins
Ingredients
3 tablespoons

avocado oil or olive oil
Juice of

1

medium lemon (about

¼ cup

)

2

garlic cloves, finely minced

1 tablespoon

fresh dill (or

½ teaspoon

dried dill)

½ teaspoon

fine salt

¼ teaspoon

black pepper

1 ¼

pound salmon fillets

1

pound sweet potato (

1

large or

2

small), thinly sliced

12 ounces

fresh green beans, trimmed

½

small red onion, thinly sliced

½

lemon, thinly sliced
Preheat the oven to 425℉. Line a

large rimmed baking sheet

with parchment paper and set aside.

Make the marinade by whisking together the oil, lemon juice, garlic, dill, salt, and pepper in a small bowl. Set aside 2 tablespoons of the marinade to use later.

Place the salmon fillets in a shallow dish and pour half of the remaining marinade (not the 2 tablespoons you just set aside), over the salmon. Place the salmon in the fridge to marinate while you prep the veggies.

Wash and peel the sweet potato. Using a knife or mandolin slicer, thinly slice the sweet potato into rounds about ⅛-inch thick.

Place the sweet potato slices on the baking sheet. Drizzle with the other half of the marinade that you used for the salmon. Toss the sweet potato slices with the marinade then spread them into an even layer on the baking sheet.

Place the baking sheet in the preheated oven and bake for 10 minutes. After 10 minutes, remove the pan and move the sweet potatoes to one side of the pan to make room for the green beans and onion. 

Drizzle the green beans and onion with the reserved 2 tablespoons of marinade. Give them a little toss with your hands or a spoon then spread them evenly into a thin layer next to the sweet potatoes. Return the pan to the oven and bake for an additional 5 minutes.

After 5 minutes, remove the pan from the oven and make a space in the center of the pan for the marinated salmon fillets. Top off each salmon fillet with a lemon slice or two and sprinkle with a little salt and pepper.

Place the baking sheet back into the oven and bake for 10-15 minutes or until the salmon flakes easily with a fork and is no longer opaque. The sweet potato slices should be tender and the green beans crisp-tender.

Serve the salmon and vegetables with additional lemon slices and salt and pepper, if desired.
Last Step! Please leave a review and rating letting us know how you liked this recipe! This helps our business thrive so we can continue providing free recipes and high-quality content for you.
Nutrition Information
Serving Size:

1/4 recipe

Calories:

365

Fat:

12g

Sodium:

370mg

Carbohydrate:

31g

(Fiber:

7g

Sugar:

5g

)
Protein:

31g
Dietary
Pin it now, Make it later!
---
All photos and content are copyright protected. Please do not use our photos without prior written permission. If you wish to republish this recipe, please rewrite the recipe in your own unique words. And then link back to the source recipe here on The Real Food Dietitians. Thank you!
Photo Credit: The photos in this blog post were taken by Jess of Plays Well with Butter.
SaveSave