Have an abundance of zucchini and aren't sure what to do with it? We've got you covered with these 34 Healthy Zucchini Recipes (plus, they're all gluten free zucchini recipes, too). Whether you're looking for a nutritious breakfast, a quick side dish, or a filling dinner option, we've got an easy recipe for you. Save this round-up of ideas to refer back to and put your summer squash to good use all season long and beyond.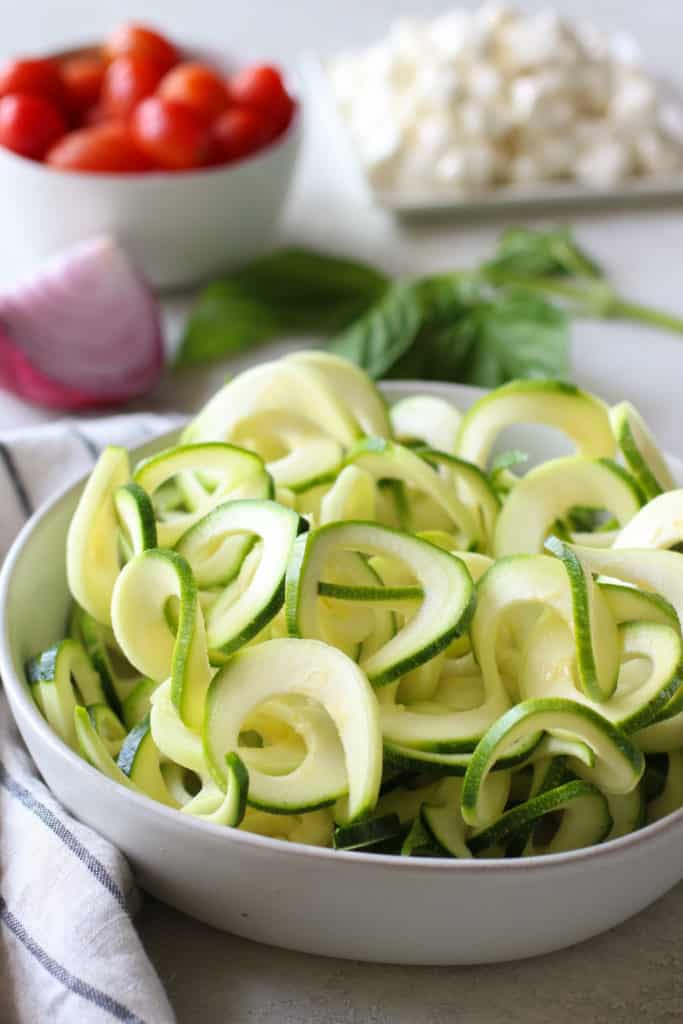 Healthy Zucchini Recipes For All Your Needs
Though you can find zucchini any time of the year, summer is when it seems like everyone's garden is bursting at the seams with zucchini. It's not uncommon to see messages from friends with gardens asking, "Anyone need zucchini? We've got so many, we don't know what to do with them!"
Our response? Bring it on! We love zucchini, and there are a million and one ways to prepare this summer vegetable. Lucky for you, we've narrowed down the very best healthy and gluten free zucchini recipes to help take the guesswork out of cooking and help bring nourishment to your table without skimping on flavor. No matter what you're in the mood for, you're sure to find something that hits the spot.
Ingredient Spotlight: Benefits of Summer Zucchini
Fairly mild in flavor and extremely versatile, zucchini is also a nutrient-dense food, meaning it provides an abundance of vitamins, minerals, and nutrients with every bite. For instance, zucchini is:
An excellent source of vitamin A,

vitamin C

, and vitamin K

Rich in manganese,

potassium

, magnesium, and folate

A good source of both soluble and insoluble fiber along with water to help aid digestion
34 Best Gluten Free Zucchini Recipes
Learn how to cook zucchini and enjoy it in a variety of ways with our collection of the best zucchini recipes below.
Frequently Asked Questions
What is the healthiest way to eat zucchini?
The best way to obtain the most nutrients from zucchini is to enjoy it raw as some nutrients can be lost in the cooking process. To absorb the most nutrients from cooked zucchini, include healthy fats such as avocado, extra virgin olive oil, nuts, or seeds to aid the absorption of fat-soluble vitamins, which we've done in many of these healthy zucchini recipes.
What goes well with zucchini?
Zucchini squash is fairly neutral in flavor, meaning it pairs well with a wide variety of ingredients and seasonings. To enhance its taste, try pairing zucchini with herbs and spices, other vegetables, lemon juice, goat cheese, feta cheese, or protein.
How do you cook zucchini without losing nutrients?
As a general rule, it's best to keep the cooking time short, use minimal heat, and very little liquid to retain the most nutrients in any veggies you are cooking. Therefore, steaming tends to be one of the best options for highest nutrient retention.
What is one of the best and easiest ways to cook zucchini?
If you want to prepare zucchini on its own as a quick side dish, we love to slice a medium zucchini into rounds or slices and cook it in the air fryer. Try making zucchini fries or zucchini chips! If you're feeling ambitious, you can even coat them in breadcrumbs first. Or, sautée slices with a bit of oil in a skillet, and season them with a dash of salt and black pepper. Whichever method you choose, prep time is minimal, and the zucchini cooks fast.
How do you keep zucchini from being too watery?
To prevent your zucchini from being watery, slice it, salt it generously with salt, and set it aside for about 30 minutes. This will help draw out the excess moisture. All you have to do it pat it off, and continue with your recipe.
Pin Now to Make Them Later!
For ultimate success, we highly recommend reading the tips in the full blog post above. All photos and content are copyright protected. Please do not use our photos without prior written permission. If you wish to republish a recipe, please rewrite the recipe in your own unique words. Link back to the source recipe here on The Real Food Dietitians. Thank you!