Skip the pizza delivery and make this Pizza-Stuffed Spaghetti Squash instead…your future self will thank you!
This post was created in partnership with our friends at Primal Kitchen.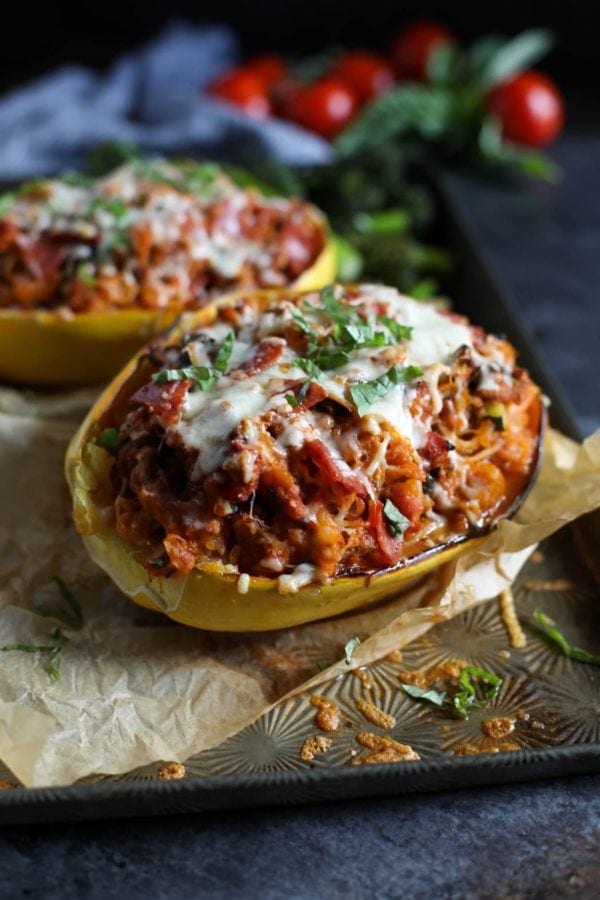 Good now, but not so great later.
That's how I feel whenever I eat pizza. That's also a pretty good descriptor of leftover pizza too, now that I think about it.
Though I LOVE pizza (especially pepperoni pizza), I never feel great after eating it. Maybe it's the gluten. Maybe it's the grease. Maybe it's the auspicious lack of veggies. Whatever it is, whenever I choose to eat pizza I do so knowing I'm probably going to (sadly) regret it later on.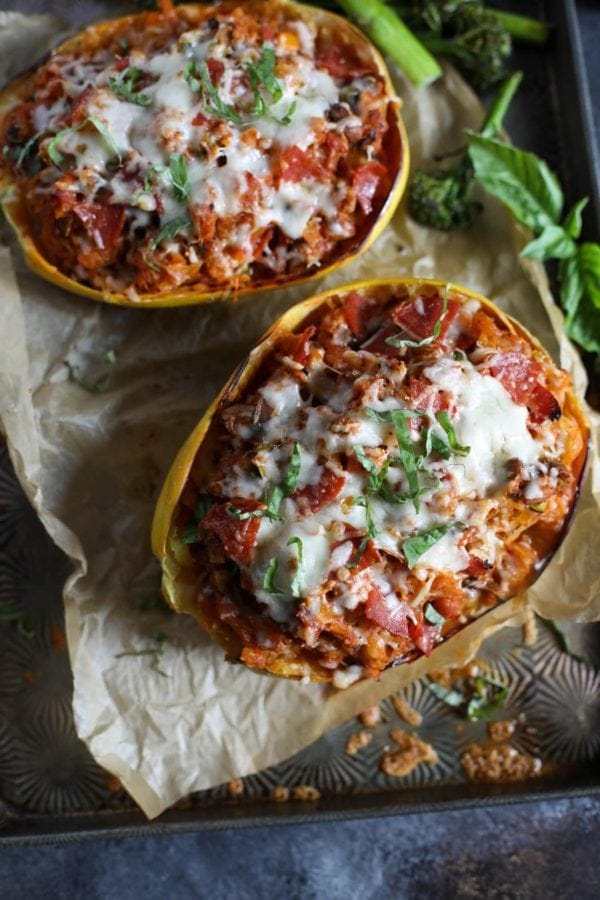 Disclaimer: This post may contain affiliate links that will not change your price but will share some commission.
This is EXACTLY why I had to create this Pizza-Stuffed Spaghetti Squash. Well, that and the fact that so many of you, after seeing our Pepperoni Pizza Quinoa Bake, have asked for a grain-free option that packs in all the flavors of your favorite Italian pie into a veggie-centric dish (that actually tastes better as leftovers). You're going to love this one – I promise. It's even delicious without the cheese if you're looking for a dairy-free option.
Oh, and leftovers? They're even better the next day which you really can't say about pizza!
Bring on those pizza vibes.
If you ask a pizza-lover what makes or breaks a great pizza, they'll probably tell you it's the crust first and the sauce second. A great crust makes a mediocre pizza when the sauce isn't spot on so since we have no crust to deal with in this Pizza-Stuffed Spaghetti Squash, the sauce really needs to shine. And it needs to do so with as few ingredients and as little fuss as possible right? Right. 
Thankfully our friends at Primal Kitchen made my job here easy with their new Tomato Basil Marinara made with avocado oil. Normally I test a recipe a few times to get the seasonings juuuuuust right, but this was one of those "one and done" recipes where it was literally perfect on the first try. It's made with just a handful of organic, clean ingredients including diced tomatoes, tomato puree (water, tomato paste), basil, avocado oil, sea salt, onions, garlic powder, oregano, and garlic.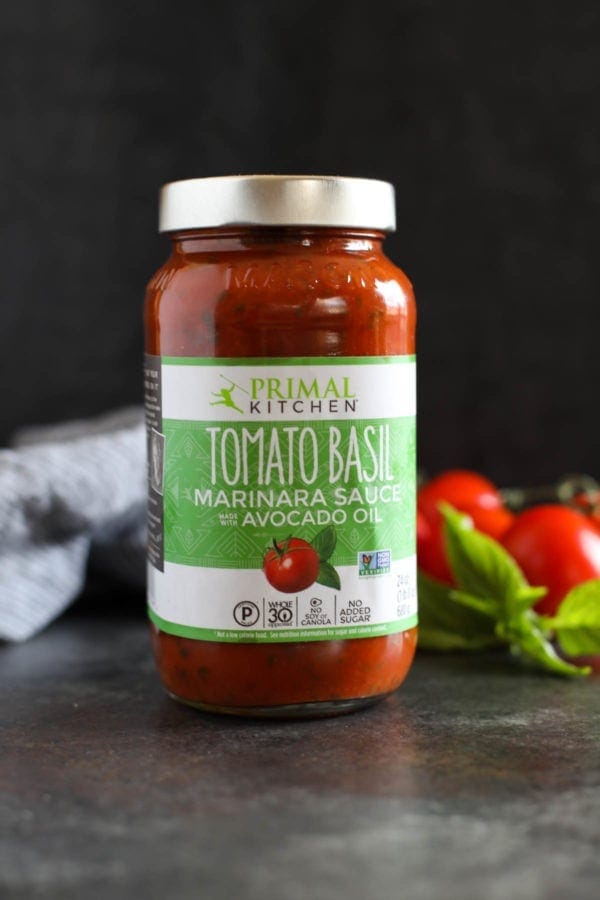 What you won't find inside the jar are added sugars, artificial ingredients, gluten, canola or soybean oil. It's even vegan, plant-based, Paleo-certified, Non-GMO Project verified, and Whole30 approved.
Want a free jar of Primal Kitchen Tomato Basil Marinara (valued at $8.99)? Grab our exclusive pantry staple basics bundle today and they'll throw in a free jar just for you.
Now, let's make some Pizza-Stuffed Spaghetti Squash!
You'll want to make the spaghetti squash first since this part takes the longest. If I have the time and don't mind heating up the kitchen, roasting the spaghetti squash in the oven is my preferred method because I find that it's less watery than if I cook it in the Instant Pot. But when I'm short on time, the Instant Pot wins because it cuts the cooking time nearly in half. Thankfully, the spaghetti squash can be cooked up to 3 days in advance if you want to assemble your Pizza-Stuffed Spaghetti Squash later in the week.
Once the squash is done cooking, you'll assemble the meat and veggie sauce by sautéing onions, peppers, mushrooms, zucchini and garlic under crisp-tender, then adding some ground turkey and Italian seasoning. When the veggies are tender, just crack open a jar of marinara sauce and mix it into the pan.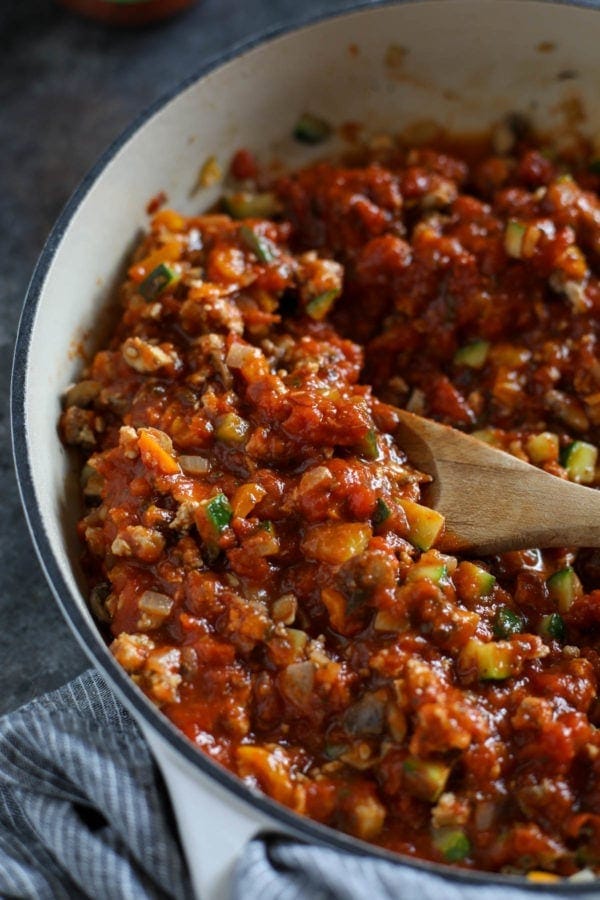 Before we go on to the next step though, let's just take a second to appreciate that sauce.
This sauce seriously stands on its own flavor-wise and can easily be used to top your favorite pasta or a bowl of zucchini noodles. End of story.
Just kidding. You came for the Pizza-Stuffed Spaghetti Squash so it's Pizza-Stuffed Spaghetti Squash you're gonna get!
Once the spaghetti squash is cooked, use a fork to scrape the strands of flesh into a big pile atop the sauce then toss some pepperoni in there, too.
It's time to make some big decisions.
This is the "Choose Your Own Adventure" part of the recipe where you decide whether or not you're going to add cheese. Leaving out the cheese makes it dairy-free. And if you've used Whole30-compliant pepperoni, it's also going to be Whole30-friendly. The cheese isn't absolutely necessary and the dish is still killer without it, but it's really good and makes it more, well, pizza-like.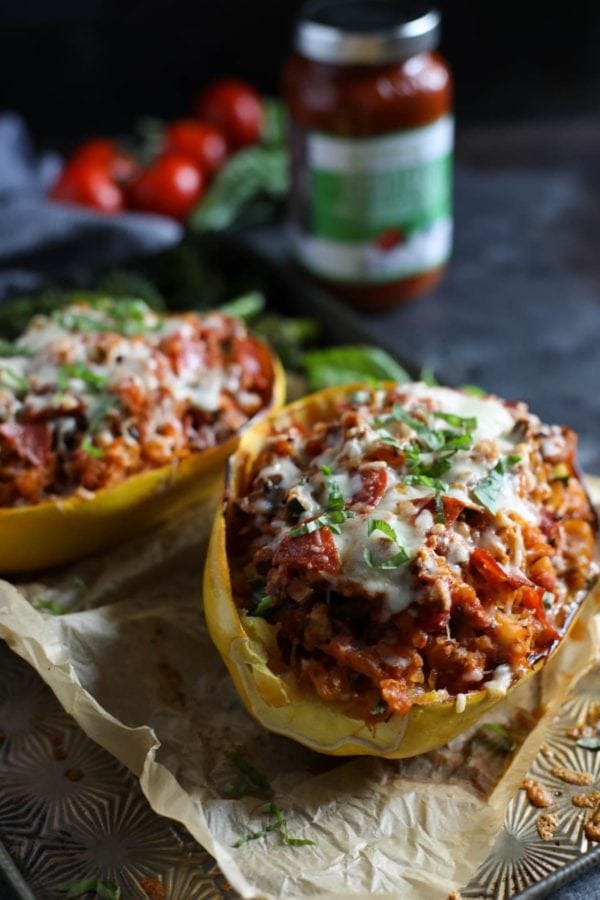 This is also the part where you choose to either stuff the filling back into the spaghetti squash shells or pack it into a baking dish for the final bake. If you're prepping this ahead (i.e., assembling it up to this point to be baked at a later time), you'll definitely want to opt for the baking dish. But if you're looking to wash one less dish and impress your family with a fun presentation, then stuff the filling back into the shells and return them to the oven for a final bake to ensure everything is heated through and the cheese (if you used it) is melted.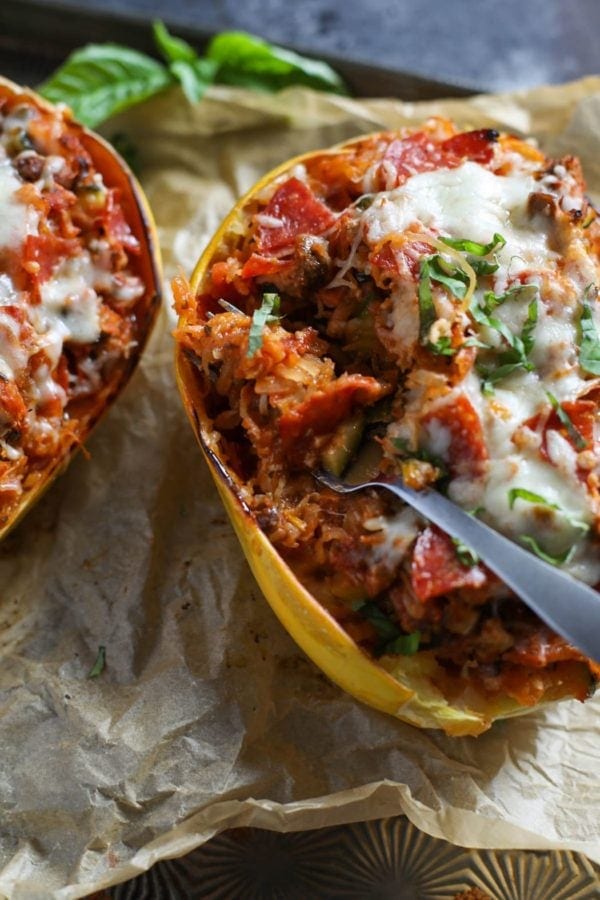 And now the part you've been waiting for…
Grab your fork and dig in! I know this Pizza-Stuffed Spaghetti Squash is already packed with veggies, but I like mine with a side of roasted broccoli for color and extra nutrients. It's also great served alongside a salad or green beans.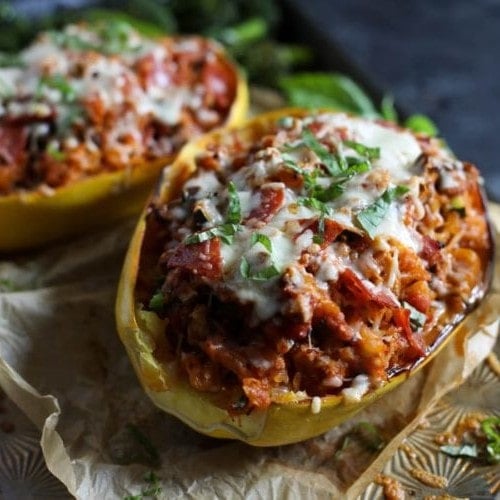 Recipe
Pizza-Stuffed Spaghetti Squash
Prep:
10 mins.
Cook:
35 mins.
Total:
45 mins.
Ingredients
1

medium spaghetti squash, halved and cooked as desired (about

2

½ – 3 lbs.)

2 tsp

. avocado or olive oil (or cooking fat of choice)

1

small onion, diced small

1

small bell pepper (any color), diced small

1

medium zucchini, diced small

8 ounces

mushrooms, diced

2

cloves garlic, minced

2 tsp

. dried Italian seasoning

½

lb. ground turkey 

1

(24-ounce) jar Primal Kitchen Tomato Basil Marinara Sauce

2 ounces

pepperoni* (pork or turkey), cut into small pieces

1 cup

shredded mozzarella or Italian blend cheese (about

4 ounces

– optional)
Fresh basil, finely sliced (optional)
Cook spaghetti squash using your preferred method. When squash is cooked, allow it to cool for several minutes before scraping the flesh from the skin (leaving the "shells" intact). Set aside.
If the oven isn't already on, preheat it to 375

℉.

While the squash cooks, place a large skillet over medium-high heat. Add avocado oil and heat until the oil starts to shimmer. Add onions, peppers, zucchini, and mushrooms to the pan and cook, stirring occasionally, for 5-6 minutes or until onions start to soften.
Add garlic and Italian seasoning. Stir and cook an additional 1 minute or until garlic and herbs are fragrant.
Add ground turkey and cook, using a spoon or spatula to break up the meat, for another 7-8 minutes or until the turkey is cooked through and no longer pink and the veggies are tender.
Add marinara sauce to the pan. Stir to combine.
Add squash, pepperoni and

½

cup cheese (if using) to the pan and stir well to combine.
Stuff squash mixture back into the squash shells/skins and place on a rimmed baking sheet or spread the mixture into a 9×9-inch baking dish.
Place the baking sheet (or pan) in the preheated oven

and bake for 15 minutes or until the mixture is hot and bubbly. Sprinkle with remaining cheese (if using) and continue to bake an additional 5 minutes or until cheese is melted. 

Remove squash from the oven and sprinkle with fresh basil just before serving, if desired.
Last Step! Please leave a review and rating letting us know how you liked this recipe! This helps our business thrive so we can continue providing free recipes and high-quality content for you.
Notes
*To make this dish Whole30-friendly: You may need to omit the pepperoni (in addition to the cheese) if you can't find a compliant option. 
Nutrition Information
Serving Size:

¼ recipe

Calories:

444

Fat:

23 g

Sodium:

924 mg

Carbohydrate:

36 g

(Fiber:

7 g

Sugar:

18 g

)
Protein:

27 g
Dietary
Are you a pizza lover too? What's more important to you when it comes to great pizza? Great crust or great sauce? Share in the comments below.
Pin it now & make it later!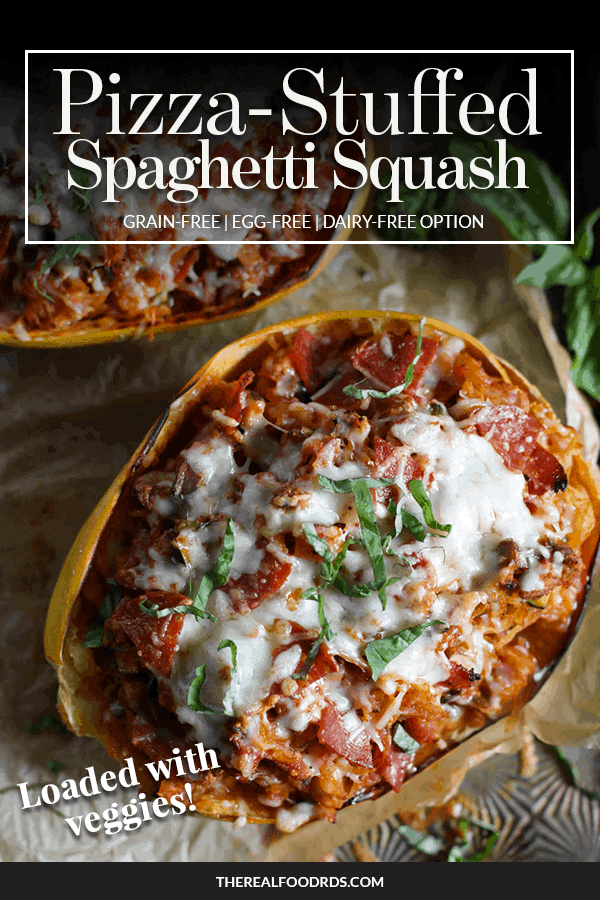 ---
This post was made possible by our friends at Primal Kitchen. Although we received compensation for this post, the opinions expressed here are – as always – 100% our own. Thank you for supporting the great companies we work with thereby allowing us to continue creating great recipes and content for you.