Nothing says both 'prep-ahead convenience' and 'summertime' like perfectly-grilled meat and vegetable kebabs. Whether you're a grilling newbie or an old pro, you'll find these Grilled Pork Kebabs with Peanut Sauce easy to make and even easier to enjoy.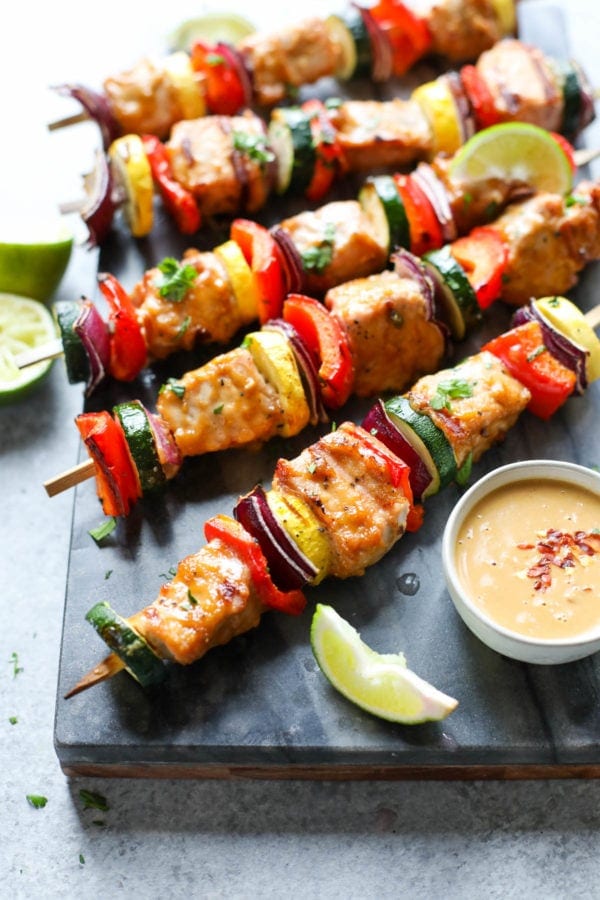 This post was created in partnership with the Minnesota Pork Board.
Food on sticks is way more fun!
And honestly, who couldn't use a little more fun these days? I'm already missing all of the usual summertime activities and trips our family had planned, but I'm also embracing the fact that staying home means we'll finally have time to finish up projects in the house and yard. And plenty of time for one of my favorite summer pastimes…grilling!
While maybe not quite as fun as a Minnesota State Fair pronto pup, these Grilled Pork Kebabs with Peanut Sauce are a close second for kebab-lovers. Big hunks of tender, lean pork are marinated in slightly spicy and ultra flavorful homemade peanut sauce, for extra flavor, before they're threaded onto skewers with fresh veggies. Changing up the veggies to use what's in season or what you have on hand is part of what makes kebabs so great. And they're a great way to get kids involved in the kitchen, too. 
You can eat them right off the skewer—like my kids do—or slide the perfectly grilled meat and veggies onto a bed of salad greens, cauliflower rice, rice, or rice noodles; then serve some of the leftover peanut sauce on the side for dipping, dunking, or drizzling. 
How to Choose the Right Cut of Pork for Kebabs
For this recipe, we like to use thick-cut boneless pork chops. While you don't necessarily have to use pork chops for these Grilled Pork Kebabs with Peanut Sauce, they do make quick work of kebab-making. Pork tenderloin or pork loin roast will also work if you don't mind the little bit of extra work it takes to cut it into cubes, but we think those cuts are best saved for this Grilled Pork Tenderloin with Avocado-Green Sauce or this One-Pan Pork Loin with Brussels and Apples. 
Pork chops that come from the rib or loin are also leaner and lighter in flavor than other cuts of pork making them perfect for lightened-up summer dishes and flavorful sauces.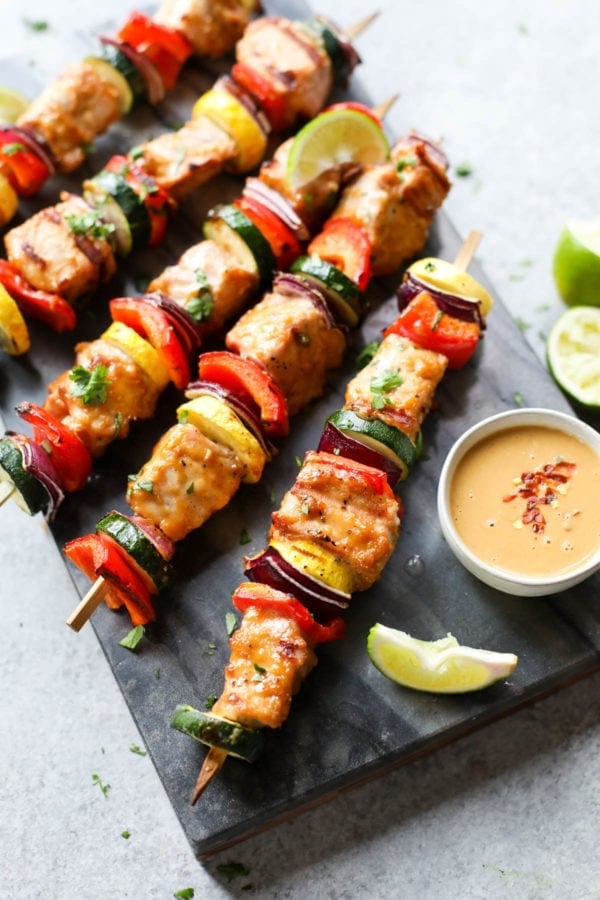 Here are a few things to keep in mind when selecting pork chops:
Look for pork chops that are a light pink-red color. Avoid those that are grey or brown or have dark spots on their fat which may indicate that they have already started to spoil.

Look for chops that are well-wrapped in clean packaging without any holes or tears. If the meat is packaged in a tray, it should not be leaking and there should not be an excessive amount of fluid in the tray. 

Pork chops should smell fresh. They should never smell sour, unpleasant, or as if they are starting to decay. 

If choosing frozen or previously frozen pork chops, keep in mind that you'll need to use them within a few days of thawing and that they should not be re-frozen. 

Boneless pork chops are your easiest option but they also come with a higher price tag. Bone-in pork chops are equally healthy and delicious, they'll just take a little more effort to trim the meat from the bones before cutting it into cubes for the kebabs.

Choose leaner chops like loin or rib chops for quick cooking and save the fattier cuts for low-and-slow heat applications (roasting, braising, slow cooking, or low-temperature grilling or smoking).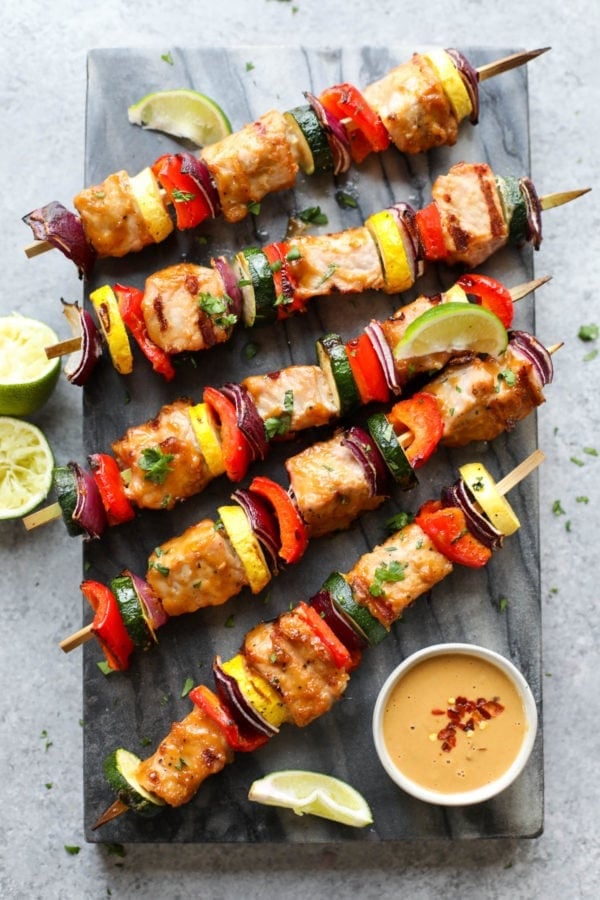 Grilled Pork Kebab Ingredients
Pork loin or rib chops 
Red onion

– Yellow or white onion will also work.

Bell Pepper

– Use whichever color you prefer or use a combination of colors.

Zucchini and/or Yellow Squash

– Either or both will work.

Peanut Butter

– We recommend creamy peanut butter without added sugar or oils but crunchy peanut butter—or even almond or cashew butter—will work for this sauce.

Orange juice

– Freshly squeezed orange juice gives the sauce a bit of sweetness without added sugars.

Lime juice

– Fresh lime juice adds just the right amount of tartness.

Coconut aminos

– This soy and wheat-free alternative to soy sauce is salty and slightly sweet. You can, however, replace it with tamari (gluten-free soy sauce) if desired.

See recipe notes for substitution tips. 

Rice Vinegar

– Adds a little tang. Apple cider vinegar is a good substitute if that's what you have on hand.

Ginger

– Freshly grated ginger or dried ginger will both work—use what you prefer.

Garlic

– Fresh, minced garlic or dried garlic powder will both work here. Again, use what you prefer or what you have on hand.

Red Pepper Flakes

– This adds just a bit of heat. You can also use sriracha or chile-garlic sauce if you'd prefer. Or leave it out entirely if you like your peanut sauce on the mild side.
How to make Grilled Pork Kebabs with Peanut Sauce
Making kebabs is simple. Choose a protein, gather some veggies, and whip up some kind of sauce and marinade. Then put on some good music and thread those kebab skewers—it's time to make something delicious!
Step 1: Make the peanut sauce. You'll use half of the sauce to marinate the cubes of pork and the other half to serve for dipping or drizzling when it's time to eat. 
Step 2: Toss the pork cubes with half of the peanut sauce and allow them to marinate in the fridge while you cut the vegetables and start the grill. They can also be marinated up to 24 hours in advance if you want to prep ahead. 
Step 3: Cut the vegetables. Try to cut the vegetables into similar sized pieces. Not too big and not too small – about 1-inch square-ish is perfect. 
Step 4: Thread the pork and vegetables onto the skewers, alternating as you go. Don't worry about creating perfectly repeating patterns, just do your best. 
Disclosure: This post may contain affiliate links that will not change your price but will share some commission.
Tip: If you are using wooden skewers, be sure to plan ahead and soak them in water for at least an hour to keep them from burning. We like these stainless steel metal skewers because they're inexpensive, reusable, and easy to clean. 
Step 5: Grill the kebabs to perfection. Lean pork is quick-cooking and easy to overcook so we recommend using an instant-read thermometer or your grill's temp probe if it has one so that you know when they've reached an ideal 145℉.
Step 6: Remove the kebabs to a clean plate and let them rest for 3 minutes before serving with your side dish of choice and the reserved peanut sauce for dipping or drizzling. 
Tips for Meal Prepping or Making Ahead
To make as a 'reheat & eat' meal:
Prepare the kebabs from start to finish and allow them to cool before sliding the meat and veggies off the skewers into a container with a lid (we love

these containers

for all things meal prep). It may be stored in the fridge for up to 4 days.  

Reheat in the microwave or in a covered skillet on the stovetop with a splash of water. 
To prep ahead: 
Cut the pork chops and vegetables into pieces and store separately in the fridge for up to 3 days. 

The peanut sauce can be made and stored in the refrigerator up to 4 days in advance.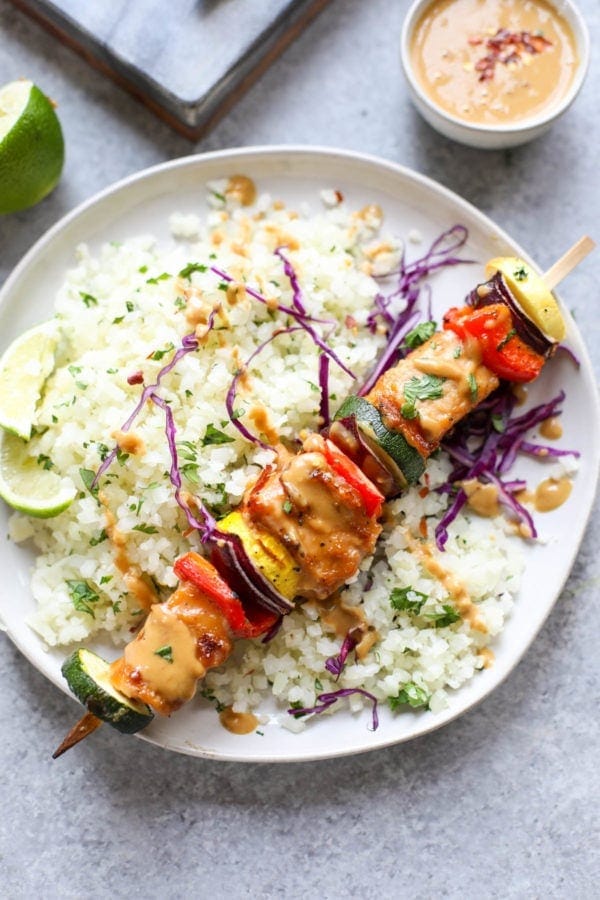 Grilled Pork Kebabs with Peanut Sauce pair well with a salad, steamed or roasted vegetables, cauliflower rice, or steamed white or brown rice or this Sheet Pan Cauliflower Fried 'Rice'.
Other pork recipes you may enjoy
A special thanks to the Minnesota Pork Board for challenging us to come up with a healthy, summertime meal and for sponsoring this blog post. Social distancing won't last forever and when it's done, we suggest you hug a farmer and thank them for the work they do.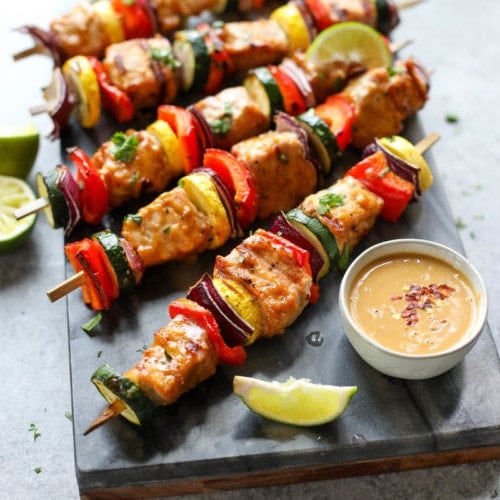 Recipe
Grilled Pork Kebabs with Peanut Sauce
Prep:
20 mins.
Cook:
15 mins.
Total:
35 mins.
Ingredients
For the Sauce:
¼ cup

creamy peanut butter 
Juice of

1

large orange (about

⅓ cup

)
Juice of

1

lime (about

1 Tbsp

)

¼ cup

coconut aminos*

4 Tbsp

. rice vinegar

¾ tsp

. freshly grated ginger

(may substitute ¼ tsp. dried ginger or to taste)

1

cloves garlic, peeled and minced

(may substitute ¼ tsp garlic powder or to taste)

¼

–

½

tsp. crushed red pepper flakes**

Salt to taste
For the Kebabs:
1

lbs. boneless, thick-cut pork chops

½

small red onion

1

medium bell pepper, any color

1

medium zucchini or yellow squash

1 tsp

. olive oil or avocado oil
Cut pork and vegetables into roughly 1-inch pieces for best results. 
Preheat grill to medium-high (400-450℉)

Make the peanut sauce by whisking or blending all of the sauce ingredients together. Taste and adjust seasonings as desired. Set half of the sauce aside for serving with the cooked kebabs. 

To a bowl, add the pork cubes and half of the peanut sauce. Toss well to coat and set aside to marinate while you cut the vegetables into pieces and the grill heats up. 

To make the kebabs, carefully thread the pork and vegetables onto skewers alternating meat and vegetables as you go. Brush the vegetables with the oil. 

Place the kebabs directly onto the grill grate. Cook for 3-4 minutes per side or until the pork registers 145℉ on an

instant-read thermometer

and the vegetables are tender and slightly charred on the edges. 

Remove kebabs from the grill to a clean plate and allow them to rest for 3-5 minutes before serving with reserved peanut sauce.
Last Step! Please leave a review and rating letting us know how you liked this recipe! This helps our business thrive so we can continue providing free recipes and high-quality content for you.
Notes
* To substitute tamari or gluten-free soy sauce for coconut aminos, use 2 Tbsp. tamari/soy sauce + 2 Tbsp. water
** May substitute sriracha or chile-garlic sauce for crushed red pepper flakes, if desired
Nutrition Information
Serving Size:

1/4th recipe (kebabs + sauce)

Calories:

297

Fat:

13g

(Sat Fat:

3g

)
Sodium:

539mg

Carbohydrate:

18g

(Fiber:

3g

Sugar:

8g

)
Protein:

28g
Dietary
Pin it Now & Make it Later!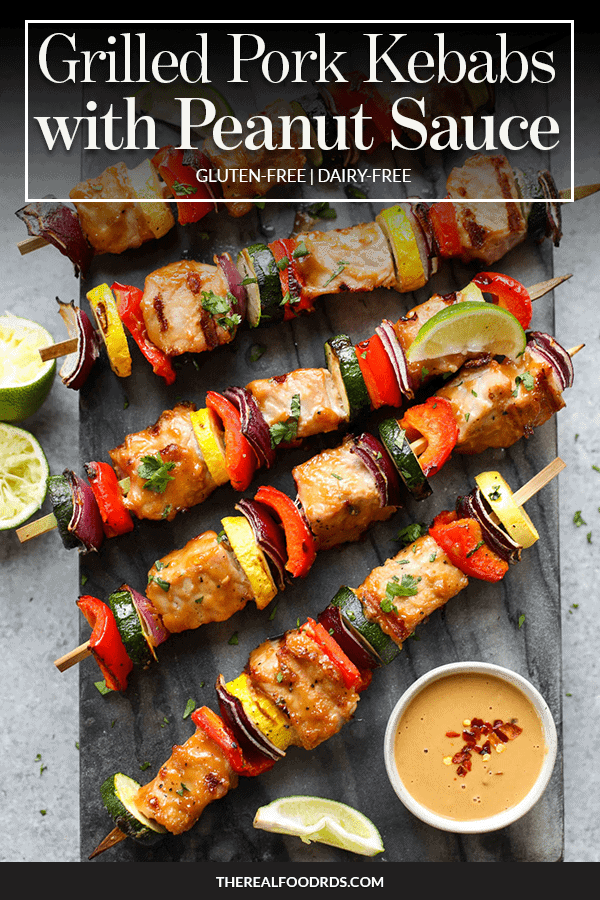 ---
This post was made possible by our friends at Minnesota Pork Board. Although we received compensation for this post, the opinions expressed here are – as always – 100% our own. Thank you for supporting the great companies we work with thereby allowing us to continue creating great recipes and content for you.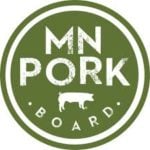 All photos and content are copyright protected. Please do not use our photos without prior written permission. If you wish to republish this recipe, please rewrite the recipe in your own unique words and link back to the source recipe here on The Real Food Dietitians. Thank you!