It's time to make your life easier with this simple, nutritious method to prepare chicken. Instant Pot shredded chicken is so tasty and versatile, it's sure to become a household favorite. If you find pressure cookers intimidating, and your Instant Pot has been in the box since the day you bought it, then it's time to dust it off and give this easy recipe a try!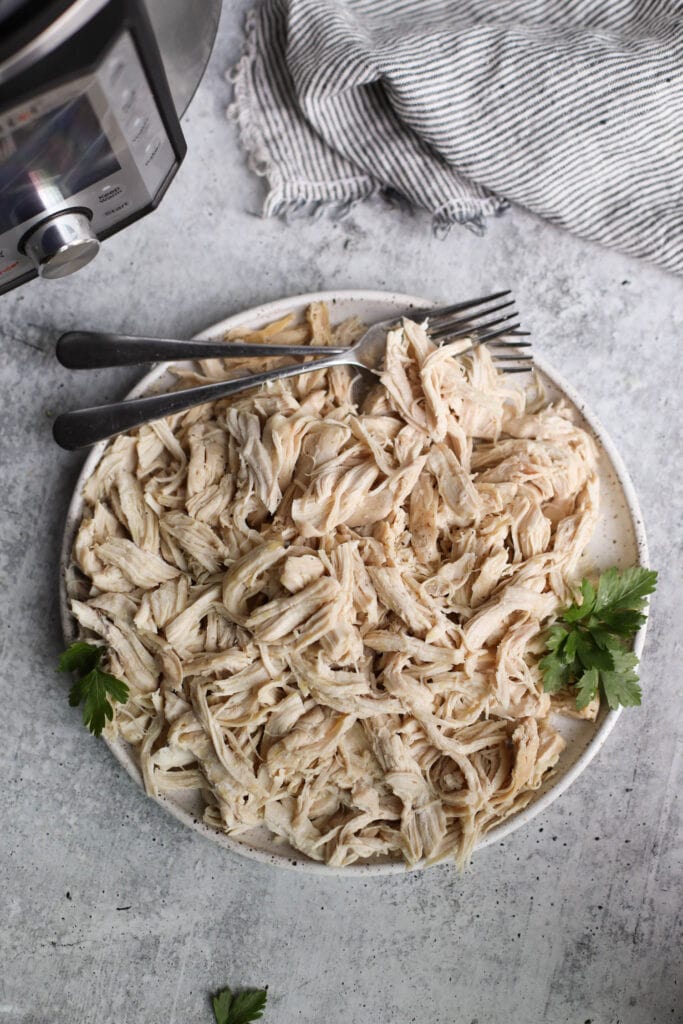 Recipe Highlights
This easy recipe is a staple for us. What are the benefits of Instant Pot shredded chicken? The benefits of Instant Pot shredded chicken include:
Only 5 minutes of

prep time

.

It's done in a

total time

of 25 minutes! 

Having cooked shredded chicken on hand makes weekday and

weeknight

cooking a breeze for busy parents and people on the go.

Instant Pot Shredded Chicken

is delicious, quick to make, and can easily be added to

soups,

stews,

salads

,

quesadillas

,

burrito

bowls, casseroles, and more.

This is a recipe you can include with almost every

meal prep

.
For those of you thinking about purchasing an Instant Pot, below is the one that we prefer. It is the perfect size for families with 4-5 members.
Use Shredded Chicken for Healthy Habits
Shredded chicken is not only tasty, it's also a healthy choice. Chicken is a lean protein, rich in vitamin B12, iron, copper, and selenium. While all cuts of chicken have no carbohydrates, certain cuts like boneless skinless chicken breast are lower in fat than chicken thighs.
The nutritional content makes shredded chicken an excellent option for those following a low-carb or gluten-free diet or those looking for an easy way to boost their protein intake. Plus, it is an easy Instant Pot recipe to start a healthy eating habit like meal prepping.
Ingredients To Make Instant Pot Shredded Chicken
What ingredients do I need to make shredded chicken? The ingredients you'll need for shredded chicken are all things you probably have on hand or can easily find at the grocery store.
Chicken: We used chicken breast, but if you prefer, you can mix in skinless chicken thighs if you like a bit of juicy dark meat.
Seasoning: Choose your favorite seasonings. If you know you're going to be making a dish like enchiladas or chicken tacos, reach for some taco seasoning, chili powder, and cumin. If you're mixing it into soups, try some oregano, garlic powder, onion powder, and paprika. If you want to keep it super simple, grab your favorite premade seasoning mix.
Broth: You want to keep your chicken nice and juicy! Chicken stock or bone broth is a must for yummy, fall-apart shredded chicken.
Sea salt and black pepper: As with any recipe you're going to season to your liking with these tabletop staples.
If you're meal prepping or plan to use the shredded chicken breast in different flavor profiles throughout the week, keep the initial seasonings simple, maybe even just salt and pepper. You can always toss the cooked chicken in BBQ sauce or season it further in the final dish.
Find the ingredient list with exact measurements in the recipe card below.
Equipment You'll Need
The main piece of equipment in this recipe is obviously the pressure pot. It doesn't have to be Instant Pot, any brand appliance that can pressure cook will do.
If you don't have a pressure cooker, you can still make shredded chicken using our method for how to make the perfect chicken breast on the stovetop.
When it comes to shredding the chicken, we feel like two forks work perfectly fine. But there are claw-like meat shredding tools you can use if you feel so inclined. You can also use an electric hand mixer or a stand mixer. If you use bone-in chicken, you cannot use the mixer method unless first remove the meat from the bones.
How To Make Instant Pot Shredded Chicken
Making shredded chicken in the Instant Pot is not just easy, it's also efficient. It offers a hands-off cooking approach, and the result is perfectly cooked, easily shreddable chicken that's ready for a multitude of recipes. Here are the basic steps:
Add chicken breasts to the Instant Pot with broth and a generous amount of seasonings of your choice. For extra juicy shredded chicken, add a mix of boneless breasts and thighs.
Close the lid and seal the pressure release valve. Select the poultry setting or choose high pressure if your model doesn't have a poultry setting.
After you select the time, your Instant Pot will say 'ON' until it reaches the right internal temperature and pressure. This can take up to 10 minutes. The timer will start when the right temp and pressure are achieved.
Once the time is up, turn the Instant Pot to 'keep warm/cancel'. You do not need to wait for a natural release of pressure. Turn the valve to venting for a quick release. After the pressure is released entirely, remove the lid and transfer the chicken from the Instant Pot to a large pan.
Shred the chicken with whatever method you prefer. We use two forks because it works and we have them in our kitchens but a set of these bear claw shredding tools are super handy too
Once shredded, place the chicken back into the Instant Pot and toss it with the chicken broth. This helps to enhance the juicy factor. No one wants dry chicken.
Remove the chicken and enjoy it however you please. Or allow it to cool for 30 minutes before storing in a large glass storage container with lid in the refrigerator for up to 4 days. For longer storage, chicken may be frozen for up to 6 months.
For serving size and the complete directions and ingredient amounts, scroll down to the recipe card below. All of our recipes include the nutrition analysis, listing calories (kcals), protein, carbohydrates/carb, fiber, sugar, sodium, cholesterol, and more per serving.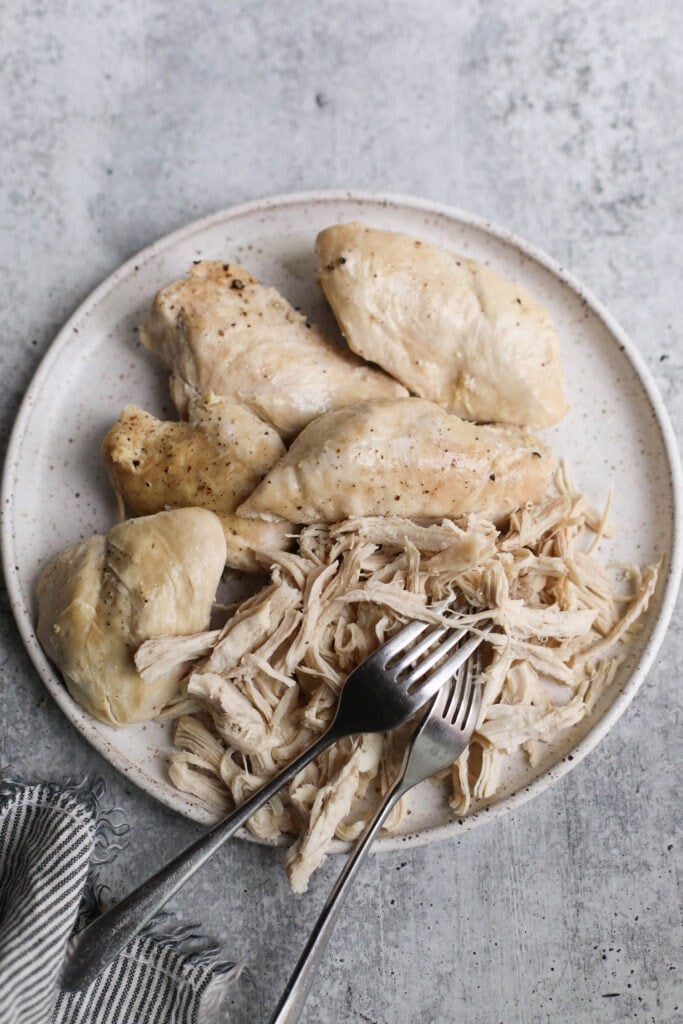 How To Store Your Leftovers
To store any shredded chicken that you have left over, or if you made a batch specifically for meal prep, allow it to cool first. Transfer your shredded chicken to an airtight container and keep it in the fridge for up to 4 days.
Portion and Freeze Shredded Chicken
For longer storage and quick healthy meals, you can freeze your Instant Pot chicken breast. Portion the chicken out into 4 oz. and freeze it in individual bags. Lay them flat in the freezer and you have an easy-to-grab, healthy addition on hand for busy days.
How To Use Shredded Chicken
This Instant Pot shredded chicken works perfectly in all types of meals. It's a great addition to a tortilla soup topped with cilantro. You can toss it in a butter curry sauce, make buffalo chicken casserole, add it to a spinach salad, or make a satisfying chicken salad sandwich or lettuce wrap.
What are some of the best Instant Pot shredded chicken recipes? Some of the best Instant Pot shredded chicken recipes include:
The options here are endless, and once you get the hang of 'instapot' cooking, you can try all sorts of different seasonings and combinations.
Frequently Asked Questions
Why is my Instant Pot shredded chicken rubbery?
Rubbery Instant Pot shredded chicken is usually the result of overcooking the meat. If you used thinner pieces of chicken or did not adjust the cook time to the correct weight, it can result in dry and chewy chicken. You can salvage your chicken by serving it with a sauce to add moisture and flavor.
How long does chicken need to be in the Instant Pot?
The cook time for chicken in the Instant Pot will vary depending on the weight, the cut, and the size of the pieces. In general, for boneless chicken breasts, we recommend cooking 3 lbs of chicken for 12 minutes, with incremental time increases with more chicken added.
What's the difference between shredded chicken and pulled chicken?
There is no difference between shredded chicken and pulled chicken. We could have easily called this Instant Pot Pulled Chicken and it would be the exact same recipe.
How many calories are in one serving of Instant Pot shredded chicken?
A 3-ounce serving of this Instant Pot shredded chicken recipe has only 120 calories!
How long should I cook 5 lbs of chicken breast in the Instant Pot?
You should cook 5 lbs of chicken breast in the Instant Pot for 15 minutes.
Can I use frozen chicken breasts in the Instant Pot?
Absolutely! You'll have to add more time under pressure to allow the chicken to cook all the way through.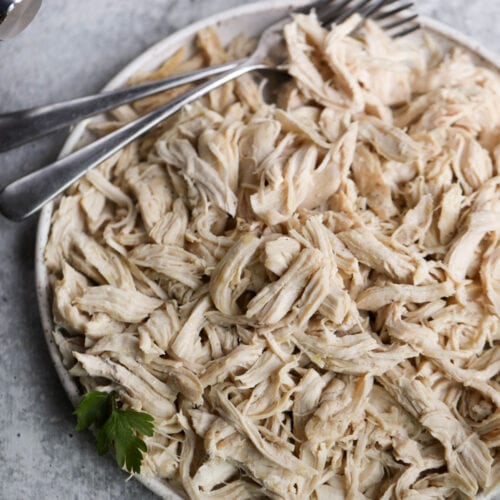 Recipe
Instant Pot Shredded Chicken Recipe
Super simple Instant Pot shredded chicken is a great way to cook chicken. The results can be used in a variety of dishes from salads to enchiladas and casseroles, making it a go-to for meal planning.
Prep:
5 mins
Cook:
25 mins
Total:
30 mins
Servings:
8

–

12

servings

1

x
Ingredients
2

–

3

lbs. boneless, skinless chicken breasts (or a mix of breasts and thighs)

2 tablespoons

seasoning of choice, optional

⅔ cup

chicken broth or water
Sea salt and black pepper
Season

chicken breasts

generously with seasonings of choice and/or salt & pepper.

Place

chicken breast

in the Instant Pot with broth.

Place the lid on the Instant Pot, lock in place and turn the valve to sealing.

Select the poultry setting and set the timer for 10 minutes.

Once the time is up, select 'cancel' and switch the valve to

venting

to allow the pressure to release.

Once all of the pressure is released, remove the lid and transfer the chicken to a plate or shallow dish.

Shred the chicken with two forks, or if you'd like, allow the chicken to cool slightly then cut into cubest.

Once shredded, transfer the chicken back to the Instant Pot and toss with the broth..

Serve

the chicken over a salad, in a soup or stew, as is, or however you please.

Store leftovers in an airtight container in the fridge for up to 4 days. For longer storage, store in the freezer for up to 6 months.
Last Step! Please leave a review and rating letting us know how you liked this recipe! This helps our business thrive so we can continue providing free recipes and high-quality content for you.
Nutrition Information
Serving Size:

3 oz. shredded chicken (~1/2 cup)

Calories:

125

Fat:

3 g

(Sat Fat:

1 g

)
Sodium:

125 mg

Carbohydrate:

0 g

(Fiber:

0 g

Sugar:

0 g

)
Protein:

26 g

Cholesterol:

88 mg
Dietary
Pin Now to Make It Later!
---
For ultimate success, we highly recommend reading the tips in the full blog post above. All photos and content are copyright protected. Please do not use our photos without prior written permission. If you wish to republish a recipe, please rewrite the recipe in your own unique words. Link back to the source recipe here on The Real Food Dietitians. Thank you!