Balsamic vinegar, garlic, toasted almonds and goat cheese maximize roasted veggie flavors in this warm Balsamic Roasted Vegetable and Quinoa Salad.
This warm Balsamic Roasted Vegetable and Quinoa Salad is a perfect side dish for a weeknight dinner or could even make a beautiful addition to a special occasion meal. It pairs ever so nicely with chicken, beef, pork, and fish or because of it's heartiness, and it can be served as a satisfying plant-based meal. Leftovers can be enjoyed warm or cold.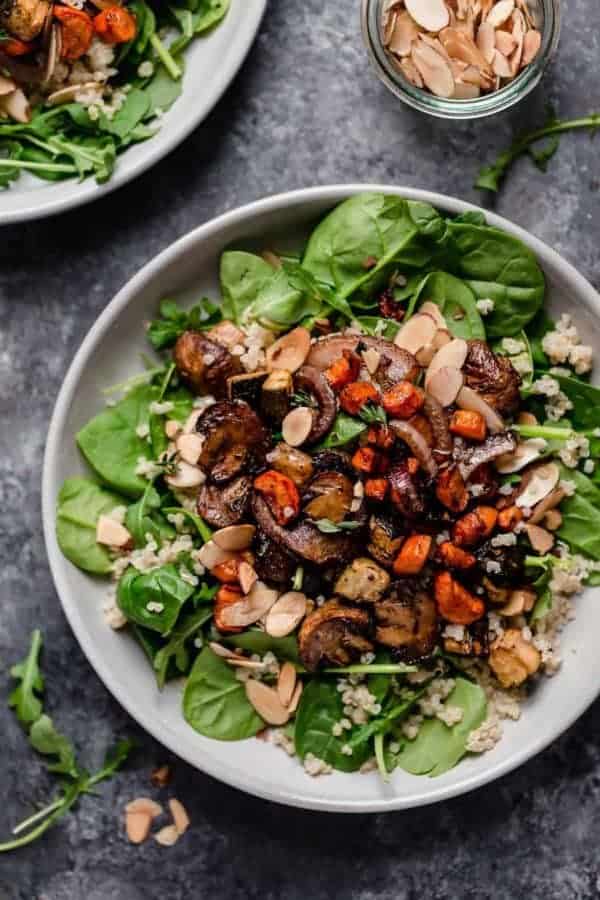 But first…a little rant on why all foods fit.
If you found us through the Whole30, you may be thinking, what the heck?! I thought they didn't eat grains or that they only share Whole30 and Paleo recipes. Well, I'm here to tell you that we believe all foods fit. Yes, even treats and goodies and things that come out of packages. Now we understand that the Whole30 (or any diet program for that matter) has a time and a place, but as we all know, it's not a forever thing.
I know the buzz word, balance, is overused and unfortunately has kind of lost its meaning, BUT it truly is all about balance. Period.
The Real Food RDs real food philosophy is:
Eat mostly (keyword…mostly) whole, real foods in a well-balanced manner.
Eat the foods that nourish YOUR body and make you feel YOUR best. (Hint: This looks different for everyone.)
Eat your veggies (and fruits, too).
Indulge once in awhile.
Avoid diet labeling. Why add stress to your life by forcing yourself to stick to one specific diet? It's not worth it and we believe that it isn't necessary to achieve optimal wellness to feel, look and be your best.
Phew! This topic has been weighing heavy on my heart, so thank you for letting me get that off of my chest. Be on the lookout for a blog post that will expand more on this topic.
So anywho, real food is food in its most natural form. Real food includes quality proteins from both animal- and plant-based sources, whole grains, bean and legumes, all the veggies and fruits, healthy oils and organic (preferably full-fat) dairy. Quinoa most definitely fits into the "real food" umbrella.
You can download our Real Food List here.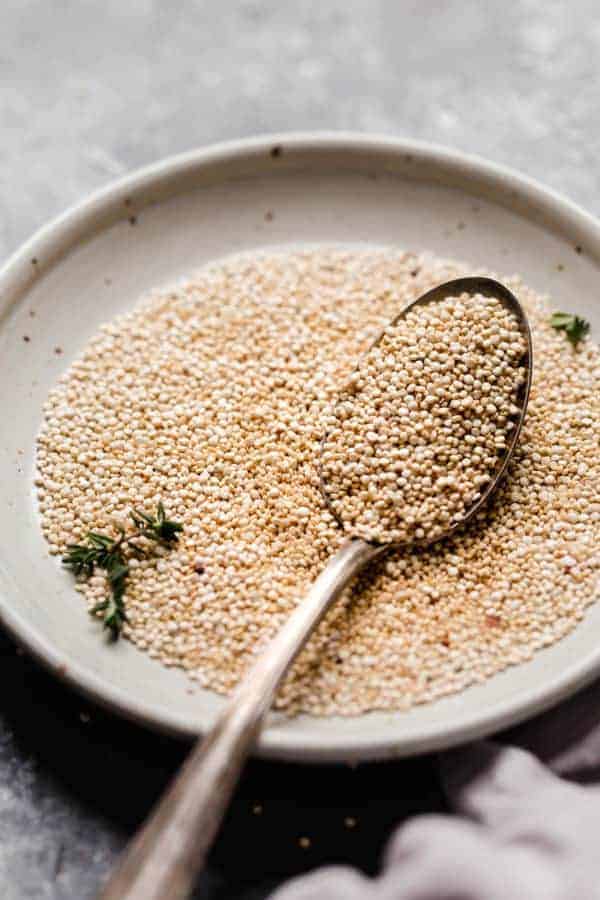 So let's give a little shoutout to quinoa. A fabulous grain for many reasons.
Here are a few reasons why I think quinoa, a gluten-free grain, is so great:
It's a complete source of protein which is rare in the world of grains. This means that it contains all of the amino acids necessary for our nutritional needs. It's especially great for those that consume a diet free of animal sourced foods.
It's high in iron and calcium, and is a good source of manganese, magnesium and copper.
It's a good source of fiber.
It's versatile in that it can be used in both sweet and savory cooking.
We have several recipes on our blog that include quinoa including: Quinoa Spinach Turkey Burgers, Tex-Mex Quinoa Salad with Black Beans and Corn, Pepperoni Pizza Quinoa Bake, Southwest Quinoa Bake, and Roasted Brussels Sprouts Quinoa Salad.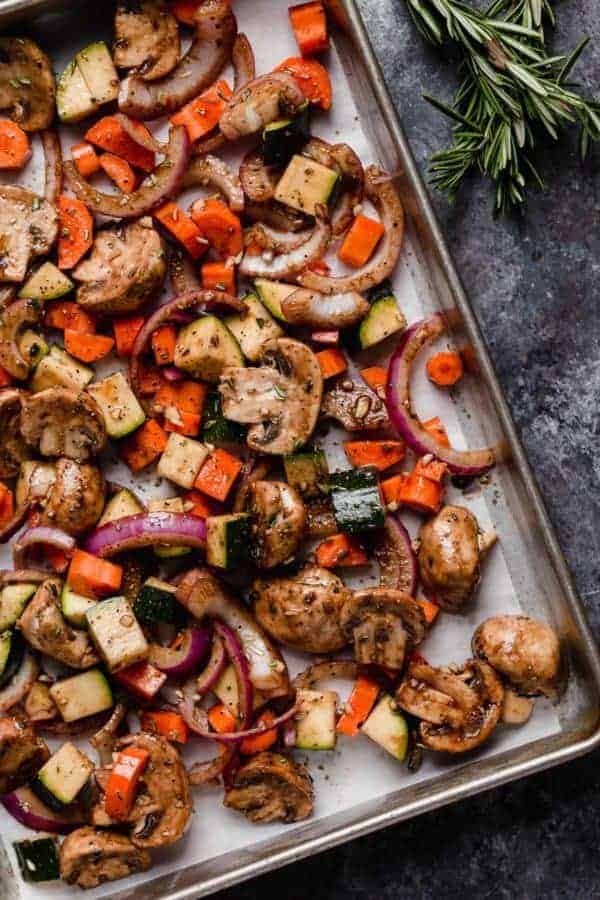 Roasted vegetables are always a good choice.
I was just talking to Jess the other day about how I LOVE roasted veggies. They are truly one of my most favorite foods. I love the sweetness that the roasting brings out in them and when they get the slightly crisp edges. Adding different herbs and spices is a fun way to mix up the flavors. Also, the possibilities are truly endless with the countless number of different vegetables that are perfect for roasting. This Balsamic Roasted Vegetable and Quinoa Salad has it all. The hearty quinoa, the perfectly roasted veggies, and the flavor from the balsamic vinegar and garlic. Feel free to mix up the vegetables in this recipe based on what you have on hand or what sounds best to you. I'm thinking I'll add some Brussels next time.
Balsamic vinegar, garlic, toasted almonds and goat cheese maximize roasted veggie flavors in this warm Balsamic Roasted Vegetable and Quinoa Salad.
Click To Tweet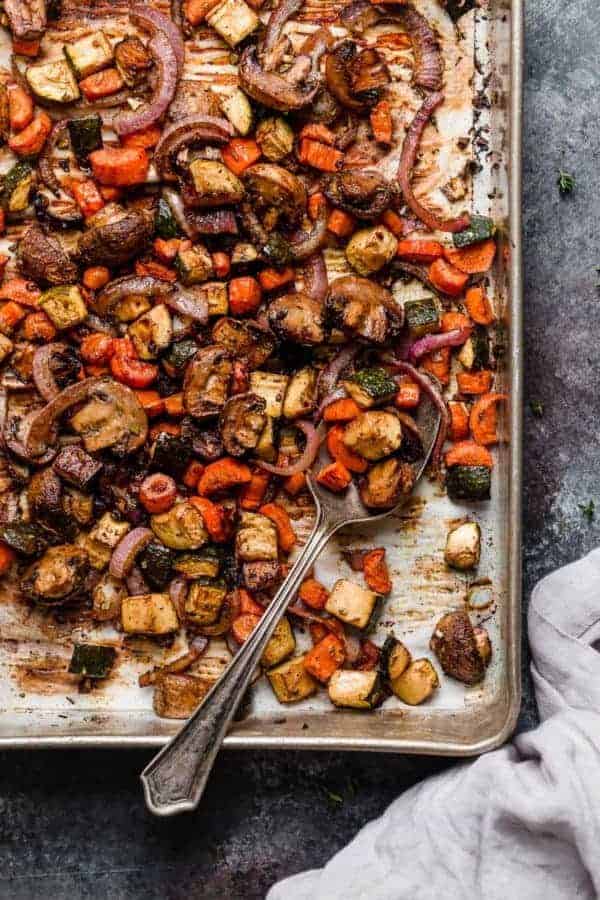 Take this Balsamic Roasted Vegetable and Quinoa Salad to the next level with goat cheese!
Totally optional, but totally delicious, adding soft goat cheese to this salad is indescribably delicious. When added to the warm salad the goat cheese gets a little melty and all of the flavors mesh to make one hell of a scrumptious fork full. Who says healthy eating has to be boring? For those of you reading this that think healthy eating is boring, allow me to prove you wrong with this recipe.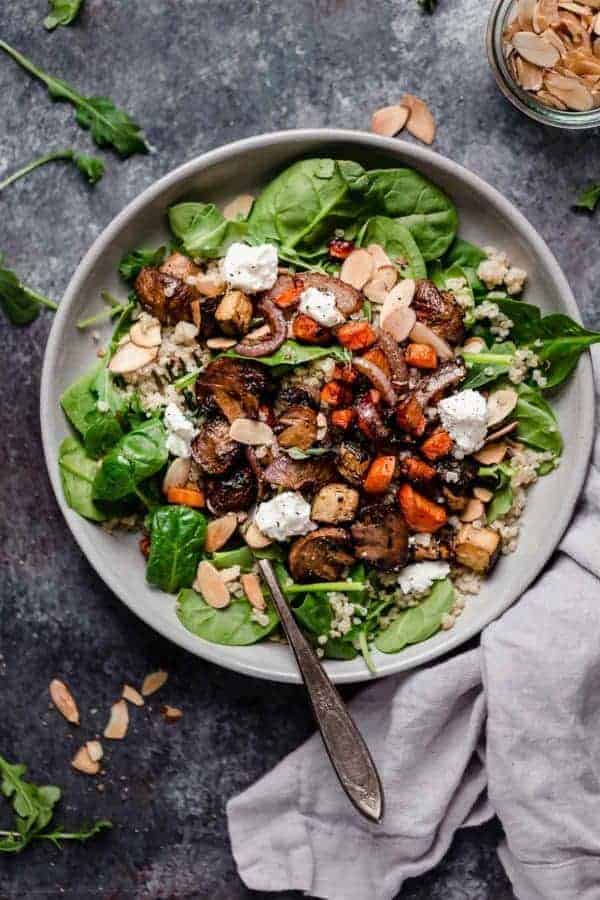 Serve Balsamic Roasted Vegetable and Quinoa Salad over a bed of greens with some toasted almonds on top.
My favorite way to serve this salad is over a bed of greens. I'm a big fan of the arugula and spinach mix from Earthbound Farms. More veg for the win! Then, top the salad with some toasted almonds to add a little crunch. Seriously, this salad is just the best! As I stated above, feel free to serve this salad with your favorite quality protein such as chicken, steak, pork or fish or enjoy it as a tasty and satisfying plant-based meal. Also, don't forget that leftovers are great served warm or cold. Have I ever mentioned I love leftovers?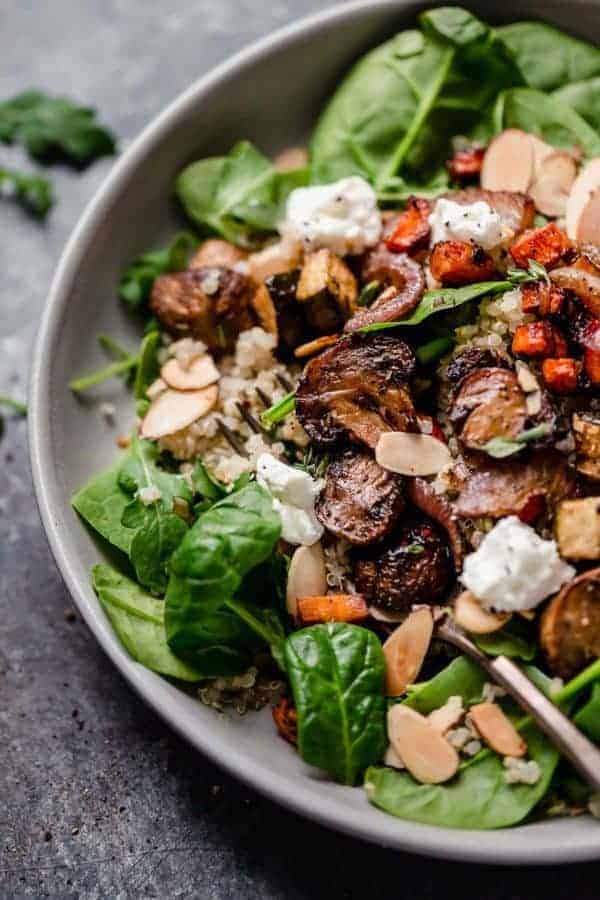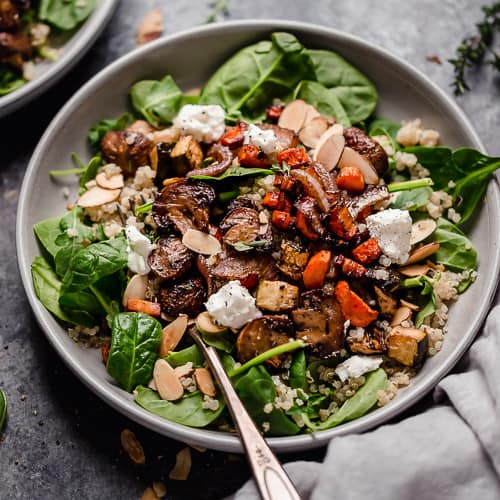 Recipe
Balsamic Roasted Vegetable and Quinoa Salad
A beautiful and tasty salad that makes for a perfect weeknight dinner when serve with your favorite quality protein such as chicken, steak, pork or fish or you can enjoy it as a tasty and satisfying plant-based meal. Leftovers make for a perfect next day's lunch, served warm or cold.
Prep:
15 mins
Cook:
20 mins
Total:
35 mins
Ingredients
½ cup

dry quinoa , rinsed in a fine-mesh colander under cool running water

¾ cup

water

2

medium carrots, cubed into small chunks

1

medium zucchini, cubed

8 oz

. mushrooms, halved

1

small red onion, sliced

4

cloves garlic, minced

1/2 tsp

. rosemary, dried (such as Simply Organic)

½ tsp

. sea salt

¼ tsp

. black pepper

2 Tbsp

. olive oil

2 Tbsp

. balsamic vinegar

¼ cup

sliced almonds, toasted

2

–

3

oz. soft goat cheese, crumbled (optional-omit for dairy-free)
Greens of choices (optional)
Pre-heat oven to 400ºF.
Place the chopped vegetables and garlic on a baking sheet. Add rosemary, salt and pepper and toss with olive oil and vinegar so that vegetables are evenly coated.
Place vegetables in oven and bake for 18-20 minutes or until carrots are tender, tossing halfway through the baking time.
Meanwhile, combine water and rinsed quinoa in small sauce pan. Bring to boil then reduce heat, cover and cook for 15 minutes. Once quinoa is cooked, fluff with a fork then place in a large serving dish.
Add roasted vegetables to quinoa and toss to combine OR serve roasted veggies right on top of quinoa.
Optional: Add a bed of greens such as arugula to a serving bowl, and serve salad over greens.
Top with almonds and goat cheese. Serve warm or chilled.
Last Step! Please leave a review and rating letting us know how you liked this recipe! This helps our business thrive so we can continue providing free recipes and high-quality content for you.
Notes
To make dairy-free/vegan: Omit the goat cheese
To make paleo/Whole30: Omit the goat cheese and use cauliflower rice
To make nut-free: Top with toasted pumpkin seeds or sunflower seeds
Nutrition Information
Serving Size:

1/4 of recipe

Calories:

191

Fat:

8

Sodium:

310

Carbohydrate:

25

(Fiber:

7

Sugar:

5

)
Protein:

4
Dietary
We hope that you love this quinoa salad recipe! Comment below and let us know if you give it a try.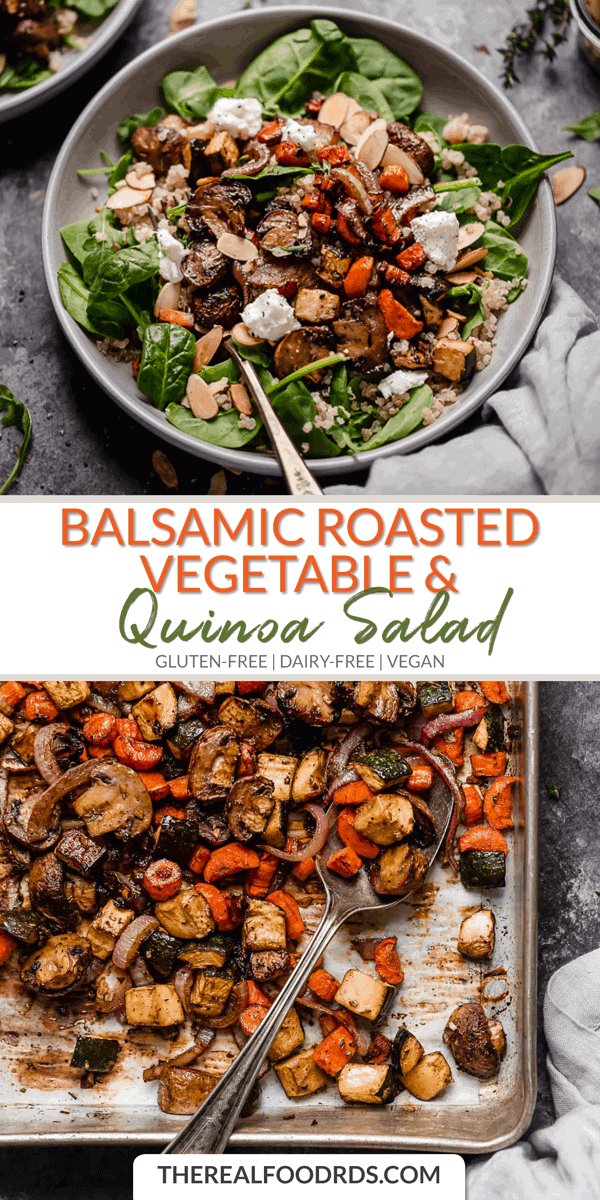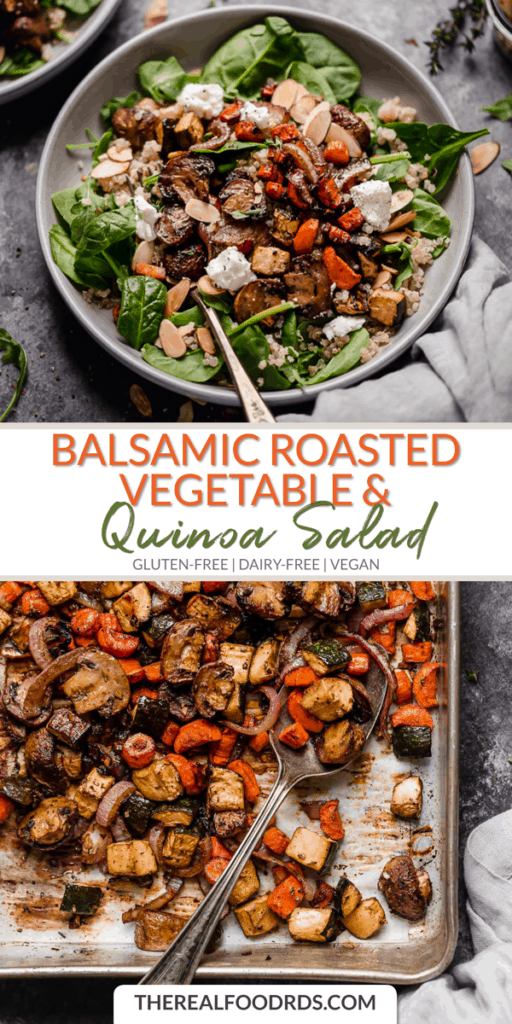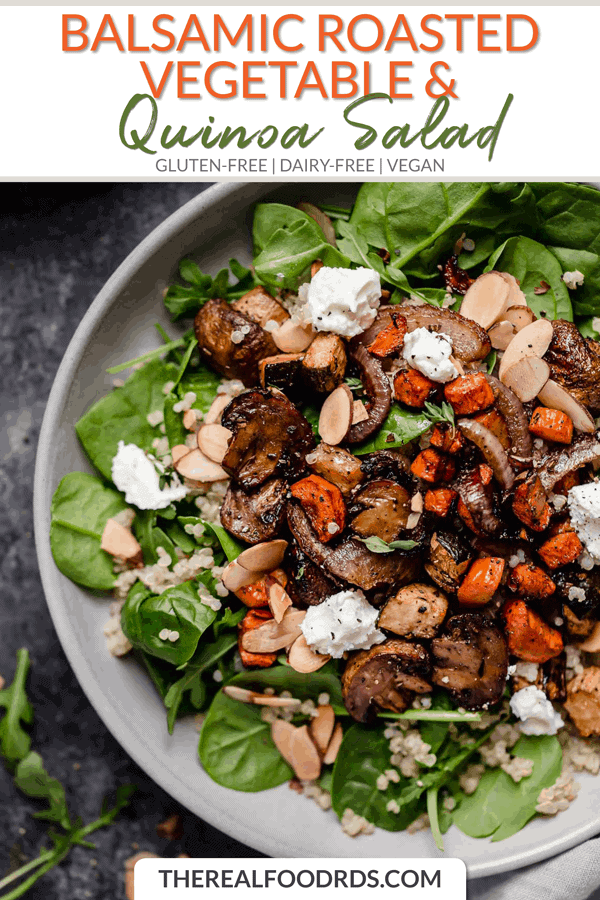 ---
Photo Credit: The photos in this blog post were taken by Jess of Plays Well with Butter.
This post may contain affiliate links which won't change your price but will share some commission.
All photos and content are copyright protected. Please do not use our photos without prior written permission. If you wish to republish this recipe, please rewrite the recipe in your own unique words and link back to the source recipe here on The Real Food Dietitians. Thank you!