If you're looking for new family-friendly dinner options that are easy, well balanced, and nutritious, these 15 Healthy Crockpot Chicken Recipes are just the type of recipes you need! These recipes are full of flavor, great for make ahead, and are made from simple, real-food ingredients for meals you can feel good about!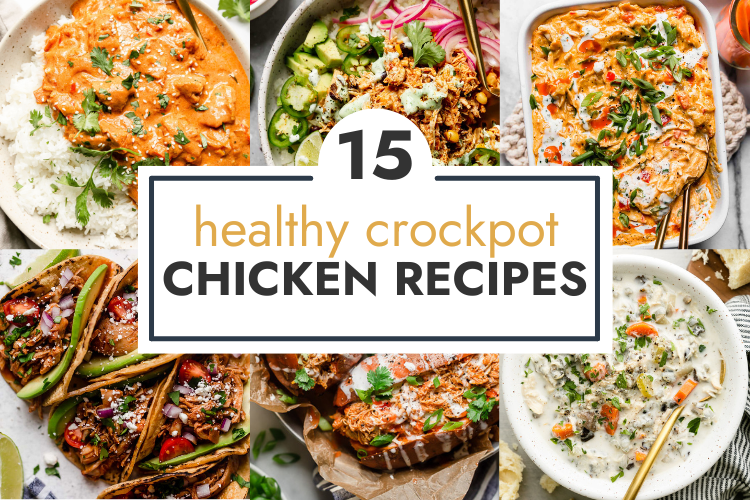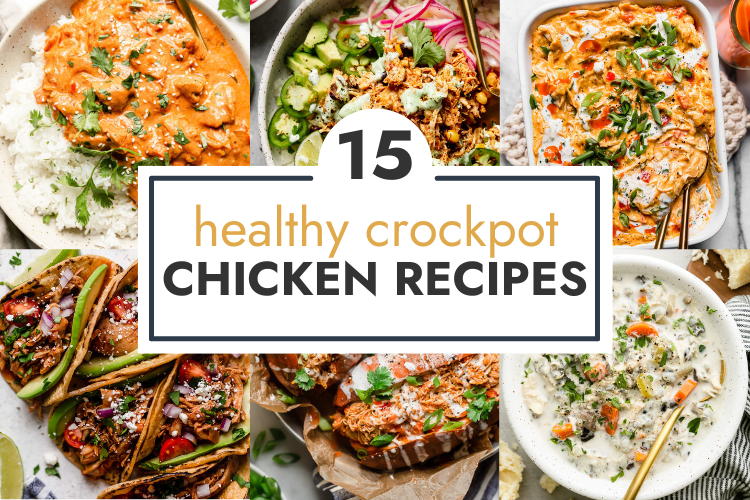 Easy Crockpot Chicken Recipes for Every Occasion
There's nothing more reliable than a good chicken recipe when you need a crowd-pleasing meal, and the recipes in this collection are lifesavers on hectic days. Made in the crockpot, each slow cooker chicken recipe here requires minimal prep work, meaning they can be prepared in the morning and will be waiting for you when it's time to eat later. Dinner doesn't get better than that! 
Plus, we've rounded up all our favorites to provide a wide variety of tastes, textures, and ingredients to fit all your dietary and taste preferences. Whether you're looking for a way to spice up your Taco Tuesday, need something you can bring to a potluck, or are just looking for a new option to add to your weekly meal prep, we've got you covered with these 15 healthy crockpot chicken recipes! 
Nutrition Spotlight: Chicken
This versatile protein comes in many cuts and is a budget-friendly ingredient that's also a healthful addition to meals. Due to its fairly neutral flavor, chicken tastes great is so many styles of cooking, including sheet pan meals, casseroles, skillet dinners, and more. 
Chicken is a complete protein and a rich source of B vitamins and some minerals. The nutrients in chicken help with: 
muscle building and repair

feelings satisfied from meals

supporting immune functions

improving bone health
15 Healthy Crockpot Chicken Recipes
Frequently Asked Questions
Is it okay to put raw chicken in a crockpot?
Yes! Crockpots are designed to cook raw meat. Thanks to the high temperature and slow cooking time, they work well, cooking the chicken all the way through. To be extra careful, use an instant-read thermometer to ensure your chicken reaches an internal temperature of 165° F. 
Does chicken have to be fully covered in liquid to cook in a crockpot? 
The entire pot does not have to be filled to the top, but using enough liquid to submerge the meat helps it cook evenly and ensures it stays tender and juicy. 
Is it better to cook crockpot chicken on high or low? 
We recommend cooking your chicken on a low setting to help prevent it from becoming tough or drying out. 
How to Store
Each crockpot chicken recipe will store slightly differently. So, be sure to check the recipe cards for specific storage instructions. However, in general, leftovers can be transferred to an airtight container and stored in the refrigerator for 3-4 days. Or, for a longer-lasting option, store them in the freezer for up to 3-4 months.
How to Reheat
To enjoy leftovers, warm them up by heating them in the microwave, oven, or on the stovetop. Or, place them back in the crockpot on warm until they are heated through!
When to Serve These Healthy Crockpot Chicken Recipes
One of the best things about these crockpot chicken dishes is that there's something for every occasion! Add them to your meal prep rotation. Or, prepare them in advance for gamedays and potlucks, whip them up for holidays, and everything in between!
Pin Now to Make Later!