When you crave curry, nothing else but curry will do – we get it! That's why we love this Instant Pot Lamb Curry for a hearty, satisfying meal with very little clean up.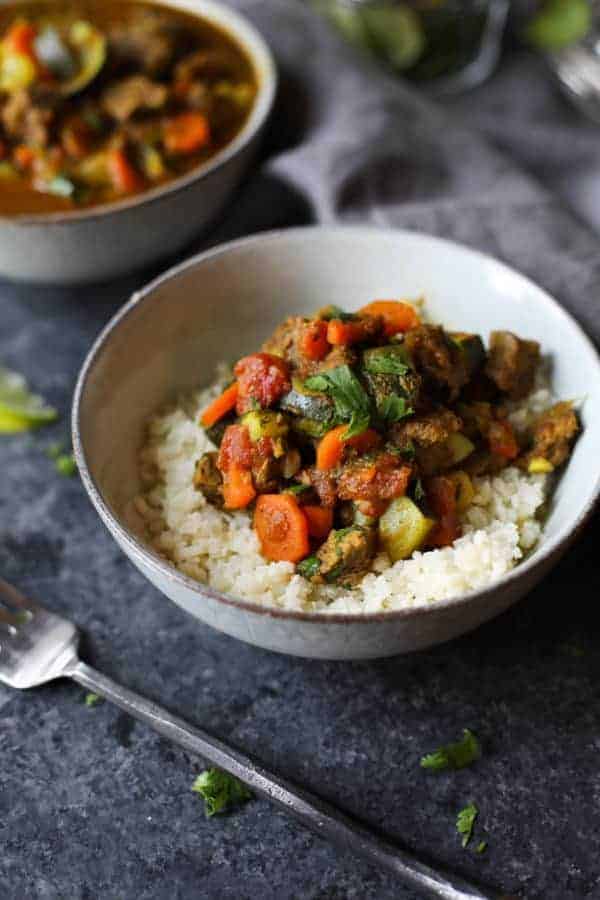 Fancy a quick curry without the wait and all that stirring?
Stacie and I both adore curry and have, what may be, a borderline obsession with the stuff. The warm, aromatic spices and silky smooth coconut milk-infused sauce…oh curry, why you gotta be so good?!
What we aren't all that jazzed about though is the time it takes to make a really badass curry. There's a lot of stirring and sautéing that goes on and a fairly long simmer time if you're using lamb because you want it to be really tender (which I do and I suspect you do, too). But all that stirring and waiting is a thing of the past thanks to this super easy Instant Pot Lamb Curry!
So for a curry in a relative hurry my go-to is this Instant Pot Lamb Curry. I bought an Instant Pot just over two years ago with the intention of using it to make bone broth. But since then I've starting making everything from soup to chili to rice and even yogurt in it. It's one of the few appliances that gets a full-time spot on my kitchen counter because I use it nearly everyday. And sometimes even 2 or 3 times a day.
I know what you're thinking. Pressure cooking is SCARY and you could blow up. We've all heard the horror stories of pressure cooking gone terribly wrong but I'm here to say that the Instant Pot is so easy to use that it's nearly foolproof. And it has a load of safety mechanisms built in so you'd be hard pressed to blow the thing up.
I have the Instant Pot IP-Duo60. It's a 7-in-1 Multi-Functional Cooker that functions as a Pressure Cooker, Slow Cooker, Rice Cooker, Yogurt Maker, Steamer and Warmer and has a indispensable sauté/browning feature. This last feature means I no longer have to brown my meat or sauté my onions on the stovetop first (something I like to do to enhance the flavor of a dish – but it's not necessary if you're short on time).
In this recipe we use the sauté function to simmer the curry after cooking to reduce and thicken the sauce and cook the zucchini before serving.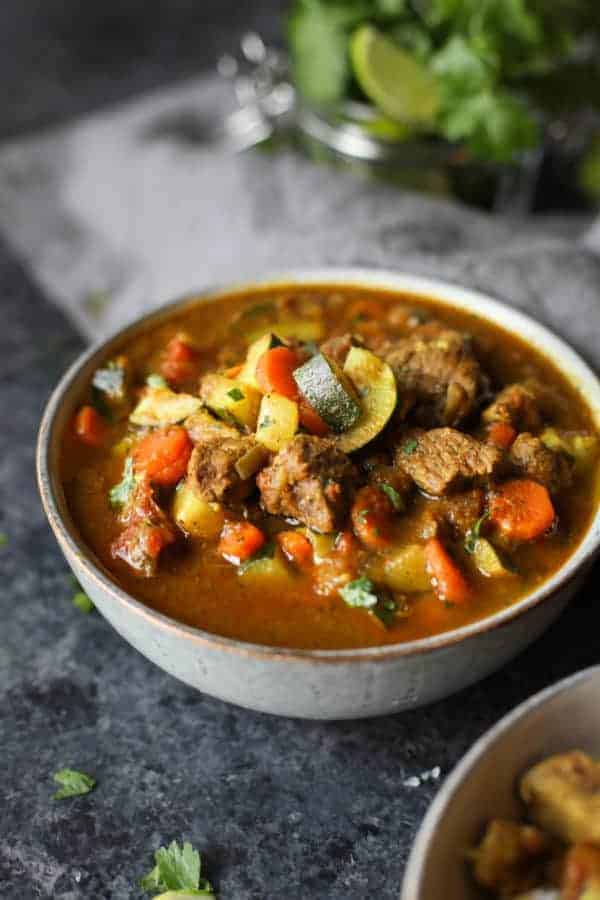 Save time and energy with pressure cooking
Pressure cooking uses roughly 70% less energy than stovetop or oven cooking methods and you need only a quarter of the water you'd normally use making it a great way to save energy and water. I love using mine in the summer when I want to keep the kitchen cool – for example, it's a great for making corn on the cob in just 4 minutes or steaming cubed potatoes for the perfect potato salad in just 10 minutes.
I also love using it in the cooler months when I don't have time to plan for an 8-10 hour slow cook time for a stew or when I want to make the easiest spaghetti squash or sweet potatoes. The fact that it's not making my energy meter spin out of control is another bonus (and cash that stays in my pocket).
Not only does pressure cooking use less energy, it also reduces the amount of time it takes to get a meal on the table. That's why I love the pressure cooker for dishes like stews and curries that use tougher cuts of meat or hard vegetables like carrots or winter squashes.
Instant Pot IP-Duo60
Prep ahead for an easy weeknight dinner
To save time I add the lamb to a mixture of coconut milk, lime juice, garlic, ginger and salt and pepper either the night before or in the morning and allow it to marinate until I'm ready to cook. I also chop up the veggies and store them in the fridge so I can knock another thing off the list. This takes me about 10-15 minutes.
Then when I'm ready to cook I just need to add the lamb with marinade, canned tomatoes, spices, vegetables and ghee to the pot of the Instant Pot. I set the cooker to Manual (high pressure) for 20 minutes then turn my focus to making some cauliflower rice. (If you're new to cauliflower rice, be sure to check out our step-by-step photo tutorial for making it here.) Or sometimes I use Trader Joe's frozen cauliflower rice and take the extra time to go outside and check on the garden or the chickens or read a book to my daughters or help them with their knitting projects.
Wondering if you should purchase grass-fed beef? Learn how to choose quality red meat in this post!
You can release the pressure as soon as the pot signals that cooking time has ended, however, if you can give it another 15 minutes to naturally release some of the pressure on it's own before you open the steam release valve. Waiting to release is called 'natural release' and you get a much richer tasting curry and the meat will be more tender as it has a chance to rest and absorb some of the juices in the sauce. But if you can't wait, that's fine. Release the pressure and get onto the important things – like filling your belly and nourishing your body.
Clean up is a breeze – just wash the inner pot and lid (I remove the seal and allow it to air dry) and toss all the dishes into the dishwasher. Done. 

So when time has you under pressure why not take the pressure off with this easy Instant Pot Lamb Curry?
You'll be so glad you did because the leftovers are outrageous (and one of my favorite egg-free breakfasts). Now, get cooking!
Recipe
Instant Pot Lamb Curry
Nothing warms you up and satisfies a big hunger like a hearty bowl of curry with vegetables. Using the Instant Pot gives you tender meat and veggies in very little time. Adapted from Lamb Curry recipe in The Instant Pot Electric Pressure Cooker Cookbook by Laurel Randolph.
Prep:
30 mins
Cook:
20 mins
Total:
50 mins
Ingredients
1 ½

lbs. cubed lamb stew meat (may substitute chicken or beef)

4

cloves garlic, minced

1

-inch piece fresh ginger, grated

½ cup

coconut milk
Juice of

½

lime

¼ tsp

. salt + more to taste
Pinch of black pepper + more to taste

1 Tbsp

. ghee or coconut oil (omit or decrease if the lamb is well-marbled and fatty) 

1

(14 oz.) can diced tomatoes

1 ½ Tbsp

. garam masala (may substitute yellow curry powder)

¾ tsp

. turmeric (omit if using curry powder)

1

medium onion, diced

3

medium carrots, sliced

1

medium zucchini, diced
Cilantro, chopped (optional)
Combine meat, minced garlic, grated ginger, coconut milk, lime juice, sea salt and black pepper in a container with a lid. Mix together and marinate in refrigerator for 30 minutes and up to 8 hours.
After marinating, add meat with marinade, tomatoes with their juice, ghee, garam masala, onions and carrots. Lock lid into place then set the steam release handle to 'Sealing'. Select Manual and cook at high pressure for 20 minutes.
When cooking time is up, allow Instant Pot to naturally release pressure for 15 minutes then flip the steam release handle to 'Venting' to release the remaining steam before attempting to open the lid.
Remove the lid then switch the Instant Pot to saute (normal) setting, stir in diced zucchini and simmer for 5-6 minutes without the lid or until zucchini is tender and sauce is slightly thickened.
Garnish with chopped cilantro and serve over rice or cauliflower rice.
Last Step! Please leave a review and rating letting us know how you liked this recipe! This helps our business thrive so we can continue providing free recipes and high-quality content for you.
Notes
All photos and content are copyright protected. Please do not use our photos without prior written permission. If you wish to republish this recipe, please rewrite the recipe in your own unique words and link back to the source recipe here on The Real Food Dietitians. Thank you!
Nutrition Information
Serving Size:

1/6th recipe

Calories:

230

Fat:

9g

Sodium:

432mg

Carbohydrate:

11g

(Fiber:

3g

Sugar:

5g

)
Protein:

25g
Dietary
Pin it now & Make it later!
---
This post may contain affiliate links which won't change your price but will share some commission.
SaveSave