A slice of fresh baked healthy, gluten-free zucchini bread is a great afternoon snack or part of a healthy breakfast. This classic zucchini bread recipe is elevated with our secret ingredient that makes each slice soft, moist, fluffy, and extra delicious.
A Winning Recipe for Gluten-Free Zucchini Bread
Whether your garden is giving you a plethora of fresh zucchini, you've grabbed a few at the farmer's market, or you have frozen zucchini stashed in your freezer (such a clever one you are!), this zucchini bread recipe is a great way to use up that zucchini bounty!
Filled with heaping cups of shredded zucchini and a handful of walnuts, this loaf is packing some great nutrition and also satisfies your zucchini bread craving. It's also so easy to mix together and bakes up to golden perfection. The only hard part is waiting for it to cool before cutting yourself a dreamy slice!
Our Secret Ingredient for the Best Gluten-Free Zucchini Bread
We love to share all of our kitchen secrets with you, including the secret ingredient for this thick and soft and oh, so warm-tasting zucchini bread. What's the secret, you ask? It's molasses! Yes, a tablespoon of molasses makes this zucchini bread jog easily to first place on the podium amongst all other recipes.
Blackstrap molasses is thick and extra dark, giving this bread a nice golden color and a warm, cozy taste with each bite. If your pantry doesn't already hold a jar of molasses, be sure to grab some at the store before making this bread because it's one ingredient you won't want to skip!
Why this Zucchini Bread Recipe is Good for You
Enjoy a thick slice of this bread and reap the benefits! Loaded with antioxidant-filled zucchini and heart-healthy walnuts, this is a baked good you can enjoy guilt-free.
Zucchini –

zucchini is actually a fruit (mind-blowing, right?) and both the skin and flesh are packed with vitamins, minerals, and plant compounds. Zucchini is a great source of vitamin A, vitamin C, potassium, and magnesium along with antioxidants. It's also a good source of soluble and insoluble fiber, helping to promote healthy digestion.

Walnuts –

walnuts may be small, but they pack quite a healthy punch! Walnuts are a great source of fiber, vitamins and minerals, antioxidants, and healthful fats. They also contain a high level of polyphenols that can help ward off chronic inflammation.

Molasses –

molasses is our secret ingredient in this zucchini bread as it offers the bread a phenomenal taste, but it's also packed with nutrients. Molasses provides calcium, iron, magnesium, and vitamin B6, so adding a tablespoon here and there can add up. While it may not be 'move over bananas', molasses also totes a hefty dose of potassium, making it an A+ ingredient in our book.
Ingredients for Healthy Zucchini Bread
Eggs – for choosing quality eggs, read here
Sugar –

can use coconut sugar or cane sugar

Coconut oil –

can swap in avocado oil or, for an oil-free version, use the same amount of unsweetened applesauce

Vanilla extract
Molasses – B

lackstrap molasses is our favorite

Gluten-free flour blend – we like Bob's Red Mill 1-to-1 Gluten-Free Baking Flour or King Arthur Measure-for-Measure Gluten-Free Flour. You can also use regular all-purpose flour if you don't need the bread to be gluten-free

Zucchini –

use fresh zucchini grated with the skin on, and do not squeeze the water from the zucchini as most recipes will have you do (this helps keep each slice moist)

Baking powder
Baking soda
Sea salt
Walnuts – can sub in pecans, raw pumpkin seeds, or raisins. Or omit the nuts for a nut-free loaf

How to make Gluten-Free Zucchini Bread
This quick, no-rise, no-yeast bread comes together quickly and easily. Here are the steps:
Preheat the oven to 350 degrees. Spray a 9×5 loaf pan with non-stick cooking spray.

In a mixing bowl, whisk together the eggs and sugar. Add the melted coconut oil (or unsweetened applesauce for the oil-free version), vanilla, and molasses. Whisk until creamy and ingredients are well incorporated, 1-2 minutes.

Add the dry ingredients (flour, baking powder, baking soda, and salt) to the wet mixture. Fold together.

Fold in the grated zucchini (do not squeeze water from the zucchini) and the chopped walnuts.


Pour the batter into the loaf pan, top with additional walnuts, and bake for 50-55 minutes or until a toothpick inserted into the center comes out clean. Remove from the oven and let cool before slicing into slices.
How to Measure Flour for the Perfect Loaf of Healthy Zucchini Bread
You'd think measuring flour is a no-brainer step in any recipe. Just scoop out a cup of the fluffy white stuff and dump it into the mixing bowl, right? Well, turns out things are a little more technical than that, especially in a baked-good recipe. That's why we always like to provide a weight measure for you, so you can get great results every time.
When it comes to getting the perfect loaf of bread, be sure to take care when measuring the flour. Fluff the flour gently with a spoon and then spoon soft (not packed) spoonfuls of the flour into a dry-weight measuring cup and then level the top of the flour with a knife. Do this twice to measure out 2 cups.
Better yet, if you have a kitchen scale, use it to measure out the flour:
Place a bowl on the scale and press tare on the scale (bringing the measure weight to zero).
Spoon the flour into the bowl until it reaches the correct grams. For this zucchini bread recipe, you'll need in the range of 220 – 230 grams of flour.
Why Do We Recommend Measuring Flour with a Scale?
While you can use the allotted 2 cups by simply using the scoop method, it can be easy to get too much flour using that method, which can result in baked goods that are on the dry side.
Scooping flour into a measure cup can easily "pack down" the flour too much, resulting in a final measurement that is sometimes 1/4 – 1/3 cup more than the recipe intended (that amount can make a big difference with baking!). So we highly recommend using a kitchen scale and weighing the flour to ensure the right amount for a loaf of perfectly soft and fluffy zucchini bread.
How this Healthy Zucchini Bread Fits In Your Diet + Tested Substitutions

We're all about creating recipes that help you eat more nutritious whole-food ingredients, as well as work in any special diet that you (or anyone in your household) is following. This zucchini bread is made with much less sugar than the classic zucchini bread recipes. And thanks to a few additional swaps, we're making this a healthy allergy-friendly loaf, too! We feel confident you're going to enjoy this loaf as much as we do
Less sugar – most classic zucchini bread recipes call for a mixture of granulated sugar plus brown sugar, using 1.5 to 2x as much sugar as we call for here. This recipe is still structurally sound, moist, and sweet from the combination of coconut/cane sugar plus a tablespoon of molasses

Gluten-free – this recipe works well when made with gluten-free flour blends. You can sub all-purpose flour if gluten-free is not needed!

Dairy-free –

we call for melted coconut oil in place of the butter or milk you may find in most zucchini bread recipes

Oil-free – easily make this an oil-free zucchini bread by substituting unsweetened applesauce for the coconut oil

Nut-free – for a nut-free version, simply omit the walnuts. You can replace them with raisins, if you would like
Can Gluten-Free Zucchini Bread Be Frozen?

Yes! After the zucchini bread has cooled completely, place the entire loaf in a freezer-friendly container or bag and freeze for up to 3 months. You can also cut the fully cooled bread into slices and freeze slices in small containers or bags for single-portion frozen options (perfect for throwing into a lunch box).

What Size Loaf Pan Should You Use for This Zucchini Bread Recipe?
We know that different kitchens have different types of tools and equipment. The standard size pan to bake a loaf of quick bread 9×5 loaf pan, either glass, silicone, or metal. But if you don't have that exact pan size, this gluten-free zucchini bread recipe will still turn out with other loaf pan sizes.
Whether you have an 8×4-inch, 9×5-inch, or the larger 11×5-inch loaf pan, you can use what you have in your kitchen. Just know that the baking time and height of the loaf will vary slightly depending on the size of the loaf pan you use.
Also, using a silicone, glass, or metal loaf pan will result in needing a slightly varied baking time. Check for doneness at 50 minutes (by inserting a toothpick or knife into the center until it comes out clean and with no runny dough on it). Then, depending on the size and type of bread pan you use, you may need to bake the loaf an additional 5 to 10 minutes.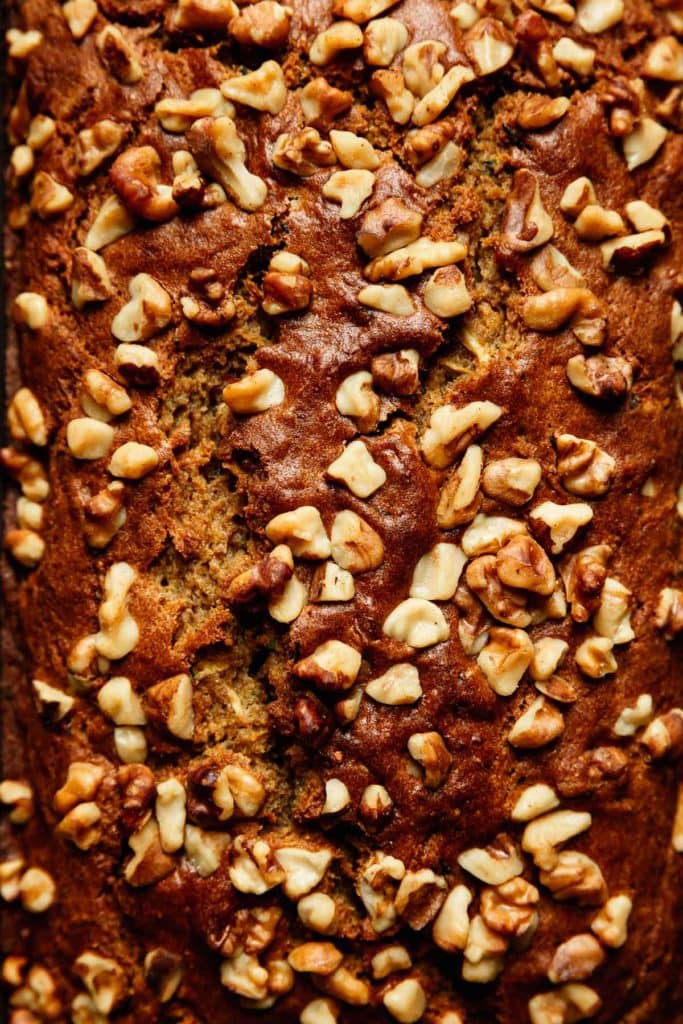 This Gluten-Free Zucchini Bread is a Healthy, Kid-Friendly Snack
We love to enjoy a slice of this bread warm along with a steaming cup of coffee. But it also makes for a snack that kids love (and a great way to add more nutritious vegetables and nuts to your kids' day). Our kids love to eat a slice of this zucchini bread as a snack, part of their breakfast, or as part of a packed school lunch.
For nutritious breakfasts, round out a slice of this bread by serving it with a scrambled eggs or green smoothie. Speaking from our own experience as moms, we're pretty certains kids are going to be asking for seconds of this healthy zucchini bread.
More Healthy Zucchini Recipes to Try:
Gluten-free Chocolate Chip Zucchini Muffins
Zucchini Banana Baked Oatmeal Cups
Double Chocolate Zucchini Muffins
Recipe
Healthy Gluten-Free Zucchini Bread
A slice of fresh baked healthy gluten-free zucchini bread is a great afternoon snack or part of a healthy breakfast. A tablespoon of molasses is the secret ingredient that results in a loaf that is soft, moist, and warmly sweet with each bite.
Prep:
10 mins
Cook:
50-55 mins
Total:
1 hr
Ingredients
3

eggs
¾ cup sugar (140 g)


½ cup

coconut oil, melted

1 teaspoon

vanilla extract

1 tablespoon

molasses

2 cups gluten-free flour blend* (220 – 230 g)




2 teaspoons

baking powder

1 teaspoon

baking soda

¼ teaspoon

fine salt

2 cups

grated zucchini (leave the skin on, and do not squeeze water from the grated zucchini) (about 2 small zucchini, or

240 g

when grated)

½ cup

chopped walnuts (plus more for the top)
Preheat the oven to 350 degrees. Spray a 9×5 loaf pan with non-stick cooking spray. 

In a medium bowl, whisk together the eggs and sugar. Add the melted coconut oil, vanilla, and molasses. Whisk for 2 minutes until creamy.

In a separate bowl, combine the flour, baking powder, baking soda, and salt. Fold the wet ingredients into the dry mixture until well incorporated.


Add the grated zucchini (do not squeeze water from the zucchini) and 1/2 chopped walnuts. Fold into the batter.  

Pour the batter into the prepared loaf pan, top with additional walnuts, and bake for 50-55 minutes, or until a toothpick inserted into the center of the loaf comes out clean. 

Let loaf cool in loaf pan for 10 minutes, then remove to a wire rack to cool completely before cutting into 12 slices.
Last Step! Please leave a review and rating letting us know how you liked this recipe! This helps our business thrive so we can continue providing free recipes and high-quality content for you.
Nutrition Information
Serving Size:

1 slice

Calories:

262

Fat:

13 g

(Sat Fat:

8 g

)
Sodium:

272 mg

Carbohydrate:

34 g

(Fiber:

2 g

Sugar:

13 g

)
Protein:

4 g

Cholesterol:

35 mg
Dietary
Pin It Now, Make It Later!
All photos and content are copyright protected. Please do not use our photos without prior written permission. If you wish to republish this recipe, please rewrite the recipe in your own unique words and link back to the source recipe here on The Real Food Dietitians. Thank you!
Photo Credit: The photos in this blog post were taken by Jess of Plays Well with Butter.