What do you do when you want Mexican food but you also want grilled salmon and veggies? You combine the two to make this Grilled Salmon with Elote-Style Veggies! We think it's the perfect way to fill your plate with seasonal veggies and healthy fats, especially as the days heat up.
This post was created in collaboration with Bristol Bay Sockeye Salmon.
Seafood meets street food
Maybe you've seen those street food vendors with the grilled ears of corn brushed with mayonnaise, then dusted with chili powder and crumbled cotija cheese? The corn is hot from the grill with charred bits whose smoky flavor plays well with the salty cheese, tangy mayo, spicy chili, and tangy lime juice.
But until you come across that street food vendor in the wild, why not recreate those flavors at home with this Grilled Salmon and Elote-Style Veggies?
It's healthy, it's fun, it's delicious—and it's basically summer on a plate.
Wild Taste from an Amazing Place
We don't use the word 'superfood' very often, but we make an exception when it comes to sustainably-managed, wild-caught sockeye salmon from Alaska. So when our friends at Bristol Bay Sockeye Salmon reached out to ask us to create a fun, new recipe using their delicious salmon, we couldn't resist.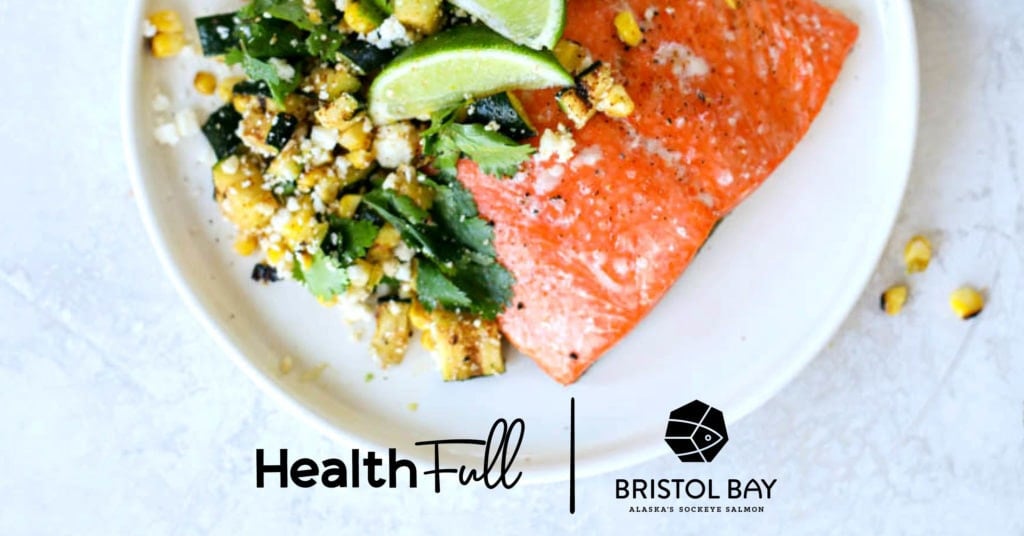 Grilling is one of the easiest ways to cook salmon. Whether marinated or
seasoned with salt, pepper and lemon – you can't go wrong with grilled Bristol Bay Sockeye Salmon. Give this Grilled Salmon with Elote-Style Vegetables a try and we think you'll agree!
Bristol Bay, Alaska is epic in every way. Each year, the world's largest wild salmon run returns to the six major river systems of Bristol Bay that have been sustainably commercially fished for over 130 years. One-third of the world's sockeye salmon comes from Bristol Bay, Alaska and recent years have seen record-breaking salmon harvests thanks to careful management.
Truly distinctive sets Bristol Bay Sockeye Salmon apart from the rest
Bristol Bay sockeye salmon is a good source of long-chain omega-3s, vitamin D, and selenium, making it an easy choice when it comes to fueling your brain and body. Omega-3's have been shown to reduce inflammation, fight depression and anxiety, improve eye health, promote brain health and development during pregnancy, improve risk factors for heart disease (by lowering triglycerides, blood pressure, and inflammation while increasing the ratio of HDL or 'good' cholesterol, and reducing blood clot and plaque formation).
Bristol Bay Sockeye Salmon is the most nourishing dinner you'll crave this week. Their salmon is delicious, sustainable and wild-caught. It's a nutritional powerhouse that packs a protein punch and fits into your healthy menu plan. It's good for the planet, good for your body — and, of course, it's just good.
It has a distinctive wild flavor and ruby red flesh, plus Bristol Bay sockeye salmon is always wild; fish farming in Alaska is prohibited. It's hand-harvested by 8,000 small boat fishermen and immediately chilled and frozen to preserve its unique flavor and outstanding nutrition.
Click here to learn more about Bristol Bay Sockeye Salmon including the amazing place from which it hails, the nearly 8,000 fishermen and women who work tirelessly to bring it to your plate, and of course, get even more delicious salmon recipes.
Make this your Salmon of choice
There's a reason why Bristol Bay Sockeye Salmon is our salmon of choice. Click here to find Bristol Bay Sockeye Salmon near you. Thousands of grocery stores around the nation stock Bristol Bay Sockeye Salmon, and you can fill your freezers by buying directly from fishermen as well.
But we'll let you decide with this Grilled Salmon with Elote-Style Veggies recipe.
Ingredients for Grilled Salmon & Elote-Style Veggies
Salmon – Choose salmon fillets with the skin on for easy grilling
Olive oil – Avocado oil also works well
Salt and Pepper – Basic but necessary, right?
Fresh corn on the cob – May substitute frozen corn. Just be sure to thaw it and heat it slightly to take off the chill before tossing it with the zucchini and cheese. It won't have the lightly smoky char that grilled corn has, but it will definitely work.
Zucchini – Abundant in late June and early July in North America, this neutral-tasting summer squash is a flavor sponge and well-suited to grilling
Chili Powder – Adjust the amount based on your taste and the potency of your chili powder
Cumin – While cumin is an ingredient in chili powder, a little extra never hurt
Cotija cheese – In a pinch, crumbled feta will do but if you can find cotija cheese, use it. It will change your life.
Limes – Fresh lime juice adds that little bit of zing that makes Mexican food so darn good
Cilantro – The more the merrier (if you're a cilantro lover, of course)!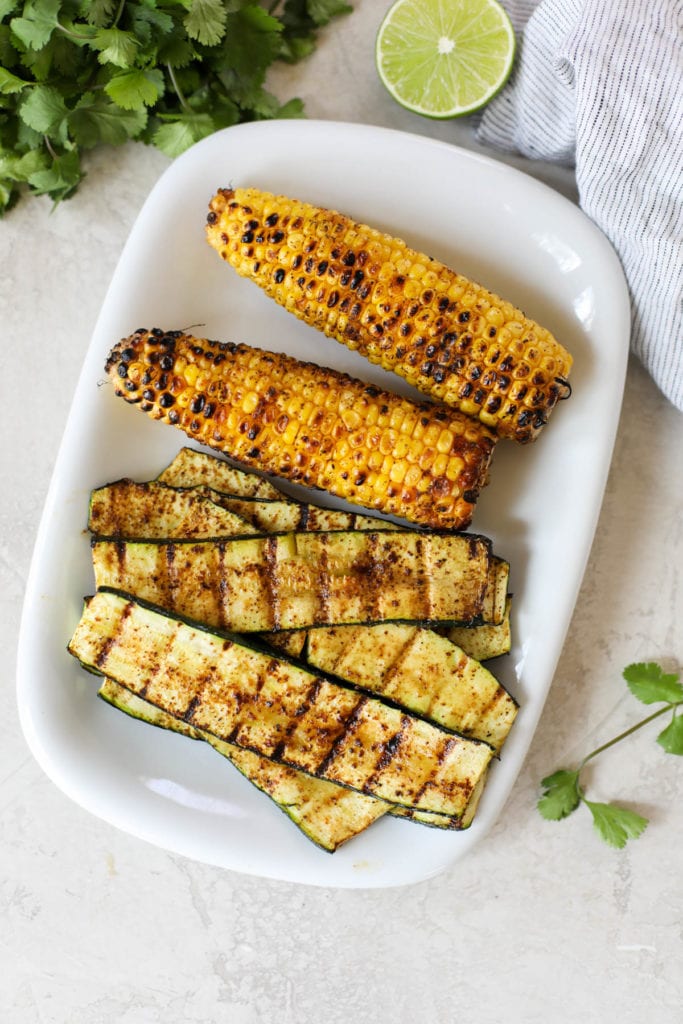 How to make Grilled Salmon with Elote-Style Veggies
Fire up the grill! If you don't have a grill, don't sweat it. You can still do this under the broiler in a pinch.
Prepare the salmon and veggies for grilling.
Put on some tunes and head outside to grill. Put the veggies on the grill first since they'll take longer to cook, and you want to be able to give them enough time to cool so that you can cut the grilled zucchini into cubes and cut the corn from the cob without burning your fingers. You also want the veggies to be cool enough that they don't wilt the cilantro or melt the cotija cheese when you toss them together.
Don't flip that fish! Using salmon fillets with their skin still on makes for easy grilling. Just place the fillets skin-side down on the grill grate and cook. No flipping required (in fact, it's not recommended as properly done salmon is perfectly flaky and you don't want it falling apart).
Take the grilled veggies and salmon inside and make those veggies elote-style by tossing them with lime juice and zest, cheese, cilantro, and more chili powder if that suits your taste.
Serve the elote-style veggies over the grilled salmon fillets with fresh lime wedges and sliced avocado, if desired.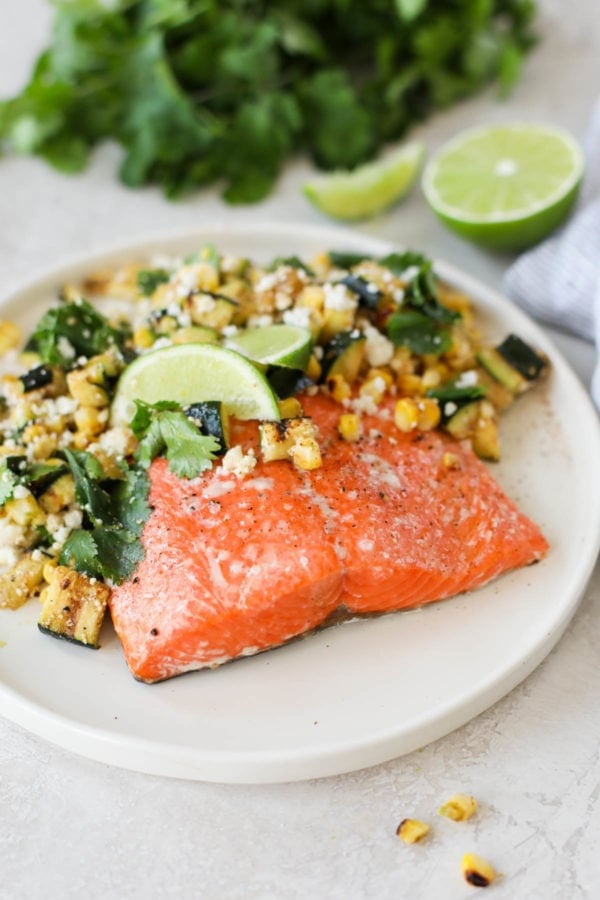 Other Salmon Recipes You'll Love
Don't forget, you can find more delicious and healthy recipes we've created using Bristol Bay Sockeye Salmon here. We think you'll also like these, too.
Sheet Pan Baked Salmon with Vegetables
Salmon Caesar Salad Grain Bowl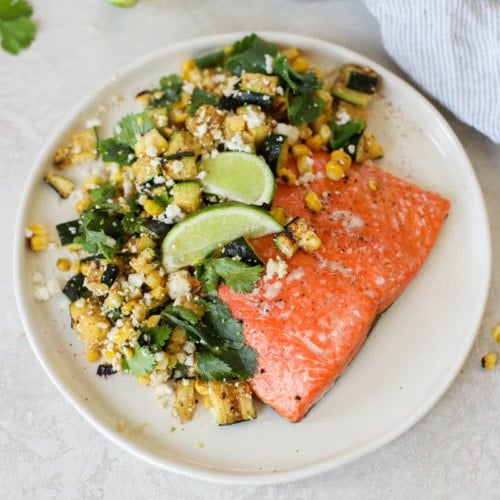 Recipe
Grilled Salmon with Elote-Style Veggies
Perfectly grilled salmon meets a street food favorite in this veggie-packed nutrition powerhouse of a meal.
Prep:
15 mins.
Cook:
20 mins.
Total:
35 mins.
Ingredients
4

salmon fillets (1-1 ¼ lbs.), preferably Bristol Bay Sockeye Salmon 

¼ teaspoon

fine salt

Pinch of black pepper

1 tablespoon

+

1 teaspoon

avocado oil or olive oil, divided

4

small (or

2

large) ears of corn, husks removed

4

small zucchini, end removed and cut lengthwise into 'planks'

2 teaspoons

chili powder

1 teaspoon

ground cumin

1 teaspoon

fine salt

½ teaspoon

black pepper

3 ounces

cotija cheese, crumbled (may substitute feta or omit for dairy-free)

Juice + zest of 1 medium lime

1 cup

fresh cilantro, chopped

Salt and Pepper, to taste

Optional for Serving: Sliced avocados and lime wedges
Preheat the grill to medium-high heat (375-400℉)

Brush the salmon fillets with 1 teaspoon oil and sprinkle with salt and pepper. Set aside.

Brush the corn and sliced zucchini with the remaining 1 tablespoon oil then sprinkle with salt, pepper, cumin and chili powder.

When the grill is hot, place the corn and zucchini over the hottest part of the grill and cook for 5-6 minutes or until zucchini is grilled marked and the corn is lightly charred. Rotate the corn and flip the zucchini, cooking another 5-6 minutes or until corn is tender.

Add the salmon fillets to the grill skin-side down and cook for 10-12 minutes or until flesh is no longer opaque and it flakes easily with a fork.

When vegetables are tender and lightly charred, remove them to a plate (they may be done before the salmon is done depending on where they are on the grill).

Cut corn kernels from the cob and dice grilled zucchini into ¼-inch cubes. Place in a bowl, toss with lime juice and zest, cotija cheese, and fresh cilantro. Taste and adjust seasonings as needed (salt, pepper, chili powder).

Serve vegetables over salmon with lime wedges.
Last Step! Please leave a review and rating letting us know how you liked this recipe! This helps our business thrive so we can continue providing free recipes and high-quality content for you.
Nutrition Information
Serving Size:

¼ recipe (without avocado)

Calories:

463

Fat:

25g

(Sat Fat:

6g

)
Sodium:

512mg

Carbohydrate:

18g

(Fiber:

4g

Sugar:

4g

)
Protein:

44g
Dietary
Pin it now & make it later!
---
This post was made possible by our friends at Bristol Bay Sockeye Salmon. Although we received compensation for this post, the opinions expressed here are – as always – 100% our own. Thank you for supporting the great companies we work with thereby allowing us to continue creating great recipes and content for you.
All photos and content are copyright protected. Please do not use our photos without prior written permission. If you wish to republish this recipe, please rewrite the recipe in your own unique words and link back to the source recipe here on The Real Food Dietitians. Thank you!