These One-Pan Shrimp Fajita Bowls are a Whole30 (and busy weeknight) game-changer!
This post was created in partnership with our friends at Tessemae's.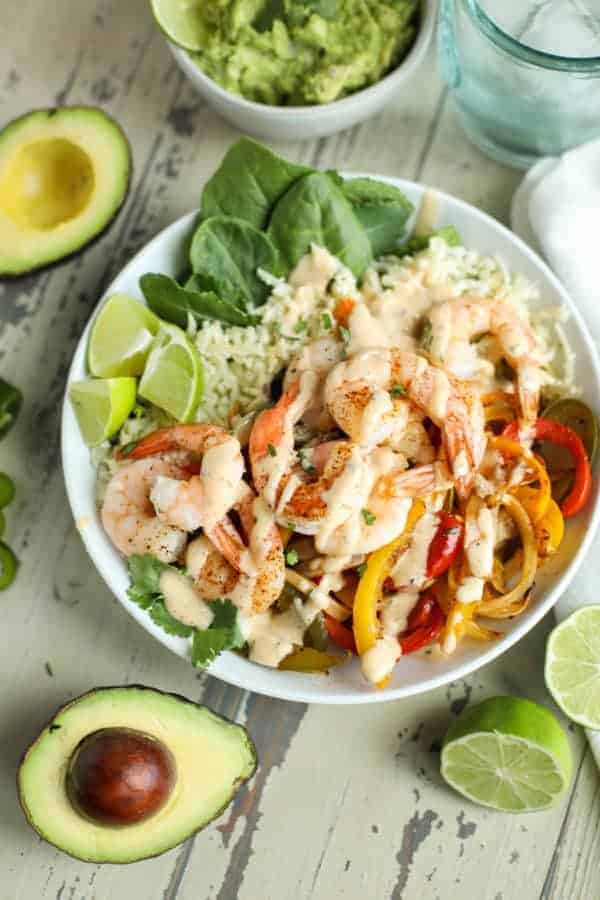 Warning: So many mouthwatering photos lie ahead
As Whole30 Certified Coaches we've found that the #1 reason many people fail to complete their Whole30 program isn't due to a lack of delicious food (trust us – we've got oodles of delicious Whole30 recipes to choose from!) but rather a lack of time when it comes to preparing meals.
We're not surprised by this since the biggest obstacle to healthy eating, in general, for anyone is having ready access to easy to prepare (or already prepared meals) which, unless you have a personal chef, use a meal kit delivery service or have ready-to-eat meals delivered to your doorstep, means you need to do at least some meal prepping each week to really crush the healthy eating game.
Notice I said 'some meal prepping' and not 'allllll the meal prepping'. If you're new to meal prepping or your schedule makes it impossible difficult to carve out a chunk of time each week to plan, shop, chop, prep and cook then don't despair. I have a lot of those weeks myself (in fact, I'm currently in a stretch of them now as I write this #iamhuman) which is why I wanted to share one of my favorite meal plan/prep hacks with you and it just happens to involve these ridiculously easy and crave-worthy One-Pan Shrimp Fajita Bowls.
Isn't real food beautiful?
I warned you there was going to be a lot of pretty pictures today. There's nothing really extraordinary about these peppers other than 1.) you can't make fajitas without them and, 2.) you should aim to buy organic bell peppers whenever possible due to the fact that they're considered to be one of the 'dirtiest' when it comes to pesticide residues according to the Environmental Working Group's Shoppers Guide to Produce (these are the folks who put out the Dirty Dozen and Clean Fifteen lists every year).
Bell peppers also happen to offer more vitamin C than oranges while also offering up a good dose of vitamins A and B6 plus folate, fiber, and potassium.
Curious about how to choose the safest seafood? Be sure to check out this post.
But I digress, let's talk about those One-Pan Shrimp Fajita Bowls that you came for, shall we?
Prep a little or prep a lot
By 'prep a little' I mean wash, chop and slice any veggies you'll need for the recipe then store them in a covered container or zip-top bag in the fridge for up to three days. It's also helpful to mix up any spices or sauces you'll need. In this case, you'd just slice the peppers and onions and combine the spices to make the seasoning mix. If you're not using cauliflower rice that's already riced then this would be a good time to make that as well. This can also be stored in the fridge for up to three days.
See our How to Make Cauliflower recipe and tutorial here if you're new to making your own.
This post may contain affiliate links that won't change your price but will share some commission.
Now, if you're wanting to 'prep a lot' for this recipe then that means you'll make the recipe as written then cool and package into covered containers in the fridge for an easy reheat and eat meal. We like these glass meal prep containers for making individual portions for lunches and days when we're on-the-go and need to pack a lunch.
I know, I know sometimes ANY amount of prep seems like too much but trust me, these One-Pan Shrimp Fajita Bowls are 1,000% worth it! To sweeten the deal, everything goes on ONE pan for super easy clean-up. You can even mix the peppers with the spices on the pan – no need to dirty an extra bowl if you don't want to (let's be honest, who would want to?!)
Now that you're convinced these One-Pan Shrimp Fajita Bowls are for you, let me show you how easy they are:
Place sliced peppers and onions on one end of the sheet pan. Drizzle with oil and toss with spices.
Place raw cauliflower rice on the other end of the pan. Drizzle with oil, toss and season with salt and pepper.
Spread veggies into a thin layer and place pan in preheated oven.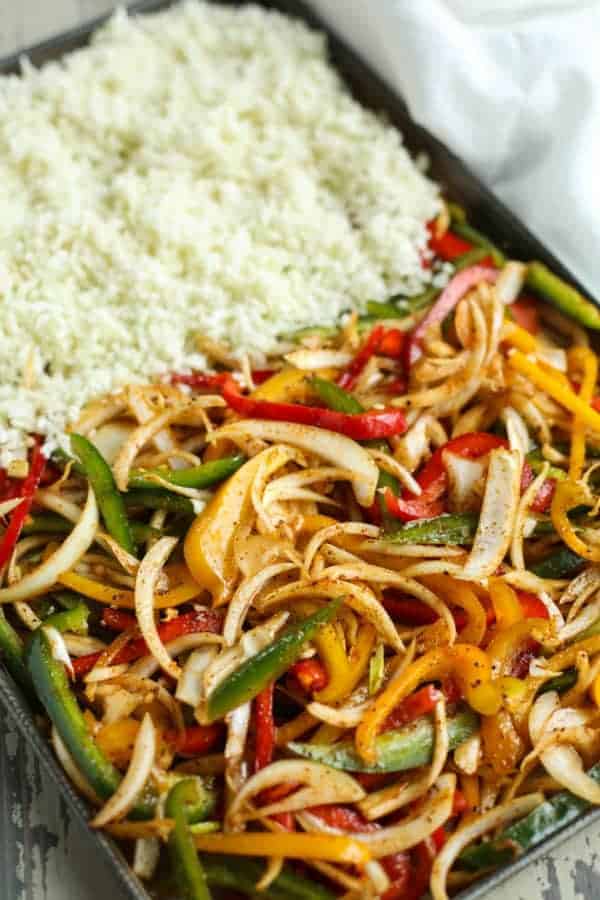 4. Once veggies have cooked for 15 minutes, remove the pan from the oven. Stir veggies then add the shrimp, in a single layer, to the middle of the pan.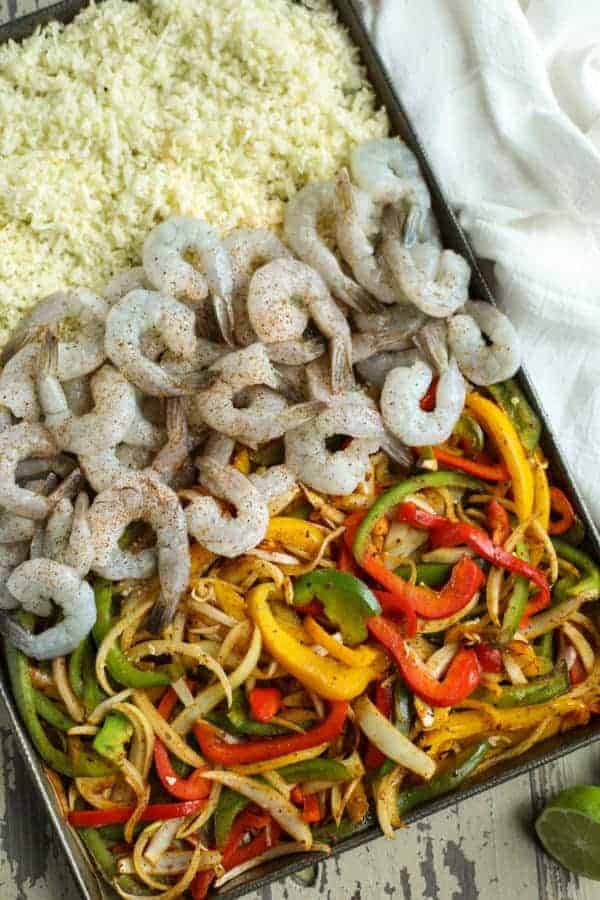 5. Return pan to the oven and bake an additional 10 minutes or until shrimp are pink and cooked through. The veggies should also be tender at this point. If not, remove shrimp to a covered plate and continue cooking veggies until they are tender (this will depend on how thick or thin you sliced them and your oven temp. Yes, your oven temp. It's not always what you THINK it is so an inexpensive oven thermometer is always good to have on hand).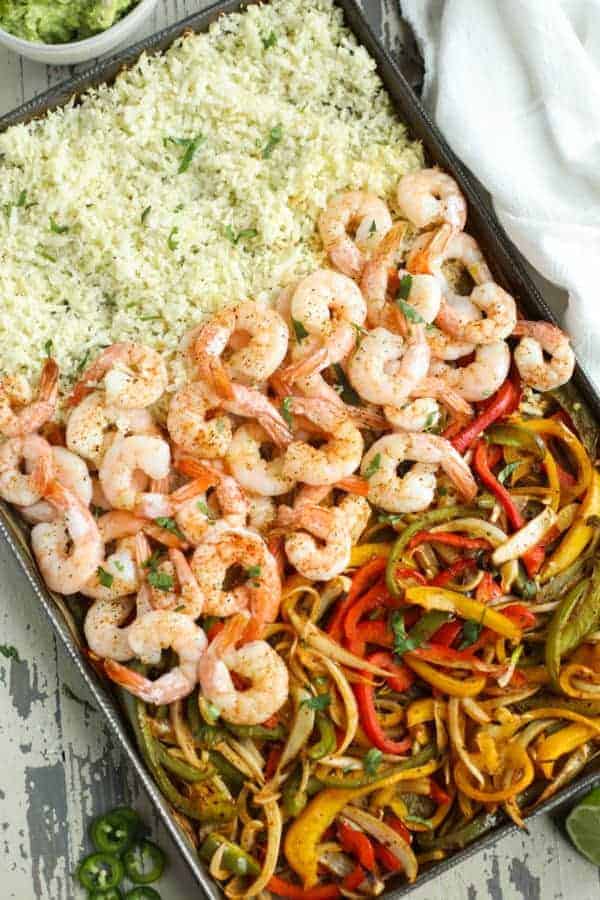 Get ready to serve (or pack up for a later meal)
What makes this One-Pan Fajita Bowl special isn't just the fact that it's so easy to prepare it's the sauce you drizzle all over the top before digging in. We've partnered with our friends at Tessemae's to introduce you to their new Habanero Ranch Dressing which just happens to take this over the top and beyond (ask my husband who recently insisted I make a double batch so he could enjoy it for lunch every day. No kidding!) 
Tessemae's mission is to "Simplify Food. Amplify Life" totally resonates with us which is why we're huge fans of simple meals that come together with ease yet pack a big flavorful and healthy punch. There's no shame in reaching for a bottle of salad dressing or a jar of mayo when you're pressed for time (and who isn't?!) – trust me, I do it all the time. Like you, I have to decide where to best 'spend' my energy and making my own condiments isn't always a priority especially when I know there's a great-tasting Whole30-approved option like Tessemae's available.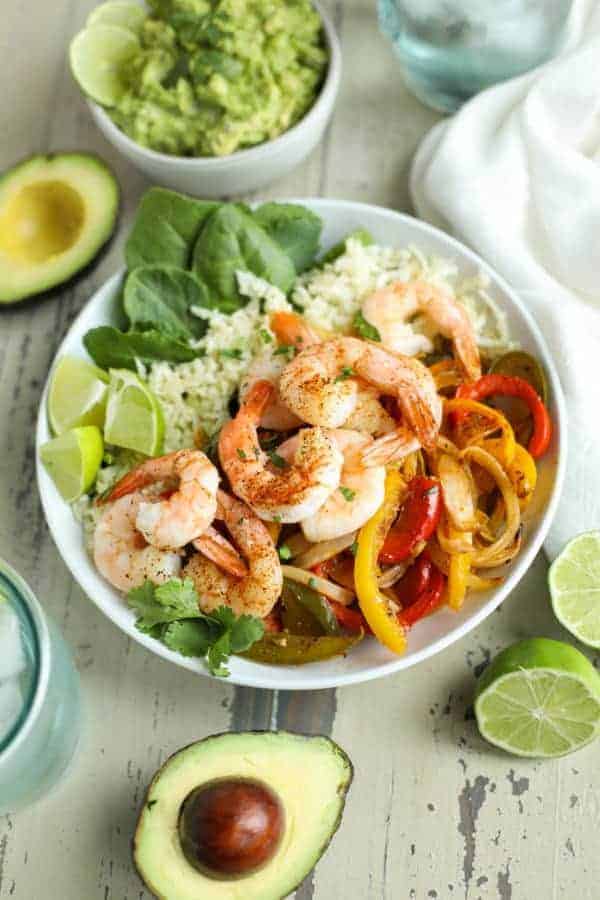 NOW let's serve these babies up!
To serve, I like to pile a handful of fresh spinach or 'power greens' in my bowl then top with cauliflower rice, peppers, and onions and then finally, shrimp. As you might already know, I am allergic to eggs so (sadly) I have to skip the insanely delicious drizzle of Tessemae's Habanero Ranch on my One-Pan Shrimp Fajita Bowls but I live vicariously through my hubby who eats enough of that spicy, creamy magic for both of us!
Feel free to top it off with a big scoop of homemade guacamole like I do – because guacamole.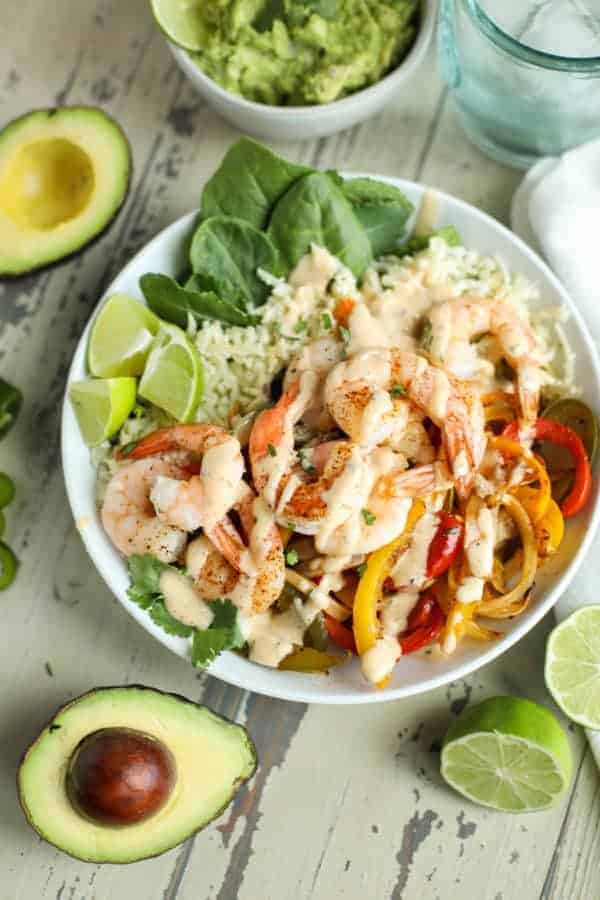 Recipe
One-Pan Shrimp Fajita Bowls (Whole30)
Prep:
15 min.
Cook:
25 min.
Total:
40 min.
Ingredients
1 ¼

lb. raw shrimp, deveined and tails removed

3

small bell peppers, any color, thinly sliced

1

small yellow onion, thinly sliced

2 Tbsp

. avocado oil, divided (may substitute olive oil)

½ tsp

. chili powder

¼ tsp

. smoked paprika

¼ tsp

. garlic powder

¼ tsp

. ground cumin

¼ tsp

. salt

⅛ tsp

. black pepper

16 ounces

riced cauliflower (about

1

small head)
Fresh cilantro, guacamole and lime wedges for serving
Instructions
Preheat oven to 400ºF.
Line a large rimmed baking sheet with parchment paper.
Mix seasonings (chili powder through black pepper) in a small bowl. Remove and set aside ½ tsp. of seasoning mix.
Place thinly sliced peppers and onions onto one end of the baking sheet. Add 1 Tbsp. oil plus seasonings and toss well to coat.
On the other end of the pan, add riced cauliflower. Toss with remaining 1 Tbsp. of oil.
Place baking sheet in preheated oven and bake for 15 minutes, stirring halfway through (stir them both, but not together).
After 15 minutes, remove baking sheet from oven. Arrange shrimp in the center of the pan in a somewhat single layer to promote more even cooking of the shrimp. Sprinkle shrimp with reserved ½ tsp. of seasoning.
Return pan to the oven and bake an additional 10 minutes, stirring the shrimp if needed to ensure they're all cooked through (i.e. pink and no longer opaque).
Remove pan from the oven. Season riced cauliflower with salt and pepper to taste.
To serve, divide cauliflower rice among 4 serving bowls. Top with pepper and onion mixture and shrimp.
Drizzle with Tessemae's Habanero Ranch Dressing. Sprinkle with fresh cilantro and serve with guacamole and fresh lime wedges.
Last Step! Please leave a review and rating letting us know how you liked this recipe! This helps our business thrive so we can continue providing free recipes and high-quality content for you.
Notes
*For a homemade version, substitute 1/4 cup Homemade Paleo Ranch (or your favorite ranch dressing) mixed with the juice of 1/2 lime and a pinch of dried chipotle powder. 
Nutrition Information
Serving Size:

¼ recipe

Calories:

343

Fat:

18g

Sodium:

511mg

Carbohydrate:

18g

(Fiber:

6g

Sugar:

8g

)
Protein:

23g
Dietary
We'd like to know what's your favorite sheet pan dinner? And do you fall into the all-or-nothing meal prep mentality? Leave a comment below.
Pin now to make later
---
This post was made possible by our friends at Tessemae's. Though we received compensation for this post, the opinions expressed here are  – as always -100% our own. Thank you for supporting the great companies we work with thereby allowing us to continue creating great recipes and content for you.