Making your own red enchilada sauce is an easy way to boost the flavor in homemade Mexican-style dishes, plus you can control the amount of sodium and ditch any gluten, dairy, and added sugar. While store-bought enchilada sauce leaves a lot to be desired (we think it often has a "tinny" and oily taste to it and can include unwanted additives), this recipe is high in flavor and can be made in less than 15 minutes with a few ingredients right out of your pantry.

Why you should make homemade enchilada sauce
A sauce is often an afterthought, but here at The Real Food Dietitians, we know that a sauce can make or break a recipe. If you start or finish a dish with an excellent sauce, then everyone is going to gobble it up, which is always the goal. That's why we created the best red enchilada sauce recipe that tastes fresh and is made without any added flour, high-processed oil, sugar, or salt. In comparison, store-bought sauces are often made with chemically extracted oils, such as vegetable oil, corn oil, soybean oil, or cottonseed oil. Plus, they almost always contain added salt, colors, or flavoring, and sometimes even contain added sugar.
Sure, it may be easy to just open a can of store-bought enchilada sauce, but you may not realize how easy it is to make at home. You can really elevate the taste of any Mexican-inspired dish by using a homemade enchilada sauce in your recipes, such as enchiladas, enchilada casserole, enchilada soup, tamales, tacos, burritos, and more.
Ingredients to make the best enchilada sauce
Our enchilada sauce recipe calls for just a few ingredients and spices that you likely already have on hand. Here is a short list of what you'll need to make the best enchilada sauce recipe:
Avocado oil or olive oil
Chili powder
Garlic powder
Onion powder
Ground cumin
Tomato paste – we use no salt added tomato paste

Vegetable broth – we use low-sodium vegetable broth

How to make enchilada sauce
The first step is to make this recipe enchilada sauce recipe is to heat the oil in a skillet over medium heat and then add the spices, stirring them around until they are fragrant and creating a roux. This step brings out the flavor in the traditional Mexican spices.
Next, stir in the tomato paste. The sauce will be thick and may even seem clumpy at this point. Use a wire whisk to stir the tomato paste into the spices. This step helps to thicken the sauce and adds another layer of delicious flavor.
Finally, pour in the vegetable broth while you continue to whisk the mixture. This step will help thin out the sauce and add volume. Whisk until the ingredients are dissolved. Increase the heat to medium-high, and let the sauce thicken for 5 to 7 minutes, whisking occasionally. The sauce is done when small bubbles appear on the surface and the sauce is slightly thickened though still pourable.
Is enchilada sauce vegan? Is enchilada sauce gluten free?
Enchilada sauce is not always vegan nor is it always gluten free. While traditional versions are made simply with oil and spices, many homemade enchilada sauce recipes will call for butter, flour, or starch to help thicken the sauce.
To keep this a gluten-free, dairy-free, and vegan enchilada sauce recipe, we opted to keep things authentic. This sauce is made from easy-to-find whole-food ingredients and the perfect ratio of traditional Mexican spices, making it a gluten-free enchilada sauce that also doesn't contain any dairy so you can easily use it to make our most excellent Vegan Enchiladas, plus many other dishes.
How to store enchilada sauce, and can you freeze enchilada sauce?
This vegan enchilada sauce can be made ahead and then stored in a glass-covered container in your refrigerator for up to 1 week. It can also be frozen in a freezer-safe bag or container for up to 3 months. Allow the sauce to thaw at room temperature before using it in a recipe.

How to use red enchilada sauce
This delicious homemade enchilada sauce was created to be used in our delicious Vegan Enchiladas recipe. You can also use it in any recipe that calls for enchilada sauce. It makes roughly the same amount as you'd need for any recipe that uses 2 to 2 1/2 cups of enchilada sauce or a 28-ounce can of enchilada sauce.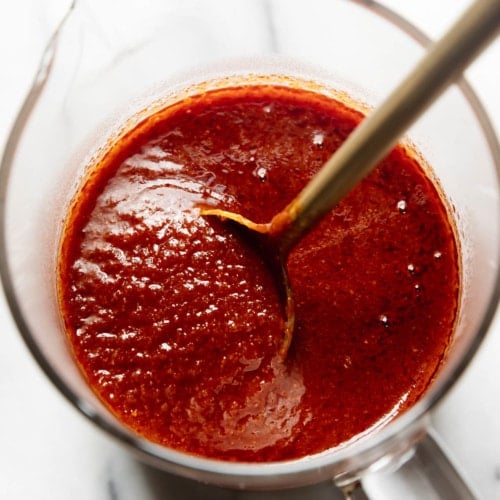 Recipe
Homemade Enchilada Sauce
This simple red enchilada sauce recipe tastes fresh and flavorful, unlike the tinny-tasting sauce that comes in a can. Plus, our version is low in sodium, doesn't contain any added sugar, and is 100 percent gluten-free, dairy-free, and vegan.
Prep:
5 mins
Cook:
10 mins
Total:
15 minutes
Ingredients
2 tablespoons

avocado oil or olive oil

2 tablespoons

chili powder

1 teaspoon

garlic powder

1 teaspoon

onion powder

½ teaspoon

ground cumin

4 tablespoons

no-salt-added tomato paste

2 cups

low-sodium vegetable broth
In a medium nonstick skillet over medium heat, add oil and swirl around. Add spices and whisk. The mixture will be kind of like a roux (thick and clumpy); stir until fragrant, about 1 minute.
Add tomato paste and whisk together, then slowly pour in broth; whisking until tomato paste mixture dissolves into liquid. Increase heat to medium-high and heat until bubbles start to surface.
Remove enchilada sauce from heat and use to make Vegan Enchiladas or in any recipe that calls for red enchilada sauce. If not using right away, let sauce cool to room temperature and store in a covered glass container in the refrigerator for up to one week.
Last Step! Please leave a review and rating letting us know how you liked this recipe! This helps our business thrive so we can continue providing free recipes and high-quality content for you.
Nutrition Information
Serving Size:

1/4 cup

Calories:

35

Fat:

3

(Sat Fat:

0

)
Sodium:

79

Carbohydrate:

2

(Fiber:

1

Sugar:

1

)
Protein:

0

Cholesterol:

0
Dietary
Pin it now, Make it Later!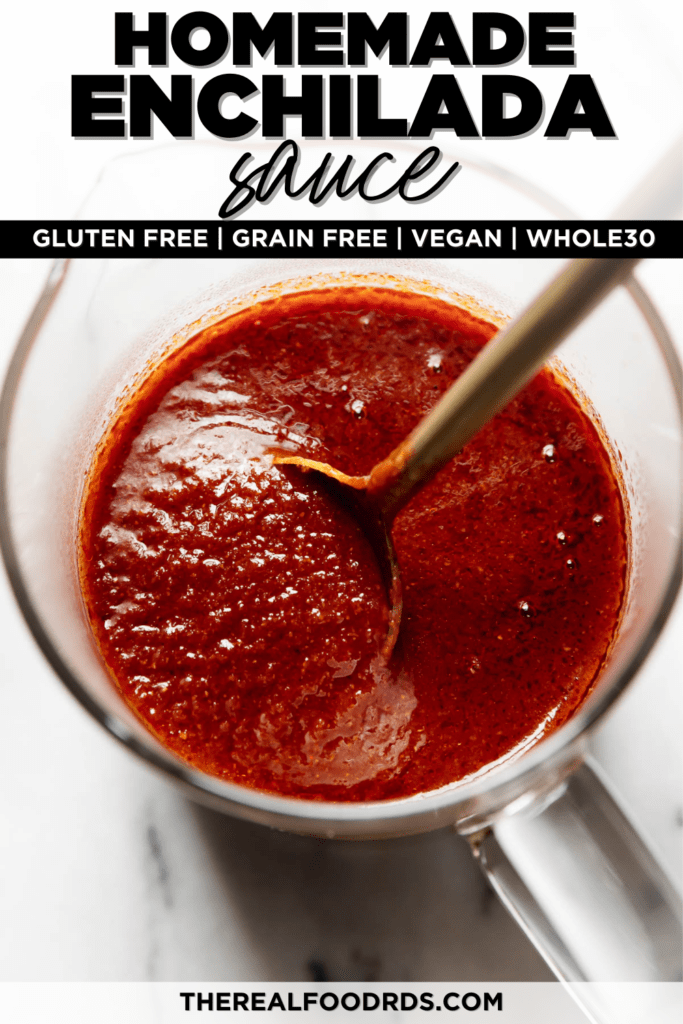 All photos and content are copyright protected. Please do not use our photos without prior written permission. If you wish to republish this recipe, please rewrite the recipe in your own unique words and link back to the source recipe here on The Real Food Dietitians. Thank you!
Photo Credit: The photos in this blog post were taken by Jess of Plays Well with Butter.