Grab your favorite corn chips, cause creamy, cheesy queso is coming your way! This magical recipe is so good you'll never believe it doesn't contain cheese. Instead, this vegan queso recipe is loaded with healthy whole-food ingredients that pack some nutrition into each bite – just the way we like it!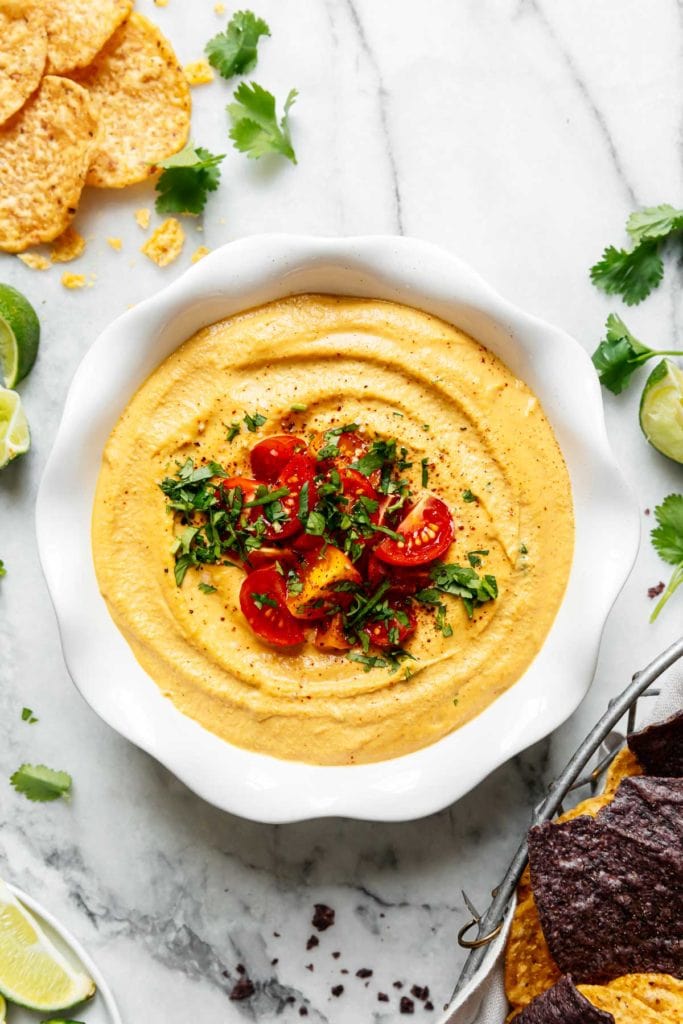 Vegan Queso: the dairy-free cheese dip of your dreams
If dairy doesn't agree with you, or if you want to eat more plant-based foods but just can't give up the cheese, then buckle up. Cause this one is for you! This queso is made from just two main ingredients: cashews and canned tomatoes, plus a few spices that add terrific flavor and perfect natural color.
Looking for more of a Vegan Nacho Cheese? We have one of those, too, (find it here) and it's loaded with veggies and spices. We think they are both great vegan cheese sauces and unique in their own way, so if you try them both, let us know in the comments which one you prefer.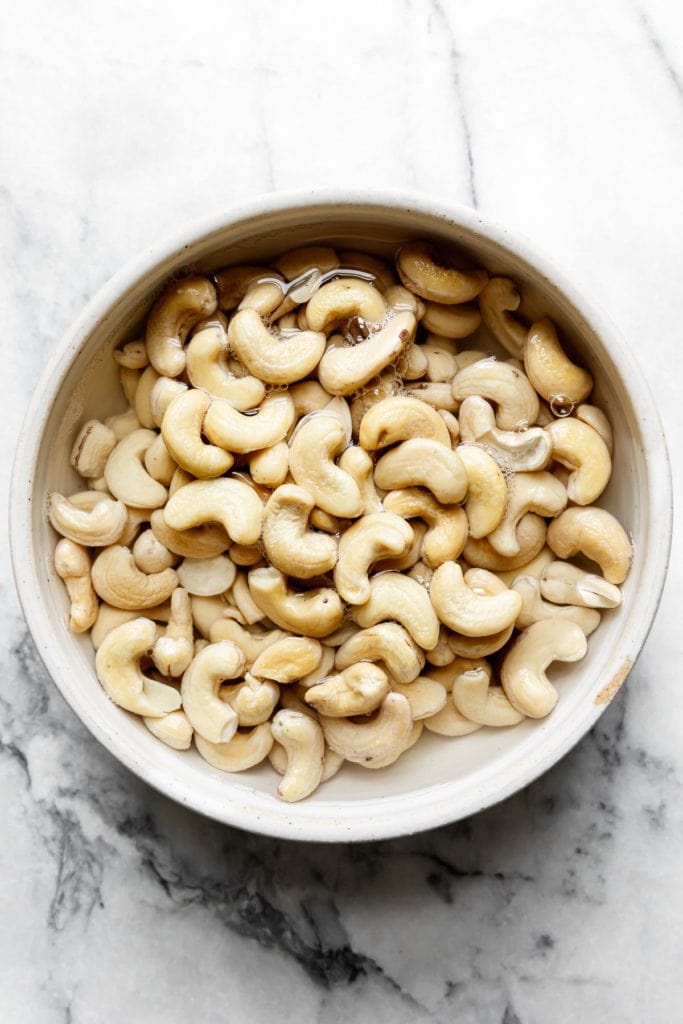 Ingredients to make this Vegan Queso Recipe:
To make this vegan cheese dip, you'll need the following items:
Raw cashews – cashews have the perfect softer texture and fat ratio for using to make plant-based dips. You'll want to use raw cashews instead of roasted because raw cashews are milder, softer, and don't have any added salt

Diced tomatoes with green chiles – use a 10-ounce can, such as Ro-tel or Muir Glen

Nutritional yeast – these yellow flakes can't be skipped; they are what gives this queso a savory, cheesy flavor. Read more about what nutritional yeast is below
Ground cumin – this iconic Mexican spice lends smokey flavor

Chili powder – the perfect amount of heat for your queso

Ground turmeric – a nutritious addition that adds subtle flavor and yellow/orange color to the dip

Salt

What is nutritional yeast?
Nutritional yeast is a type of food ingredient, similar to baker's yeast and brewer's yeast, that adds benefits to foods. In the case of nutritional yeast, it is a vegan ingredient that has savory, nutty, and cheesy flavor notes, as well as protein, vitamins, minerals, and antioxidants, which is how it gets its name. Unlike baker's yeast and brewer's yeast, the yeast cells are not alive, meaning they don't add any fermentation or volume to a recipe.
Nutritional yeast naturally contains some nutrients, but it is often additionally fortified with vitamins. You can read more about the health benefits of nutritional yeast in this post (healthline.com) and this post (by Rachel at CityHomesteads).
How to make vegan cheese sauce with cashews:
To make this easy vegan queso dip, start by soaking the cashews, which helps them soften and blend into a creamy texture. After the cashews are soaked and drained, all that's left for you to do is dump the rest of the ingredients into the blender and let it whirl. Keep these two things in mind for perfect queso consistency.
Speed is key. It's imperative to use a high-speed blender to really get all of the ingredients blended into a creamy cheese dip-like texture. During testing, we found that we had more success using the blender bowl of our Ninja blender versus the food processor bowl.
Blend, then blend some more. Let that blender whirl for a full 30 seconds before stopping to scrape down the sides of the blender, and then let it whirl for another full 30 to 60 seconds. It will feel like a long time but keep at it. Just when you think you've blended long enough, blend some more. Let that powerful motor do the work for you.
Can you heat vegan queso? And how to store vegan cheese dip
This vegan queso recipe can be made up to five days in advance and stored in a covered container in the refrigerator. This recipe contains turmeric, so be sure to use a glass storage container because it could stain a plastic container, similar to how pasta sauce leaves behind a red stain in plastic Tupperware. Stir the dip before serving.
When it comes to serving, you have options! Serve chilled, at room temperature, or warmed up. If you prefer your queso warm as we do, then simply heat it in the microwave for 10-second increments at a time, stirring between each time. It may take 4 to 6 times (40 to 60 seconds total) to reach desired warmness. And the dip can be reheated multiple times.
Is vegan queso healthy?
By using all plant-based ingredients in place of cheese and other dairy, you are changing the nutrition profile in a good way. Cashews contain good-for-you monounsaturated fats, plus fiber, and plant-based protein, none of which you'd get from a cheese-based dip. The addition of tomatoes, nutritional yeast, and turmeric also help increase the vitamin, mineral, and antioxidant content in this delicious dip.
Who knew you could get all of those good-for-you nutrients in such a decadent dip? Well, we did! And we're so excited for you to share the enthusiasm with your friends. We know you (and they) will be blown away, so get dipping!

Ways to use dairy-free queso:
We think this vegan queso recipe is perfect for so many occasions and for adding that special topper to other Mexican-style recipes, including
Enjoy a nutritious and delicious cheese dip with this 100% plant-based queso recipe that comes together quickly and heats nicely.
Prep:
10 minutes
Total:
30 minutes (includes 20 minutes soak time)
Ingredients
1 cup

raw cashews
Boiling water

1

10-ounce can diced tomatoes with green chiles (do not drain)

¼ cup

nutritional yeast

1 teaspoon

ground cumin

1 teaspoon

chili powder

1 teaspoon

ground turmeric

¾ teaspoon

salt
Place the cashews in a small bowl; pour boiling water over top to cover cashews and cover bowl with a small plate; set aside to let cashews soak at least 20 minutes or up to 1 hour.
Drain the bowl of cashews. In a high-speed blender (or the blender container of a food processor), place drained cashews, diced tomatoes with green chilies (including any liquid from can), nutritional yeast, cumin, chili powder, turmeric and salt; cover and blend for 30 seconds. Using a rubber spatula, scrape down sides and blend again for another full 30 seconds to 60 seconds (when you think you've blended it long enough, blend it some more!) until you get a creamy smooth consistency.
If you prefer queso warm, heat it in the microwave for 10-second increments at a time, stirring between each time. It may take 4 to 6 times (40 to 60 seconds total) to reach desired warmness. Store leftovers in a covered container in the refrigerator up to 5 days, stirring well before serving. Can be reheated multiple times.
Last Step! Please leave a review and rating letting us know how you liked this recipe! This helps our business thrive so we can continue providing free recipes and high-quality content for you.
Notes
The sodium amount in this recipe is on par with what you'd get in a similar-size serving of purchased dairy-free cheese dip and 25% less than a purchased cheese-based dip. For salt sensitivity, you can easily further reduce the sodium by using no-salt-added diced tomatoes and/or reducing the salt to 1/4 teaspoon. Doing both measures would reduce sodium to 115 mg per 1/4-cup serving.
Nutrition Information
Serving Size:

1/4 cup

Calories:

111

Fat:

8

(Sat Fat:

1

)
Sodium:

432

Carbohydrate:

8

(Fiber:

1

Sugar:

1

)
Protein:

4

Cholesterol:

0
Dietary
Pin it Now, Make it Later!
---
All photos and content are copyright protected. Please do not use our photos without prior written permission. If you wish to republish this recipe, please rewrite the recipe in your own unique words and link back to the source recipe here on The Real Food Dietitians. Thank you!
Photo Credit: The photos in this blog post were taken by Jess of Plays Well with Butter.