Carnitas, or "little meats" in Spanish, are a popular dish in Mexican cuisine that originated in the state of Michoacán in Mexico. It is made by braising or simmering pork until it becomes tender and juicy.
This carnitas recipe might be the easiest solution to taco night yet, with just 10 minutes of prep and hands-off cook time. You can cook slow and low, or speed up this carnitas recipe by pressure cooking in an Instant Pot. The result is perfect for tacos or burrito bowls or even stuffed into a baked sweet potato.
For an extra level of deliciousness, we recommend crisping things up at the end under the broiler.
This recipe was created in partnership with our friends and farmers at the Minnesota Pork Board.
Weeknight Dinner Winner!
If you're anything like us, nothing brings a huge sense of accomplishment like having dinner almost done at the end of a long workday.
After the quick prep time, your part in cooking is 95% done. Here's why you'll love them:
Everything can be prepped ahead.
A set-it-and-forget-it recipe, it takes 8 hours to cook (undisturbed) in the crock pot.
You'll add just the right amount of spice to give it authentic flavor, but not so much that you can't use the leftover meat for something other than tacos or burrito bowls. Try it in quesadillas, atop our Loaded Sweet Potato Nachos, as part of a breakfast hash, or pile it on a bun with a little barbecue sauce and pickled jalapeños for a Mexican-inspired pulled pork sandwich.
The recipe makes enough to serve a family of 4 for at least 2 meals.
Leftovers are freezer-friendly and great to have on hand when you need a quick reheat and eat meal.
Carnitas are perfect for parties, potlucks, and tailgate gatherings.
This recipe is naturally gluten-free, dairy-free, and Whole30-compatible, provided you make proper substitutions for rice or tortillas.
We skip using the typical Coke in carnitas and avoid lard for a healthier option.
Ingredients To Make Carnitas
Most of the spices for this recipe are probably already in your pantry. It is a simple recipe that yields tasty results every time.
For The Carnitas:
Boneless pork shoulder or butt pork roast is what we like to use. Pork loin is less fatty, but can result in a drier end product.
Thinly sliced onions and minced cloves garlic — these aromatics are the start of the deep flavors in this dish.
Common pantry spices — chili powder, ground cumin, oregano, and cinnamon. Yes, cinnamon, it seems a little strange but trust us, it's the secret ingredient.
Chipotle powder – you just need a pinch, but if you like your carnitas spicy, add a little more. May also use ancho chili or omit entirely.
Fine kosher salt and black pepper
Fresh lime juice and orange juice are necessary for the acidity and to balance the spices. Citrus helps tenderize the meat and you get a bonus boost of vitamin C, too!
For The Cilantro-Lime Sauce:
This optional sauce is a great addition to a carnitas dinner. It's really easy to make with just a handful of ingredients. You can put it all together while you crisp the carnitas in the oven.
Mayonnaise – we like Primal Kitchen Avocado Oil Mayo for a no-sugar-added and Whole30-compatible option. Get 20% off of our favorite mayo with code REALFOOD20
Garlic
Fresh cilantro leaves
Fine salt
Fresh lime juice
Find the ingredient list with exact measurements in the recipe card below.
Special Thanks to the Minnesota Pork Board
We'd like to extend a big 'thank you' to our friends at the Minnesota Pork Board for bringing you this incredibly tender and mouth-watering recipe for easy pork carnitas. We learned a cool fact about pork production that we wanted to share with you.
The nutrients found in swine manure are used as natural fertilizers for Minnesota crop production, thus reducing the need for synthetic fertilizers. Research has found that the organic compounds in pig manure:
Produce better yields for corn when compared to using synthetic, commercial fertilizers
Help build and maintain soil structure, which aids soils' ability to hold water (thus helping to conserve water)
How To Meal Prep Carnitas
This recipe is great for meal prepping. It makes a good amount of food, and the end result can be used in a variety of dishes to keep things interesting throughout the week. We think carnitas are pretty delicious served in a taco salad with pickled red onions.
Given that the total time you are active in this recipe is minimal, we also think this is a great recipe to double and freeze the cooked pork in small batches for future meals.
Make It With a Pressure Cooker (Instant Pot)
This recipe adapts well to being cooked in pressure cookers too. If you're craving yummy carnitas, but didn't quite plan ahead, no worries!
Making carnitas in the Instant Pot requires almost the same prep as for the crock pot. The only difference is that you need to be able to fit the piece of meat in the pot and cook it evenly. To do this we recommend cutting the meat into smaller pieces.
After that most of the steps are the same, check the recipe card below for the exact details.
How To Serve Carnitas
When your carnitas are done and shredded, you can serve them right away. Or, for something extra special, we highly recommend sticking them under the broiler at high heat to get them a little crispy.
After that, you can eat it in tacos, enchiladas, tortas, or any way you can imagine! Our go-to's are tacos and burrito bowls.
For Carnitas Tacos:
Tacos are a super fun and flexible way to have a family dinner night, and everyone can assemble their own. You can set out traditional carnitas taco toppings like fresh cilantro, fresh onion, and lime wedges. Or you can have bowls of shredded lettuce, tomatoes, crumbled Cotija cheese, and sour cream.
Let everyone choose if they'd like flour or corn tortillas, and set out some extra lettuce for Whole30-compatible "taco shells."
Don't forget the guacamole and pico de gallo! For a unique twist, try the Cilantro-Lime Sauce included in this recipe, which makes an excellent accompaniment for any type of carnitas dish, tacos included.
Toppings For Burrito Bowls:
To turn your deliciously fall-apart tender crockpot carnitas into a burrito bowl, start with a bed of white rice, brown rice, or quinoa. You can even use cauliflower rice for a grain-free, low-carb, and Whole30-compatible option.
Then add your favorite toppings. Here are a few suggestions to get you started:
Refried, black, or pinto beans
Chopped romaine lettuce, spring mix, or 'power' greens salad mix
Chopped tomatoes, pico de gallo, salsa, and/or your favorite hot sauce
Guacamole or diced avocado
Dairy-Free Cilantro-Lime Sauce (see recipe below)
Sour cream (omit for dairy-free and/or Whole30)
Crumbled Cotija or feta cheese (omit for dairy-free and/or Whole30)
Fresh cilantro and/or lime wedges
How To Store Your Carnitas
The best way to store carnitas depends on whether you want to refrigerate them or freeze them. To refrigerate this carnitas recipe, place the cooled leftovers in an airtight container with some of the cooking liquid. They can be stored in the refrigerator for up to 4 days.
To freeze carnitas, put the cooled carnitas in an airtight container or freezer-safe bag with some of the cooking liquid. Label the container or bag with the date so you have a reference in the future. The carnitas can be stored in the freezer for up to 3 months.
When you're ready to enjoy the carnitas, thaw them in the refrigerator overnight. Try reheating the thawed carnitas by sautéing them in a skillet before serving and/or crisping them up under the broiler.
History of Carnitas
Carnitas are a cherished part of Mexican cuisine. The origins are up for debate, some say Michoacán, others say Mexico City, but either way, carnitas are often made for festive occasions or for Sunday dinners. They are traditionally cooked in a copper pot or thick-bottomed pot like a Dutch oven that can evenly distribute heat.
Most recipes use lard, olive oil, or vegetable oil to coat the dish, but with a slow cooker that isn't necessary. Nowadays you'll find regional variations and personal touches, like cooking the pork in orange juice or Coca-Cola, but they all maintain the tender, flavorful pork that showcases the rich and diverse flavors of Mexican gastronomy. Everyone loves these "little meats."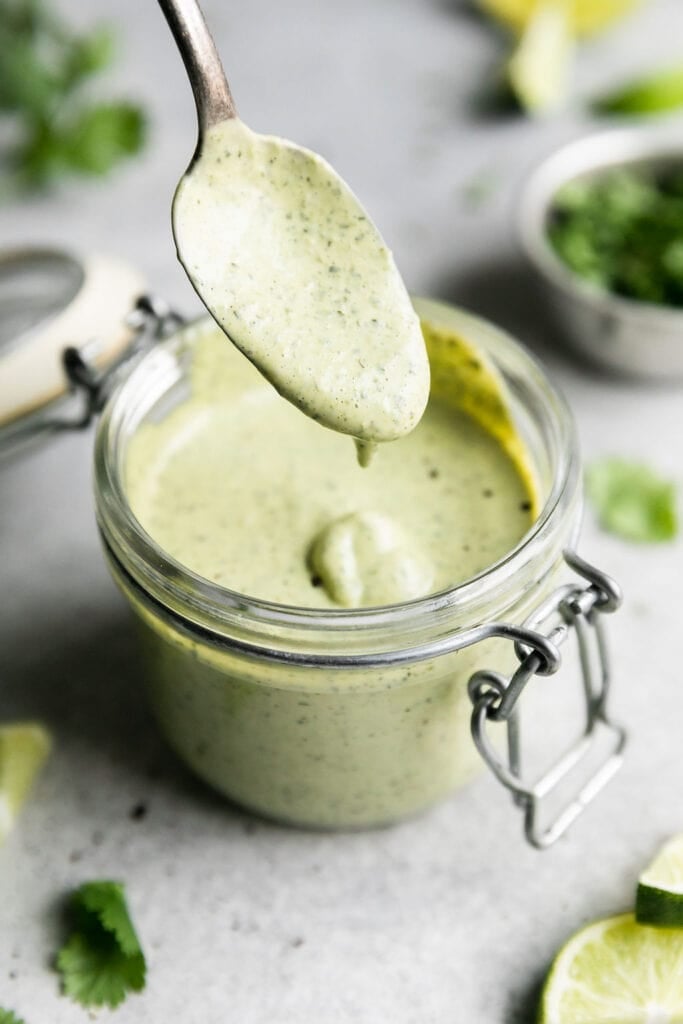 Frequently Asked Questions
What is the difference between carnitas and pulled pork?
The difference between carnitas and pulled pork is what goes in the rub and the liquid (chicken broth, water, if any) that's added to the slow cooker. Pulled pork is often served as a sandwich with barbecue sauce, while carnitas are typically used in tacos, burritos, and other Mexican-inspired dishes.
Pulled pork and carnitas both start out with a large piece of whole-muscle pork. It's better to use something with some excess fat like boneless pork shoulder or pork butt, rather than leaner tenderloin, to prevent the meat from drying out.
Craving pulled pork? Try our Crockpot Pulled Pork with Honey-Mustard BBQ Sauce or Smoked Pork Butt.
Carnitas vs. Barbacoa?
Carnitas is made from pork, while barbacoa is typically made with slow-cooked beef. Barbacoa means "barbecue," to imply that it is slow-cooked on a barbecue pit. Sometimes barbacoa is made from other meats, such as lamb or goat. 
Do carnitas freeze well?
Yes! Carnitas freeze very well. In fact, they're so freezer-friendly that we recommend making a batch and freezing it in smaller portions for later meals, since this recipe makes enough to serve 8-10 people. To freeze, refrigerate any leftover carnitas until completely cool then transfer to a freezer-safe container or zip-top storage bag and freeze for up to 2 months.
How do you know when carnitas are done?
Your carnitas should be done after the recommended 8-9 hours of low and slow cooking in the crock pot. At that time, the meat will shred very easily with two forks. If it doesn't, replace the lid of the slow cooker and continue cooking for another 30-60 minutes. 
Using larger pieces of meat or doubling the recipe will require more cooking time, so plan ahead for that if that's the case.
Recipe
Easy Slow Cooker Carnitas
These might be the easiest solution to taco night yet with just 10 minutes of prep and a low and slow, hands-off cook time. Perfect for tacos or burrito bowls or even stuffed into a baked sweet potato.
Prep:
10 mins.
Cook:
8-9 hrs
Total:
8-9 hrs.
Servings:
Serves about

8

–

1

0

1

x
Ingredients
For the Carnitas:
3

lbs. boneless pork shoulder or butt roast, patted dry (about

3½

lbs. for bone-in)

4

garlic cloves, minced

1

medium yellow onion, thinly sliced (about a

1

heaping cup)

1 tablespoon

chili powder

1 tablespoon

ground cumin

2 teaspoon

dried oregano

⅛ teaspoon

ground cinnamon
Pinch of chipotle powder (about ⅛ teaspoon), more if you like it spicier

2 teaspoons

fine salt + more to taste

 

½

 teaspoon black pepper
Juice of

2

limes (about

¼ cup

)
Juice of

1

large orange (

⅓

–

½

cup)
For the Cilantro-Lime Sauce:
¾ cup

mayonnaise (we like Primal Kitchen Avocado Oil Mayo)

2

garlic cloves, peeled and smashed

1 cup

fresh cilantro leaves

½ teaspoon

fine salt + more to taste
Juice of

1

lime (about

2 tablespoons

)
Slow Cooker

Directions
Pat the

pork shoulder

or butt dry with paper towels. 

In a small bowl, combine the

chili powder

,

cumin

, dried

oregano

, cinnamon,

chipotle

powder, salt, and

black pepper

to make the spice rub.

Rub the spice mixture onto the entire surface of the pork. This can be done up to 3 days in advance and the pork stored, covered, in the fridge until ready to cook.

Place the pork in the

slow cooker

, fat cap facing up (the 'fat cap' is the thick layer of fat). Place the onions and garlic on top of the pork.

Pour the

lime juice

and

orange juice

over all and place the lid on the

slow cooker

. No stirring necessary!

Set the

slow cooker

to LOW and cook for 8-9 hours or until the pork shreds easily with a fork. 

When the pork is done, remove from the

slow cooker

to a bowl or baking dish and shred with two forks, adding a little of the liquid from the

slow cooker

as needed to moisten and season the meat. Taste and season with additional salt, if needed. 

Optional:

Spread

shredded pork

on a

baking sheet

and

broil

for 3-4 minutes until edges of pork are

crispy

. Alternatively, you can place

shredded pork

in a hot, preheated cast iron skillet and allow it to sit, undisturbed, for  5-6 minutes to allow pork to get

crispy

. Stir and cook an additional 2-3 minutes or until edges are

crispy

.

Serve with desired toppings.
Instant Pot

Directions
Follow the

slow cooker

directions, cut the

pork shoulder

into 2-3″ chunks then follow steps 1-5 (placing the pork in the

Instant Pot

rather than the

slow cooker

). 

Lock the lid into place and cook on

High Pressure

for 45 minutes. Allow for 20 minutes of natural pressure release before flipping the vent valve to the 'Venting' position to release any residual steam. 

Remove the pork from the

Instant Pot

and shred with two forks, adding additional

cooking liquid

to moisten and season the meat. Taste and season with salt as needed. 

For

crispy

carnitas, see Step 8 in the

slow cooker

directions above. 
To Make The

Cilantro

-Lime Sauce:
Place all sauce ingredients in a food processor or blender. Blend until well-combined, add a few drops of water to thin it if needed.

Taste and adjust salt to taste.

Store in an airtight container in the refrigerator for up to 5 days.
Last Step! Please leave a review and rating letting us know how you liked this recipe! This helps our business thrive so we can continue providing free recipes and high-quality content for you.
Notes
Topping/serving suggestions for tacos or burrito bowls:
Corn tortillas or flour tortillas, cooked rice (brown rice, white rice, or cauliflower rice), refried black or pinto beans, chopped romaine lettuce, Homemade Guacamole or sliced avocado, salsa, pico de gallo, taco sauce, Quick Pickled Red Onions, Cilantro-Lime Sauce (see recipe above), sour cream, crumbled cotija cheese, fresh cilantro, and lime wedges 
Nutrition Information
Serving Size:

4 oz. carnitas + 1 tablespoon sauce

Calories:

275

Fat:

17 g

(Sat Fat:

6 g

)
Sodium:

375 mg

Carbohydrate:

4 g

(Fiber:

1 g

Sugar:

2 g

)
Protein:

25 g
Dietary
Pin Now to make it later!
---
The photos in this blog post were taken by Rachel Cook of Half Acre House.
This post was made possible by our friends at Minnesota Pork. Although we received compensation for this post, the opinions expressed here are – as always – 100% our own. Thank you for supporting the great companies we work with thereby allowing us to continue creating great recipes and content for you.
For ultimate success, we highly recommend reading the tips in the full blog post above. All photos and content are copyright protected. Please do not use our photos without prior written permission. If you wish to republish a recipe, please rewrite the recipe in your own unique words. Link back to the source recipe here on The Real Food Dietitians. Thank you!