This 2-Week Fast and Easy Meal Plan features fast yet hearty meals the whole family will love. It's the perfect way to ease back into the routine of early fall and back-to-school. It's FREE to everyone and even includes a grocery list for each week. You can enjoy the meals on their own or pair them with free at-home workouts from our favorite trainer.
Included with this fast and easy meal plan is a free workout plan that includes full-length videos to follow along with, a new 30-minute or less workout for each day requiring minimal equipment. No gym membership required. Get all of the details, download links, and more in the post below.
This free meal plan was created in partnership with ButcherBox.
What is the 2-Week Fast and Easy Meal Plan?
The 2-Week Fast and Easy Meal Plan, is just like it sounds. A FREE 2-week meal plan that includes some of our fastest and easiest recipes plus a done-for-you grocery list created by our team of registered dietitians.
In this meal plan, you'll find 4 dinner recipes each week along with a grocery list that you can print and take to the store with you. We also give you suggestions for breakfast, lunch, and snacks. Feel free to take our suggestions and add the ingredients you'll need to your grocery list, or browse our Breakfast, Lunch & Dinner, and Snacks pages for even more ideas.
Like our other free meal plans (the 2-Week Healthy Meal Plan and 4-Week Healthy Meal) this fast and easy meal plan is meant to be flexible to fit your lifestyle and family needs. Feel free to double any of the recipes and freeze the extras for an easy reheat-and-eat meal later on. Or fill one of the nights with a family-favorite recipe from your own collection. We know that putting a delicious, healthy meal on the table every night of the week can be a real challenge so we've kept this meal plan realistic with just 4 dinners and room to incorporate leftovers, a meal from the freezer, or takeout.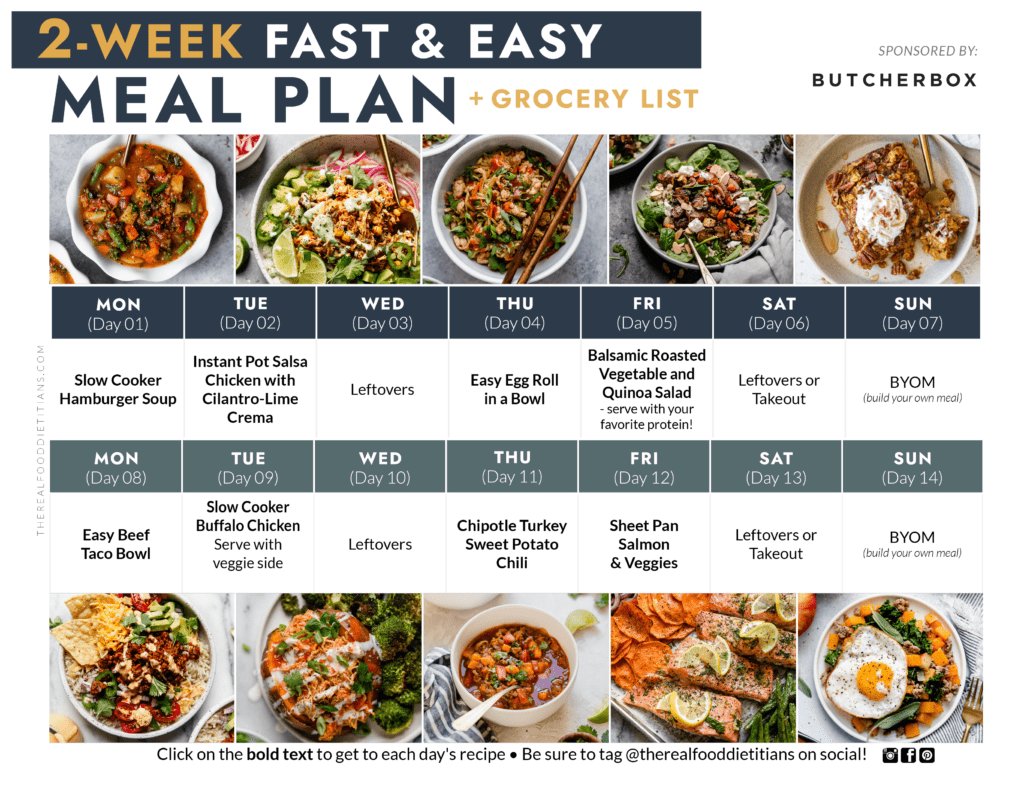 What's Included With The Fast and Easy Meal Plan:
With the 2-Week Fast and Easy Meal Plan you'll get:
4 delicious, family-friendly dinner recipes each week that are quick to make. Many of them can even be prepped ahead to help you get dinner on the table even faster
Weekly grocery shopping list
Suggestions for Breakfasts, Lunches, and Snacks each week
All recipes are gluten-free and have suggestions for dairy-free and other modifications
Wait! There's more!
The Fast and Easy Meal Plan includes access to a 2-Week Free Workout Plan created by personal trainer Lindsey Bomgren of Nourish Move Love. These workouts are totally free, accessible to all fitness levels, require minimal equipment, and can be done in the comfort of your own home (or backyard) on your schedule. You'll love the full-length follow-along videos that come with each workout where Lindsey demonstrates every exercise and provides suggestions for modifications.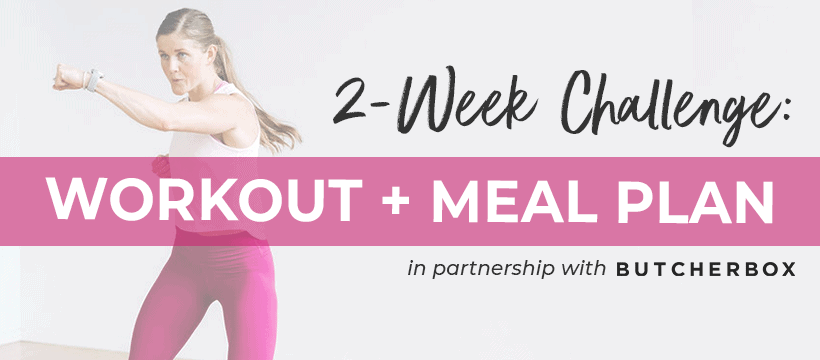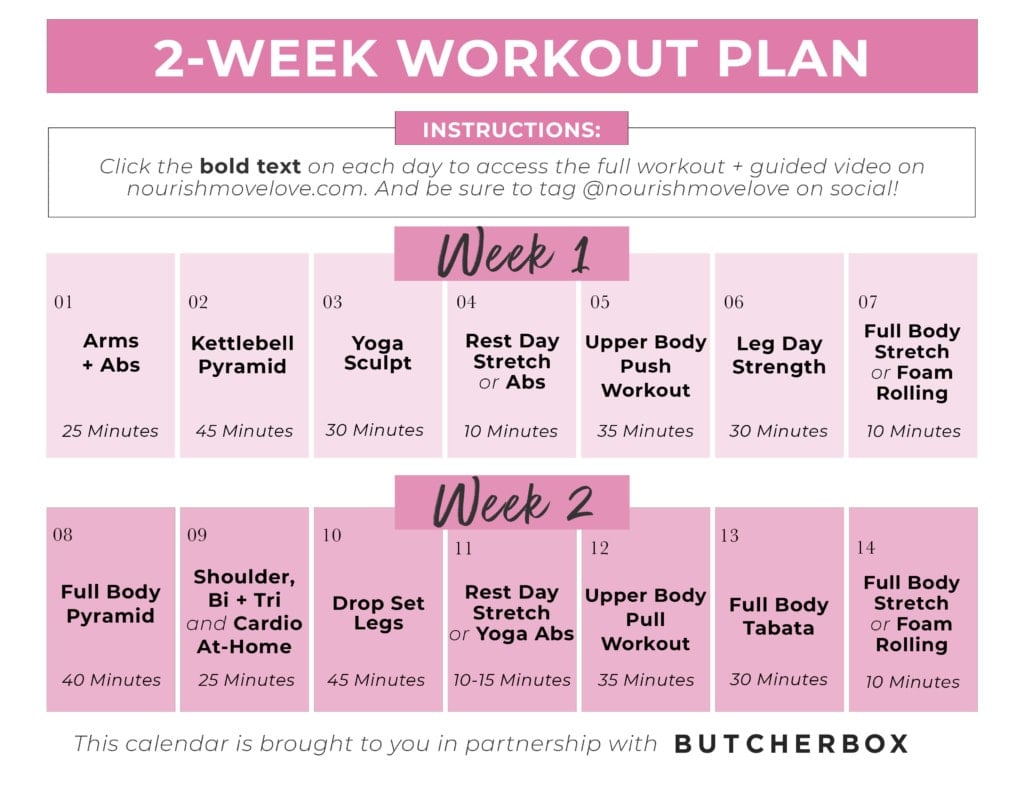 Don't forget to grab your free 2-Week Workout Plan with all of the details for each workout including: workout length, link to videos, equipment needed (if any), and modifications for pregnancy. Lindsey makes it easy and enjoyable to add fitness to your daily routine no matter your current level of fitness.
---
How Does The 2-Week Healthy Meal Plan Work?
Each week we've planned 4 healthy, delicious dinners for you to make in whatever way works best for you – whether that's weekend batch-cooking, prepping the ingredients ahead so they're ready when you are, or making the recipe start to finish each of the four days.
Since we don't expect you to cook seven days of the week, we've built in days for using leftovers, making your own favorite recipes, or even getting takeout or delivery (because we all like a break from cooking once in a while). Feel free to move days around, double a recipe or two so you have more leftovers, or swap out some of the recipes altogether to use your family's favorites.
On Sunday's it's "Build Your Own Meal (BYOM)" night. We encourage you to use what you have on hand or what needs to be used up from the week. Fill half your plate with veggies, a quarter with protein, and the final quarter with carbohydrate-rich foods like fruit, rice, sweet potatoes, etc. We also like to make sure to add a source of healthy, satisfying fats such as olive oil, some avocado, nuts, or cheese.
To see examples of our own meals, follow us on Instagram!
Tips For Following The Plan
Take inventory of what you have on hand. This is an important step to take before you head to the grocery store. Many of the items on the grocery list are staple items like oils and seasonings.
Add or subtract from your grocery list to account for what you already have and what you need for recipes that aren't part of the meal plan.
Plan when you'll use leftovers, meals from the freezer, or takeout or delivery for dinner during the week.
Don't be afraid to double freezer-friendly recipes for meals later in the month – your future self will thank you!
Choose breakfasts, lunches, and snacks that are simple, made with real food ingredients, and something you don't mind repeating throughout the week. The key here is that these meals are simple. So while we provide suggestions, if you have a favorite breakfast, lunch, and/or snack by all means choose what will serve you best.
Review the recipes and pre-chop vegetables. This is a great task to tackle on a Sunday and will save you a considerable amount of time during the week.
Fast and Easy Meal Plan | Week 1
Monday (Day 1) – Slow Cooker Healthy Hamburger Soup | Total Time: 8 hours, 20 minutes | Serves: 6 | This hearty soup is packed with vegetables, fiber, and protein making it a satisfying supper any time of year. Want it faster? We've included directions for the Instant Pot in the recipe here. Featuring: Ground Beef
Tuesday (Day 2) – Instant Pot Salsa Chicken with Cilantro-Lime Crema | Total Time: 30 minutes | Serves: 8 | Everyone loves this easy Instant Pot Salsa Chicken meal! You get flavorful shredded chicken in minutes that tastes good on everything! Make it into a healthy bowl meal, serve it in a tortilla or any other way you please. Featuring: Boneless, skinless chicken breasts
Wednesday (Day 3) – Leftovers
Thursday (Day 4) – Easy Egg Roll in a Bowl | Total Time: 30 minutes | Serves: 4 | This one-dish recipe is chock full of veggies! It's delicious for everyone and also meets special diet requirements, such as Whole30, dairy-free, grain-free, gluten-free, egg-free, nut-free, and Paleo. Featuring: Ground Turkey or Ground chicken
Friday (Day 5) – Balsamic Roasted Vegetable Quinoa Salad | Total Time: 35 minutes | Serves: 4 | A beautiful and tasty salad that makes for a perfect weeknight dinner when served with your favorite quality protein such as chicken, steak, pork or fish or you can enjoy it as a tasty and satisfying plant-based meal. Featuring: Your protein of choice.
Saturday (Day 6) – Leftovers or Takeout
Sunday (Day 7) – BYOM (build your own meal) or make your favorite recipe
Breakfast, Lunch & Snack Ideas | Week 1
>> Free Ground Beef for Life now through October 15th – Join ButcherBox today and get 2 pounds of grass-fed and grass-finished ground beef for free in your first box and every box for the lifetime of your membership
Fast and easy meal plan | Week 2
Monday (Day 1) – Easy Beef Taco Bowl with Salsa Ranch | Total Time: 20 minute | Serves: 8 | Weeknight dinners hardly get any easier than this! With just 20 minutes you can put a meal on the table for a crowd or have enough for leftovers later in the week. Featuring: Ground Beef
Tuesday (Day 2) – Slow Cooker Buffalo Chicken | Total Time: 5 hours, 10 minutes | Serves: 8 | Slow Cooker Buffalo Chicken is an easy crockpot recipe and a perfect make-ahead meal for busy weeknights. You can make it hearty by serving the shredded buffalo chicken stuffed in a baked sweet potato or regular potato, or keep it light and serve it on top of a bed of greens or tucked in a lettuce wrap. Includes Instant Pot directions. Featuring: Chicken Breasts
Wednesday (Day 3) – Leftovers
Thursday (Day 4) – Chipotle Turkey Sweet Potato Chili | Total Time: 35 minutes | Serves: 4 | Sweet potatoes stand in for beans in this hearty chili and are a nice compliment to the smoky chipotle pepper. It's great served with diced avocado, fresh cilantro, and lime wedges. Includes directions for stovetop, slow cooker, and Instant Pot. Featuring: Ground Turkey
Friday (Day 5) – Sheet Pan Salmon and Veggies | Total Time: 45 minutes | Serves: 4 | When you're short on time and dinner ideas, this Sheet Pan Baked Salmon with Vegetables is fast, balanced, and delicious! Made with omega-packed salmon, sweet potatoes, and fresh veggies, this salmon sheet pan dinner comes together in under an hour. Featuring: Wild-caught salmon
Saturday (Day 6) – Leftovers or Takeout
Sunday (Day 7) – BYOM (build your own meal) or make your favorite recipe
Breakfast, Lunch & Snack Ideas | Week 2
Other Meal Plan Resources You might Like:
Top 10 Tips For Achieving Your Wellness Goals
Start small – Choose one goal to work on at a time. For example, aim to eat regular meals and snacks vs. grazing or aim to workout 3 days a week rather than setting an unrealistic goal of 5 days a week if you're new to exercise or have taken a break from it.
Make simple swaps – If you normally start your day with 2 slices of toast (low in protein and nutrients), try replacing one of the slices with a cup of fresh fruit. You also can add an egg or a piece of string cheese to bump up the nutrition. The key is to make simple swaps that don't require you to overhaul all of your habits at once, which can be overwhelming.
Aim for progress, not perfection – Consistency is key. Small behaviors, like filling half of your plate with plants at every meal, having a quality source of protein with every meal, or setting aside 30 minutes a day to move your body, when done consistently will add up over time.
Get enough sleep – Aim for 7-8 hours of sleep each night while also aiming for sleep consistency (going to bed and waking at the same time each day)
Find an accountability partner and/or involve the family – We all know how helpful it can be to have someone to remind you of why your goals are important to you. Enlist a friend (or several) and your family members to join you in the challenge. Eating healthier and moving more benefits everyone!
Have a plan – It's true that failing to plan is planning to fail so we encourage you to take a little time each week to make a plan for the week ahead whether that's making a grocery list, doing the grocery shopping, or getting a jump start on meal prepping by chopping and prepping ingredients to help you get meals on the table faster.
Make it sustainable – This piggybacks on the idea of starting small but it's probably one of the most important things to consider when you decide which habits or changes to work on first. The best habits to have are the ones that you can easily do and do for the long haul. True change, when it comes to your health, comes with consistency so developing habits that are sustainable are key.
Don't rely on motivation – Motivation (like willpower) can only get you so far. When it's gone, it's hard to find it again so our tip is to rely on discipline rather than motivation. When you make meal planning and prepping a habit you're more likely to just do it even when you don't 'feel like it'.
Set performance goals – While it may be tempting to set a goal of 'losing weight' that kind of goal is ambiguous and often leads to throwing in the towel and creates mental stress and fatigue. We recommend setting performance goals instead. Some examples include, "Doing 10 push-ups from my toes", "Run a mile without stopping", "Complete a 10-mile hike", "Complete the 4-Week Workout Plan from Nourish Move Love", etc.
Show yourself some grace – While it's great to have a plan and strategies to make it all happen, sometimes the unexpected happens. Your week gets ridiculously busy at work, your kids get sick…you get it. Resist the temptation to throw in the towel and instead recognize that this is just a hiccup. Show yourself the kind of grace and compassion you would show a friend or family member and just pick up where you left off.
---
This is a sponsored post in partnership with ButcherBox. All words and opinions are our own. Thank you for supporting The Real Food Dietitians!