This free Weekend Meal Prep Plan includes tasty recipes, a done-for-you grocery list, a step-by-step prep checklist, a meal plan example, AND a printable template for your future meal prep planning!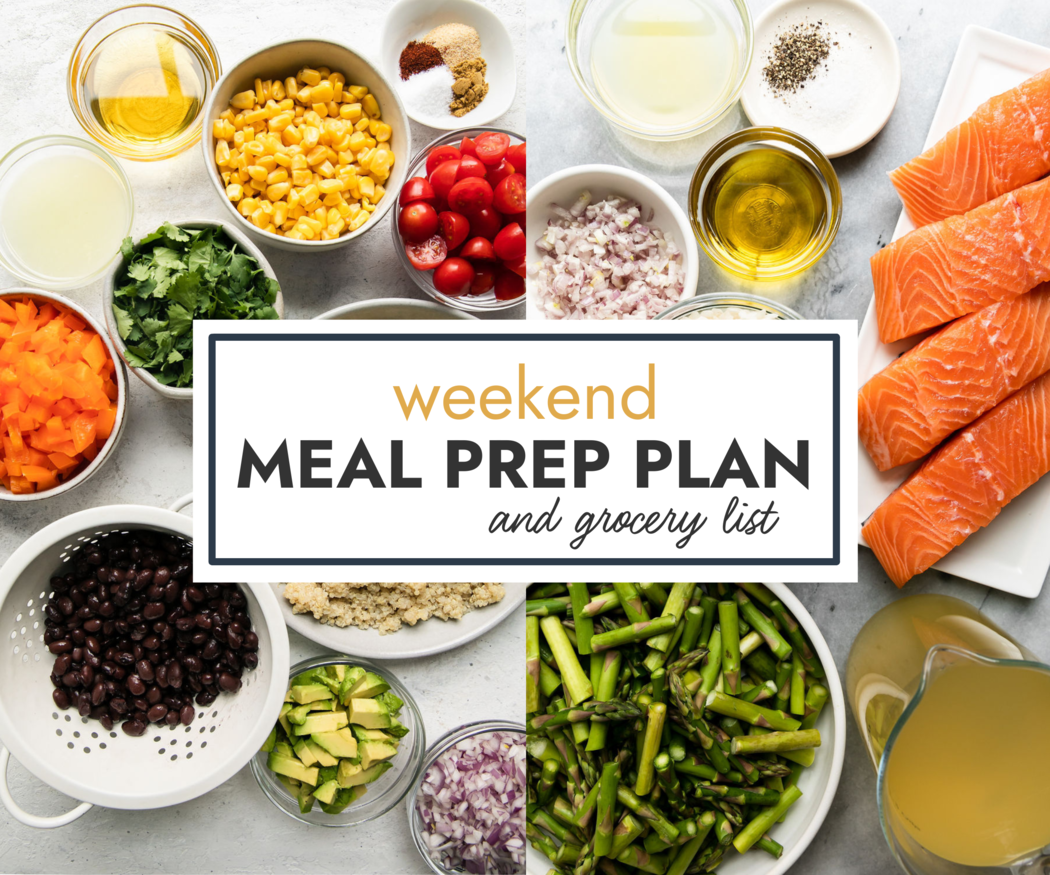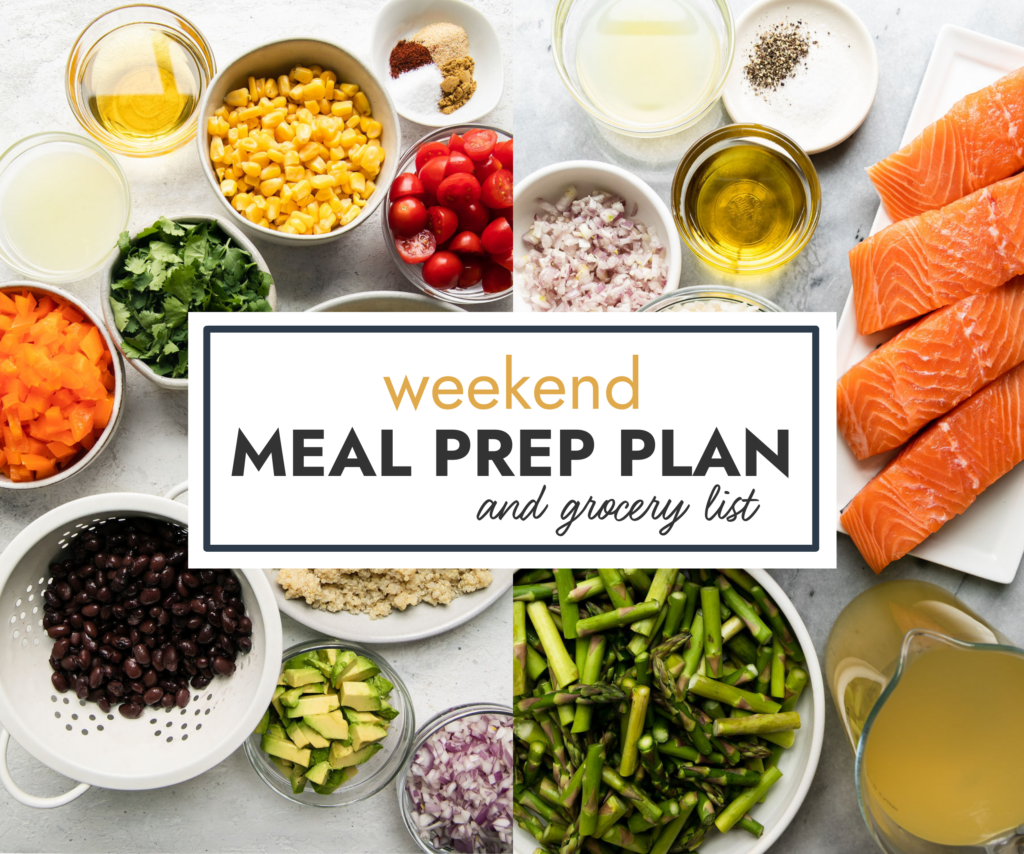 A step-by-step downloadable guide to show you exactly how to meal prep in a timely and efficient manner.
All too often we hear that what's stopping you from meal prepping is that it's intimidating, it takes too much time, you don't know where to start, and so on. This is exactly why we decided to turn the idea of this meal prep plan into a reality.
We want to help you become a master of meal prep. It's something we've personally been doing for several years, with no plans of stopping. We want to inspire you to give weekend meal prep a try, to help you fill your fridge with healthy and prepared foods as you enter another busy week. Meal prepping is a key practice in our lives that helps us to eat healthy and wholesome meals all week long. Our goal is to help you feel less overwhelmed with the concept of meal prep and instead feel excited to find your own meal-prepping groove. 
In this plan, we walk you every step of the way through the meal prep process and provide you with recipes, a grocery list, and clear direction as to how to complete it. At the end of this guide, we give you tips and templates on planning so you can complete all of your future meal preps with grace and confidence.
We hope you enjoy this ebook and find it to be a helpful resource as you complete your 1st, 5th, or 100th meal prep!
Please share this post with anyone who might find it helpful! The more it's shared, the more free resources like this we can create for you!
Weekend meal prepping… your answer to eating healthy and delicious food all week long.
You may be wondering why you would want to designate a couple of hours on the weekend (or whatever day you choose) to meal prep, so here are a few reasons why the time you spend on meal prepping is time well spent.
5 MEAL PREP PERKS
You'll have a fridge full of ready-to-eat food for the week ahead. Foods that will nourish your body (and your family's bodies), fuel your workouts, and make the healthy choice the easy choice all week long.
You'll save time during the week. While this meal prep won't last you the entire week and you'll likely have to add some additional meals, it will give you a great start. This will open up time in your evenings for activities like going for a walk, reading a book, spending time with family, tidying up the house, or whatever it is that you love (or need) to do.
You'll reduce food waste because you'll be more aware of what you have on hand and what you need to use up before it reaches its expiration date.
You'll save money. Knowing what you have on hand and what you need to use up will help you avoid doubling up on ingredients or making impulse purchases at the grocery store

—

as long as you stick to your grocery list.

You'll reduce your stress. Knowing that you have a fridge full of healthy foods at your fingertips is just a really good feeling. You'll always have the answer to the,

"What's for dinner?"

question!
WHAT'S IN THIS MEAL PREP PLAN
For this weekend meal prep, we have four delicious and satisfying recipes planned. What about the sides? Don't worry, we've included some super simple side dish suggestions for you to serve with each recipe. The amount of time to complete this meal prep will take you around 2 hours. In this guide you'll find the following:
Meal Prep Menu –

Includes serving suggestions.

Meal Prep Flow Guide

– Step-by-step instruction on how to complete the prep in a timely manner.

Grocery List

– Includes optional side dish and serving suggestions which are noted.

Meal Plan Example

– Two-day meal plan example showing you how it all comes together.

Tips for Planning a Meal Prep

– Here you'll find our top tips on how to plan future meal preps.

Blank Meal Prep Template

– A print-friendly template to assist you with future meal prep planning.

BONUS Recipes

– Two recipes that will make a great addition to any meal prep.
WEEKEND MEAL PREP MENU
Time to complete the prep: about 2 hours
Sweet Potato Turkey Sausage Egg Bake

Serving suggestion: Serve with a side of fresh fruit and top with sliced avocado and a drizzle of hot sauce.

Easy Egg Roll in a Bowl

Serving suggestion: Serve with regular rice or cauliflower rice and top with a little hot sauce.

Instant Pot (or Slow Cooker) Chicken Tacos or Bowls

Serving suggestion: Serve over a bed of greens and cauliflower rice or regular rice, top with your favorite fixings. Alternatively, serve in a tortilla of choice with your favorite fixings.

Peanut Butter Chocolate Chip Energy Bites

Serving suggestion: Enjoy as a quick snack along with some fresh fruit or veggies.

Veggies

Serving suggestions: Always keep extra veggies on hand for adding to salads or egg dishes, roasting, dipping, sauteing, grilling, etc.
MEAL PREP PLAN EXAMPLE
Here we show you how it all comes together by sharing an example of what a day of meals could look like using the foods that you have prepped. Note: this is just an example! Portion sizes will vary depending on individual needs.
---
All photos and content are copyright protected. Please do not use our photos without prior written permission. If you wish to republish this recipe, please rewrite the recipe in your own unique words and link back to the source recipe here on The Real Food Dietitians. Thank you!