To help you start the year off right we've created a free 4-Week Healthy Meal Plan!! PLUS to make it even better, we've teamed up with our favorite fitness trainer who put together a 4-Week Workout Challenge that includes a new workout for each day (minimal equipment needed, less than 45 minutes!), full-length videos and workouts that can be completed in the comfort of your own home!
This free meal plan was created in partnership with the Minnesota Beef Council and the Minnesota Pork Board.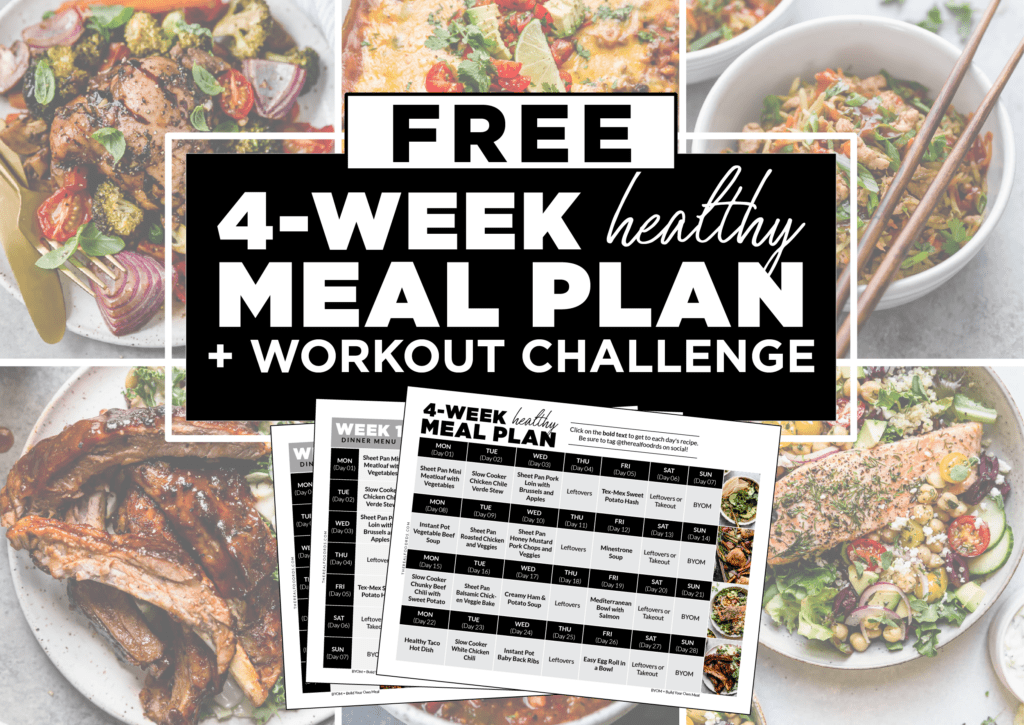 What is the 4-Week Healthy Meal Plan?
The 4-Week Healthy Eating Meal Plan is just like it sounds – 4 weeks of healthy recipes planned for you created by Dietitians, Jess & Stacie. We've done some of the heavy lifting for you by planning 4 healthy dinners each week (with weekly grocery lists) plus given you suggestions and meal ideas for breakfast, lunch and snacks. 
This meal plan is meant to be flexible to fit your lifestyle and family needs. The reason we make only suggestions for breakfast, lunch and snacks is because we know many individuals have their go-to's when it comes to these meals. For example, you may enjoy a smoothie for breakfast every morning, maybe a big salad or leftovers for lunch. We want this plan to work for you! 
Our goal with this meal plan is that it is realistic for you to follow and that it doesn't require you to make a new recipe for every meal of the day. So we decided to focus on what tends to be the biggest pain point when it comes to meal planning – dinners. More on how the meal plan works below!
Click here or click on the image above to download your FREE 4-Week Healthy Meal Plan
What's included:
With the 4-Week Healthy Meal Plan you'll get:
4 delicious, family-friendly dinner recipes each week 

Weekly grocery shopping list

Suggestions for Breakfasts, Lunches, and Snacks each week

A weekly email to help keep you on track. You will also receive the upcoming weeks menu and grocery list in this email

(

click here to sign up for our free weekly newsletter

if you're not already receiving it). 
Plus, you'll also get:
The 4-Week Workout Challenge created by personal trainer

Lindsey Bomgren

of Nourish Move Love. These workouts are totally free, accessible to all fitness levels, require minimal equipment (if any) and can be done in the comfort of your own home on your schedule. 
Click here to get your FREE 4-Week Workout Challenge
Who is the Meal Plan for?
This healthy eating meal plan is for anyone who wants to take some of the guesswork out of healthy eating. Don't worry, we don't expect you to spend hours each day in the kitchen. Our recipes are designed to be short on ingredients but big on flavor and easy enough for anyone to make. All of the recipes are gluten-free and we give suggestions for making them dairy-free whenever possible – but feel free to make your own ingredient swaps to suit your needs or use what you have on hand. 
We're not here to make healthy eating hard – we're here to make it doable – and this 4-Week Healthy Meal Plan is the perfect way to help you get on track towards feeling your best in 2021 and achieving your wellness goals. Pair it with Nourish Move Love's Workout Challenge and you're guaranteed to feel better and be on your way to your best self!
How does the 4-Week Healthy Meal Plan work?
Each week we've planned 4 healthy, delicious dinners for you to make in whatever way works best for you – whether that's weekend batch-cooking, prepping the ingredients ahead so they're ready when you are, or making the recipe start to finish each of the four days.
Since we don't expect you to cook seven days of the week, we've built in days for using leftovers, making your own favorite recipes or even getting takeout or delivery. We want this meal plan to work for you so feel free to move days around, double a recipe or two so you have more leftovers, or swap out some of the recipes all together. The key is to make it work for you.
On Sunday's it's "Build Your Own Meal (BYOM)". We encourage you to use what you have on hand or what needs to be used up from the week. Fill half your plate with veggies, a quarter with protein and the final quarter with a carbohydrate rich food like fruit, rice, sweet potatoes, etc. We also like to make sure to add a source of healthy, satisfying fats such as olive oil, some avocado or cheese.
To see examples of our own meals, follow us on Instagram!
Be sure you are subscribed to our newsletter! Every week we will send you an email that includes the weekly meal plan  with grocery list as well as the workout plan. 
Tips for Following the plan
Take inventory of what you have on hand. This is an important step to take before you head to the grocery store or ordering your groceries. Many of the items on the grocery list are staple items like oils and seasonings.

Add or subtract from your grocery list to account for what you already have and what you need for recipes that aren't part of the meal plan.

Plan when you'll use leftovers, meals from the freezer, or takeout or delivery for dinner during the week (or add a few more recipes of your choice to the meal plan if that works better for you and your family).

Don't be afraid to double freezer-friendly recipes for meals later in the month – your future self will thank you!

Choose breakfasts, lunches and snacks that are simple, made with real food ingredients and something you don't mind repeating throughout the week. The key here is that these meals are simple. So while we provide suggestions, if you have a favorite breakfast, lunch and/or snack by all means choose what will serve you best.

Review the recipes and pre-chop vegetables. This is a great task to tackle on a Sunday and will save you a considerable amount of time during the week.
Click here to download your FREE 4-Week Healthy Meal Plan 
HEALTHY MEAL PLAN | WEEK 1
 Breakfast, Lunch & Snack Ideas | Week 1
Breakfast: 
Lunch: 
Snack: 
HEALTHY MEAL PLAN | WEEK 2
Monday (day 8):

Instant Pot Vegetable Beef Soup

| Total Time: 50 min | Serves: 6 | SLOW COOKER: For a slow cooker beef soup cook on low in the slow cooker for 6-8 hours. Add the frozen green beans, peas 30 minutes before serving. Add more broth if needed.
Tuesday (day 9):

Sheet Pan Roasted Chicken and Veggies

| Total Time: 50 min | Serves: 4

Wednesday (day 10):

Sheet Pan Honey Mustard Pork Chops and Veggies

| Total Time: 50 min | Serves: 4

Thursday (day 11):

Leftovers

Friday (day 12):

Minestrone Soup

| Total Time: 40 min | Serves: 6 |

add ground pork, beef or turkey for a boost of protein!

Saturday (day 13):

Leftovers or Takeout

Sunday (day 14):

BYOM (build your own meal)
Breakfast, Lunch & Snack Ideas | Week 2
Breakfast:
Lunch:
Snack: 
HEALTHY MEAL PLAN | WEEK 3
Breakfast, Lunch & Snack Ideas | Week 3
Breakfast:
Lunch:
Snack:
HEALTHY MEAL PLAN | WEEK 4
Monday (day 22):

Healthy Taco Hot Dish

| Total Time: 1 hour 15 min | Serves 8

Tuesday (day 23):

Slow Cooker White Chicken Chili

  | Total Time: 7 hours | Serves: 5

Wednesday (day 24):

Instant Pot Baby Back Ribs

  | Total Time: 60 min | Serves: 4 |

pair with our

Sweet Kale Salad

or a veggies or your choice! No Instant pot? No problem. Cook in a slow cooker with a 1/2 cup additional broth for 7-9 hours on low. 
Thursday (day 25):

Leftovers

Friday (day 26):

Easy Egg Roll in a Bowl

| Total Time: 30 min | Serves: 4 |

 

Saturday (day 27):

Leftovers or Takeout

Sunday (day 28):

BYOM (build your own meal)
Breakfast, Lunch & Snack Ideas | Week 4
Breakfast: 
Lunch:
Snack:
Other Meal Plan Resources:
Top 10 Tips for Achieving your Wellness Goals 
Start small –

Choose one goal to work on at a time. For example, aim to eat regular meals and snacks vs. grazing or aim to workout 3 days a week rather than setting an unrealistic goal of 5 days a week if you're new to exercise or have taken a break from it. 

Make simple swaps

– If you normally start your day with 2 slices of toast (low in protein and nutrients), try replacing one of the slices with a cup of fresh fruit. You also can add an egg or a piece of string cheese to bump up the nutrition. The key is to make simple swaps that don't require you to overhaul all of your habits at once, which can be overwhelming. 

Aim for progress, not perfection

– Consistency is key. Small behaviors, like filling half of your plate with plants at every meal, having a quality source of protein with every meal or setting aside 30 minutes a day to move your body, when done consistently will add up over time. 

Get enough sleep –

Aim for 7-8 hours of sleep each night while also aiming for sleep consistency (going to bed and waking at the same time each day) 

Find an accountability partner and/or involve the family –

We all know how helpful it can be to have someone to remind you of why your goals are important to you. Enlist a friend (or several) and your family members to join you in the challenge. Eating healthier and moving more benefits everyone!

Have a plan –

It's true that failing to plan is planning to fail so we encourage you to take a little time each week to make a plan for the week ahead whether that's making a grocery list, doing the grocery shopping, or getting a jumpstart on meal prepping by chopping and prepping ingredients to help you get meals on the table faster. 

Make it sustainable –

This piggybacks on the idea of starting small but it's probably one of the most important things to consider when you decide which habits or changes to work on first. The best habits to have are the ones that you can easily do and do them for the long haul. True change, when it comes to your health, comes with consistency so developing habits that are sustainable are key. 

Don't rely on motivation  –

Motivation (like willpower) can only get you so far. When it's gone, it's hard to find it again so our tip is to rely on discipline rather than motivation. When you make meal planning and prepping a habit you're more likely to just do it even when you don't 'feel like it'.

Set performance goals

– While it may be tempting to set a goal of 'losing weight' that kind of goal is ambiguous and often leads to throwing in the towel and creates mental stress and fatigue. We recommend setting performance goals instead. Some examples include, "Doing 10 push-ups from my toes", "Run a mile without stopping", "Complete a 10-mile hike", "Complete the 4-Week Workout Plan from Nourish Move Love", etc. 

Show yourself some grace

– While it's great to have a plan and strategies to make it all happen, sometimes the unexpected happens. Your week gets ridiculously busy at work, your kids get sick…you get it. Resist the temptation to throw in the towel and instead recognize that this is just a hiccup. Show yourself the kind of grace and compassion you would show a friend or family member and just pick up where you left off. 
---
This is a sponsored post in partnership with the Minnesota Beef Council and the Minnesota Pork Board. All words and opinions are our own. Thank you for supporting The Real Food RDs!
The Minnesota Beef Council is dedicated to strengthening beef demand by responsibly providing a safe, wholesome, healthy and delicious eating experience.
The Minnesota Beef Council is funded and managed by beef farmers and ranchers. The Council provides beef promotion, marketing, research and education programs for beef and beef products.
The Minnesota Pork Board (MPB) is funded by the 3,000 pig farming families in Minnesota and offers unique value to farmers and consumers through research, education, and promotion of pork.