Inspired by the popular restaurant chain salad, this is our copycat recipe for the well-known, well-loved, perfectly fresh Olive Garden Salad. It makes a delicious and healthy side dish for any Italian meal, and the homemade Olive Garden dressing is a recipe you'll want to make again and again. Trust us, we've been making it again and again ever since we perfected it at home. It's that good! You can even make this Olive Garden Salad Recipe the star of the show by serving it as the main entree along with some grilled chicken, shrimp, or other protein.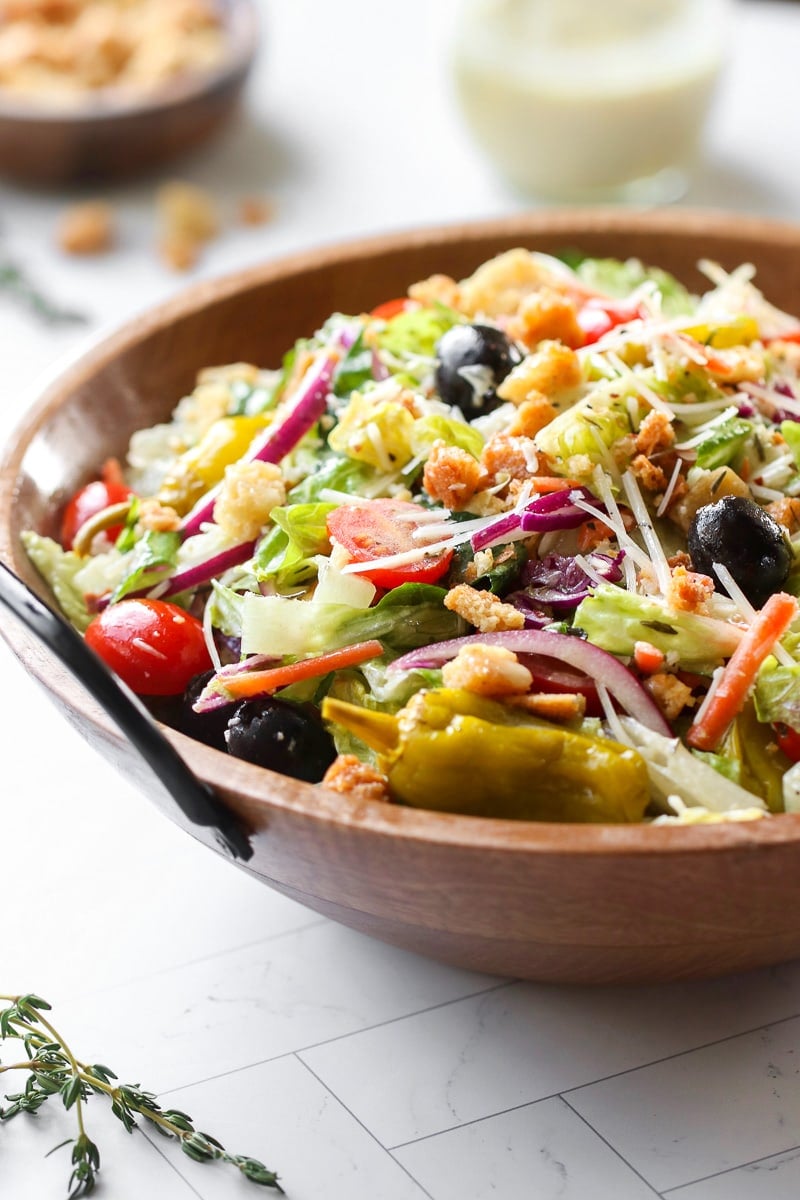 Yes, You can make olive garden salad at home
You don't need to wait in line, you don't need to be on the Olive Garden payroll, and you don't even need to make a reservation to enjoy this famous salad. We've broken the code on the good ol' OG salad, and it hits all the familiar flavors you crave. Using fresh greens, iconic salad toppers, and our secret recipe for creamy Olive Garden dressing means you can be enjoying this classic restaurant salad right in the comfort of your own home.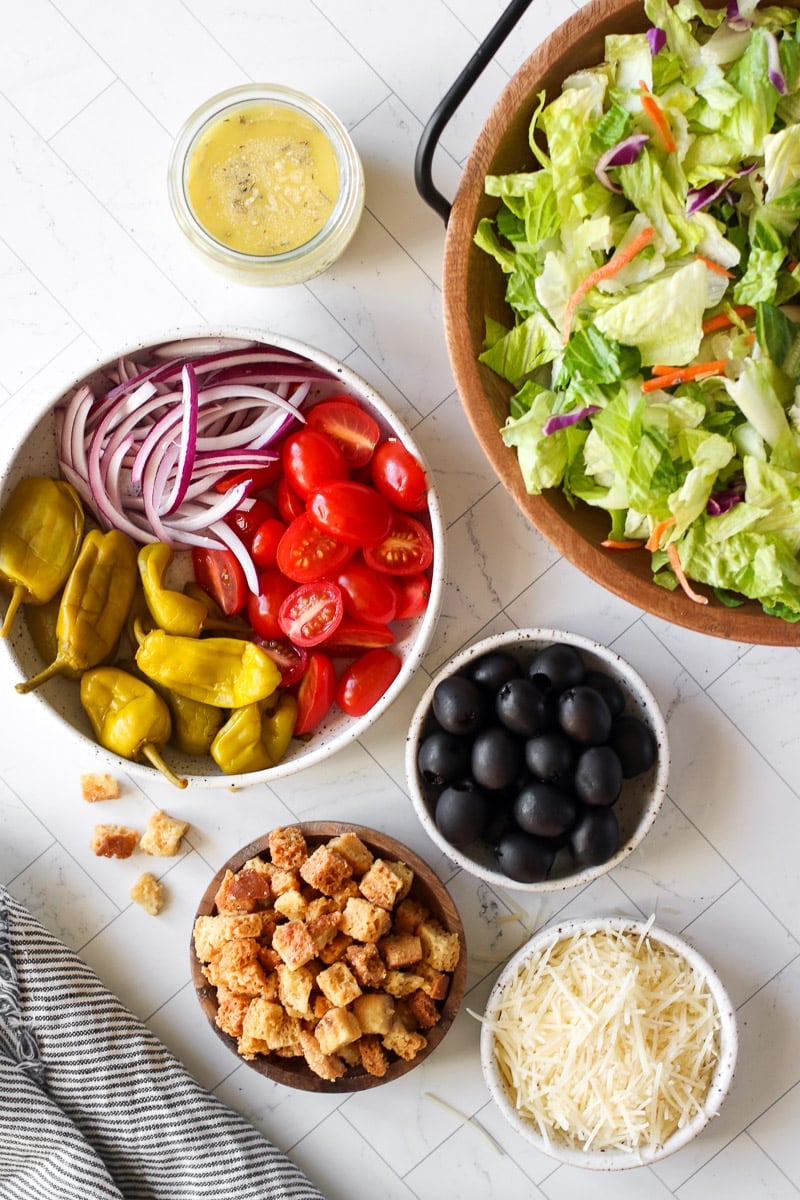 Ingredients to make Copycat Olive Garden Salad
Here are the ingredients you'll need to make an Olive Garden clone salad recipe at home:
Romaine salad mix – you'll need 2 9-ounce bags of chopped romaine lettuce mixed with shredded carrots and purple cabbage, or use you can chop 2 heads of romaine yourself
Cherry or grape tomatoes – or you can use sliced Roma tomatoes
Pepperoncinis – these sweet Italian chile peppers come in a jar; find them near the pickles and olives at your local grocery store
Large black olives – use canned or jarred
Red onion – you'll need 1/2 cup (half of a small red onion), very thinly sliced
Parmesan cheese – use shredded or shaved Parmesan – omit the Parmesan for a dairy-free salad
Croutons – use any croutons you'd like, or make your own. For a gluten-free salad, use gluten-free croutons
Ingredients for the homemade creamy Italian dressing:
And here are the pantry ingredients you'll need to gather to make a copycat recipe for Olive Garden salad dressing:
Extra-virgin olive oil
Avocado oil
Apple cider vinegar
Fresh lemon juice
Mayonnaise
Dried Italian seasoning
Dijon mustard
Garlic clove
Honey
Fine salt and cracked black pepper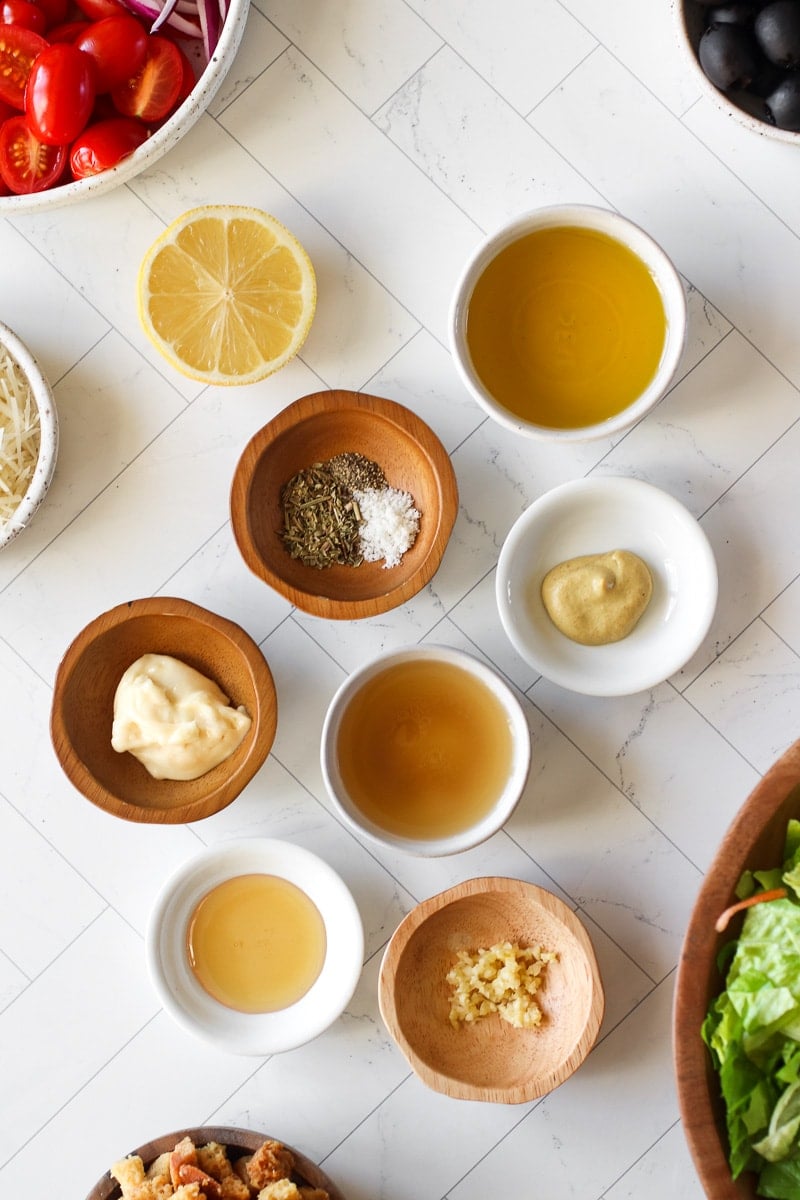 How to make Olive Garden Salad recipe
This is a simple two-step salad that comes together so easily. Here's what to do so you can enjoy a fresh and crisp Italian salad in just minutes!
In a large bowl, place the salad ingredients: the romaine lettuce mix, tomatoes, pepperoncinis, black olives, red onion, Parmesan, and croutons.
In a small bowl, whisk together the dressing ingredients: the olive oil, avocado oil, vinegar, lemon juice, mayonnaise, Italian seasoning, garlic, Dijon mustard, garlic, honey, salt, and pepper.
Pour desired amount of the dressing over the salad and toss gently to combine. Serve with cracked black pepper and additional Parmesan cheese, if desired.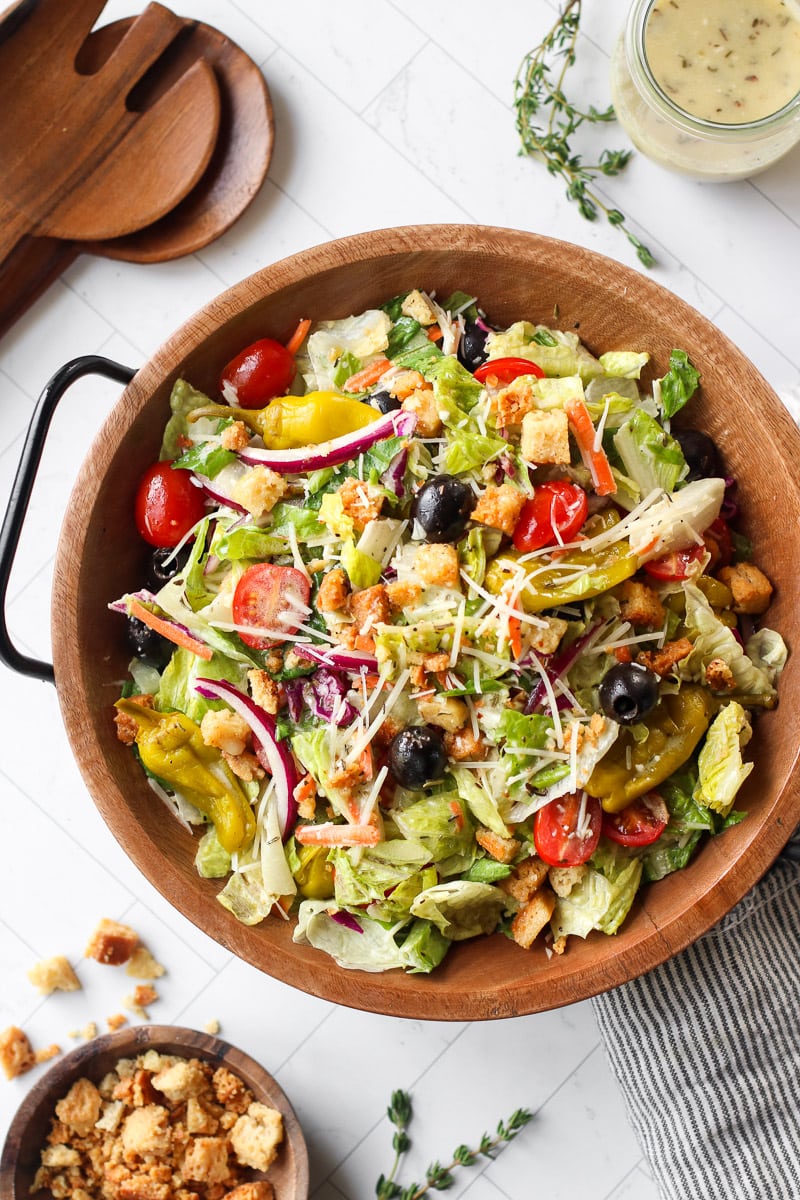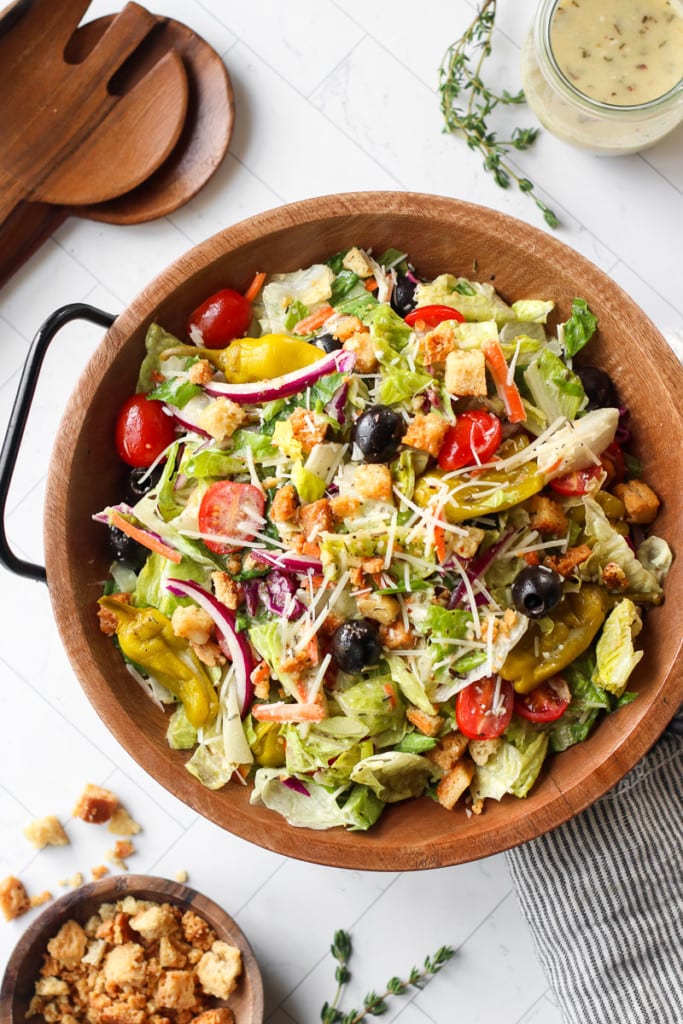 How this Salad fits into Your special diet
This fresh recipe for copycat Olive Garden Salad is easy to tailor to any dietary needs, so everyone can enjoy this popular salad, and even go back for seconds!
Gluten-free: Make this salad gluten-free by omitting the croutons, or use purchased gluten-free croutons, or make your own from gluten-free bread
Dairy-free: To make this Olive Garden salad dairy-free, simply omit the Parmesan
Nut-free: The recipe is naturally nut free
Vegan: For a vegan salad, omit the Parmesan. Also, use vegan mayonnaise in the dressing, such as Sir Kensington's Vegan Mayo
Egg-free: Use a vegan mayonnaise
Whole30: To make Whole30 Olive Garden salad, omit the Parmesan and croutons in the salad and omit the honey in the dressing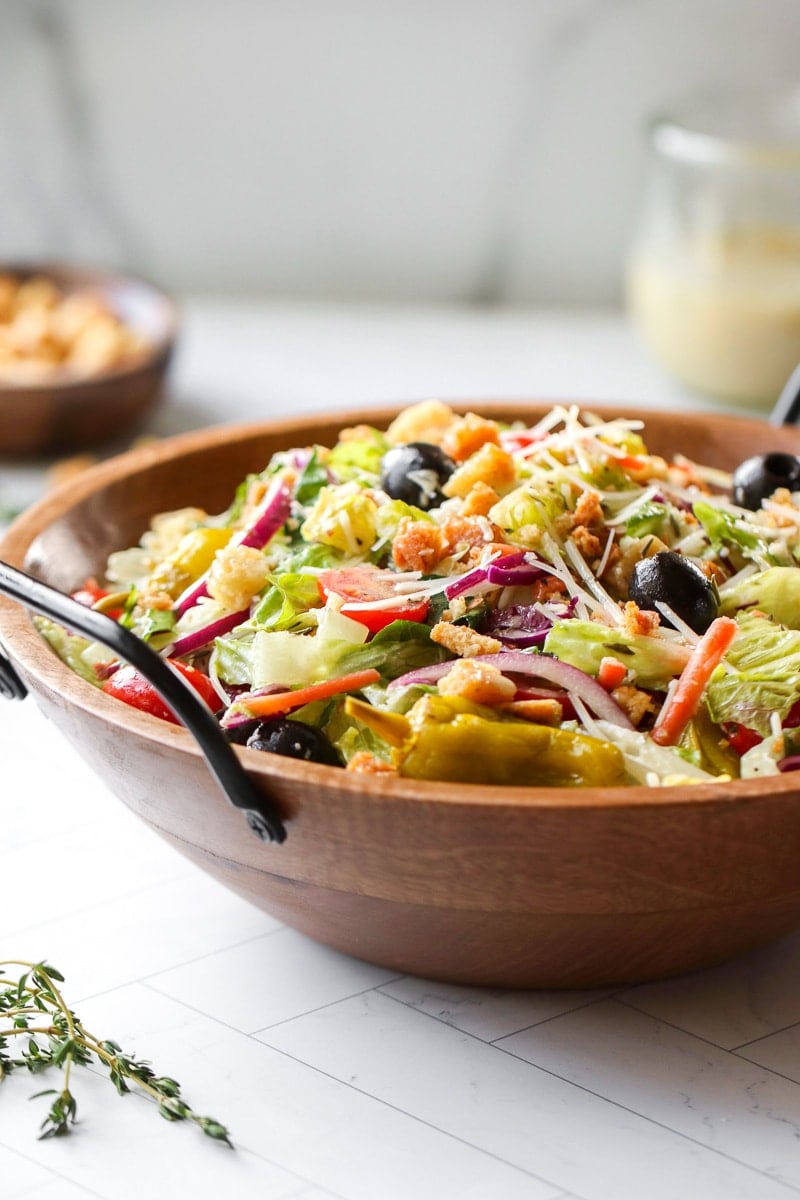 Is Olive Garden Salad Good for You?
It's common for people to wonder if something as delicious as Olive Garden Salad can really be good for you. We're here to let you know that this fresh salad is a healthy and nutritious. Plus, it's so easy to make at home! Here are some nutrient-filled ingredients in our Olive Garden Salad clone recipe:
Romaine lettuce – this fresh and crispy lettuce may not get the health halo that spinach and kale receive, but it's a great lettuce choice with mild flavor that many people enjoy. It's also a good source of heart-healthy minerals, vitamin C, and plant-based calcium
Tomatoes – small tomatoes, like grape tomatoes and cherry tomatoes, tend to be your sweetest choice year-round. Because of their seeds and skins, they're also a good source of fiber, as well as the bone- and skin-health powder combo of vitamins A and C
Black olives – just like the oil that comes from olives, olives themselves are a rich source of healthy fatty acids and antioxidants. They also contain vitamin E, which can help guard against premature skin aging
Pepperoncini – these small olive-green peppers are sweet Italian chile peppers, sometimes also called Tuscan peppers or Sweet Italian peppers. In addition to the tangy and tart flavor they add to this salad, pepperoncinis supply a good amount of hearth-supporting and antioxidant-rich vitamin C.
Olive oil and avocado oil – these lesser processed oils are chock full of healthy plant-based fats and antioxidants. They're also preferred because they are known to be anti-inflammatory, rather than inflammation-causing, like other heavily processed and stripped vegetable oils are. We use the extra-virgin olive oil and avocado oil from Primal Kitchen every day in our kitchens.
What to serve with This OG clone salad recipe
The Olive Garden restaurant chain has roots in Italian cuisine, with many pasta entrees and Italian soups on the menu. For that reason, this salad (with its tasty Olive Garden Creamy Italian Dressing) is a great match for Italian recipes of all kinds, including those pictured above. It would also make a great complement to: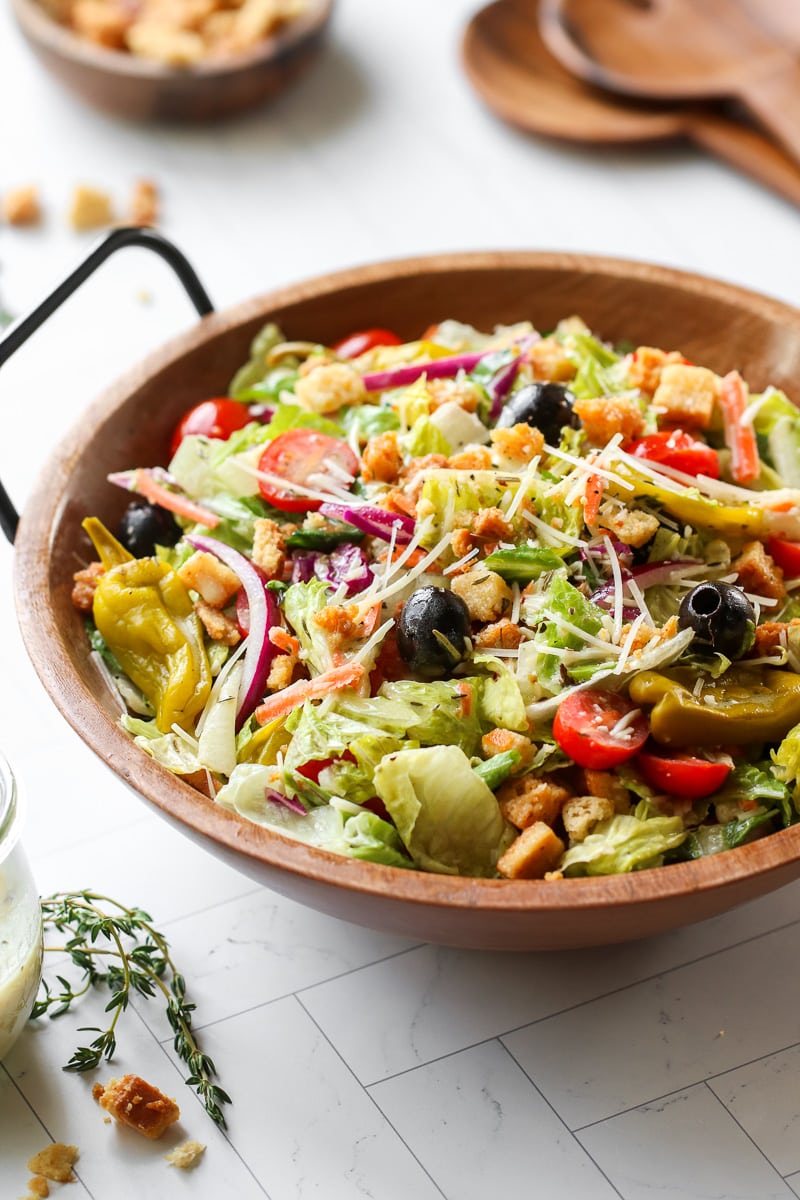 Tips to make the best homemade Olive garden salad
When developing this recipe for Olive Garden Salad, we've discovered a few tips that make this salad irresistible every time.
Serve it chilled! The reason so many people love this salad at the restaurant is because it's crisp and crunchy, right out of the chiller, when it comes to the table. No soggy, warm lettuce; no limp tomatoes. You can mimic this effect at home by combining the salad ingredients (sans the croutons) in a large bowl. Chill it in the refrigerator for 1-2 hours before adding the dressing and croutons, then serve it right away. Also, you can achieve a chilled Olive Garden salad by keeping all ingredients cold until right before you chop them. Then, toss everything together quickly and serve immediately.
Don't skip the extras! Olive Garden has really perfected this recipe and people love it for a reason. The perfect combination of textures, flavors, and acidity come together for a satisfying salad that so many people love. That's why we recommend you follow the recipe as written. Sure you could skip the pepperoncini peppers or the sliced red onion, if those aren't your favorites. But just know that this salad is a case of the whole being greater than the sum of its parts.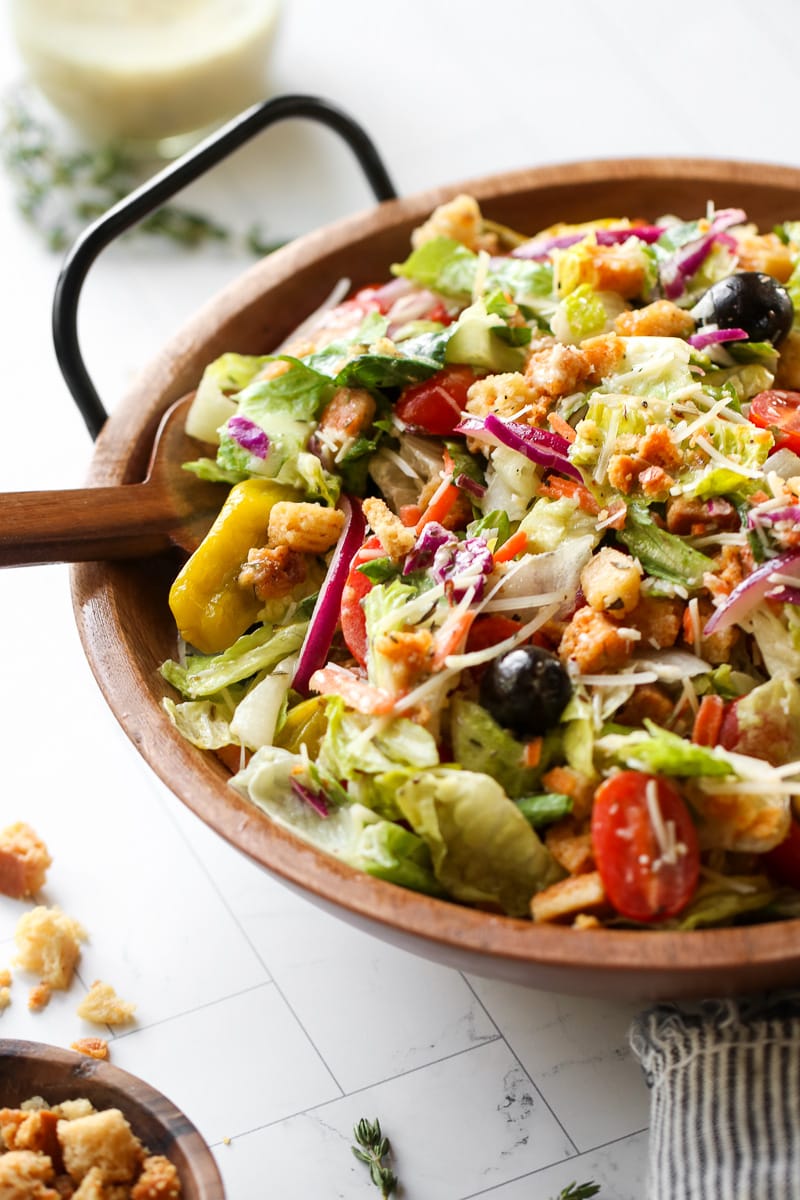 How to store olive garden salad
Store leftover salad in a covered container in the refrigerator for 1 day. Or, if you know that you won't be eating the whole salad in one sitting, toss together only the amount of salad and dressing you'll eat at once. Store the salad and dressing in separate containers for up to 3 days. Then toss the salad and dressing together right before eating. We also recommend storing the croutons separately at room temperature. Add them right before serving so they won't get soggy.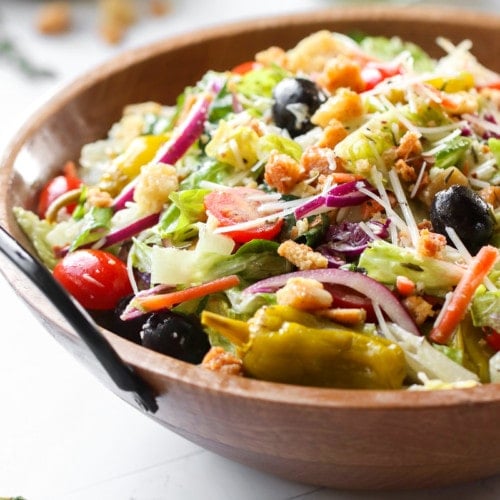 Recipe
Copycat Olive Garden Salad
Fresh, crisp, and just the way you remember, this simple recipe for Olive Garden Salad makes it so simple to enjoy this iconic restaurant salad at home. Comes complete with the clone recipe for Olive Garden Creamy Italian Dressing. 
Prep:
10 mins
Total:
10 minutes
Ingredients
2

(9-ounce) bags classic romaine salad mix, or

2

heads of romaine, chopped

1 cup

cherry or grape tomatoes, halved, or

2

Roma tomatoes, sliced 

¾ cup

pepperoncinis

¾ cup

large black olives

½ cup

thinly sliced red onion

½ cup

shredded or shaved Parmesan cheese*

1 cup

croutons of choice**
For the Dressing:
2 tablespoons

extra-virgin olive oil

2 tablespoons

avocado oil 

2 tablespoons

apple cider vinegar

2 tablespoon

fresh lemon juice

2 tablespoon

mayonnaise*** 

1 teaspoon

dried Italian seasoning

1 teaspoon

Dijon mustard

1

garlic clove, grated or finely minced

1 teaspoon

honey****

½ teaspoon

fine salt + more to taste

Pinch of black pepper
In a large bowl, combine the romaine salad mix, tomatoes, pepperoncinis, black olives, red onion, Parmesan, and croutons. 

In a small bowl, whisk together the dressing ingredients. 

Pour desired amount of dressing over the salad (recommend starting with about half of it) and toss gently to combine. 

Garnish with cracked black pepper and additional Parmesan cheese, if desired. 
Last Step! Please leave a review and rating letting us know how you liked this recipe! This helps our business thrive so we can continue providing free recipes and high-quality content for you.
Notes
*For dairy-free, omit the Parmesan cheese
**For gluten-free, omit the croutons, or use gluten-free croutons
***For vegan, omit the Parmesan and use vegan mayo in the dressing
****For Whole30, omit the Parmesan and croutons in the salad, and omit the honey in the dressing
Store leftover salad in a covered container in the refrigerator for 1 day. Or, for fresher salad, store the salad ingredients and the dressing ingredients separately, and toss together only the amount you'll eat in one sitting. Toss together when ready to serve. 
Nutrition Information
Serving Size:

1/8 of salad with dressing

Calories:

172

Fat:

13 g

(Sat Fat:

3 g

)
Sodium:

585 mg

Carbohydrate:

9 g

(Fiber:

3 g

Sugar:

2 g

)
Protein:

4 g

Cholesterol:

8 mg
Dietary
Pin It Now To Make It Later!
For ultimate success, we highly recommend reading the tips in the full blog post above. All photos and content are copyright protected. Please do not use our photos without prior written permission. If you wish to republish this recipe, please rewrite the recipe in your own unique words and link back to the source recipe here on The Real Food Dietitians. Thank you!