Put tacos on the menu tonight with our no-fuss, no-fillers, ready-in-5-minutes taco seasoning. By making your own taco seasoning, you can control the spice and sodium levels and cut out all the stuff you don't want. This healthy recipe is free from added sugars and starches, making it a DIY paleo-friendly and Whole30 taco seasoning.
This post was originally published on January 25, 2017. Updated on March 2, 2021.
Why make your own taco seasoning?
We're pretty sure that once you start making your own taco seasoning at home and you taste how delicious it is, you'll never go back to the purchased packets. By mixing up your own taco seasoning, you can ensure your tacos are seasoned to perfection and don't include any of the yucky additives or fillers that store-bought taco seasoning contains, such as added sugars, gums, preservatives, and starches.
Our DIY taco seasoning is mild yet super flavorful. If you like Mexican spices but don't love the heat, you'll appreciate this mild taco seasoning recipe. If you are a spice lover, you can easily up the heat level by adding a pinch of cayenne pepper or ground ancho chili powder to the mix.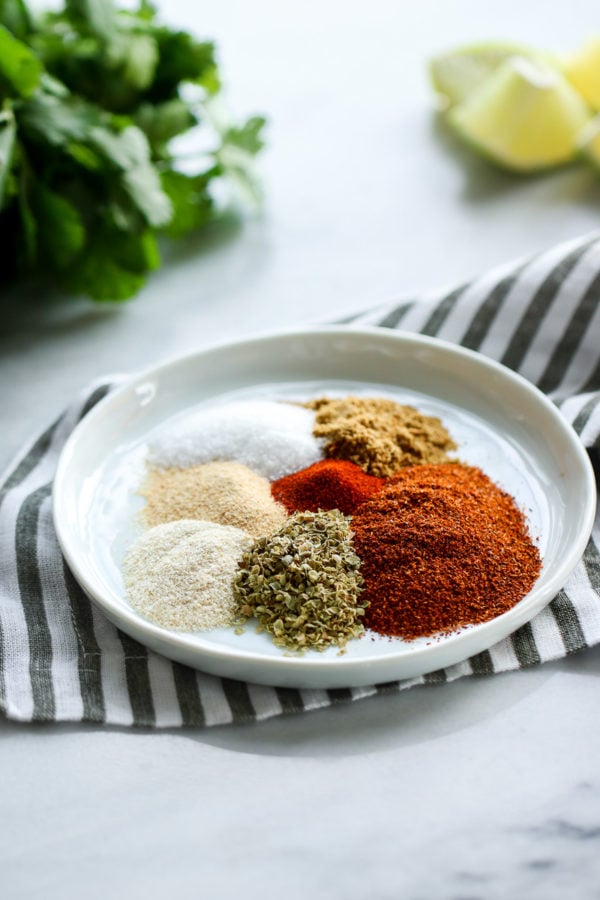 Ingredients to make homemade taco seasoning + easy substitutions
For this taco seasoning recipe, you'll need basic spices that you may already have on hand.
chili powder – this gives taco seasoning its iconic peppery flavor

ground cumin – or use ground coriander
garlic powder – you could substitute granulated garlic
onion powder – don't use onion salt as it will increase the sodium, but you could substitute granulated onion
dried oregano – oregano is recommended, but you could use dried basil instead
paprika – or use smoked paprika for a more toasty flavor
sea salt – omit this for a paleo taco seasoning
cayenne pepper – or use ancho chili pepper or omit this to make a mild taco seasoning
Shop Thrive Market to get the best prices on natural, organic, and specialty foods. PLUS get a free gift valued at $24 when you sign-up! Shop Thrive Market for all of your baking essentials!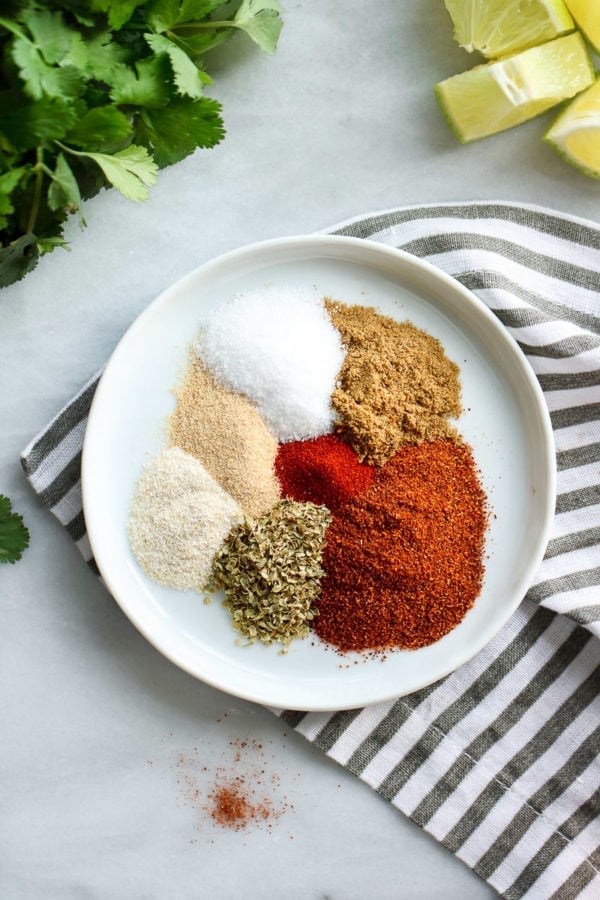 Can tacos be healthy?
Since tacos are typically made by stuffing protein and vegetables into a crunchy grain or veggie shell, they are an inherently healthy and balanced meal that includes a variety of food groups and nutrients. We love tacos for this reason, and also because tacos are a highly customized meal where everyone can make their own.
That makes tacos a perfect party food when you have some guests who eat gluten-free, others who are plant-based or vegan, some who are following Whole30 or paleo, and others who are just a bit picky.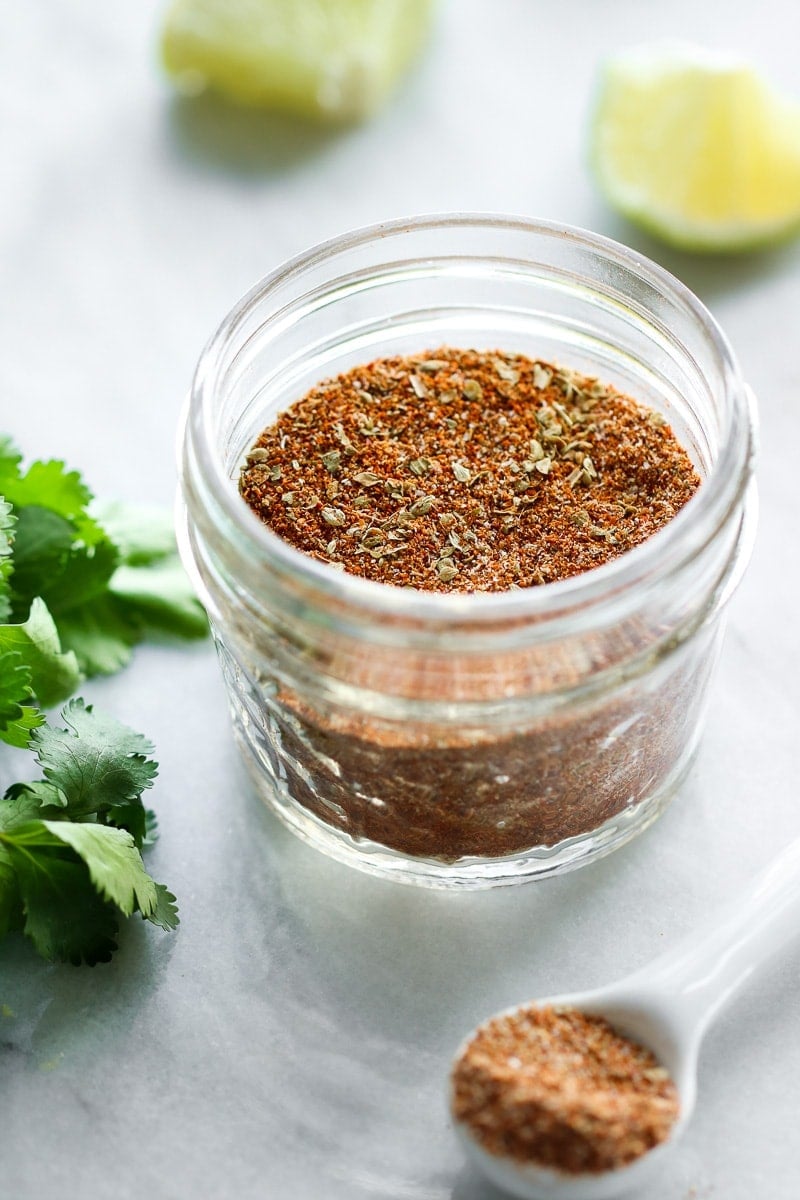 Here's how to set up your own DIY Taco Bar:
Set out a variety of shells, such as:
Flour Tortillas
Corn Tortillas
Lettuce Leaves (use Bibb, Boston, or romaine lettuce leaves)
Then, set up bowls of your protein, seasoned with our Taco Seasoning Recipe (below!), such as:
Finally, set up your favorite taco toppings. Our favorites include:
Shredded Lettuce
Diced Tomatoes
Sliced Radishes
Salsa
Roasted Corn
Sliced Jalapeños
Shredded Cheese or Vegan Nacho Cheese
Sour Cream or Plain Greek Yogurt
Nutrition in homemade taco seasoning
Ground spices, like those in this recipe, provide some key health benefits. Ground chili, paprika, and cayenne pepper contain a plant compound called capsaicin, which has been studied and revered for its ability to increase fat burning in men and women and reduce appetite and calorie intake. Other dried spices like garlic powder and dried oregano have been linked to lowered inflammation and increased heart health in studies.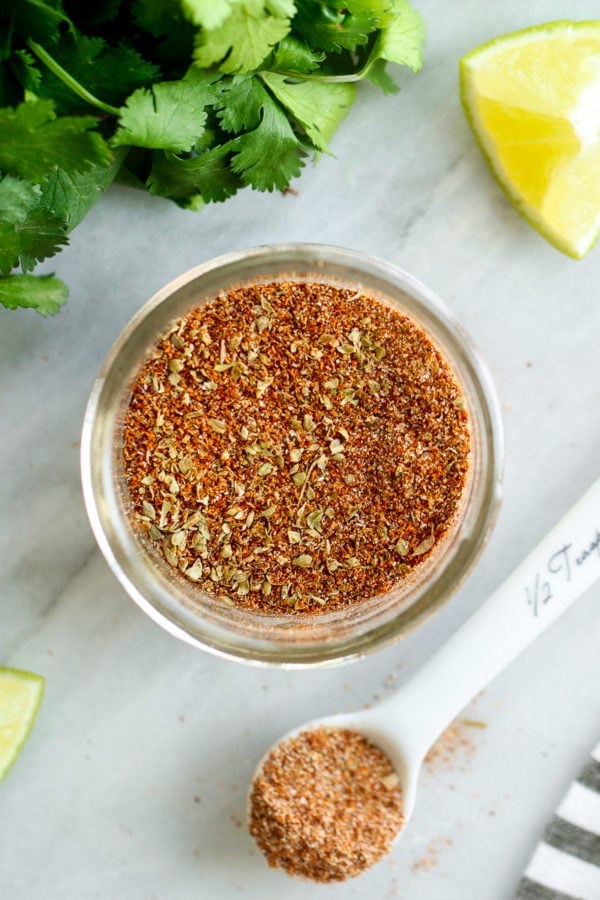 How this taco seasoning fits into your Whole30 diet
When you do the Whole30 diet, one of the first things you'll discover is that well-seasoned food makes everything better. It can be hard to find store bought packets of taco seasoning, sauces and seasonings that don't contain added sugars, starches, grains, dairy, and processed flavor-builders like carrageenan, MSG, and sulfites. But with this homemade taco seasoning recipe, you use just simple everyday whole spices in a combination that provides the perfect flavor for tacos and many other dishes.
Not only does this recipe fit Whole30, but since it doesn't contain any added sugar, is very low in added salt, and doesn't include any artificial sweeteners or ingredients, then it is also dairy-free, egg-free, gluten-free, grain-free, and paleo taco seasoning. And if you wanted to eliminate the salt altogether for a strict paleo diet, you could just leave it out.
Other ways to use this taco seasoning
This seasoning is a perfect replacement for store-bought taco seasoning on ground beef or ground bison. And we also love it to season cooked beans, chicken, or steak for fajitas, or as a seasoning rub for grilled shrimp, steak, chicken, or veggie kabobs.
Give our homemade taco seasoning a try in these delicious recipes.
Cooking tips for this taco seasoning recipe
This homemade taco seasoning makes enough to season three pounds of cooked meat. You'll need just 1 1/2 tablespoons of the seasoning to season each pound of cooked meat. Add the taco seasoning to the ground beef (or chicken, shrimp, steak, or beans) after it is cooked through along with 2 to 3 tablespoons of water and then mix until the meat is nicely coated. We bet you can't help but snag a bite at this point. That's why it pays off to be the cook!
Keep a mason jar of this simple cleaned-up taco seasoning mix in your spice cupboard and reap the tasty benefits come Taco Tuesday (or any night of the week).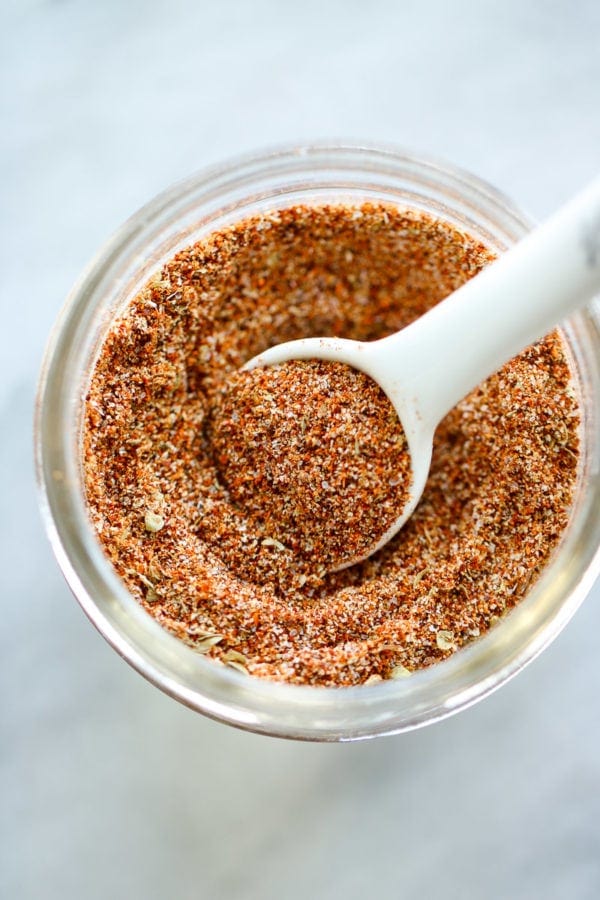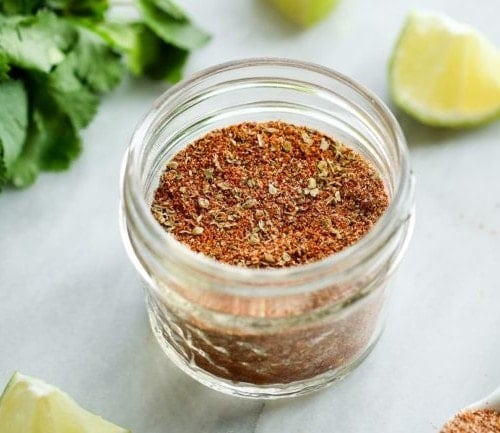 Recipe
Homemade Taco Seasoning (Whole30)
A DIY taco seasoning that's no-fuss and free of fillers, preservatives, and added sugar. This recipe makes enough to season 3 pounds of ground meat. Also great for fajitas and as a rub for grilled chicken, steak, and shrimp.
Prep:
5 mins
Total:
5 mins
Servings:
Makes enough seasoning for 3 pounds of taco meat
In a small jar with a lid, place all ingredients, cover jar, and shake to combine. Store in a cool, dry place for up to 6 months.
To prepare taco meat:
To a medium skillet over medium-high heat, brown 1 pound of ground beef or other ground meat, using a spatula to break up the meat as it cooks.
When the meat is cooked through, sprinkle 1 ½ tablespoons taco seasoning over meat. Add 2-3 tablespoons water and stir to combine, adding more water as needed.
For saucier taco meat, add 2 tablespoons tomato paste to meat mixture and stir.
Last Step! Please leave a review and rating letting us know how you liked this recipe! This helps our business thrive so we can continue providing free recipes and high-quality content for you.
Nutrition Information
Serving Size:

roughly 1 1/2 teaspoons seasoning

Calories:

7

Fat:

0

(Sat Fat:

0

)
Sodium:

235

Carbohydrate:

1

(Fiber:

1

Sugar:

0

)
Protein:

0
Dietary
Pin it Now, Make it Later!
---
All photos and content are copyright protected. Please do not use our photos without prior written permission. If you wish to republish this recipe, please rewrite the recipe in your own unique words and link back to the source recipe here on The Real Food Dietitians. Thank you!
SaveSave