Bring on the Buffalo! This Buffalo Chicken Stuffed Spaghetti Squash is so good you'll want to hide the leftovers!

#SorryNotSorry
You know when you make a recipe that's just so incredibly amazing and you don't want to leftovers to end? This is one of those. Especially for all of you Buffalo-sauced anything lovers (present company included).
I'm pretty sure I'm not the only one who has ever hidden leftovers in the fridge. You know, as in tucked them way in the back of the crisper drawer under the parnsips and celery to prevent husbands/partners/roommates/teenagers from devouring them before you do?
Don't tell my husband but this is where all the best leftovers go – at least a small portion of them. And this Buffalo Chicken Stuffed Spaghetti Squash was no exception.
Ok, enough about my leftover hiding ways let's talk Buffalo incredibleness here (though if you can relate to the leftover stashing, please leave a comment below. Leftover hoarders unite!) Inspired by our wildly popular Slow Cooker Buffalo Chicken that went absolutely viral last summer thanks to the supportive and voracious Whole30 community, this dish combines all the best things about Buffalo – a tangy, spicy sauce + crisp crunchy veggies + a cool, creamy drizzle of Ranch dressing (or a sprinkle of blue cheese to keep things authentic in Life After Whole30).
Buffalo sauce is relatively easy to make. A little ghee, a little hot sauce, something to make it salty and a pinch of garlic. It's not complicated but it's also one. more. step on the road to Buffalo chicken nirvana. So this time rather than whipping up my own sauce, I grabbed a bottle of Tessemae's Mild Buffalo Sauce and went to town. Because there could be no more waiting to get this dish into my face.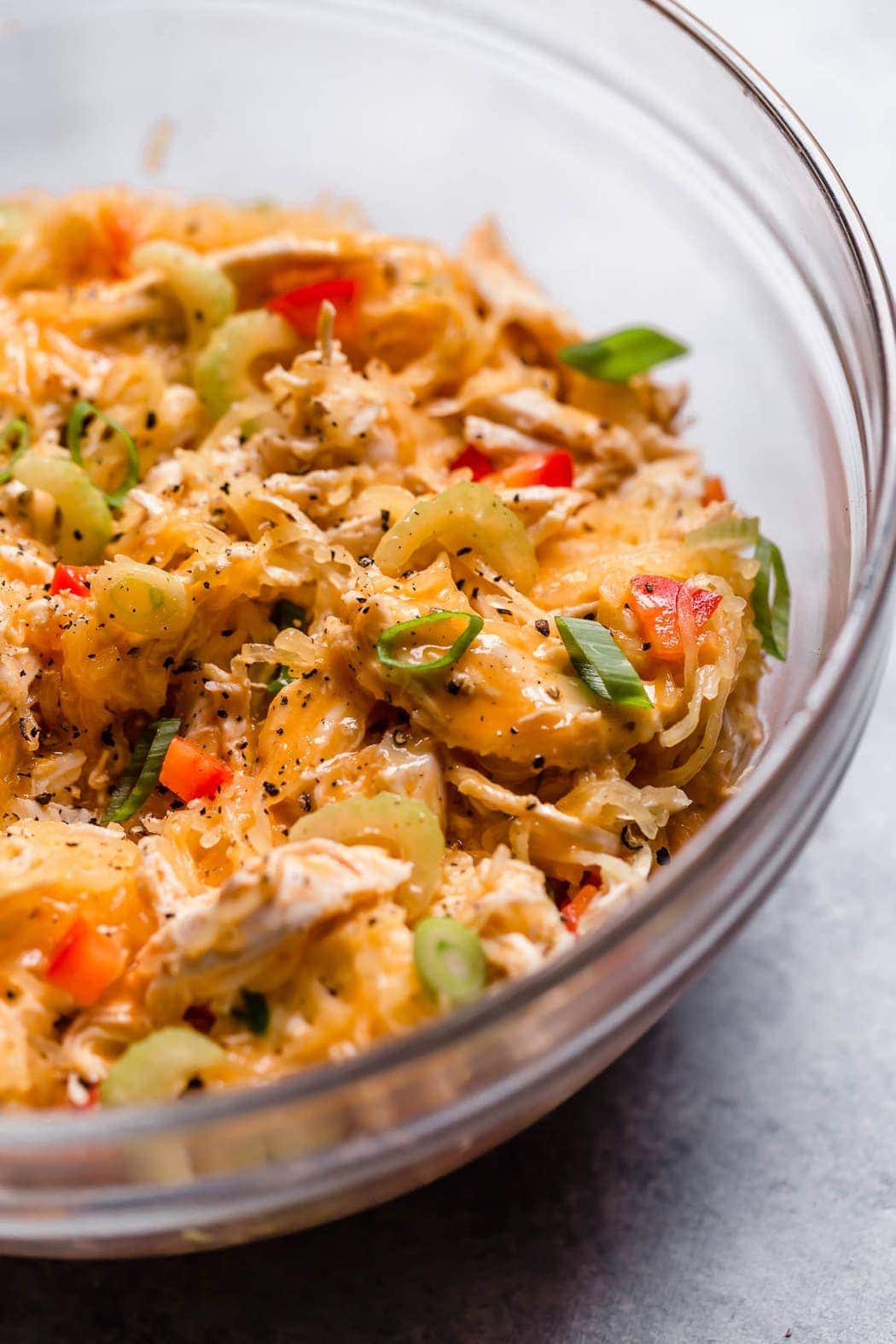 I know that those of you who know me are thinking, "Mild?!" because I love me some melt your face off Buffalo (or anything, for that matter) but hear me out! I'm totally loving this Mild Buffalo Sauce because you get all the flavor of Buffalo without the heat so the other flavors in your dish still shine through. And it's pre-made so it can easily go on all the things. Roasted veggies or potatoes, leftover shredded chicken, egg muffins and more.
Buffalo Chicken Stuffed Spaghetti Squash - You'll want to hide the leftovers, it's so good! #whole30 #realfood
Click To Tweet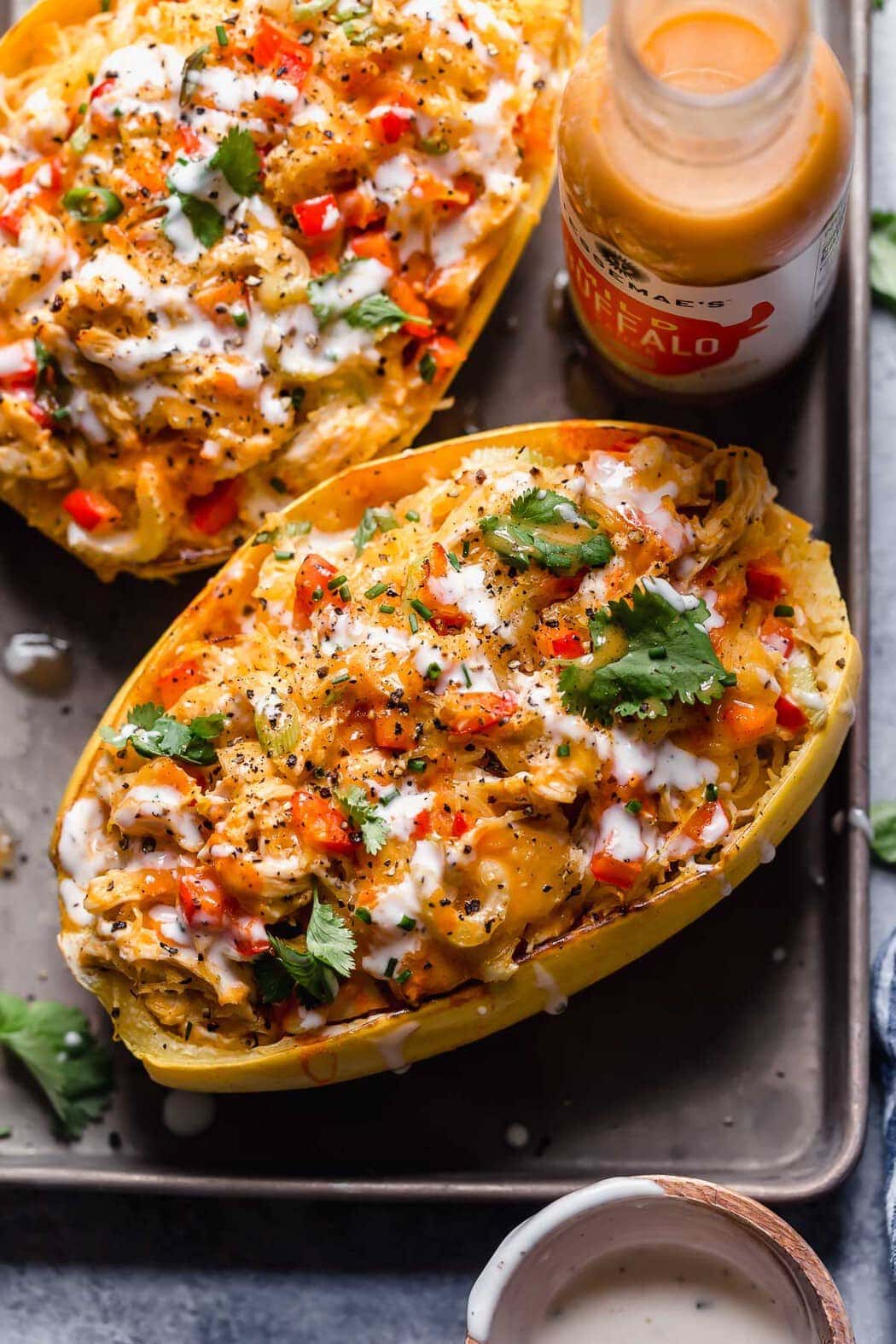 See? Don't you just want to face plant into this Buffalo Chicken Stuffed Spaghetti Squash?!
If you're still reading this and haven't jumped immediately to the recipe, I'm amazed. Thanks for hanging in there. I have to say that the directions for this recipe look a little daunting BUT it's actually quite simple to prepare. While the squash is roasting you'll cook the chicken (I give you instructions for both Instant Pot and stovetop so you've got options) and dice up the celery, green onions, and red pepper. And when the chicken is done you'll toss it all together with the Buffalo sauce before mounding it back into the squash shells. At this point, feel free to eat it as is or pop it back into the oven until it's heated through. I've done it both ways and I can say they're equally delicious.
Just don't forget to drizzle it up with some Ranch if you want to make it truly amazing. Try our Paleo Ranch Dressing & Dip recipe or pick up a bottle of Tessemae's Creamy Ranch at your local grocer or Target – both options will allow you to keep this dish Whole30-friendly. Or, for those who 'do dairy' get crazy authentic here and sprinkle it all with some crumbled blue cheese before you put it back in the oven.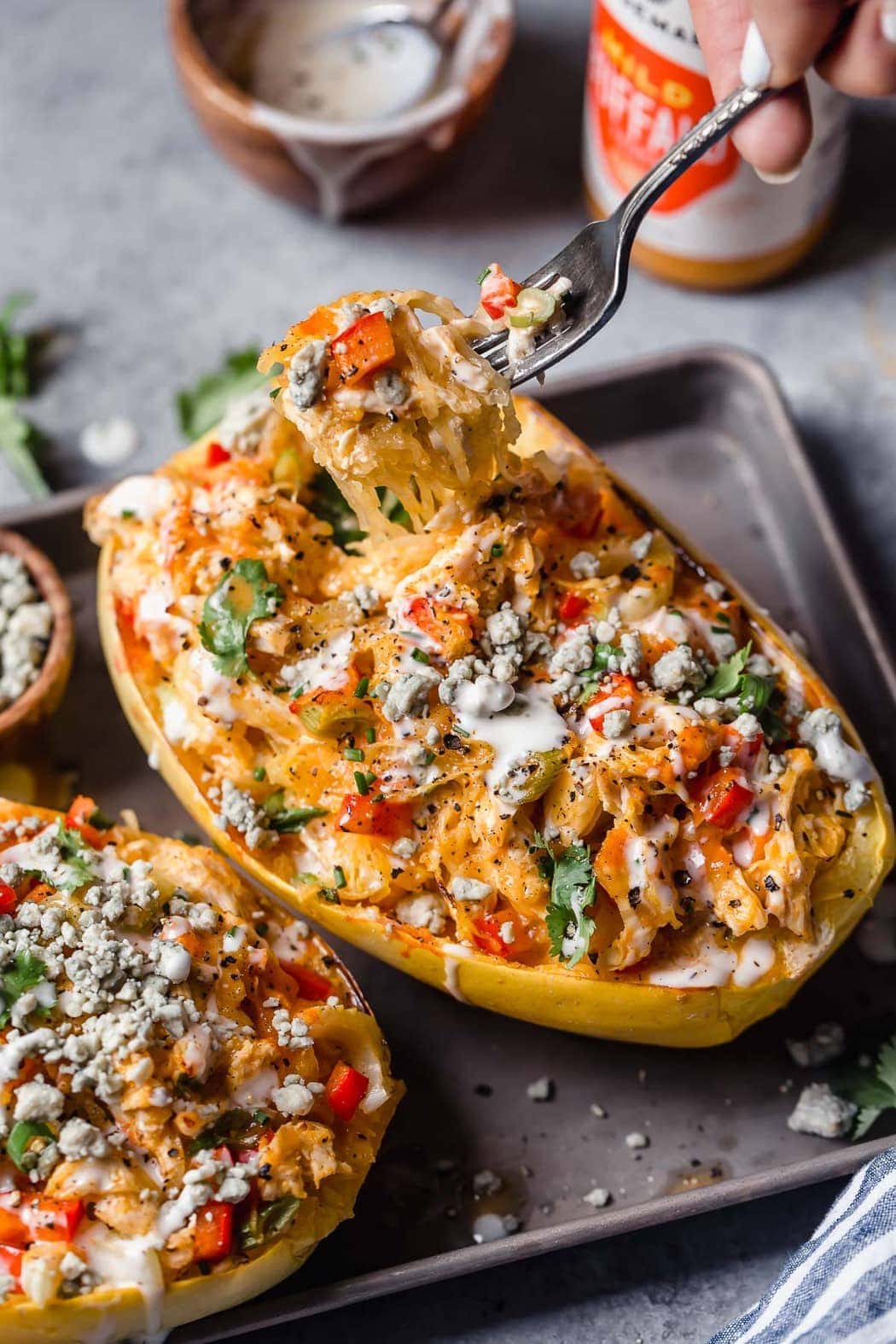 Oh. My. Buffalo heaven. Not gonna lie. This Buffalo Chicken Stuffed Spaghetti Squash is totally over-the-top and worthy of that hiding spot behind the turnips and celery.
Hungry for More? Subscribe to get our newsletter delivered straight to your inbox! And be sure to stay in touch on Facebook, Twitter, Pinterest and Instagram for all of the latest updates.
Let's Get Cookin'
Buffalo Chicken Stuffed Spaghetti Squash
This is for the Buffalo chicken lovers who want a dish they can really tuck into and enjoy without any guilt. Drizzling the twice-baked squash with creamy ranch dressing or a sprinkling of blue cheese (sorry, not Whole30) takes it over the top. You just might want to hide any leftovers – it's that good!
Author:
Prep Time: 15 mins
Cook Time: 45 mins
Total Time: 1 hour
Yield: 4 1x
Cuisine: Paleo, Whole30, Grain-free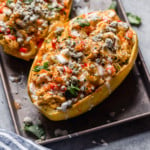 Instructions
To roast the squash:
Preheat oven to 350°F.
Line a baking sheet with parchment paper and set aside.
Slice both ends from squash and discard.
Stand squash up on one of its cut ends and use a large knife to cut the squash in half lengthwise.
Scoop seeds and stringy insides out using a large spoon.
Place squash cut-side down on the baking sheet.
Bake for 30-40 minutes or until squash is tender. Baking time will depend on the size of your squash, larger squash requiring a longer cook time. When squash is tender, allow to it cool slightly before using a fork to gently scrape the squash into a large bowl. Reserve the squash shells.
While squash is roasting, cook the chicken.
To cook the chicken:
Directions for Instant Pot: Insert the rack into the inner pot. Add 1 cup water or broth. Lay chicken on the rack. Secure lid and select 'Poultry' setting and increase time to 17 minutes (19 if the breasts are really thick). At the end of the cooking time, allow pressure to naturally release for 5 minutes then flip the vent valve and release the remaining pressure. Move chicken to a cutting board to cool slightly before shredding with two forks.
Directions for Stovetop: Place a medium skillet over medium-high heat. Add 1 tsp. avocado or coconut oil and swirl pan to coat with the oil. Add chicken and ½ cup water. Once the water begins to simmer, reduce heat and cover. Cook chicken for 15-18 minutes or until cooked through. Move chicken to a cutting board to cool slightly before shredding with two forks.
To assemble the stuffed squash:
Place squash shreds, chicken, celery, onions, peppers and Buffalo sauce in a large bowl. Toss well to coat. Spoon squash mixture into the squash shells. Return the stuffed shells back to the baking sheet and place in 350°F oven for 10-15 minutes or until heated through.
Serve with Tessemae's Creamy Ranch Dressing (for Whole30) or crumbled blue cheese, if desired.
Nutrition
Serving Size: 1/4th recipe
Calories: 308
Sugar: 6g
Sodium: 582mg
Fat: 14g
Carbohydrates: 13g
Fiber: 3g
Protein: 36g
What's your favorite way to use Buffalo Sauce? Are you a leftover hider, too? Share your favorite place to stash the goods in the comments below!
---
Photo Credit: The photos in this blog post were taken by Jess of Plays Well with Butter. 
This post was made possible by our friends at Tessemae's. Though we received compensation for this post, the opinions expressed here are  – as always -100% our own. Thank you for supporting the great companies we work with thereby allowing us to continue creating great recipes and content for you.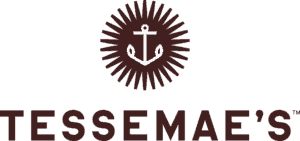 All photos and content are copyright protected. Please do not use our photos without prior written permission. If you wish to republish this recipe, please rewrite the recipe in your own unique words and link back to the source recipe here on The Real Food Dietitians. Thank you!