If there's one condiment that we tell EVERYONE to make, this is it! Making a simple batch of Quick Pickled Onions is the easiest way to elevate any meal. How can something so simple make your meal 10 times better? Just make a batch of these Quick Pickled Onions today to see what everyone is raving about. We make a batch weekly to boost the flavors of so many meals, from scrambled egg breakfasts, to simple bowl lunches, to taco night and more. Our easy, no-fail instructions help you make quick pickled red onions with just a few ingredients.
This recipe was originally published June 4, 2019; Updated January 6, 2022.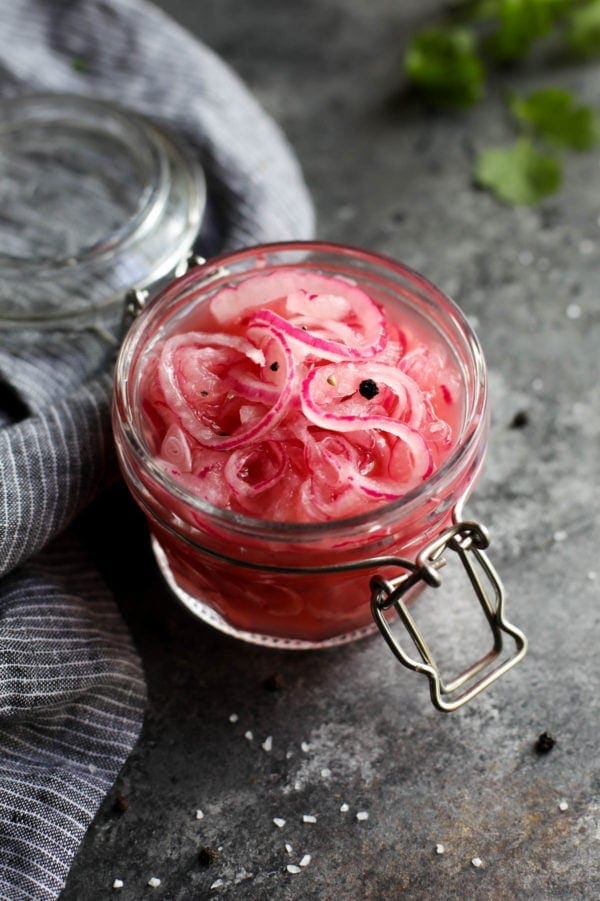 Quick pickled onions are the flavor Boost you need
Trust us: Just set down the salt and pepper, and take a little walk with us over to flavor town. Don't worry, it's a short trip requiring just three ingredients (plus water and salt). And the payoff is a delicious jar of salty, tart, tangy, and savory Quick Pickled Onions that you'll start to use as your flavor enhancing go-to on all.the.things.
Though our simple recipe is all you need, you can also make variations on our Quick Pickled Onion by adding a clove of minced garlic, some peppercorns, dried oregano, or cumin seeds. Any or all of these additions will provide you with quick pickled onions that are a more authentic take on the Mexican staple, Escabeche de Cebolla. Start with our super simple recipe, and explore from there!
And just because this recipe for Quick Pickled Onions is simple, doesn't mean this won't soon become the condiment you're telling everyone about. Go ahead and share! We can't get enough of them ourselves, and that's even after YEARS of being fans of adding Quick Pickled Onions to just about every dish we make.
Ingredients to make quick pickled onions
This recipes for quick pickled onions could be simpler. Here's what you need:
Red onion – you'll need one large red onion. In a pinch, you can use a white or yellow onion, too, but we recommend a red onion for the best color and flavor
Apple cider vinegar – you can also use red wine vinegar. For apple cider vinegar, we love Bragg Organic Apple Cider Vinegar (you can buy it from Thrive – new members get a free gift and great deals on pantry staples like this!)
Sugar – this is an optional ingredient that does add some nice sweetness, but you can easily omit if for Whole30 Quick Pickled Onions or if you're cutting back on added sugar
Sea salt
Whole peppercorns – these are an optional ingredient, but if you have some on hand, throw them in there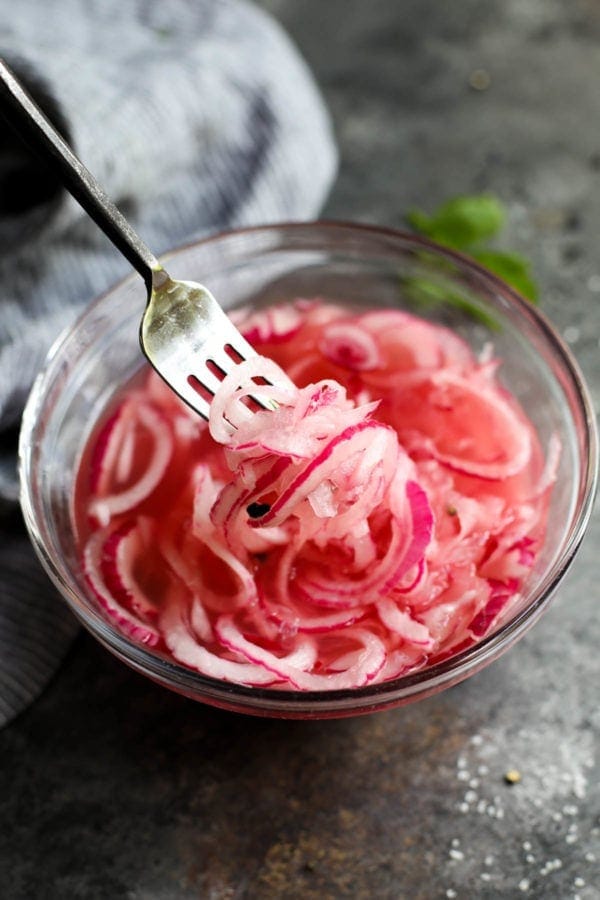 How to make quick pickled onions
When we say quick, we mean quick. This isn't a long-ferment recipe where you'll need to wait days to eat your delicious pickled red onions. Nope, instead you can make a batch now and have them ready for dinner tonight! Here are the steps:
Slice the red onion: First, cut the red onion in half. Then, using a sharp knife or a mandolin slicer, cut the red onion halves into very thin slices.
Make the pickling liquid: In a bowl, combine the apple cider vinegar, sugar, salt, and peppercorns with 1 cup of hot water.
Pickle the onions: Add the thinly sliced red onion to the bowl of pickling liquid, pressing the onion slices down so they are submerged in the liquid. Cover the bowl and set aside at least one hour. Or, for longer store, place covered bowl in the refrigerator for up to 3 weeks, using them for meals as needed. You can also transfer the onions and liquid to smaller jars for easier storage or gifting.
VIDEO: How to Make Quick Picked Onions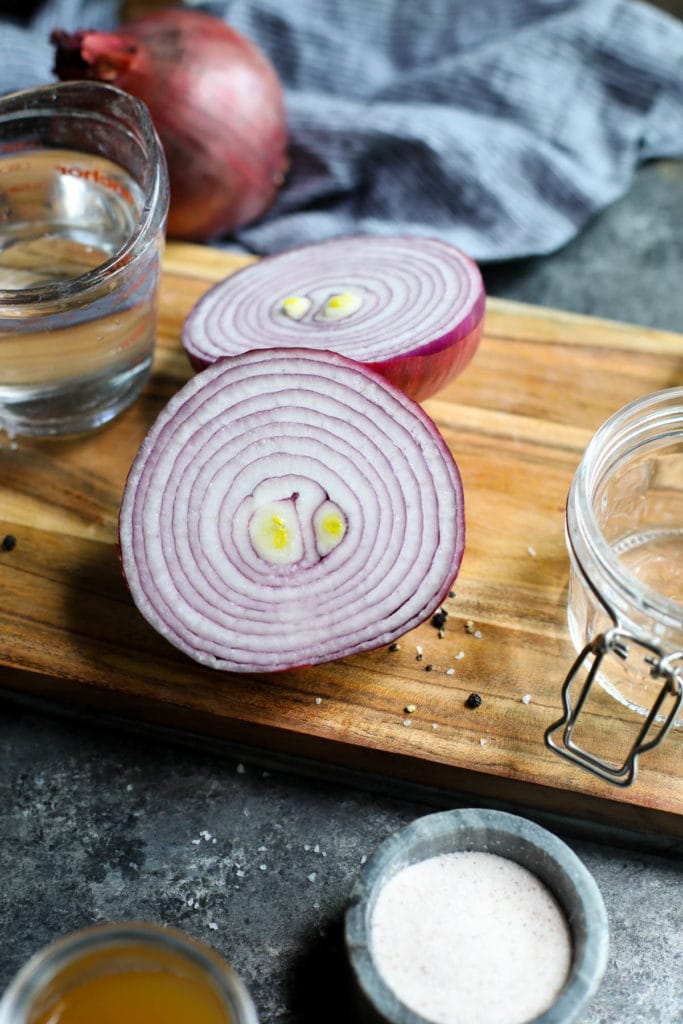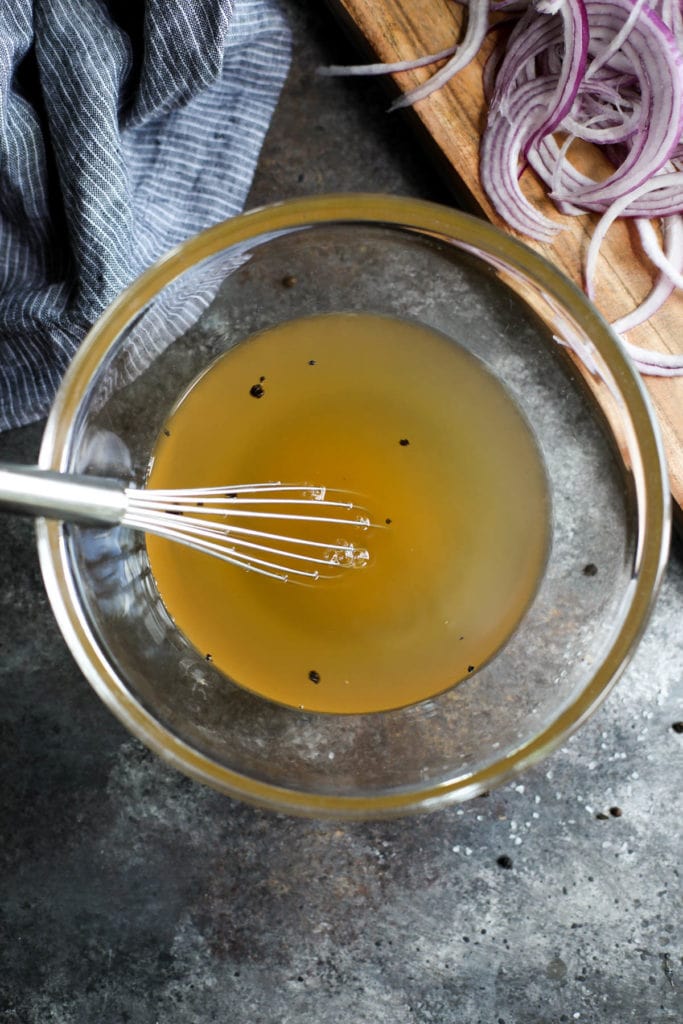 What can you top with Quick Pickled Onions?
We say put them on just about everything. Seriously, everything. Once you do, you won't know how you ever got this far in life without them.
All of us here at The Real Food Dietitians keep a jar of these Quick Pickled Onions in the fridge and at the ready at all times. Because, besides being super-budget-friendly, allergy-friendly, and easy to make, Quick Pickled Onions are the perfect flavor enhancer to:
How to store Quick pickled onions
Once you've made these quick pickled onions, you're basically done. You can store them in the same bowl that you pickled them in, covered, in the refrigerator for up to 3 weeks. Or, for easier storage, transfer them to smaller jars or covered containers that fit nicely in your fridge. Pull out the jar and fork out some of the pickled onions for your dinners all week long. Then simply return the jar or container of pickled onions to the refrigerator for the next meal.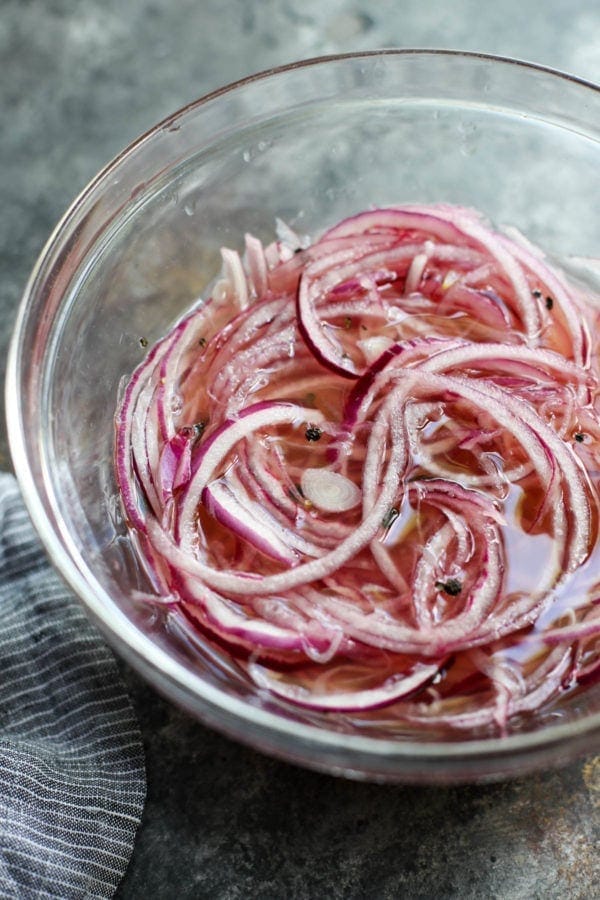 FAQs: Quick Pickled Onions Recipe
Although these quick pickled onions are crazy simple to make and are pretty much guaranteed to change your life, we do have just a few tips to share before you start:
How thin do I need to slice the onions? Honestly, the thinner the better, in our opinion, but if you err on a slightly thicker slice, that is A-OK. It will just take a little longer for the onions to soften up. But our best tip is: Slicing the onions REALLY thin is the secret sauce here.
What's an easy way to slice the onion so thin? A steady hand and a sharp chef's knife will help you can the red onions pretty thin. But if you want them really thin and uniform, then a mandolin slicer is the way to go. This is the mandolin slicer that we personally use (and have for almost 15 years) and it's a workhorse – simple to use, easy to clean (it's dishwasher safe), cuts smooth or wavy slices, juliennes vegetables, and cuts straight fries and waffle fries. Plus, it's the safest one we know of, since the safety guide means your fingers are nowhere near the blade.
How do the onions turn such a pretty pink color? The color and flavor of these quick pickled onions will intensify after a day or two in the fridge. If you really want to impress on taco night (and who doesn't?) make a batch of Quick Pickled Onions 4 to 5 days ahead of time so they develop a gorgeous bright pink hue.
Can I can these pickled onions for non-refrigerator storage? No, these are refrigerator-type pickles and are meant to be stored only in the fridge. They are not suitable for canning as the acid content is too low. If you're looking for a pickled onion recipe that you can in a water bath, here's one with less sugar than traditional recipes.
Are quick pickled onions Whole30-friendly? Yes, you just need to leave out the sugar when you make our Quick Pickled Onions recipe. The onions will have more of a vinegary bite to them (rather than a mellow tart and mildly sweet and tangy flavor), but it's just fine to leave out the sugar and they'll still taste great and enhance the flavor of so many dishes.
How long will the Pickled Onions keep in the fridge? Your pickled red onions will keep in the fridge, covered, at least 3 weeks. But, honestly, we can't say we've ever had a jar last that long because once you try them, you'll use them up fast. We tend to make a new batch every one to two weeks, in our homes.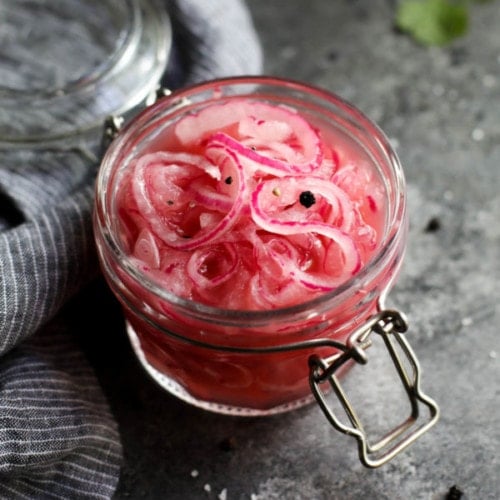 Recipe
Quick Pickled Onions
The best condiment to put on top of everything, from eggs and chilis to tacos and salads. You'll love the flavor boost you get from these so-simple Quick Pickled Onions. Easily make a batch today and always keep a jar on hand! 
Prep:
10 mins
Total:
1 hour, 10 mins
Servings:
Makes

1½ cups

1

x
Ingredients
1

large red onion

1 cup

hot water

½ cup

apple cider vinegar

2 teaspoons

 sugar* (optional)

1

¼

teaspoons sea salt

10

–

12

whole peppercorns (optional)
Slice onions as thin as possible using a knife or mandolin slicer; set aside.

 

In a large bowl, combine the hot water, apple cider vinegar, sugar, salt, and peppercorns. Stir until the salt and sugar dissolve.
Add the sliced onions to the bowl of liquid and stir gently. Press down on the onions so that they're submerged in the liquid.

 

Cover bowl with a clean towel or lid. Set aside the onions to rest on the counter at room temperature for 1 hour before serving or transferring the bowl to the fridge for longer storage.

The Quick Pickled Onions will keep in the fridge in a tightly covered container for up to 3 weeks. If desired, transfer the onions and liquid to jars or smaller containers for easier storage. 
Last Step! Please leave a review and rating letting us know how you liked this recipe! This helps our business thrive so we can continue providing free recipes and high-quality content for you.
Notes
This is a refrigerator-type pickle and not intended for canning. The acidity in this recipe is too low for canning, so store the Quick Pickled Onions in the refrigerator for up to 3 weeks.
*Omit sugar for a Whole30 or Paleo version. Doing so will make for slightly more acidic flavor, but they will still taste delicious as an addition to meals of all kinds. 
Nutrition Information
Serving Size:

2 tablespoons

Calories:

6

Fat:

0 g

Sodium:

85 mg

Carbohydrate:

1 g

(Sugar:

1 g

)
Protein:

0 g
Dietary
---
Pin It Now & Make It Later!
For ultimate success, we highly recommend reading the tips in the full blog post above. All photos and content are copyright protected. Please do not use our photos without prior written permission. If you wish to republish this recipe, please rewrite the recipe in your own unique words and link back to the source recipe here on The Real Food Dietitians. Thank you!