Pizza for breakfast? Yes, please! Breakfast Pizza with Hash Brown Crust is topped with eggs, ham & cheese and is gluten-free thanks to the delicious crispy crust that's made from hash browns.
This recipe was created in partnership with our friends at Organic Valley.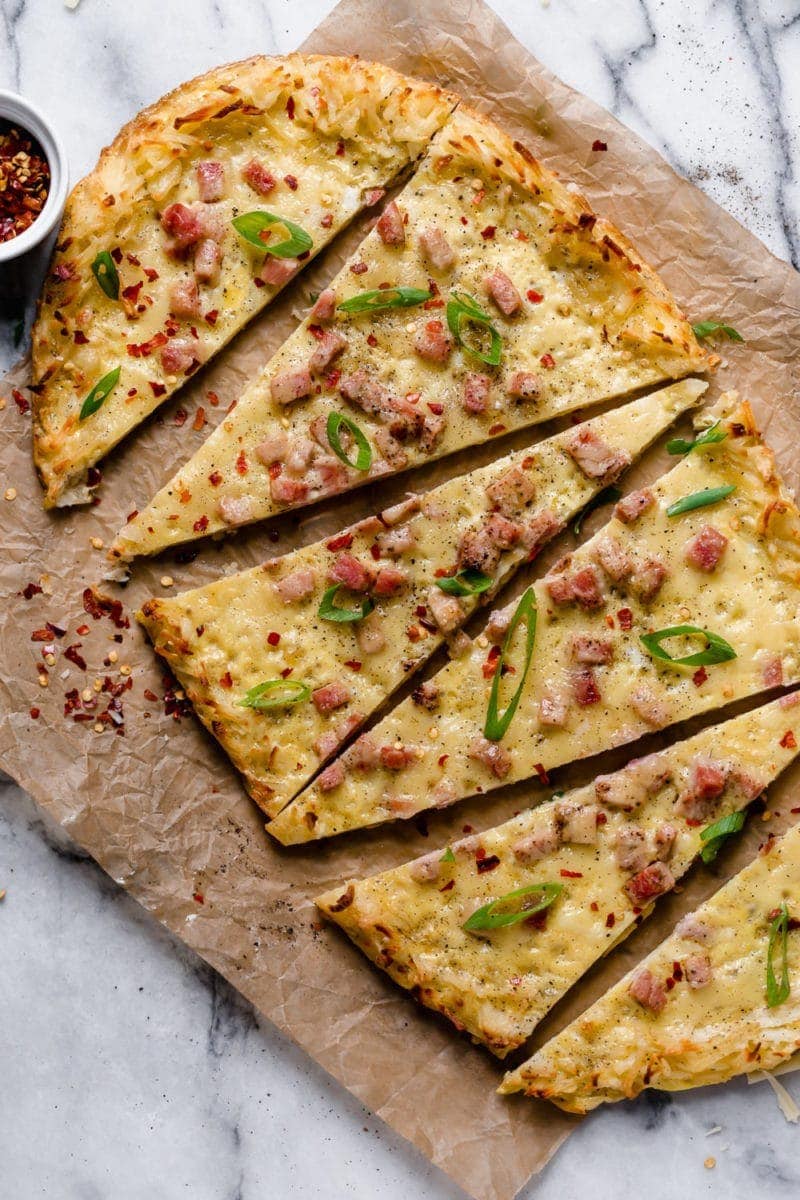 Perfect for a weekend breakfast or brunch.
Looking for change in your weekend breakfast menu? You've come to the right place. Whether it's a chill weekend at home, a special occasion get-together or a holiday meal, our Breakfast Pizza with Hash Brown Crust, without a doubt, deserves a spot on your upcoming breakfast or brunch menu. The crust, made from hash browns, cheese, butter and an egg, creates a unique and tasty twist on a traditional breakfast pizza. Serve it up with a side of fresh fruit and a mixed green salad for a totally scrumptious and satisfying meal.
The hash brown crust is where it's at – for real.
You're going to love the hash brown crust! And it's surprisingly easy to make. It's slightly crisp and holds together nicely making it the kind of breakfast pizza that you can actually pick up and eat vs. needing a fork to enjoy. I must say, the addition of shredded cheddar cheese to the crust was a game changer. When I first started testing this recipe, I didn't include cheese, but as the recipe evolved cheese was eventually added. Lo and behold, adding cheese was a fabulous decision and resulted in something oh so delicious. Thanks to my husband's breakfast pizza taste-testing skills, this recipe was born and I can't wait for you to give it a try.
How to make a hash brown crust…
I share the full recipe below, but I wanted to give you a couple tips first:
If hash browns are frozen, be sure to thaw them.
Bake the crust on parchment paper to prevent sticking.
When forming the crust, use hands and spread out so it's about 1/2-inch thick in an oval or circle shape. Try to make sure there are no holes. Form a wall so that when the whisked eggs are poured onto the crust the eggs stay put. It's OK if a little spews out over the edge.
Always pre-bake the crust before adding toppings.
For a crispier crust, simply bake longer.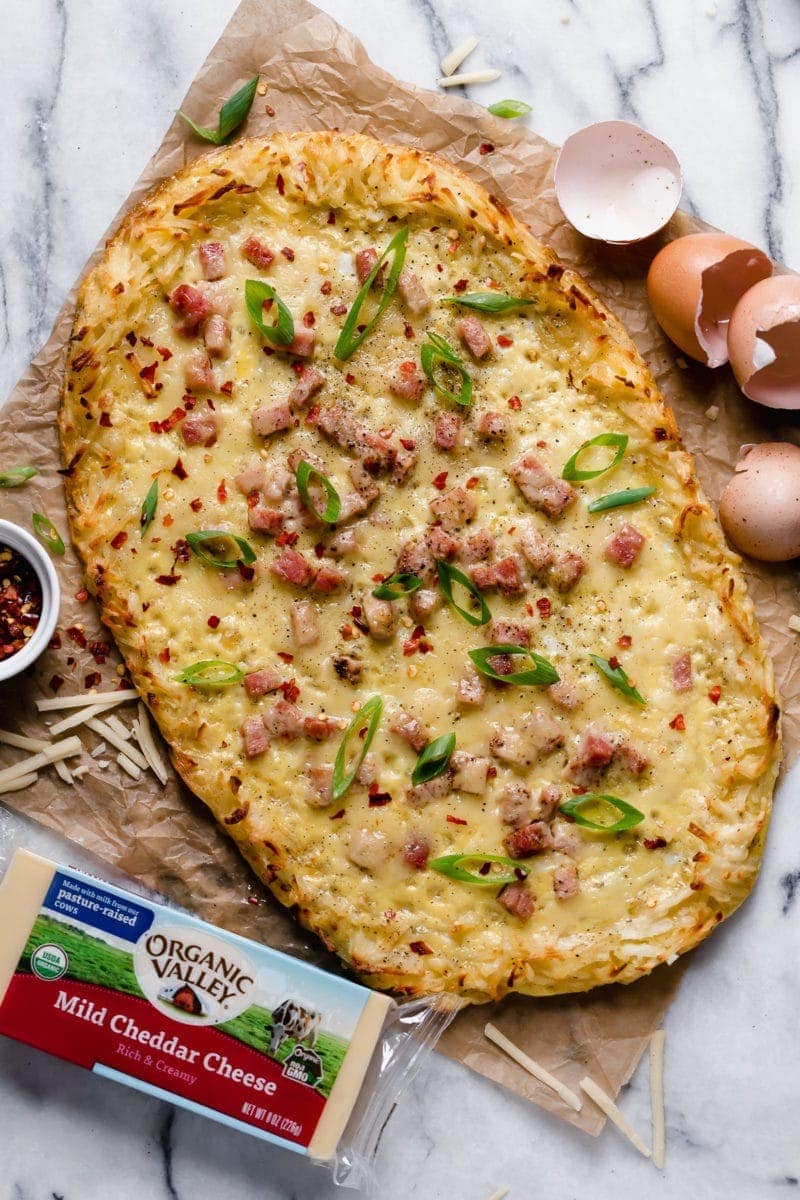 Pizza for breakfast? Yes, please! Breakfast Pizza with Hash Brown Crust is topped with eggs, ham & cheese and is gluten-free thanks to the delicious crispy crust that's made from hash browns. @organicvalley
Click To Tweet
Made with Organic Valley Cheese and Eggs!
This recipe was created in partnerships with our friends at Organic Valley. It's made with their cheddar cheese, whole eggs, and pasture culture butter. Organic Valley has been our go-to dairy brand of choice for years – before this blog even existed. We greatly cherish our partnership with this incredible company.
A note from Organic Valley:
At Organic Valley, we like to keep things honest and simple. Like dairy produced with no added hormones, antibiotics or toxic pesticides. Produce grown the organic way, with none of the toxins or synthetic fertilizers. And cheese made by farmers and artisans who care about the environment, the animals and you—our customers.
Quality dairy and eggs matter – for our health, the animals, the farmers and the environment. We especially appreciate that Organic Valley goes above and beyond when it comes to not only quality dairy but also quality of the eggs their chickens produce. I want to take this moment to share more about Organic Valley Eggs specifically.
Why Organic Valley Eggs?
When they say "free-range" or "cage-free" they really mean it! They have strict guidelines that all of their hen farms have ample indoor space for shelter and AT LEAST 5 square feet of outdoor space PER chicken to roam.
The hens enjoy a certified organic diet containing no toxic pesticides, antibiotics, synthetic hormones or GMOs.
Organic Valley farmers constantly evaluate the health of their flocks and may alter the feed throughout the hens' lifecycles to provide the nutrients they need. From seasonal non-GMO grain mixtures to shifts in diet based on temperature, Organic Valley farmers are vigilantly caring for their flocks with the right organic nutrients at the right time. Learn more about what they eat in this post.
The hens are only restricted at night and during bad weather (for their safety); otherwise, the hens are in charge of what they do and when they do it.
A note from Organic Valley:
The best eggs come from free-range, cage-free chickens. That's why we hold our farmers to a higher standard of animal care—because we know that chickens lay the tastiest, most nutritious eggs when they spend their days in green pastures.
Feel free to change up the toppings as you wish!
Now because my husband was a big influence in creating this recipe, I kept the toppings very simple. Ham, cheese and eggs. That's it. No veggies. While this Breakfast Pizza with Hash Brown Crust is so so delicious as is, if I were to make this recipe for myself, I would absolutely add some chopped peppers and onions. However, because I've really been trying to do my best with making meals that both my husband and I enjoy, I tend to keep our meals simple and include a large portion of veggies with my serving. So by all means, feel free to change up the toppings to what you and/or your family prefer.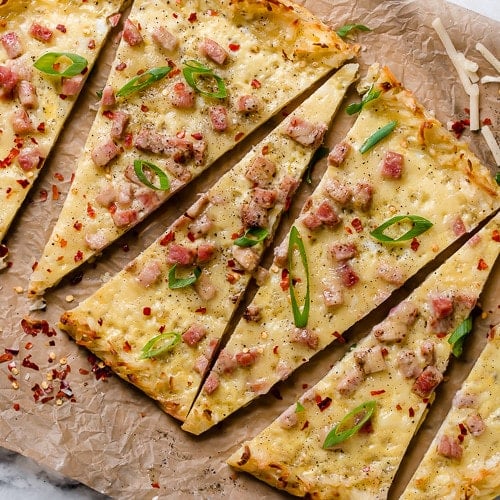 Recipe
Breakfast Pizza with Hash Brown Crust
Prep:
20 minutes
Cook:
40 minutes
Total:
1 hour
Ingredients
For the Crust:
For the Topping:
Preheat oven to 400ºF. Line a large baking sheet with parchment paper.

In a large bowl, add all of the crust ingredients and stir to combine well.

Transfer hash browns and cheese mixture to the baking sheet. Spread out to form a large oval about ¼-½ inch thick and form a wall with the edges.

Bake in the oven for 25-30 minutes or until crust is nice and golden brown.

While the crust is baking, in a bowl add the whisked eggs, diced ham, ½ cup of the shredded cheese and pepper. Give it a quick stir. When crust baking time is up, remove crust from oven and carefully pour the egg mixture onto the pre-baked crust.

Place pizza back in the oven for 10 minutes or until eggs are set. Once time is up, top with the remaining cheese and bake for an additional 2-3 minutes.

Remove from oven and top with green onion slices and cracked black pepper. Let set for 2-3 minutes before slicing into triangles or squares.
Last Step! Please leave a review and rating letting us know how you liked this recipe! This helps our business thrive so we can continue providing free recipes and high-quality content for you.
Notes
*The thawed hash browns will equal about 4 cups.
Nutrition Information
Serving Size:

1 slice

Calories:

280

Fat:

18

Sodium:

500mg

Carbohydrate:

11 g

(Fiber:

1 g

Sugar:

0 g

)
Protein:

19 g
Dietary
Pin it now make it later!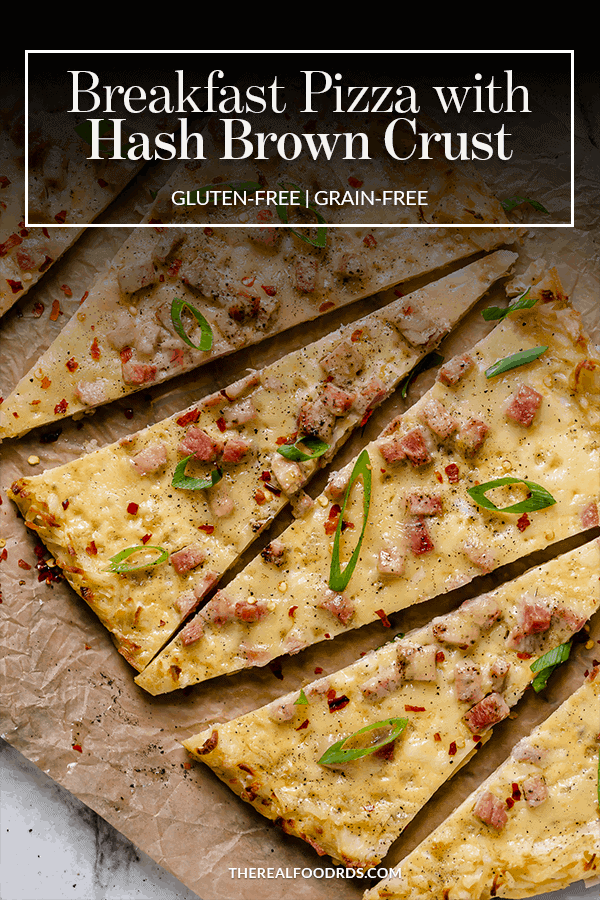 ---
Photo Credit: The photos in this blog post were taken by Jess of Plays Well with Butter. 
This post was made possible by our friends at Organic Valley. Although we received compensation for this post, the opinions expressed here are – as always – 100% our own. Thank you for supporting the great companies we work with thereby allowing us to continue creating great recipes and content for you.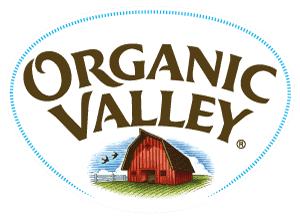 This post may contain affiliate links which won't change your price but will share some commission.
All photos and content are copyright protected. Please do not use our photos without prior written permission. If you wish to republish this recipe, please rewrite the recipe in your own unique words and link back to the source recipe here on The Real Food Dietitians. Thank you!