You've seen the colorful and fresh Daily Harvest foods in our social media feed and you might be wondering, "What exactly is Daily Harvest?" and "Is Daily Harvest worth it?" In this honest Daily Harvest review, we'll share with you what Daily Harvest is, the freezer-to-table plant-based foods that Daily Harvest offers, how the plans work, box sizes, and average costs. We will also share how we use Daily Harvest in our own homes, and what we think of the Daily Harvest collections (taste and nutritionally speaking), as registered dietitians.
This post was created in partnership with Daily Harvest. Although we received compensation for this post, all opinions are ours and based on our personal experiences with this service.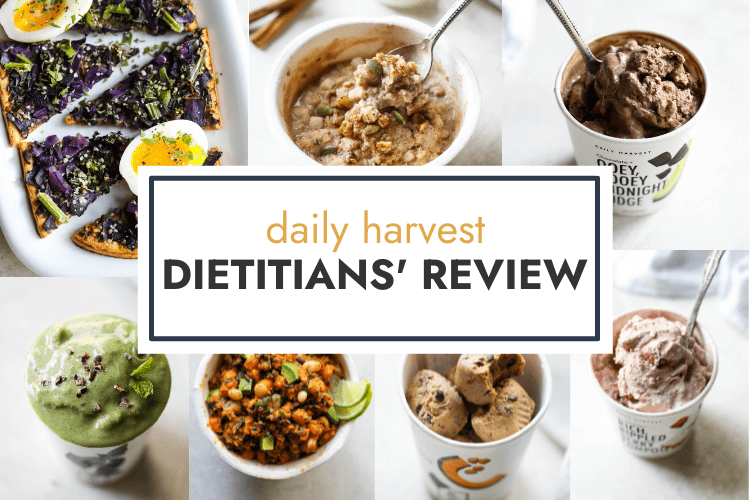 What is Daily harvest?
Daily Harvest is a convenient meal delivery brand that offers freezer-to-table food that makes it really easy to eat more fruits and vegetables every day. As registered dietitians, we know the value and importance of including more nutrient-dense fruits and vegetables at every meal. Daily Harvest makes this health goal easier by offering food delivered to your door and ready in minutes that can help you have healthy and delicious options at breakfast, lunch, dinner, dessert, and snack time.
The foods that daily harvest offers
Our entire team at The Real Food Dietitians has found that having Daily Harvest foods stocked in our freezer has not only given us quick options in a pinch (hello, we are all busy, working Moms over here). It has also provided peace of mind that we'll always have something healthy to reach for when lunchtime sneaks up on us or we need to get everyone fed and out the door in the morning.
If you only know Daily Harvest for their smoothies (the amazing collection that launched this brand), it has grown to include so many more plant-based, fruit- and veggie-loaded options for every time of the day. Daily Harvest offers a wide variety of foods, including:
daily harvest prioritizes real and organic Ingredients
Daily Harvest works directly with its farmers to grow the best produce harvested at peak ripeness and frozen right at the source to lock in flavor and nutrients. Here are some examples of how that makes a difference:
Cauliflower – since it is frozen the day it is harvested, it locks in 50% more antioxidants than cauliflower does at three days post harvest
Blueberries – those frozen the day of harvest have 200% more vitamin C than blueberries do at three days after harvest
Strawberries – picked and frozen the same day of harvest, the DH strawberries contain 35% more beta carotene than those eaten or frozen only three days after harvest
Figs – DH works with a 3rd generation farmer to create a one-of-a-kind fig with a richer flavor and more nutrients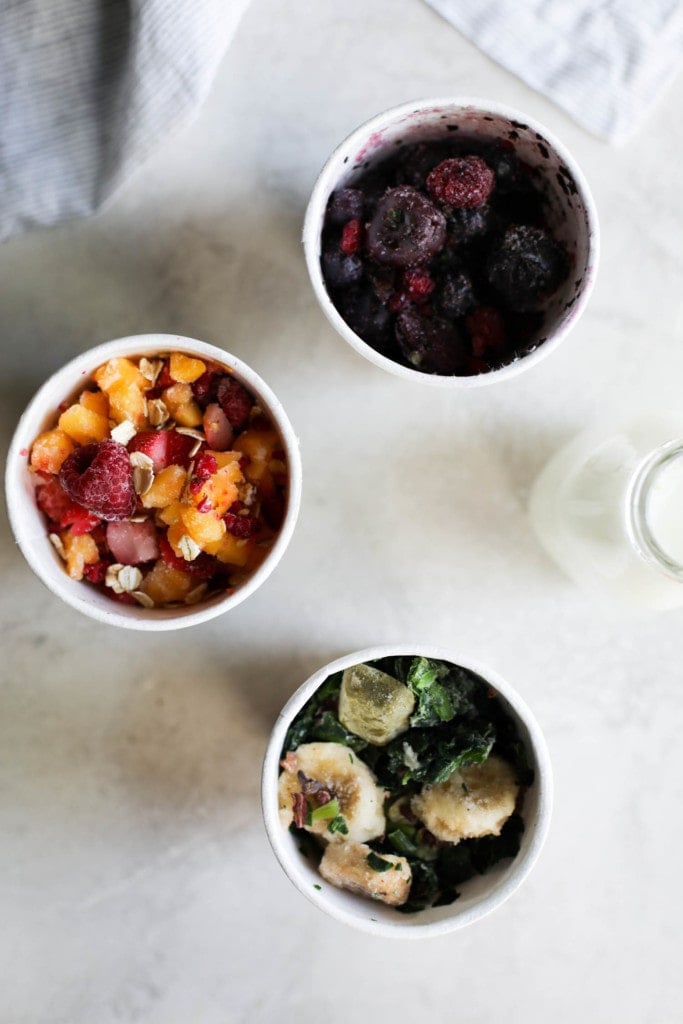 How to make a daily harvest smoothie
Have a blender? Then you have everything you need to enjoy a Daily Harvest smoothie made from fresh real foods. The ingredients in Daily Harvest smoothies are meticulously sourced and never include gums, preservatives, or anything artificial. The Mint + Cacao Smoothie (a team favorite, shown here) is made from banana, spinach, cacao, cashew, chlorella, and peppermint. These ingredients combine for an incredibly delicious smoothie packed with vitamins, healthy fats, and antioxidants, plus no added sugars.
Making a harvest bowl from daily harvest
The Harvest Bowls are such a fast and convenient way to eat a veggie-filled, plant-based meal. They save you from having to source and prep a lot of different food. To make one, add the contents of the bowl to a skillet with 1 to 2 tablespoons of water; heat and stir for 4-5 minutes. Alternatively, you can cook it directly in its compostable container in a microwave (no liquid needed) for a one-bowl meal ready in 5 minutes. The bowls are 100% microwavable and compostable so no clean-up needed! The Sweet Potato + Wild Rice Hash Harvest Bowl (one of Stacie's favorites, shown here) is made from tomato, wild rice, sweet potato, Great Northern beans, avocado, and maitake mushrooms.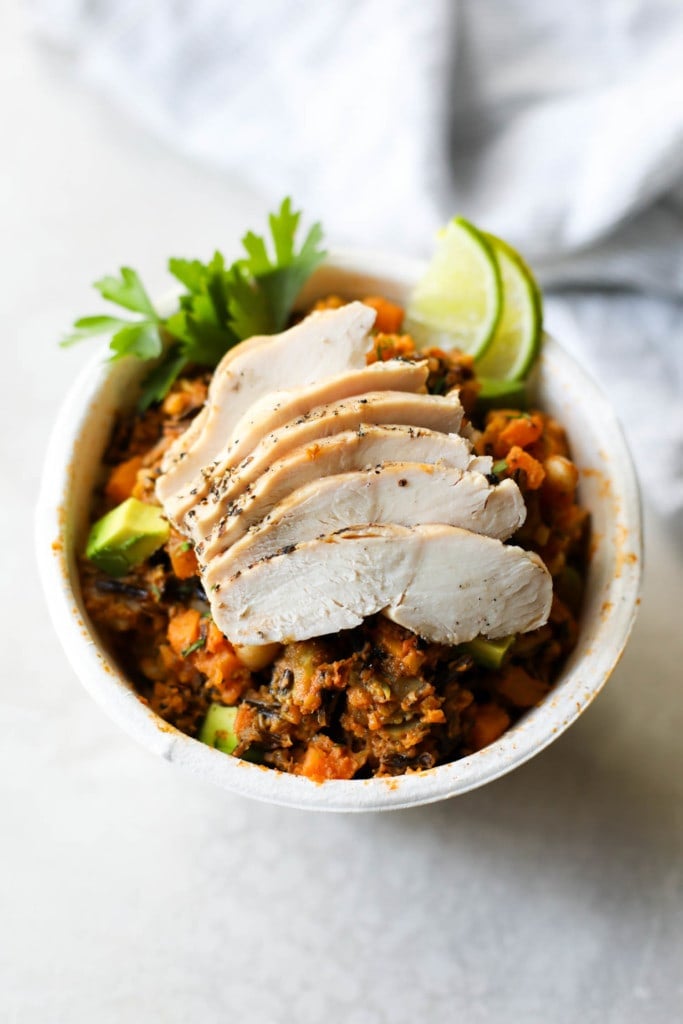 Round it out
All Daily Harvest foods are 100% plant-based, gluten-free, and dairy-free. We like to add sliced and cooked chicken, crumbled ground beef or pork, cooked shrimp, or a cooked egg when we need more protein.
Let's make a Daily Harvest oat bowl
The oat bowls are some of our favorite offerings from Daily Harvest. We find them to be filling and delicious with great texture right out of the microwave. To make an oat bowl, simply add 1/2 cup of dairy or non-dairy milk or water directly to the frozen ingredients. Microwave directly in the 100% compostable container for 90 seconds, stir, then microwave 90 seconds more. You can also make their oat bowls cold as overnight oats! The ingredients in the Apple + Cinnamon Oat Bowl (shown here, perfect for a cozy morning) are oats, apple, cauliflower, walnuts, pumpkin seeds, and cinnamon.
How to make a daily harvest flatbread
The gluten-free flatbreads are an addition to the Daily Harvest collection that we're so excited about. They have all veggie toppings (including the sauce) and broccoli, cauliflower, or sweet potato crusts. The flatbreads bake up tender at the center and crunchy at the edge. To make one, toast the flatbread in a 450-degree oven or toaster oven for 20 to 25 minutes. Here we show the Kale + Sweet Potato Flatbread that features sweet potato, red cabbage, kale, cauliflower, spinach, and coriander.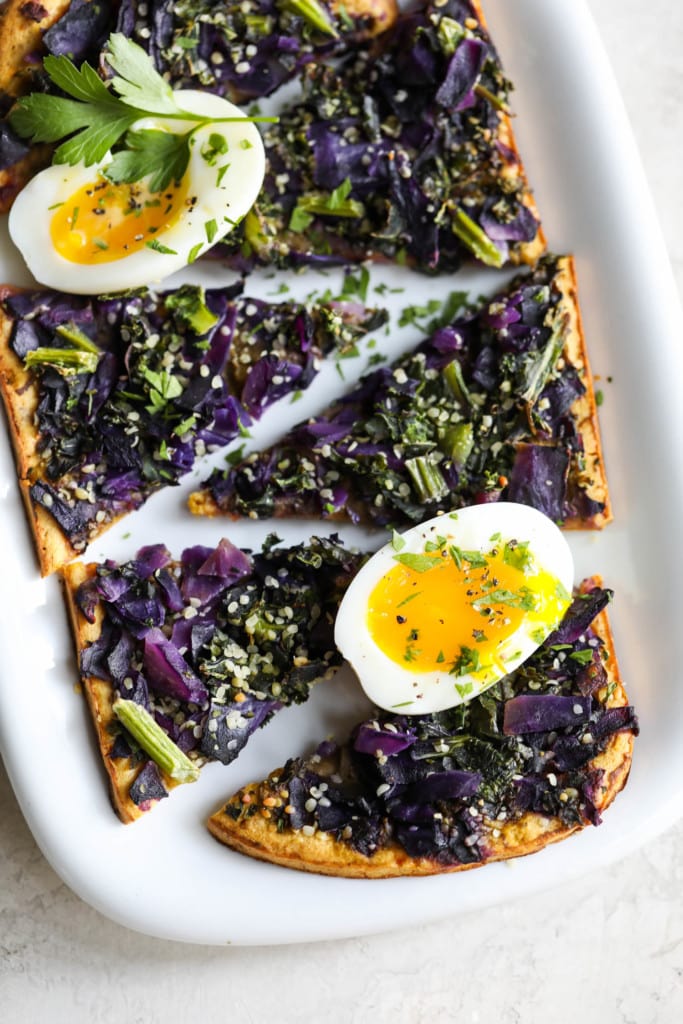 An eggcellent Topper
We've gotten into the habit of topping the Daily Harvest flatbreads with a hard-boiled, soft-boiled, or fried egg. The flavor pairs well with each of the flatbreads and ups the protein. We've been known to enjoy this combo for breakfast, lunch, and dinner.
what are the daily harvest scoops?
Think of ice cream, but made entirely from plant-based ingredients. The Daily Harvest Scoops collection is a non-dairy treat that tastes really good directly from the freezer. Let it thaw at room temp a few minutes before scooping into a bowl (or spooning right from the container). We love the ingredients in the Scoops, which are shown right on the front of the container. The two flavors shown here are the Strawberry + Rich, Rippled Berry Compote (featuring coconut, strawberry, dragon fruit, raspberry, vanilla bean, and a probiotic). And Chocolate + Ooey, Gooey Midnight Fudge (made from coconut, maple, cacao, avocado, pine pollen, and vanilla).
Daily Harvest Bites: made-for-you energy balls
The Daily Harvest Bites are ready-to-enjoy snacks made from superfoods that you can eat right out of the freezer. These are similar to our nutrient-dense energy bites and bars, always made with 100% real-food ingredients, only they're already made for you. One of Jessica's favorites, the Cacao Nib + Vanilla Bites (shown here) are made from chickpea, coconut, cacao, kabocha squash, maca, and vanilla bean.
How much does daily harvest cost?
You may be wondering if we think Daily Harvest is a good value. We wholeheartedly give them our dietitians' thumbs up. Each item is built on organic fruits and vegetables, and combined in a way that provides diverse nutrients. Plus, they make it easy to get fruits and veggies into every day. The cost of each item ranges from $5.99 to $8.99. You can choose to select how many items are delivered per box. Boxes are delivered weekly or monthly, and you can pause your plan or skip a week at any time (without being charged during the pause).
Here's How Daily Harvest Works:
Delicious food delivered to your doorstep
DH is always on hand in your freezer and is ready to enjoy in minutes. Just blend, soak or heat according to the instructions of each item
Daily Harvest offers flexible deliveries with the ability to add items, change box sizes or selections, and skip weeks
All items are gluten-free, dairy-free, and plant-based
95% of the ingredients used in Daily Harvest are organic. Daily Harvest also supports transitional organic farms that are in the process of gaining a USDA Organic certification. Their investment helps the farmers transition to organic by making the 3-year, cost and labor-intensive conversion process a bit easier
Daily Harvest works with in-house chefs and nutritionists to develop their recipes
From the shipping boxes and liners to the food containers, 100% of Daily Harvest items are either recyclable or compostable; here's a guide that explains how to compost or recycle each component
You can gift Daily Harvest to a friend who needs a health boost and more trusted convenience in their lives
When you order more, you save more. We think this is a great deal for such high-quality, nutritious, done-for-you foods you can enjoy within minutes! And you can get up to $40 off your first box with our code REALFOOD40.
This post was made possible by Daily Harvest. Although we received compensation for this post, the opinions expressed here are – as always – 100% our own.
All photos and content are copyright protected. Please do not use our photos without prior written permission. Thank you!