If you're gonna have a burger, go all out with this grilled Bison Burger and the best chips ever.
This post is sponsored by Jackson's Honest.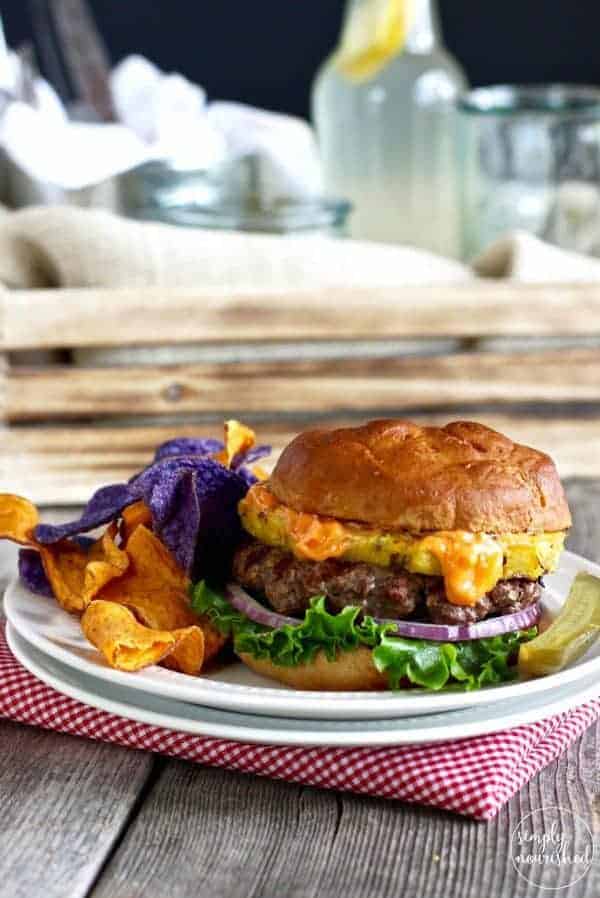 Grilling season is here!
Even though the unofficial start of summer is still 5 days away, I've been grilling everything from burgers to fish to vegetables to fajitas to fruit. Though, I have to confess, I'm a year round griller. I'll happily stand outside in the rain or snow for a meal from the barbecue but summer! Summer is meant for grilling and for burgers. Big, juicy, not-messing-around burgers that require extra napkins. You know, the ones you can't really set down once you get started? Those burgers. 
Burgers should go big, or go home.
I love simple food, but not when it comes to burgers. I see a burger as meal within in itself and when done right, you really just need a pickle spear to two and a side dish to round it out.
A burger with ketchup and mustard is OK and it gets the job done but… this bison burger with grilled pineapple and sriracha mayonnaise with it's big flavors, a little heat and several textures and tastes is a great example of what I'm looking for in a burger. Go big or go home, right?
With just 7 ingredients, you can get these burgers on the table quickly. The secret is the 2-ingredient aioli made with mayonnaise and sriracha sauce. I made my aioli egg-free using this recipe for egg-free mayo so I wouldn't have to miss out on that creamy sauce even with an egg allergy. (As my hubby and keeper of my Epi-pen says, "Life's too short not to breathe." Ha! I totally agree.) But if you tolerate eggs, great – let 'er rip with some real deal homemade mayo or one prepared with healthy fats like olive, avocado or coconut.
Wait, did she say 'chips'?!
Yep, I sure did. Having the Registered Dietitian creds behind my name does not make me a saint and a potato chip-abstainer. In fact, many of the things I was taught in college and my internship about 'healthy foods' are now foods I wouldn't touch much less feed my family or anyone else's family, for that matter. Potato chips fried in industrialized seed oils like safflower, cottonseed or canola is just one example. I'd rather skip the chip than load up on inflammation-promoting, rancid fats.
That is, until I found these chips. The first time I saw a bag of Jackson's Honest potato chips two years ago on the shelves of my local market I had to do a double take. The label read "Made with nutrient-dense coconut oil". Made with coconut oil?! Really?!
Really. I flipped over the bag and sure enough. Just three simple ingredients: organic, non-GMO potatoes, coconut oil and sea salt. I was immediately sold on the ingredients and that first taste sealed the deal for sure. They were so crispy and not 'coconutty' at all. Best of all, I'd found a chip I could confidently feed my family without guilt or negative health effects. Happy dancin' in the snack food aisle!
Jackson's Honest was started by a mom in Crested Butte, CO who's child was suddenly stricken with a rare and life-altering autoimmune disease. Her quest to halt her son's disease progression and heal his digestion with traditional fats and nutrient dense foods like coconut oil and sweet potatoes was the impetus behind this now well-known and loved chip company.
Why Coconut Oil
Coconut oil is a nutrient-dense, traditional fat and one of our 3 Must-Have Cooking Fats at Simply Nourished. We love it for its subtle flavor, health benefits, fatty acid profile, and the fact that its highly saturated making it stable for almost all cooking methods –  including baking, sautéing, roasting and frying.
More than just a snack
Because Jackson's Honest chips are made with only wholesome ingredients with names you can easily pronounce, they truly are more than just a snack. They're a real food and one that I feel good about giving my family. Just as I might roast sweet potatoes in coconut oil at home for a nourishing side dish, their chips are the same idea – only more convenient for school lunches, picnics, potlucks, ski trips, camping and backyard barbecues. And they're the perfect compliment to any burger, fancy or not.
To bun or not to bun, that is the question.
Personally, I'm all about the lettuce wrap. But if you need a gluten-free bun to hold it all together I totally understand. I like the simplicity of a lettuce wrap and the fact that I don't feel stuffed with bread which leaves more room for those nutrient-dense chips. And these chips are so good that just a handful or two is incredibly satisfying so you don't feel the need to have to eat all. the. chips. Which makes you much more popular at parties and barbecues when you're actually sharing – precisely why I love their new 13 ounce family-sized bags of Sweet Potato Chips. Share the love, people. 
That purple color is real, folks. The Purple Heirloom Potato Chips really are that purple thanks to the naturally-occurring anthocyanidins (aka antioxidants) found in the purple potatoes. Healthy and gorgeous, just like real food should be.
Whether it's a party, a lazy summer backyard affair or just honest to goodness snacking you can't go wrong with the chips from Jackson's Honest and this Bison Burger with Grilled Pineapple and Sriracha Aioli.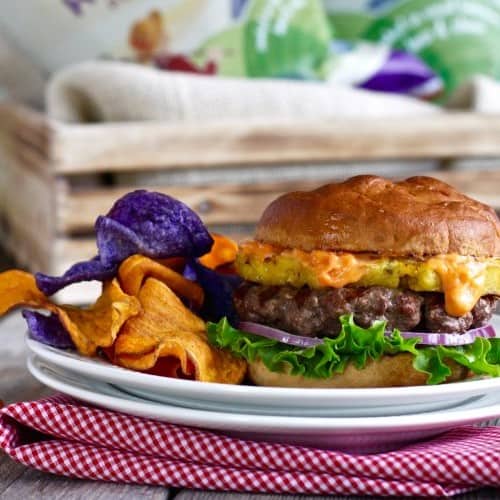 Recipe
Bison Burger with Grilled Pineapple and Sriracha Aioli
Uplevel your barbecue game with this perfectly grilled bison burger topped with a sweet ring of pineapple and spicy sriracha aioli.
Prep:
10 mins
Cook:
15 mins
Total:
25 mins
Ingredients
For the Aioli:
⅓ cup

mayonnaise (Egg-free or Primal Kitchen brand)

1 ½ tsp

. sriracha sauce
For the Burger:

1

lb. ground bison (or grass-fed beef)

2

garlic cloves, finely minced

½ tsp

. sea salt

¼ tsp

. freshly ground black pepper

4

pineapple rings (fresh or canned)

4

red onion rings

4

dill pickle spears
Lettuce leaves or gluten-free buns for serving
Preheat grill to high heat.
Place ground bison in bowl with garlic, salt and pepper. Mix gently with your hands or a spoon to combine. Divide meat mixture into 4 pieces and shape into patties about ¼-inch thick
When grill is hot, place burgers and over direct heat. Cook 4-5 minutes or until burger is browned and is grilled marked. Flip and continue cooking an additional 5-6 minutes (for medium well) or until desired degree of doneness.
Place pineapple rings on grill over direct heat and cook similarly to burgers. Cooking time will depend on the thickness of the rings.
Remove burgers and pineapple rings to a clean plate and allow to rest 5 minutes.
While burgers are resting, combine mayonnaise and sriracha sauce in a small bowl and mix well.
To serve burgers, top 4 gluten-free hamburger buns or lettuce wraps with each of the 4 burgers and pineapple rings. Top with red onion rings, lettuce (if using buns) and sriracha aioli.
Serve with pickle spears and Jackson's Honest potato chips of choice.
Last Step! Please leave a review and rating letting us know how you liked this recipe! This helps our business thrive so we can continue providing free recipes and high-quality content for you.
Notes
All photos and content are copyright protected. Please do not use our photos without prior written permission. If you wish to republish this recipe, please rewrite the recipe in your own unique words and link back to the source recipe here on Simply Nourished Recipes so credit is given where credit is due. Thank you!
Nutrition Information
Serving Size:

1 burger with lettuce wrap

Calories:

435

Fat:

34g

Sodium:

902mg

Carbohydrate:

12g

(Fiber:

1g

Sugar:

8g

)
Protein:

21g
Dietary
Pin it now – Make it all summer long
What's your dream burger made of? Have you tried Jackson's Honest chips yet? Share in the comments below.
This post may contain affiliate links which won't change your price but will share some commission.