If you're looking for easy meals that always hit the spot, these crockpot beef recipes are just what you need! Featuring real food ingredients, these healthy beef recipes are great to prepare in advance for weeknight dinners, pitch-ins, game days, and entertaining. Pick and choose until you find your new favorite slow cooker beef recipe. We know that once you taste them, many of these recipes will make their way onto your regular dinner recipe rotation.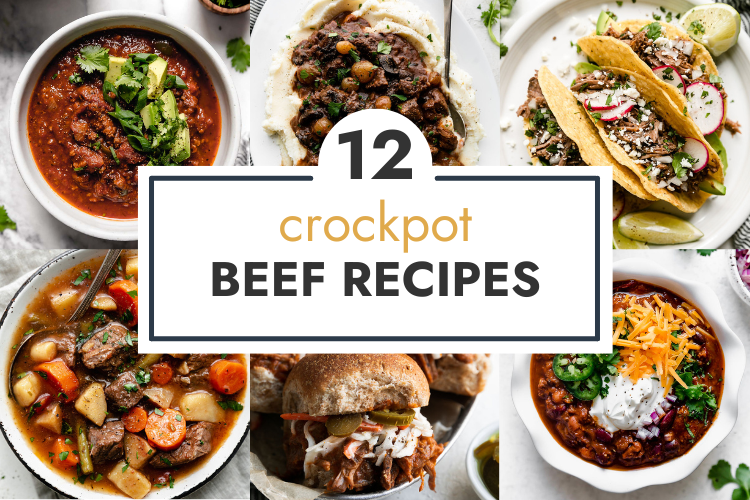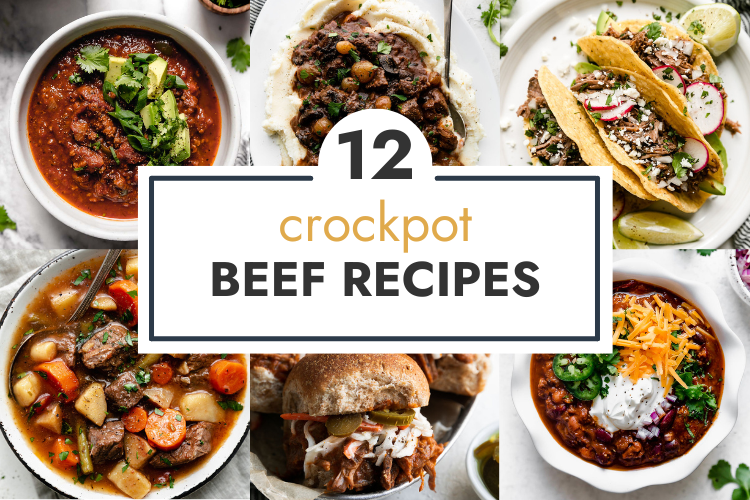 Your New Go-To Crockpot Beef Recipes
Is there anything better than a crockpot meal? Not only are slow cooker recipes incredibly quick to prepare and simple to make, but there are also endless options. So, you're always guaranteed to find something that hits the spot! If it wasn't obvious, we are big fans of our slow cookers, and we keep these crock pot beef recipes in our regular dinner menus. When it comes to crowd-pleasing dinners that can't be beat, the following easy beef recipes are the meals we find ourselves turning to week after week.
Nutrition Spotlight: Beef
Beef is available in many different cuts with varying fat percentages, and it can be a budget-friendly, versatile ingredient to incorporate into a wide variety of recipes like Korean-Inspired Ground Beef Bowls, hot dishes, and lasagna! An excellent source of high-quality protein, it's a staple in our diets, and not just because it's delicious. Here are just a few health benefits of beef: 
High-quality protein containing all essential amino acids

One of the richest sources of iron 

Provides four essential vitamins (niacin, riboflavin, vitamin B6, and vitamin B12)

An excellent source of zinc which is necessary to support hair, skin, and nail health, as well as cognitive function, fertility, and reproduction   
12 Crock Pot Beef Recipes You'll Make On Repeat
Frequently Asked Questions
Can you put raw beef in a crockpot? 
Many crockpot beef recipes recommend browning the meat first to reduce the oil and lock in some flavor. However, this step isn't always necessary. And it is safe to add raw beef to a crock pot recipe.
Do you need to put liquid in a slow cooker with beef? 
Unless the recipe specifically calls for it, there is no real need to completely submerge beef in liquids. Just make sure to cover the base of the slow cooker or crock pot contains some liquid to prevent the beef from burning as it cooks. 
Does beef get more tender the longer you cook it in a slow cooker? 
Yes, most crock pot beef recipes utilize thick cuts of beef with lots of tendons and fat. Then, they are cooked long and slow to break down the meat, making it extra tender and juicy. 
How to Store Crockpot Beef Recipes
We provide specific storage instructions for all of our easy beef recipes. However, in general, most healthy beef recipes can be transferred to an airtight container and stored in the refrigerator for up to 1 week or in the freezer for several months.
How to Reheat Leftovers
When you're ready to eat, first let any frozen crockpot beef recipes thaw in the fridge overnight. Then, transfer leftovers back to the crock pot, cover, and set it to warm. Or, place individual servings in the microwave in intervals of 30 seconds, and enjoy!
Pin Now to Make Later!
For ultimate success, we highly recommend reading the tips in the full blog post above. All photos and content are copyright protected. Please do not use our photos without prior written permission. If you wish to republish a recipe, please rewrite the recipe in your own unique words. Link back to the source recipe here on The Real Food Dietitians. Thank you!