Tired of the obsession with healthy eating? Join us for the #800gChallenge and change the way you eat for good.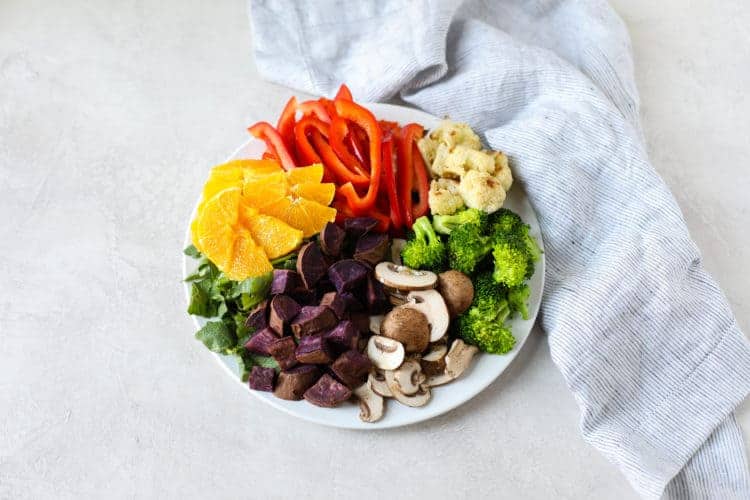 I'm over food rules.
Are you tired of having so many food rules and always eliminating something from your diet in the quest for optimal health? I am. I mean, I was until earlier this winter when my CrossFit gym undertook the #800gChallenge as a way of helping athletes eat better without so. many. food. rules.
Always game to use myself as an n=1 (experiment of one), I signed up and was amazed that the only thing I had to do was eat more vegetables and fruit. This was a no-brainer for me, I'd crush it, no doubt. I love veggies. 
What I found out surprised me. Despite my clean-eating, veg-focused, paleo-ish ways of eating post multiple Whole30s, I was not eating nearly as much produce as I thought. And the reason why, as I uncovered just days into our 30-day challenge was that I was AFRAID to eat fruit. And I was only eating starchy vegetables on days I worked out.
Yep, scared of the sweet and starchy stuff. After years of tinkering with my diet, healing myself with food, using it to improve performance and/or body composition, eating it for pleasure, eating it for nourishment, etc. I was afraid of fruit. I never ate it. I "saved it" for my kids, cited the fact that is was "too sugary" and that I didn't need "all those carbs." After some tough love from the creator herself of the #800gChallenge, I did the unthinkable. I ate an ENTIRE grapefruit. And damn, was it good. And I did not gain weight/get inflamed/develop diabetes or another other horrible health condition. And for the first time in more than five years, I stopped attaching labels to fruits like "sugary" or "carb-y" and to vegetables like "less nutrient dense," "high-carb," "poor source of fiber," etc.
I just started seeing them for what they were. Unprocessed, whole foods that deliver a host of vitamins, minerals, and phytonutrients. Foods that naturally crowd out less nutritious foods when added to meals or snacks. I even started eating legumes again (gasp!) despite their phytates. Hummus and black beans were back on the plate and my gut microbiota were the benefactors of these delicious meals.
And the best part? Zero guilt. No more "shoulds" – should eat this, shouldn't eat that. Just, "how can I plan my meals and snacks to include more veggies and fruits?" Which is EXACTLY why I am so excited to have EC Synkowski, creator of the #800gChallenge and founder of OptimizeMe Nutrition, here on the blog today to share more about her upcoming social #800gChallenge and how you can be part of it.
So without further ado…
Take it away, EC!
Despite what seems like a never-ending stream of conflicting information in nutrition literature, there is some consistency: whole, unprocessed foods like fruits and vegetables are associated with health more so than processed foods that make up a significant portion of the Western diet. Which begs the question of "how many fruits and vegetables should I eat?" Until now, quality has been assessed by descriptive terms like complete elimination of certain foods (e.g., sugar). But how can you really measure quality in the diet? Enter the #800gChallenge by OptimizeMe Nutrition: How to put a metric on the quality of your diet. 
What is the 800g Challenge?
Eat 800 total grams, by weight, of fruits and vegetables per day.
Which fruits and vegetables?
Any that you choose. Pick the ones you like based on preferences, needs or goals: be it low-carb, high-carb, perfect Paleo, whatever!
Also, it can be cooked, canned, frozen or fresh – preparation style does not matter either. If you can weigh it as a standalone, unprocessed whole fruit or vegetable it counts! (But you can't take apart pre-packaged foods like soups or burritos to count the ingredients). All the nitty-gritty rules can be found here.
Aren't some fruits and vegetables better than others?
Maybe. Even if some choices have greater nutrient density or diversity than others, you cannot forget that eating a "lesser" fruit or vegetable is still better than eating processed food. Even if iceberg lettuce is not very nutrient dense, it may still push out more processed items like bread or rice. Do not underestimate the value variance (versus nutrient density) brings to long-term sustainability: most people cannot be limited to a short list of foods forever no matter how "perfect" they are in terms of quality.
Stop obsessing and start putting a metric on food quality #realfood #800gChallenge
Click To Tweet
How much is 800 grams?
800 grams can fit on a standard dinner plate.
Receive a free e-book of the different #800gChallenge "personalities" at www.optimizemenutrition.com.
How long should I do the challenge for?
As long as you'd like. It is meant to be a daily metric used indefinitely under the user's discretion. 
What a good strategy to accomplish this?
Eight hundred grams ends up being ~6 cups of non-leafy items. So target two cups at each main meal and as many leafy greens as you want, and you are there!
So, what foods do I have to eliminate?
Nothing. Eat whatever else you like, so long as you hit your 800 grams a day.
Is there any science for this?
The impetus for the challenge was a study by Aune et al. (2017) who found that eating 800 grams of fruits and vegetables per day was associated with better health (e.g., decreased mortality) (1). This volume of fruits and vegetables also aligns with other fruit and vegetable recommendations (2,3,4,5,6).
After testing the metric for feasibility, nutritional characteristics (e.g., calories, macros), and results, OptimizeMe Nutrition created the rules for the #800gChallenge as a diet method. It is important to note that the challenge rules should not be interpreted as study findings (i.e., what you can/can not eat to "count"). Nevertheless, it is likely that the observed health benefits found by Aune et al. (2017) come from not only the nutrient density from the fruits and vegetables themselves but also that the quantity of 800 grams a day quite literally pushes out poorer quality choices.
What benefits can I expect from this?
It depends what your starting point is! People have reported better energy, better recovery, improved athletic performance, decreased blood pressure, weight loss, and a new positive and non-restrictive relationship with food.
Ready to Start?
Join the social #800gChallenge Monday, July 16 – Sunday, August 12. Follow OptimizeMe Nutrition's founder, EC Synkowski, as she does the #800gChallenge with you. Learn tips on how to complete the challenge, engage with EC, and get that daily motivation to stick with the challenge for 4 weeks!
Head on over to the YouTube or Instagram channel now for a video on the challenge, and play along yourself with the #800gChallenge starting next Monday.
OptimizeMe Nutrition is run by EC Synkowski, who holds an M.S. in Human Nutrition and Functional Medicine. EC is a Certified CrossFit Level 4 (CF-L4) Coach, worked for CrossFit, Inc. for more than 10 years on their seminar staff, and currently coaches at CrossFit Roots in Boulder, CO. The mission of OptimizeMe Nutrition is to provide readers with educational resources and tools for them to find their optimal nutrition.
---
References
Aune, D., Giovannucci, E., Boffetta, P., Fadness, L.T., Keum, N., Norat, T., … Tonstad, S. (2017). Fruit and vegetable intake and the risk of cardiovascular disease, total cancer and all-cause mortality-a systematic review and dose-response meta-analysis of prospective studies.

International Journal of Epidemiology

, 46(3), 1029-1056.

doi: 10.1093/ije/dyw319

United States Department of Agriculture (USDA). (2015). 2015-2020 Dietary Guidelines for Americans. Retrieved Aug 9, 2017, from: https://health.gov/dietaryguidelines/2015/

Grosso, G., Marventano, S., Yang, J., Micek, A., Pajak, A., Scalfi, L., … Kales, S.N. (2017). A comprehensive meta-analysis on evidence of Mediterranean diet and cardiovascular disease: Are individual components equal?

Critical Reviews in Food Science and Nutrition

, 57(15), 3218-3232.

Lock, K., Pomerleau, J., Causer, L., Altmann, D.R., & McKee, M. (2005). The global burden of disease attributable to low consumption of fruit and vegetables: implications for the global strategy on diet.

Bulletin of the World Health Organization

, 83(20), 100-108.

Liu, R.H. (2013). Health-Promoting Components of Fruits and Vegetables in the Diet.

Advances in Nutrition

, 4, 384S-392S.

Schwingshackl, L., Schwedhelm, C., Hoffmann, G., Lampousi, A.M., Knuppel, S., Iqbal, K., … Boeing, H. (2017). Food groups and risk of all-cause mortality: a systematic review and meta-analysis of prospective studies.

The American Journal of Clinical Nutrition

, 105(6), 1462-1473.