Thirty Egg-free Whole30 breakfasts that don't suck + how to make your life easier and more delicious this month
I'm pretty certain that if you're one of those egg-allergic, egg-sensitive or egg-avoiding folks about to start a Whole30 next month that this is likely the best thing you'll read all week. Because let's be honest, not eating eggs when you're also avoiding all grains, dairy, soy, legumes (including peanuts), sugar, alcohol and a whole list of additives can make breakfast seem impossible.
Luckily, it's not all doom and gloom because there are a billion things you can eat for breakfast that don't have to have eggs – IF you can master this one little trick – and that's to stop thinking that breakfast has to be something sweet or carb-filled. Because it doesn't. It just has to be balanced and nourishing and delicious.
Seriously though, if you can get past the notion of having to have 'typical' breakfast foods like toast, cereal, oatmeal, pancakes, yogurt, etc. and instead reframe that first meal of the day as "The First Meal of the Day" rather than 'Breakfast' then your options become nearly limitless. Here are some tips to help make egg-free Whole30 breakfasts easier:
Embrace leftovers. These are your friend not only because you can save loads of time but chances are good your leftovers are also egg-free. Chilis, soups, stews, roasted meats with vegetables, salad with protein, curries, shepherds pie…these all make hearty, satisfying meals that will keep you going until lunchtime.
Prep ahead. Obviously, you aren't going to have time to make a pot of soup or big skillet of hash every day so plan to make these on the weekend (or whichever day works best for you to set aside some time to peel, chop and cook). Other things that can be prepped ahead include: washing berries or grapes, slicing citrus fruits or melon, peeling and chopping vegetables for salads or for sautéing.
Batch cook. Making a double batch of freezer-friendly foods like sausage patties, chili, soup or stew and portioning them out into small, quick-to-thaw containers means you'll always have something on hand to reheat and eat – which will make it infinitely easier to resist that slice of toast or bowl of cereal.
Balance that meal. No matter what you're having, make sure it's balanced and not all protein or all carbs. A great tool for helping you do this is to follow the Whole30 Meal Planning Template which basically says: 1-2 palm-sized portions of protein, a large portion of vegetables, an occasional serving of fruit, and an adequate amount of fat from butter, ghee, coconut, olives, avocado or nuts, and seeds. You can download the Meal Planning Template here so have it to refer back to.
Let someone else do the meal planning (and maybe even the prepping and cooking, too!). If you have a meal plan and grocery list, you're about halfway there. We love the Real Plans online meal planner because they now offer 100% customizable Whole30 meal plans for as little as $7 per month. Let them do the planning so all you have to do is prep and cook. Another great option is fully-cooked compliant meals like those from Kettlebell Kitchen. They deliver to your door once or twice a week and all you have to do is heat and eat. Use code REALFOODRDS to save 20% on your first 3 orders.
There you have it – our top four tips for thriving during a Whole30 without eggs. And now, the moment you've been waiting for … 30 Egg-free Whole30 Breakfasts that don't suck. Enjoy!
Skillets, Bowls & Hashes

Soups, Stews, and Chilis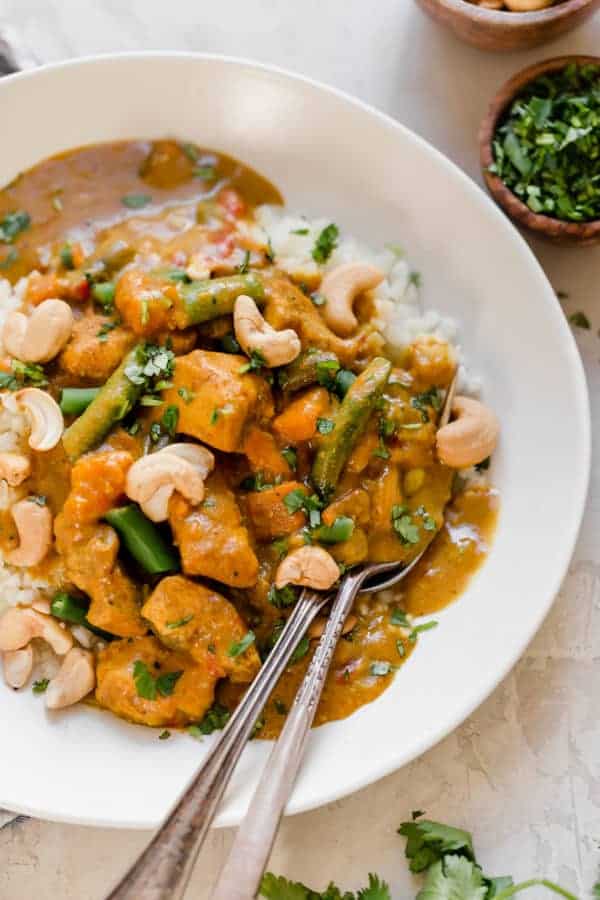 Bowls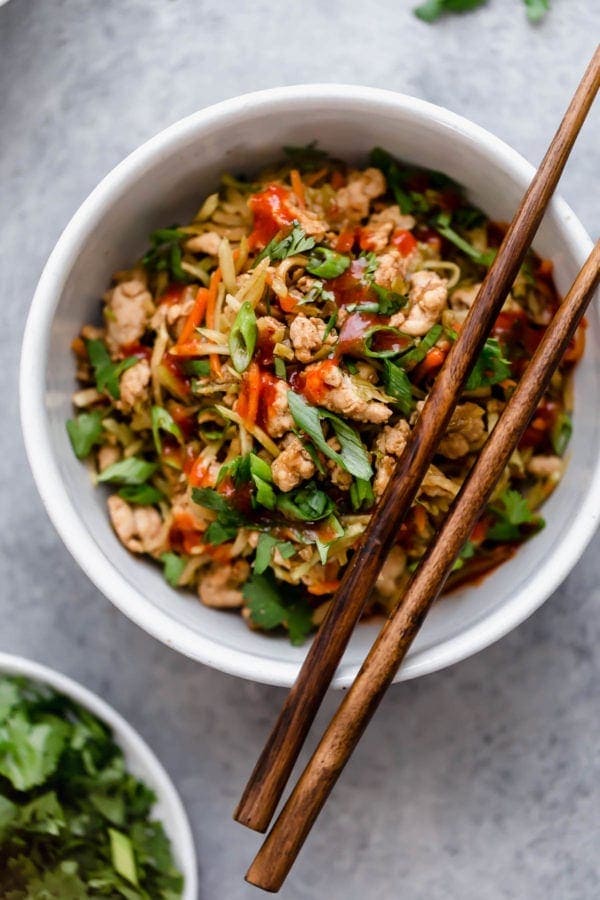 Paleo Balance Bowl – Little Bits of Real FoodBreakfast Meats
Other Delicious Things


30 Egg-free Whole30 Breakfasts that don't suck (+ how to make life easier and more delicious) #whole30
Click To Tweet
That's a wrap! I'd love to hear about your favorite egg-free Whole30 breakfasts ideas and how you prep ahead or plan to make mornings easier – just leave a comment below.
Pin this & Share the love!
---
This post may contain affiliate links which won't change your price but will share some commission.
SaveSave
SaveSave