When mornings are tight, give these 15 Healthy Meal Prep Breakfast Recipes a try!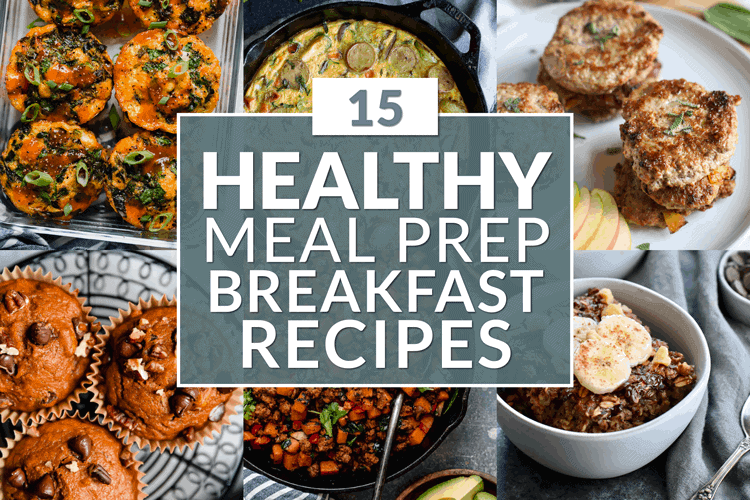 Breakfast is one of the most important meals of the day
The other most important ones? That would be lunch and dinner. Skipping breakfast might make it seem like you're saving time at the moment but when that bottoming-out, low-energy feeling hits mid-morning you'll probably lose any time you've saved scrambling for something to put in your face (and use precious brainpower trying to make a decision as to what to eat).
That being said, we know how difficult it can be to put a healthy meal in front of you in the morning and still get out of the door on time so we've rounded these 15 Healthy Meal Prep Breakfast Recipes to make mornings a little easier.
The weekend is a great time to prep one or two of these 15 healthy meal prep breakfast recipes so they're easy to reheat and eat at home or grab and go on your way to work or school. If you workout in the morning before heading to work, just tuck them into your gym bag so you're ready to refuel and conquer the day with a happy belly.
Egg Dishes:
Egg dishes are great for meal preps because you can freeze them to enjoy later. Egg muffins are great because they're already single-serve but you can cut frittatas or egg bakes into individual portions after they've cooled then divide into meal prep containers or reusable bags for freezing. Allow them to thaw in the fridge overnight or you can use a microwave to thaw them before reheating.
This Whole30-friendly egg bake features healthy, slow-burning carbs from sweet potatoes, red pepper, and spinach. Use your favorite brand of turkey sausage, make your own turkey sausage, or use chopped bacon or ham to keep it simple yet protein-packed.
Sausage Hash Brown Egg Bake
Everything you love about a loaded omelet and hashbrowns comes together in one dish to make a breakfast favorite portable. Frozen hashbrowns take the work out of shredding potatoes by hand to cut down on prep time.
Hashes:
Hashes, like egg dishes, are super freezer-friendly so they're a great choice for meal prepping. They're also a great way to use up those random bits of veggies in the crisper drawer. To freeze, cool the hash completely before dividing it into smaller containers then freeze for up to 1 month. To thaw, place the container in the fridge overnight or use a microwave to defrost it prior to reheating.
Though not absolutely necessary, a good 12-inch cast-iron skillet will serve you well when making hashes and egg bakes and well, anything else, really. Look for one with a lid to keep splatters down and to help veggies cook faster.
Put an egg on it! 
Hashes are a great option for those looking for an egg-free breakfast option but they're also amazing when topped with a fried or poached egg for extra protein and fat to keep you satisfied – and out of the breakroom donuts – all morning long.
Starting the day off with a veggie-packed breakfast is always a good idea. Not only are veggies packed with vitamins and minerals, but they're also a good source of fiber which keeps you fuller longer and supports healthy digestion. This Brussels Sprouts Sweet Potato Sausage Hash is one of our favorites because it's so hearty.
Sausages and Such:
Making your own breakfast sausage patties is economical and easy. The best part is that you can control what goes in them. Say 'good-bye' to preservatives and fillers and 'hello' to these DIY breakfast sausages instead!
To freeze, place cooled sausage patties in a single layer on a plate or baking sheet and freeze until solid. Store in a freezer-safe container or bag for up to 1 month. Thaw patties overnight in the fridge or use a microwave to defrost them before reheating.
While more egg bake than breakfast meat pattie, these Savory Zucchini Fritters are delicious on their own or when topped with a dollop of Cream Fraiche or sour cream (or our Homemade Paleo Ranch Dressing & Dip if you want to keep them Whole30).
Oats & More:
For those days when you want a breakfast that's more sweet than savory (or a midday snack), these gluten-free options are our go-to when it comes to meal prepping.
To freeze, divide into individual portions and store in freezer-safe containers for up to 1 month. Thaw overnight in the fridge or use a microwave to defrost before reheating.
The best thing about zucchini is its ability to 'hide' in baked goods like these perfectly portable, chocolate chip-stuffed oatmeal cups.
Who says you can't have cookies for breakfast? We love the soft-baked texture of these fruit and nut studded cookies for breakfast, lunch boxes, and post-workout snacks.
Mmmm Muffins:
While we love to start the day with a hearty, veggie-packed breakfast, we also love our muffins. Muffins are great for meal preps because they mix up quick and bake even quicker. They're also super freezer-friendly so don't be afraid to double the batch so you have some on hand whenever you need them.
Tired of prying muffins from the pan? Try lining your muffin pan with these unbleached, compostable paper liners or use a non-stick, dishwasher-safe silicone muffin pan for perfect muffins every time.
Somewhere between muffin and cake, these muffin bars are lightly sweet and hit the spot any time of day.